Article
Organic Egg Production Technology
Prof. D.Narahari
Senior Vice-President (IB) & Speakers' bureau,
World's Poultry Science Association,
Former Vice-president, Indian Poultry Science Association,
Former Professor & Head, Dept. of Poultry Science,
Tamil Nadu Veterinary & Animal Sci. University, Chennai-600007, INDIA
Egg is the most nutritious, yet relatively cheaper, unadulterated natural food, with highest biological value and digestibility coefficient. It is the golden standard, to measure the quality and nutritional value of any other foods. Due to constant increase in the consumers' knowledge and financial standards, they demand for better and value added products; unmindful of their costs. Designer eggs/ meat and organic eggs/ meat are few such value added products of poultry origin.
Organic egg production:
Our Vedas say "Live in partnership with, rather than exploit nature". Organic egg production is a holistic approach involving a). Housing & management, b). Welfare and health cover, c). Feeding procedures and d). Certification by the licensing authorities. Requirements vary from country to country, but generally involves a set of production standards for organic egg production. Eggs produced under free range system, cage-free system, open yard system and country eggs are not necessarily organic eggs. They must be produced in certified organic farms only.
a). Housing & Management:
The land used for organic farm must not use chemical fertilizers and pesticides for atleast three consecutive years.
For organic egg production, the laying hens cannot be raised in cages, must be reared on deep litter houses only, with access to the open outdoors (Run) having pasture; usually double the size of the pen.
Maximum flock size= varies with country, from 4,000 -6,000birds /shed and 16,000-30,000 hens in the farm.No such stipulation in India.
Stocking density= 7 hens per m² covered shed area and same more area of open space per hen. The open area must be protected by proper wire fencing; with fish net top, to prevent wild birds' entry into the premises and to prevent hens going away from the run / farm.
Provide one nest hole for each 8 hens, with in the covered shed, for easy collection.
Provide a perch length of 10cm per hen at 60 cm height. This will also reduce congestion and overcrowding.
Provide 45 cm X60 cm pop-holes for each 250 hens, for free access between pen and free range. The pop holes must be closed during night time, to prevent predators entering the house.
Fig.-1: A modern organic layer farm, with pen having pop holes for access toopen run /range, with good organic pasture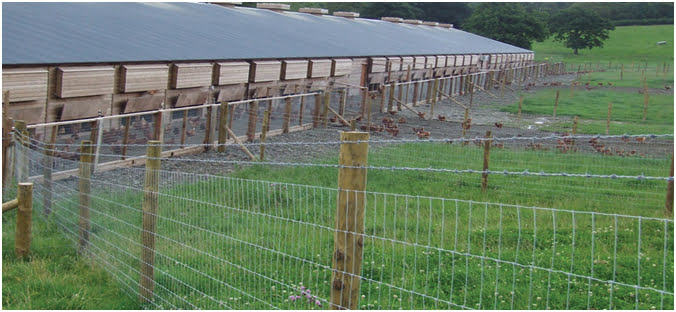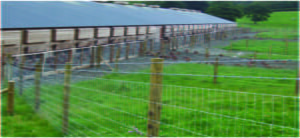 Since the egg production is low under organic egg production, use medium laying breeds like Rhode Island Red (RIR), New Hampshire, BV-380 or laying hens developed indigenously by ICAR, CARI, Agriculture / Veterinary universities, Central Poultry breeding farms, with brown shells may be used.
House the replacement pullets, reared under conventional or organic system upto 17 weeks of age. If the pullet rearing is on conventional grower feed, the organic eggs must be collected only 6 weeks after organic feed feeding to the pullets.
Fig.2:-Inside view of an environmentally controlled deep litter house, for temperate climate for organic broiler production– the popholes and the open yard are on the right side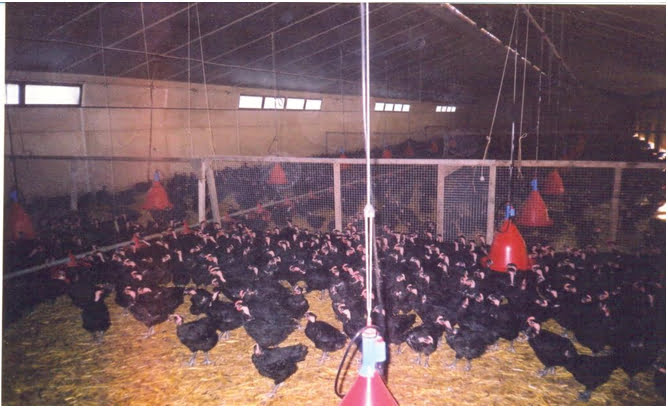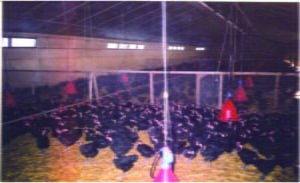 b). Welfare and health cover:
Organic certification also requires maintenance of basic animal welfare The birds should be allowed to carry out their basic behavioral needs, with sufficient free movement, fresh air, fresh water, natural daylight, nest boxes, perches and enough lying and/or resting areas.
Only natural molting can occur within the flock and forced molting is not allowed.
The American Organic Standards still allow beak trimming as a means to lessen injury to the birds; but not allowed in Europe.
Vaccinations will be carried out upto 18 weeks, as in the case of conventional layers. Afterwards vaccination will be done only when diseases are noticed, expected to be a problem in the region of the farm or where these diseases cannot be controlled by other management techniques. Legally required vaccinations are allowed, but genetically engineered vaccines are prohibited.
Deworming is allowed, if there is more worm burden. Preferably use safe herbal dewormers and parasiticides like bitter gourd, Kamala, neem oil, panchakavia etc.
Stop labelling eggs as organic for 2-3 weeks after deworming with synthetic wormers or when hens are treated with antibiotics or drugs for any infectious disease, depending on the drug.
c). Feeding procedures:
These hens must be fed with organic feed only, using certified organic feed ingredients like maize, soya etc. from organic farms directly. They must be free from genetically modified organisms (GMO) crops and synthetic fertilization for three years before it can be certified for organic usage. In case of scarcity of organic raw materials, conventional feed ingredients, free from pesticide residues, can be used upto 30 %.
The open area must have good edible organic green pasture and insecticide or herbicide must not be sprayed on the lawn grass. If the birds have no access to the green pasture, provide organically grown freshly chopped Lucerne (alfalfa) or any other greens at the rate of about 50 g/hen /day, to impart rich orange colour to the yolk, naturally.
Animal by-products like fish, MBM etc. are not allowed in the feed.
Human sewage sludge fertilizer is not allowed for cultivation of plants, pasture or for feeding animals.
Vitamins, organic minerals, amino acids, herbal preparations are permitted in the organic feed.
Certified organic foods are not necessarily pesticide-free and certain pesticides are allowed in USA.
For Organic egg production, the feed must be free from antibiotics (AGP), drugs and many more synthetic performance enhancers. However, antibiotics can be used only during any infectious disease outbreak. However, the eggs produced during this treatment period as well as for another 2-3 weeks, depending on the antibiotic, must be sold as regular eggs and not as organic.
Layer feed formulae suitable for organic egg production are given in Table-1 below. Give this feed, after conventional rearing upto 17 weeks of age.
Fig.3:- Another modern design organic layer farm, with open yard on all 4 sides, called as circle house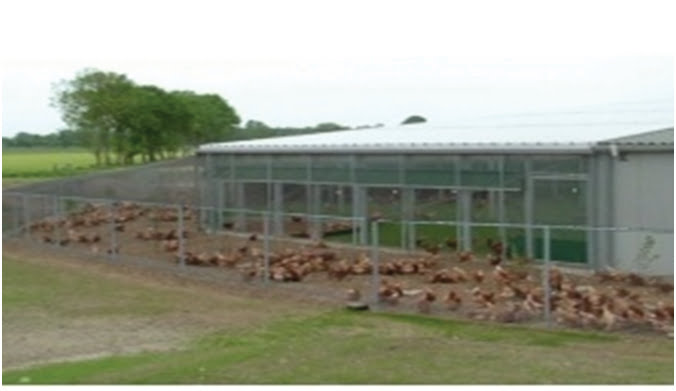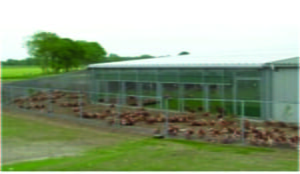 d). Certification by the licensing authorities:
Find out the local certifying agency like APEDA, BIS, etc. Approach them for more details, regarding certification procedures. In India, APEDA regulates the certification of organic products (But not for eggs?), as per National Standards for Organic Production (NPOP). At present there is no authorized "Organic eggs' certifying agency in India. Hence we can produce these eggs as per international standards and market them. For details contact Dr. G. Sreenivasan, senior marketing officer, ministry of food processing industries, New Delhi, Mob. 094442-01926, for licensing and export. Also contact Mr. Sandeep Bhargava, CEO, Onecert Asia PVT. Ltd., Plot no.8, Pratap Nagar colony, Tonk road, Jaipur-302017 ph.0141-2701882, onecertasia.in, info@onecertasia.in for certification.
The NPOP standards for production and accreditation system have been recognized by European Commission and Switzerland as equivalent to their country standards. Similarly, USDA has recognized NPOP conformity assessment procedures of accreditation as equivalent to that of US.
Bureau of Indian Standards (BIS formerly ISI) is also offering certification in some areas; where APEDA is not covered. With these recognitions, Indian organic products duly certified by the accredited certification bodies of India are accepted by the importing countries.
Organic certification for local sales is somewhat lenient and relaxed; but for export purpose, all the requirements stipulated by the importing country must be strictly followed; otherwise the eggs are likely to be rejected by the importing country.
Maintain proper records on vaccination, medication, disease out breaks if any, feed ingredient suppliers, egg production and sales records for inspection and audit purpose by the licensing authorities. Must be ready for undergoing periodic on-site inspections.
Organic and conventional egg production, packaging and marketing shall not be combined together.
The feed ingredient, feed and the eggs produced may be tested in approved laboratories, periodically in your area, for pesticide, antibiotic and drug residues. Some of the testing laboratories are 1. Bangalore Test House- 080-23388895, 23502689
2. Bharat Test House , 454/2, Bharat Test House Complex, Azadpur ,Delhi-1100033,
Tel : +91 11 27672629,27675696,27675900, E-mail : bthinfo@bharattesthouse.com
3. Central Avian Research Institute (CARI), Izatnagar, Bareily, UP-243122, Ph.0581-2301261Department of Animal Nutrition, Guru Angad Dev Veterinary & Animal Sciences university, Ludhiana-141004, Punjab
4. Central food laboratory, 3-Kyd street, Kolkatta-700016, www.fssai.gov.in
5. Delhi Test House , A-62/3. G.T. Karnal Road, Industrial Area, Opp. Hans cinema, Azadpur, New Delhi -110033,Tel : 011-47075555, E-mail : info@delhitesthouse.com
6. Department of Livestock Products Technology, Guru Angad Dev Veterinary & Animal Sciences university, Ludhiana-141004, Punjab
7. Director, Central poultry breeding farm, Chandigarh,
8. Indian Herbs Research & Supply Co.Ltd., Saharanpur, UP,
9. SGS India Pvt. Ltd, ,267, Udyog Vihar, Phase-IV, Gurgaon,122015,Haryana,Tel : 0124-2399990
10. TUV SUD South Asia, C-153/1, Okhla Ind. Estate, Phase-1, New Delhi-110020,Tel. : 011–3088 9611,E-mail: info@tuv-sud.in
Layer feed formulae suitable for organic egg production are given in the table below. Give this feed, after conventional rearing upto 17 weeks of age
| | | | |
| --- | --- | --- | --- |
| Feed ingredient / Supplement (all ingredients must be free from pesticide residues& genetically modified feed ingredients must not be used) | Pre-layer feed from 17 to 21 weeks of age | Layer feed from 22 to 50 weeks of age | Layer feed for above 50 weeks of age hens |
| Organically grown grains like maize, wheat, bajra, Jowar, Ragi, rice, paddy or all grain mixture, depending on the cost, free from pesticide residues | 578 kg | 550 | 540kg /ton |
| Deoiled rice bran, ordinary rice / wheat bran or all combined together- preferably organic | 110 | 92 | 109 |
| Organic De-oiled soya bean meal | 150 | 160 | 140 |
| Organic degummed, roasted guar korma | 40 | 40 | 40 |
| Organic de-oiled rape seed meal | 40 | 40 | 40 |
| Calcite powder (LSP) | 25 | 30 | 35 |
| White marble chips | 30 | 60 | 70 |
| DCP (di-calcium phosphate-deflurinated rock phosphate-17% P)- not of animal origin | 13 | 14 | 12 |
| Salt | 3.5 | 3.5 | 3.5kg /ton |
| Sodium bicarbonate | 1.5kg | 1.5 | 1.5kg |
| Premix ( as shown below) | 10 | 10 | 10Kg |
| TOTAL= | 1000 kg | 1000 | 1000Kg |
| VANNAMIN– Organic trace minerals (By Guybro chemicals, Mumbai, 022-40546800) | 500g | 500 | 500G/Ton |
| Rovimix-DSM layer TN (vitamin premix) | 500 | 500g | 500g/ton |
| DL-Methionine | 500g | 600g | 300g |
| Lysine | 700g | 500g | 200g |
| 1.Oreganol (plant extracts-GRAS) by Redox pharma, Haridwar, ph. 01334-239196)- give on alternate weeks | 500g | 500G | 500g /ton |
| 2. Naturaliv /Zigbir (Natural remedies), Livol (Indian herbs) or LIv-52 (Himalayan drugs)- A safe herbal liver tonic- give on alternate weeks | 500g | 500 | 500g/ton |
| 3. Immugreen (Indian herbs) Safe herbal product- give on alternate weeks | 250g | 250 | 250g/ton |
| TT Zyme forte (TTK) or Maxigrain (Polchem), with phytase | 500 | 500 | 500g/ton |
| Biocholine or Herbal choline (Indian herbs)- A herbal B-complex Vitamin | 500g | 500g | 500g /ton |
| 4. Probiotics= Saccharolact, Gutpro or Lactobac (give on alternate weeks) | 500g | 500 | 500g |
| Maize flour or wheat bran (filler material)- quantity sufficient (QS) to make the total- 10kg | q.s.++ | q.s.++ | q.s.++ |
| Total premix | 10 | 10 | 10kg |
1 &2 =add in feeds Origanol (1) and any herbal Liver tonics (2) mentioned below for one week, followed by 3 & 4= Immugreen (3) and Probiotics (4) for next week. Repeat these alternatively.
@The feed formulae given below are for hens laying 300+ eggs annually
@ For hens laying 200- 250 eggs, the protein can be reduced by 1%, by replacing 1% each of soya, guar and rapeseed meal, with 3% extra bran.
@ For hens laying less than 200 eggs /annum, the protein level may be further reduced by another 1% as done above and the vitamins, minerals, including calcium (LSP and marble chips) and phosphorus (DCP) supplements may be reduced by 30%.
@ in the place of all the feed supplement premix (10kg) in the formulae below, we can use only one supplement namely,"ORGANIX", replacing all others at 5,25 kg per ton of feed; which contains all vitamins, minerals etc.in the organic farm.