Article
RESPONSE – Eases respiratory distress in poultry
S V Vaidya, C S Saraf and J H Nandardhane Noble Vetscience, Pune, India
Introduction
Respiratory diseases present a continuing, potential threat for economic loss in poultry industry. Respiratory diseases are commonly associated with a number of viruses, bacteria, mycoplasma infections and other factors such as pollutants, moulds, chemicals, gases, allergens and draughts. Poor management practices and housing problems such as poor ventilation resulting in ammonia build-up is also a major cause of respiratory diseases. Respiratory disease causes respiratory distress, inflammation of respiratory organs, increased mucus secretion and congestion of lungs. It also interferes with oxygen availability to the lungs and thus directly affecting the liveability of birds. Many a times, these respiratory infections are responsible for high mortality in poultry flocks. This demonstrates the need for the establishment of more comprehensive control strategies to overcome distress caused during respiratory diseases.
There are many, well known herbal formulations available in market to cure respiratory distress in poultry. One of such polyherbal formulations (RESPONSE; M/s Noble Vetscience, Pune) was tested in present study for its efficacy during experimental respiratory distress. The mode of action of RESPONSE is based on the breakthrough Science of Life Energy which is proven through extensive research and field trials. The Phytogenic extracts used to formulate RESPONSE are Atropa Belladonna (Deadly nightshade), Drosera Rotundifolia (Common sundew), Zingiber officinale (Ginger) and Passiflora incarnata (Maypop) , fortified with natural vitamins and minerals.


RESPONSE works on restoring the obstructed flow of Life energy in the alveolar cells (lungs) and respiratory tract epithelial cells by clearing the pathogens and debris at cellular level.
The energized Phytogenic extracts of RESPONSE help to relieve respiratory distress by reducing the mucus secretion, clearing the respiratory passage, improving oxygen carrying capacity of lungs, and improving the supply of oxygen to blood and the brain.
Material and methods:
A study was conducted at KNP College of Veterinary Science, Shirwal to assess the Efficacy of 'RESPONSE' on induced respiratory stress in broiler chicken. One day old broiler chicks (128) were divided in four treatment groups of two replicates each as follows-
Group T0 – Control group: with basal diet
Group T1 – Induced Respiratory Stress group: with Basal diet
Group T2 – Induced Respiratory Stress + RESPONSE group: with Basal diet and supplementation of RESPONSE @ 500g/MT of feed after Induction of respiratory stress from fourth week onwards
Group T3 – RESPONSE group: Basal diet with supplementation of RESPONSE @ 500 g/MT of feed from first week onwards
All birds were reared under standard management practices like feeding, watering, medications and vaccination in all groups for 42 days of age. Throughout the trial feed and water were offered ad-libitum. The induction of respiratory stress was done fourth week onwards.
100% chicks were selected from each treatment group to evaluate the parameters, viz.: clinical symptoms of respiratory distress, average body weight (pen wise) and mortality. Histopathological study was performed to check the effect of respiratory stress on respiratory organs.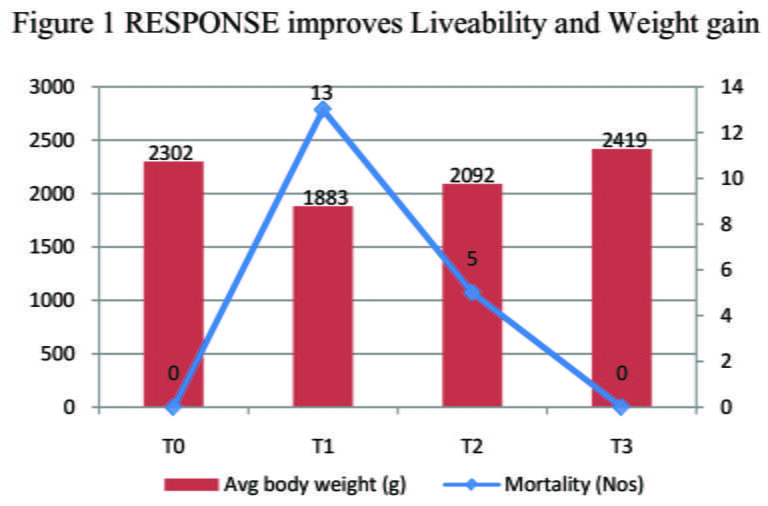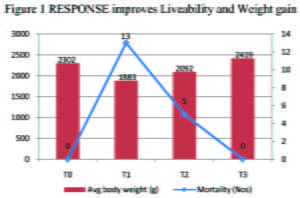 Results and discussion:
The clinical symptoms of respiratory distress were visible by the end of 4thweek and exaggerated in 5th and 6th week. These include symptoms like gasping, open beak and respiratory sounds (rales). The clinical signs were significantly severe in group T1 as compared to group T2. This indicates that RESPONSE reduces the severity of clinical signs in induced respiratory stress condition.
The mortality recorded varies within different groups. As shown in Figure 1, zero mortality was recorded in T0 Control group and T3 i.e. RESPONSE group. T1 group is showing significantly (P<0.01) higher mortality i.e. 13 as a consequence of induced respiratory stress. This is quite obvious since the birds are challenged to respiratory stress and reared without any treatment to reduce the induced stress. However group T2, supplemented with RESPONSE fourth week onwards after induction of respiratory stress, is showing significantly reduced mortality (5) as compared to T1 group. This indicates improved liveability of birds in group T2 as a result of RESPONSE supplementation.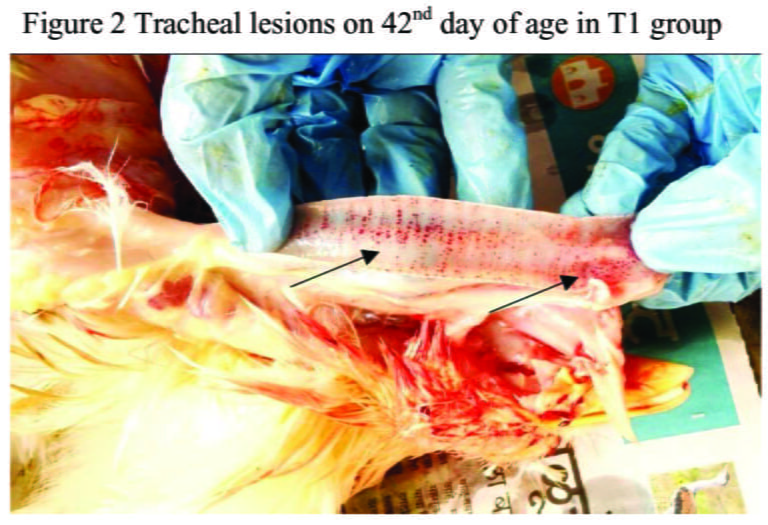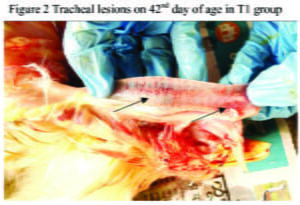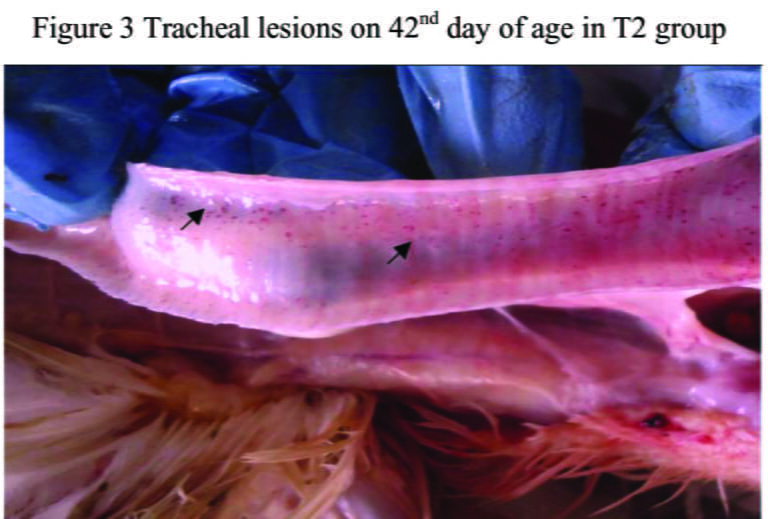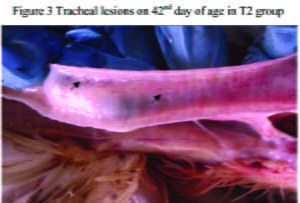 In case of body weight gain, continuous use of RESPONSE from day one significantly (P<0.01) improved body weight (2419 g) in T3 group as compared to T0 Control group (2302 g). This indicates that RESPONSE elicited growth promoting effect as well. This extra weight gain of 117 g is quite significant from commercial point of view. However T2 group treated with RESPONSE during respiratory distress revealed significantly (P<0.01) increased body weight (2092 g) as compared to non treated T1 group. The body weights of different groups are presented in Figure 1.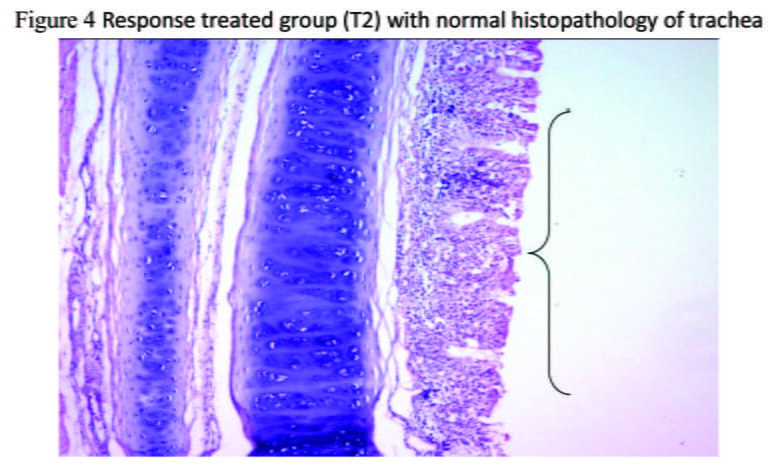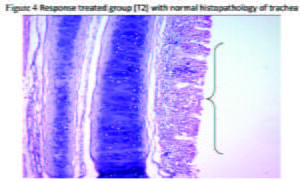 Pathological study revealed maximum petechial and diffuse haemorrhages in tracheal mucosa of T1 group (Figure 2). Whereas group T2 supplemented with RESPONSE scored minimal tracheal haemorrhages (Figure 3). Histopathology of trachea and entire respiratory tract indicated intact epithelia and normal tissues in group T2 supplemented with RESPONSE (Figure 4). Birds in T1 group without RESPONSE showed significant inflammatory lesions in trachea (Figure 5).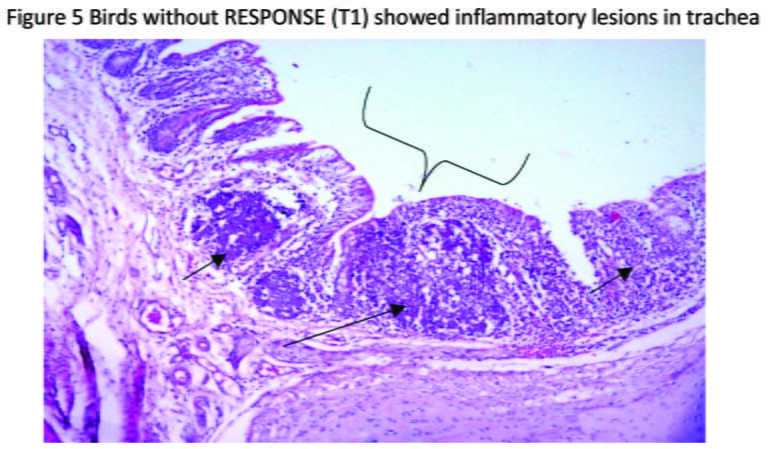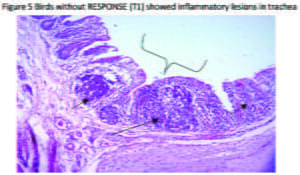 Conclusion:
Results of present study indicate that addition of RESPONSE helps to control the respiratory stress very effectively. RESPONSE, if given as a dietary supplement from day one till liquidation of flock can improve overall performance of birds by enhancing body weight and reducing mortality. RESPONSE, a polyherbal dietary supplement is effective in all types of respiratory problems and can help in early recovery of birds against respiratory distress.