Article
DYNAMICS OF CORONA VIRUS IN POULTRY BIRDS: INFECTIOUS BRONCHITIS IN CHICKENS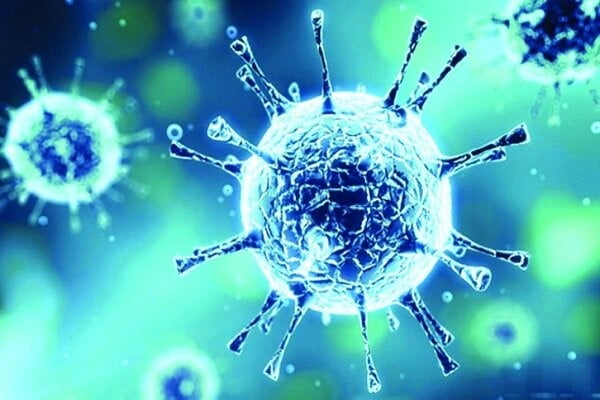 Dr. Richa Tiwari, BVSc & AH, MVSc (Veterinary Public Health and
Epidemiology)
Former Research Scholar, School of Public Health and Zoonoses,
Guru Angad Dev Veterinary and Animal Sciences University, Ludhiana, Punjab, India.
INTRODUCTION
Corona viruses cause diseases in a variety of domestic and wild animals as well as in humans, affecting many organ systems. Corona virus is affecting the poultry industries in all parts of the world and posing serious challenges to the industry by threatening sustainable poultry farming and the global protein supply. The disease is also known to affect non-domestic galliforms, including exotic and ornamental birds. Several strains have been reported and identified in other bird species including peafowl, turkeys, teal, geese, pigeons, quill, ducks, and parrots. The virus is distributed worldwide and in birds it primarily infects the respiratory tract, kidneys, and the reproductive system causing respiratory distress, kidney damage, and decrease in egg production
HOW IS THE MORPHOLOGY OF CORONA VIRUS?
Corona viruses are spherical to pleomorphic in shape and have envelope outside. This envelope has projections present outside its surface and they are called as spikes. The spike forms the peplomers which are embedded in the envelope giving the virus its corona or crown-like morphology. These projections are responsible for attachment to the host cell and cause infection.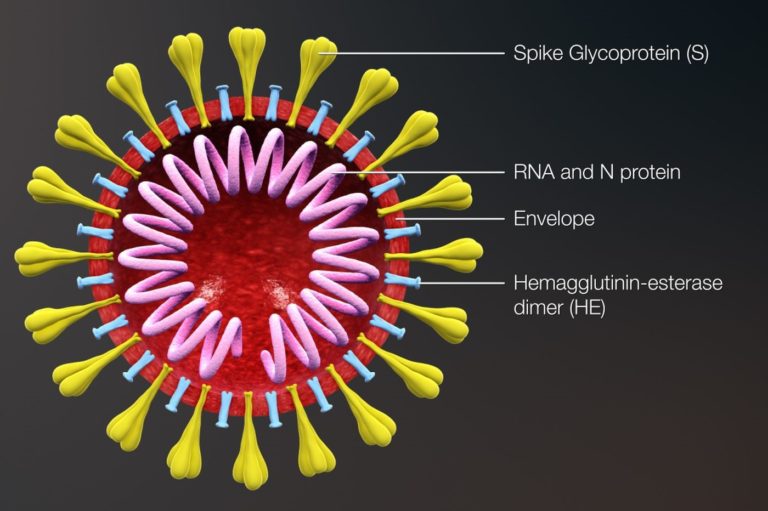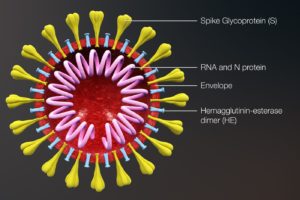 Infectious bronchitis is an acute and highly contagious disease in chickens caused by coronavirus. The virus can cause substantial economic losses throughout the poultry industry worldwide. It affects the upper respiratory tract and the reproductive tract, and some strains can also cause nephritis.
WHAT FACTORS LEAD TO THE EMERGENCE OF NEW STRAINS OF INFECTIOUS BRONCHITIS VIRUS?
The emergence and evolution of new viral pathogens cause a major problem in the poultry industry. Mutation and recombination processes in the genes of virus affecting chickens leads to the emergence of new virus strains, and give rise to new virus population diversity.
CLINICAL FEATURES AND EPIDEMIOLOGY OF THIS DISEASE:
The clinical presentation of infectious bronchitis depends on the age, genetic background, and immune status of the bird at the time of infection, route of exposure, nutritional factors (especially levels of calcium in the diet), virulence of the virus strain, and the presence of stress factors such as cold temperatures, poor ventilation etc. Outbreaks of the disease may be explosive with the virus spreading rapidly as it involves the entire flock within a few days. The incubation period is typically 18 to 48 hours. In chicks 1 to 4 weeks of age, virulent virus strains produce severe respiratory disease, with gasping, coughing, tracheal rales, sneezing, nasal exudate, wet eyes, respiratory distress and occasionally swollen sinuses. Mortality in young chicks is usually 25 to 30%, but in some outbreaks can be as high as 75%. Less virulent strains cause fewer and milder respiratory signs, and lower morbidity and mortality rates. Infection of young female chicks may result in permanent hypoplasia of the oviduct that is evident later in life as reduced egg production and inferior quality eggs.
Egg-laying chickens show a decline or cessation in egg production or less consistently respiratory disease. When laying resumes, many eggs are abnormal, including lack of calcified shell, thin shells, and shells with stipples, distortions, depressions and egg albumen may be watery. In acutely infected birds, the kidneys can be swollen, with urates distending the ureters and in the chronic phase there can be atrophy of kidney with large calculi within the ureters.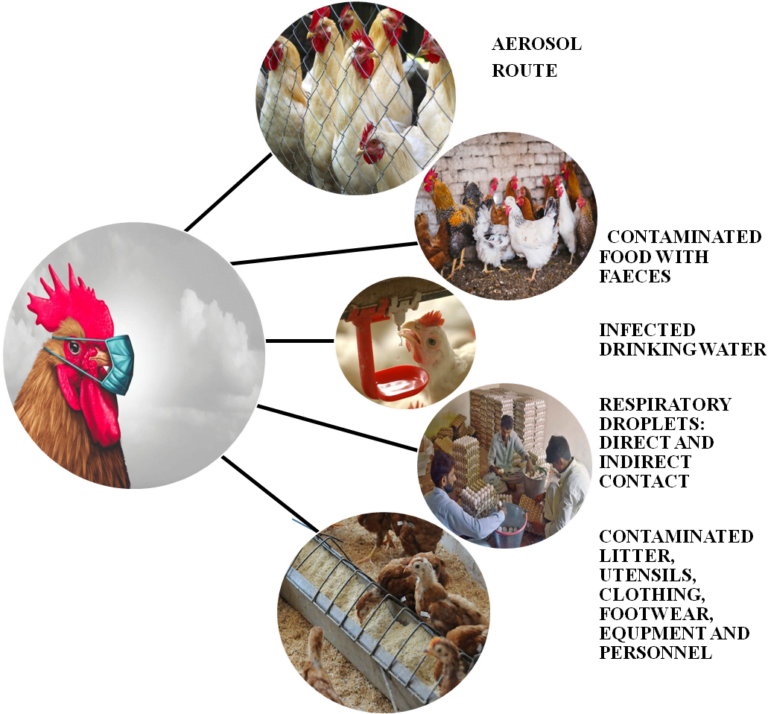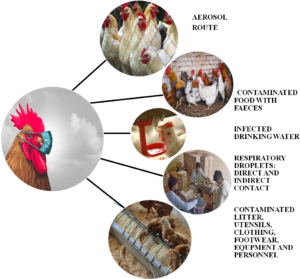 WHAT IS SARS- CORONA VIRUS?
The epidemiology of SARS Corona Virus deserves special mention, because it highlights the emergence and control of a novel human infectious disease. SARS (Severe Acute Respiratory Syndrome) CoV emerged from a precursor virus which is endemic in insectivorous bats. The close proximity of different animal species (including bats) within large markets which service the restaurant trade for exotic food in southern China because of which the bat SARS CoV virus adapted to other mammalian species (cats, dogs) and in this way it is causing diseases to variety of animal species and in humans also.
SARS is a novel infectious disorder that was first diagnosed in China in November 2002 and subsequently spread worldwide. According to WHO in 2003 SARS was recognized in over 8000 persons with 778 deaths before the outbreak was extinguished.
LET'S UNDERSTAND PATHOGENESIS OF THIS DEADLY VIRUS IN BRIEF:
The virus replicates to high titre first in the respiratory tract of the birds and then distributes to many organs. The virus can cause extensive damage to the ovaries, oviduct, and the kidneys, but this is dependent on the properties of individual virus strains. The intestinal tract is another site of primary infection, but damage usually is minimal. This virus do not persist for up to 14 weeks in birds. Kidney and intestine are the likely sites of virus persistence.
In very young chicks, the main bronchi may be blocked with caseous yellow casts. Pneumonia and conjunctivitis occur in some cases.
YOU SHOULD REMEMBER THAT CORONA VIRUS IS NOT LIMITED TO CAUSE DISEASE IN A SINGLE HOST:
SARS-corona virus spread from mammals such as cat, dog to humans. The virus has also been shown to replicate in macaques, ferrets, pigs, rats etc.
The best word to describe Corona viruses is – finicky, fussy and fastidious. This claim is given by the virologists and other scientists who are facing difficulties in finding the types of cells in which coronaviruses can grow in vitro.
ECONOMIC LOSSES ASSOCIATED WITH THE DISEASE:
Flock management and the strain of virus involved play a major role in the impact of Infectious Bronchitis Viral (IBV) infection. The principal losses are from production inefficiencies. The respiratory disease is devastating, resulting in poor utilisation of feed by young chicks, and hence poor weight gains. In layers and breeders, the main production losses are from non-realisation of full egg-laying potential. This may be a result of one of the following:
a) Delayed maturity
b) Decline in production during infection (estimated at between 3% and 50%)
c) Sub-optimal production after recovery.
Additionally, losses are incurred due to downgrading of eggs. In breeders, the fertility rate could be reduced during and after an outbreak. Other losses are due to mortality, reduction in income etc.
OTHER CORONAVIRUSES OF BIRDS AND BATS:
Warm-blooded flying vertebrates likely serve as the definitive hosts that harbour the coronavirus gene pool, with alpha- and beta coronaviruses having their origin in bats, and gamma- and delta-coronaviruses having their origin in birds. A wide variety of coronaviruses have been identified in geese, guinea fowl, swans, gulls, shorebirds, vulture, sparrow-hawk, hawk, woodpecker, crow, pigeons, ducks, parrots, and other species of birds. Similarly, genetically divergent species of coronaviruses have been identified in a wide variety of species of bats, which clearly indicates that they may be the source of future epidemics of human and animal disease.
PREVENTION AND CONTROL
In some countries Live-attenuated virus vaccines are widely used to protect meat chickens. These vaccine viruses are derived by serial passage in embryonated chicken eggs. They are administered in drinking water, by coarse spray, or by deposition on the conjunctiva (eye drops). The first vaccination is typically given in the hatchery when birds are 1 day old, and booster vaccination is given at 10 to 18 days of age. Passively acquired maternal immunity prevents respiratory infection and disease for the first 7 days. For layers or breeders, live-attenuated vaccines are used for priming, followed by killed oil-adjuvant booster vaccines, often given repeatedly during the laying cycle. Vaccination breaks occur because of the variable presence of new antigenic virus variants and existence of several serotypes. Such virus variants will continue to emerge and spread variety of disease thus posing continuing problems for poultry producers.
Control of infectious bronchitis disease is difficult because of the presence of persistently infected chickens in some flocks and the continuing emergence of variant viruses. The domestic chicken is the primary and most important host, but infections and disease have been described in other wild birds also.
CONCLUSION
Even with spending huge amounts of money to control Infectious Bronchitis disease outbreaks, other classical and newly emerging virus serotypes are constantly reported.
It is evident that IBV has become endemic worldwide. It is of great concern to the poultry industry that new IBV variants are persistently emerging. These new virus variants do not respond to existing vaccines currently in use.
Due to wide spread distribution of the virus, prevention and control of this disease requires a well-coordinated approach, balancing biosecurity, hygienic measures and vaccination.