Article
EFFICACY OF FRANKOLIN (TIAMULIN 10%) & BREMULIN 80 (TIAMULIN 80%) ON EGG PRODUCTION IN LAYERS OF NAMAKKAL REGION: CUSTOMER FEEDBACK REPORT
Dr S Muthukumar, Technical Manager-Zydus AH, Namakkal
Introduction:
The modern strains of commercial layer chicken with their genetic potential to lay greater number of eggs during laying period make them susceptible to different types of reproductive tract disorders. In Namakkal, most of the layer farms are affected with Mycoplasmosis, which causes severe production drop and egg shell apex abnormalities leading to huge economic losses. Zydus AH has devised LMC program based on baseline titer level of Mycoplasma synoviae in IDEXX platform, unique pharmacokinetic properties of pleuromutilin derivates and robust monitoring tool to reduce risk of mycoplasmosis in layers. The present review is customer feedback report of LMC program highlighting efficacy of Frankolin (Tiamulin 10%) and Bremulin 80 (Tiamulin 80%) in layers of Namakkal region.
Mycoplasmosis – Brief review
Mycoplasmas are members of the class Mollicutes, Order I, Mycoplasmatales. Genus I, Mycoplasma, has more than 120species, a DNA G+C content of 23–40%, a genome size of 600–1350 kb, requires cholesterol for growth, occurs in humans and animals, and has a usual optimum growth temperature of37°C. Avian mycoplasmosis is mostly caused by Mycoplasma gallisepticum (MG) and M. synoviae (MS), were most important to cause clinical and economical losses. MG infection is a chronic respiratory disease of chickens and causes infectious sinusitis in turkeys. Symptoms include respiratory rales, coughing, nasal discharges and, in turkeys, frequently include sinusitis. MS infection is commonly known as infectious synovitis, an acute-to-chronic disease for chickens and turkeys involving primarily the synovial membranes of joints and tendons sheaths. However, during recent years, MS has been less frequently associated with synovitis, while, more incidences of egg-shell apex abnormalities and egg production drop were caused by emerging salpingotropic (oviduct tropism) MS strains(Khalifa et al., 2013).Transmission of the etiological agent occurs through transovarian route, respiratory aerosols and direct contact. Following infection birds become persistently infected with MS and remain carriers for life. With the expansion of poultry farms and the concentration of large, multiage production complexes within a restricted geographic area, it is becoming more difficult to maintain flocks that are free of MS. It is leading to tremendous economic losses in poultry production as a result of decreased hatchability and egg production, reduced quality of day-old chicks, reduced growth rate, increased costs of eradication procedures (site cleaning and depopulation), and increased costs of medication and vaccination (Ferguson-Noel and Williams, 2015).
Effect of Tiamulin on Mycoplasmosis
Tiamulin hydrogen fumarate is a semisynthetic derivative of the diterpene antibiotic pleuromutilin (Egger and Reinshagen, 1976) and is effectively used in the treatment of airsacculitis, which is primarily caused by Mycoplasma spp. Recently, MIC data from Europe (Pridmore, 2008) on 32 isolates of M. gallisepticum and 21 isolates of M.synoviae showed that Tiamulin was highly active against these etiological agents. After oral gavage of the medicine at 25 and 50 mg/kg of BW, Tiamulin rapidly reaches peak serum concentrations of 1.7 and 3.6 μg/mL, respectively, in chickens at about 2 h; the levels declined over a 12- and 24-h period depending on dose (Laber and Schutze, 1977).With predominance of salpingotropic MS strain (oviduct tropism), it has become indispensable to select anti having higher tissue distribution in genital organs besides respiratory tract. In this context, following are the tissue distribution analysis of two leading classes of antibiotics.
Sr No.
Antimycoplasma agent
Class
Tissue distribution (active metabolite)
Upper Respiratory Tract
Lower Respiratory Tract
Genital organs (oviduct)
Egg
1.
Erythromycin
Macrolide
+++
+
+
– (Inactive metabolites only)
2.
Azithromycin
Macrolide
++++
++
+
– (Inactive metabolites only)
3.
Tylosin
Macrolide
++++
++
++
+
4.
Tilmicosin
Macrolide
+++++
++
+
– (Inactive metabolites only)
5.
Tylvalosin
Macrolide
+++++
++
++
+
6.
Tiamulin
Pleuromutilin
+++++
+++
+++
++ (50% active)
Tiamulin has impressive tissue distribution in both respiratory & genital organs where in later it has highest tissue distribution. In laying & breeder hen, 50% deposits in its active form (Tiamulin) and 8 -alpha-hydroxymutilin, hence, effectively counteracts MS tropism in oviduct and thereby production drop. In addition, advantage of least MIC value range against different M.synoviaeisolates as 0.006 – 0.5, Tiamulin is proven to be least resistant over longer duration (Valk and Burch, 2002; Islam et al., 2009). Only Tiamulin residues in egg do not conflict with human food chain as it (pleuromutilin) is not used in human antibiotic medication. On the contrary, antimycoplasma agents like Tylosin, Tilmicosin&Tylvalosin poses resistance threats through its residues below MIC value over longer duration and higher trends of cross resistance (macrolides for human use).
Layer Mycoplasma Control program: An overview in Namakkal
Zydus AH has devised layer mycoplasma control (LMC) program based on critical baseline titer against MS in IDEXX platform, unique pharmacokinetic properties of pleuromutilin &macrolides in combination at different phases of layer and robust monitoring tool as tracker. The value proposition of the program for layers are immense in terms of efficacy, return on investment and avoidance of resistance by preventing indiscriminate use of antibiotics during rearing period. The program stresses on periodic monitoring of MS infection status in flock and treatment in right dosage is recommended only wheninfection status (titer) crosses the critical baseline for MS. Layer mycoplasma control (LMC) program has been successfully adopted by many layer farms in India with impressive customer satisfaction and feedback.
In Namakkal, total 13 farms and 47 batches used adopted LMC program (either Bremulin 80 or Frankolin) where post adoption egg production improvements were classified into three categories, viz, >5 %, 3 – 5% and< 3%. In summary, > 5%, 3-5% and < 3% improvement in egg production were recorded in 14, 26and 6 batchesrespectively. The success rate of prediction for MS infection status based on baseline titer level > 10000 (IDEXX) and thereby positive response to treatment accounted to 97.8%.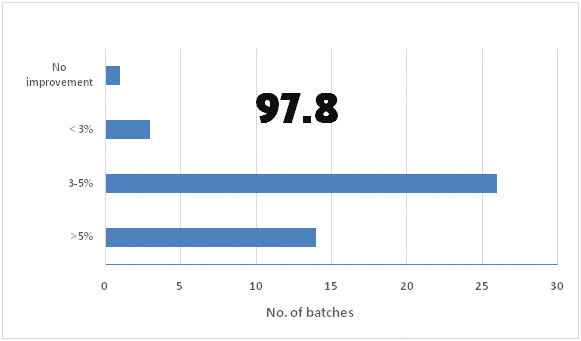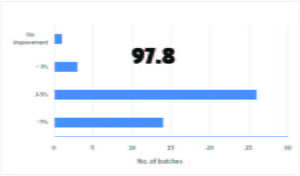 Conclusion:
Namakkal contributes largely to egg production in India. The tremendous pace of growth in egg production also accounts for simultaneous losses owing to uncontrolled proliferation of Mycoplasma synoviae (salpingotropic strains) in laying hens. Furthermore, the interactions of Newcastle Disease Virus, Infectious Bronchitis Virus, Mycotoxinswith Mycoplasma synoviae worsen production losses in layers. In this context, Zydus AH devised LMC program strategically control mycoplasma in chicks, growers and layers through right combination of antibiotics at therapeutic concentration and evaluation of stressors (interaction of NDV, IBV, Mycotoxins & managemental problems) in flock beyond mycoplasmosis with periodic monitoring.