News
Joe Louie Christo Strengthens Aviagen India Hatchery Operations with Skill and Knowledge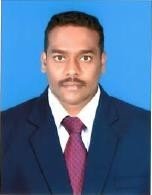 Nov 14, 2019 Udumalpet, India. –
Aviagen India® has named Joe Louie Christo as its new Hatchery Operations Manager. Based at Aviagen's Elayamuthur campus, Joe will be responsible for all Aviagen hatcheries in Tamil Nadu and Haryana, while also working closely with associate hatcheries at Central India Poultry Breeders and Hy-Line India.
Joe gained extensive experience with Ross® birds through his work over the past decade with Agrited Nigeria and Suguna Foods. In addition to a profound knowledge of hatchery operations, he brings an in-depth understanding of hatchery engineering and project management.
These qualities will benefit the company during its current phase of growth and development owing to the increasing popularity of the broiler breeder known locally as the "308 AP," according to Aviagen India Business Manager Marc Scott. "Joe's engineering background will add tremendous value as we complete the final stages of planning our new hatchery near Dindigul, which will feature the latest in hatchery automation, biosecurity and sophistication. We welcome Joe to the team and offer him our full support for success in his new role."
When asked about his new role, Joe commented, "It's great to become part of such a dynamic and growing company with many opportunities to make a difference. I look forward to contributing to the success of our customers by helping produce chicks with the highest standards of quality, biosecurity, health and welfare."
About Aviagen
Aviagen® is a global poultry breeding company that develops pedigree lines for the production of commercial broiler chickens under the Arbor Acres®, Indian River®, and Ross® brand names. The Rowan Range® and Specialty Males® are specialty breeding stock from Aviagen that offer greater flexibility for customers to meet specific or niche market requirements. The company is based in Huntsville, Alabama, USA with a number of wholly-owned operations across the United Kingdom, Europe, Turkey, Latin America, India, Australia, New Zealand, and the U.S.A., and joint ventures in Asia. Aviagen employs more than 4,600 people and has a distribution network serving customers in more than 100 countries.
For further information, please visit www.aviagen.com