News
ONLINE DISCUSSION FORUM (ODF)–On Chicken Alternatives (DUCK/TURKEY/GUINEA FOWL/QUAILS) ORGANISED BY CPDO&TI, BENGALURU ON 05TH DECEMBER, 2020
Central Poultry Development Organization & Training Institute under Government of India, Ministry of Fisheries, Animal Husbandry & Dairying, a premier Institute located at Hessarghatta, Bengaluru organized a one day online Discussion forum –On Chicken Alternatives (Duck/Turkey/guinea Fowl/Quails) on 05th December, 2020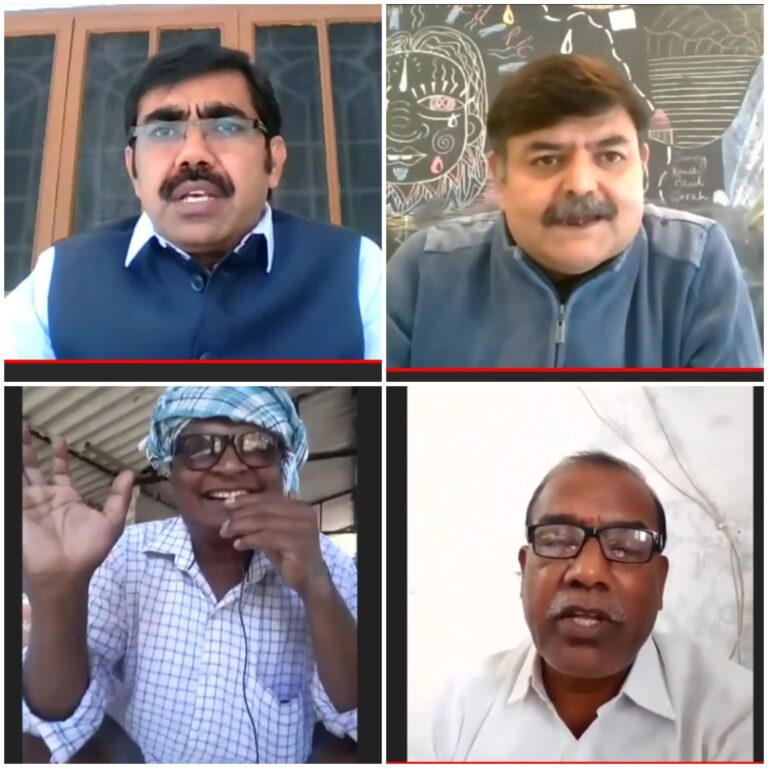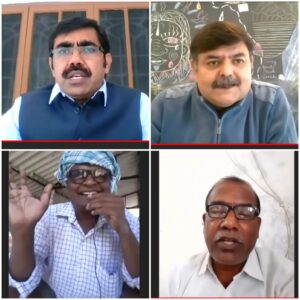 The programme was planned to impart the knowledge for entrepreneurs focused on basic management practices and business models in Duck, Turkey, Quails and Guinea fowl, and understanding the Nutrition, Disease Management and Medications etc.
Dr. Mahesh P.S., Joint Commissioner, GoI & Director inaugurated the programme and narrated substantial opportunities in diversified poultry sector other than chicken. Further, the choice of consumer is towards more options in poultry meat which is driving into alternate to chicken.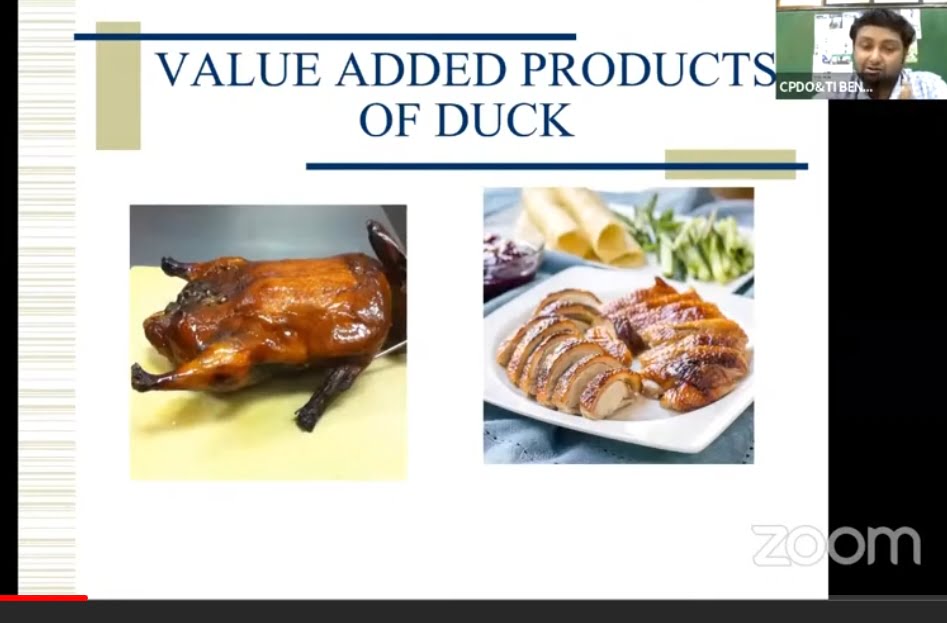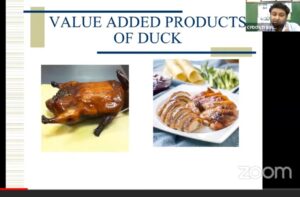 Dr. Abhijeet Kumar, Farm Manager CPDO & TI, Bengaluru illustrated the basics of duck production and management on the first session. Interesting facts about Duck Culinary options like "Peking Duck Production" a delicacy in China and South East nations which is specially done by blowing air in between skin and the body and marinated with Starch and Honey for a special preparation Peking Duck. In addition to these production of sausages, Balot,. Foie gras production was briefed. Duck down feathers are being used for making lot of cosmetic preparations like jackets, pillows etc.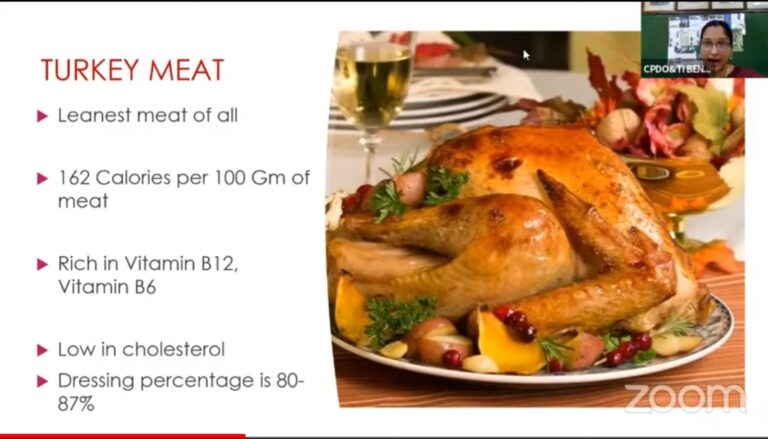 Dr. Sonali Nanda, Assistant Director, CPDO & TI, Bengaluru briefed the audience about management aspects and salient features of Turkey production and specialties of turkey meat being the leanest white meat among poultry. Butter ball turkey is a special preparation prepared for Christmas across the globe and for thanksgiving everybody watches the President of America pardoning a Turkey in a Thanksgiving day.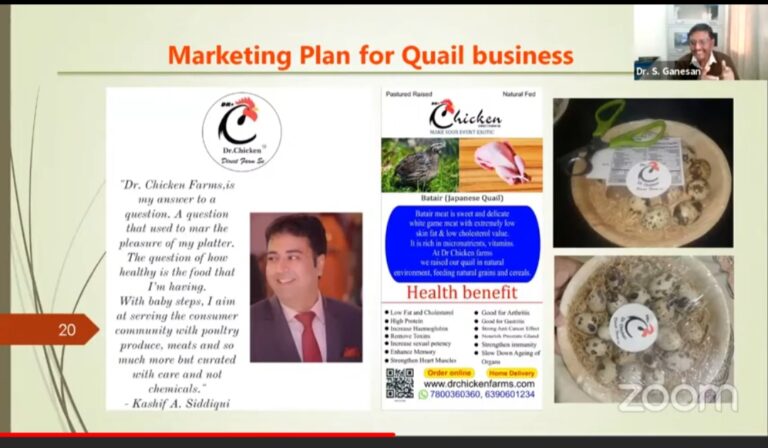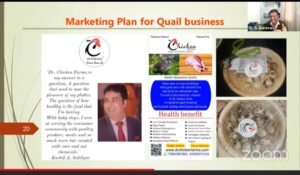 Dr. S.Ganesan, Assistant Director, CPDO (NR) Chandigarh, elaborated on Quail production and management. Quail breeding has been under the clutches of threat by forest act 1972, however, recent notifications from Government of India denotified Quails as restricted species under forest act. Quail farming is encouraged for the farmers due to easy going options shorter life cycle (6 weeks), high protein meat among poultry, preferred for anti-asthmatic and body builders. It's a preferred meat in the winter as "Tandoori Quail", Dr. Mahesh mentioned a specific exclusive Dhaba at Ahmedabad "Quail Dhaba" selling exclusive Tandoori Quail in his Dhaba. Average consumption  per person is noted to be five plates each at the cost of Rs. 100/- per plate, the Dhaba sells exclusively only quails and no other food products.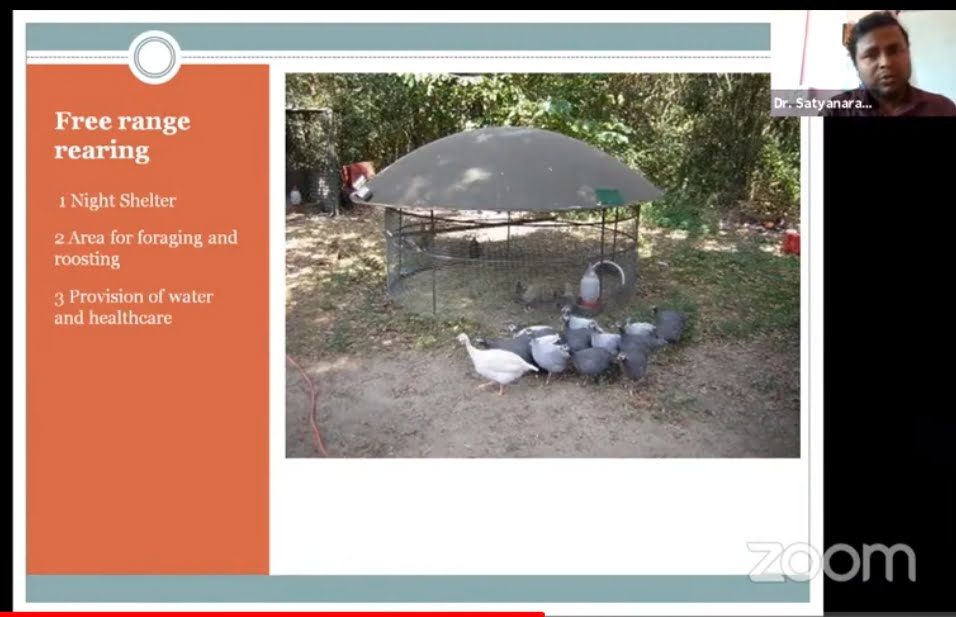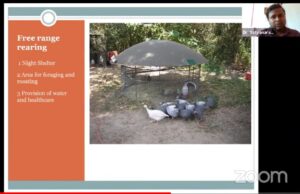 Dr. Satnarayan Swain, Deputy Director CPDO (WR) Mumbai, briefed on management aspects of Guinea fowl production. He noted that Guinea Fowl production is taken up mainly for fancy purpose because of their look and specific noise by guinea fowls. Dr. Swain demonstrated the difference between male and female guinea fowl with reference to the size of the helmet (boney projection on the head) and wattles. Guinea Fowl egg is very hard and these birds are generally resistant to aflatoxin in the feed.
DISCUSSION OF ENTREPRENEURS:
Dr. Mahesh invited following successful entrepreneurs for a one-to-one talk on their entrepreneurial journey. Mr. Vivek Kushwaha, Gayatri Organic Farms ,New Delhi, Mr. Lagishetty Bhoopathi, Telangana Turkey Farm, Siddipet, Mr. P. Rajesh Kumar, SRS Japanese Quails Group Tirupur,TN, Mr. Shyam Sundar Chaudhary, Rinkal Bater Farms, Palghar were the panelists.
Mr. Vivek Kushwaha, experienced entrepreneur having decades of experience in duck and turkey farming started a journey as entrepreneur with zero budget with the mandate (Action gets out the anxiety) under the brand name Gayatri Organic Farms in New Delhi to the present 5.5 crore turnover. In his talk, he elaborated various business opportunities in Duck Farming. He emphasized on three principles for a successful business i.e., "planning, common sense and good quality products". He also suggested to the existing duck and turkey entrepreneurs for the usage of Alfalfa (Lucerne) as feed resources to cut down the cost of production. He also spoke about the regional demands and market of duck products by saying "jo Chalta hai,wahi bikta hai". He claims presently as a leading supplier of duck used for the Peking dish for five star hotel cuisine across India.
Mr. P.Rajesh Kumar, Quail entrepreneur who started his business under the brand name SRS Quail products with his two brothers Suresh and Satish in 2005.Their entrepreneurship began in a small way with 5000 quail chicks and custom hatching. Later they have expanded into breeding farms, premix plant, feed mill and large hatchery with a capacity 10 lakhs quail chicks production per month. They started Nandanam-2 Quail integration with other farmers under contract farming agreement. Presently the SRS group turnover is about 100 crores. Mr. Rajesh Kumar briefed in technical input keys for successful quail farming.
Mr. Lagishetty Bhoopathi is turkey entrepreneur with a good turkey rearing experience. He started his journey in the year 2005 under the brand name "Telangana Turkey farm" located at Siddipet district of Telangana state. In his talk, he elaborated that his farm is running by his family members as he believes in "ownership farming". He rears 1200 turkey birds in an year with 400 birds of three cycles. The cost of production of Rs 1500/- per pair and fetching a profit of 1500/- per pair. He earns annually 10-12 lakhs from this venture. He spoke about the importance of brooding period and suggested to the participants for seasonal brooding since turkey requires longest brooding period of 6-7 weeks. He claims that he supplies his end product to five star hotels, restaurants, retail outlets and dhaba. He is the inspiration of youths of rural India i.e real India. Mr. Bhoopathi acknowledged the contribution of CPDO&TI in technical support and supplying turkey day old poults for the venture.
Mr. Shyam Sundar Chaudhary is an Adivaisi leader and quail entrepreneur. He started his mobile business in the name Rinkal Bater farm in  cycle in 2005 with 100 numbers of quails. He is popularly known as "Laawri wala" (Quail=Lawwa pakshi in Marathi) in Palghar, Maharastra. Presently, he is rearing 7000-8000 quails with earnings of 30000-40000/- per month. He is supplying his products to retail outlets and highway dhaba by his Mahindra Supro. Mr. Laawri wala acknowledged the contribution of CPDO Mumbai in technical support and supplying Quails for the venture.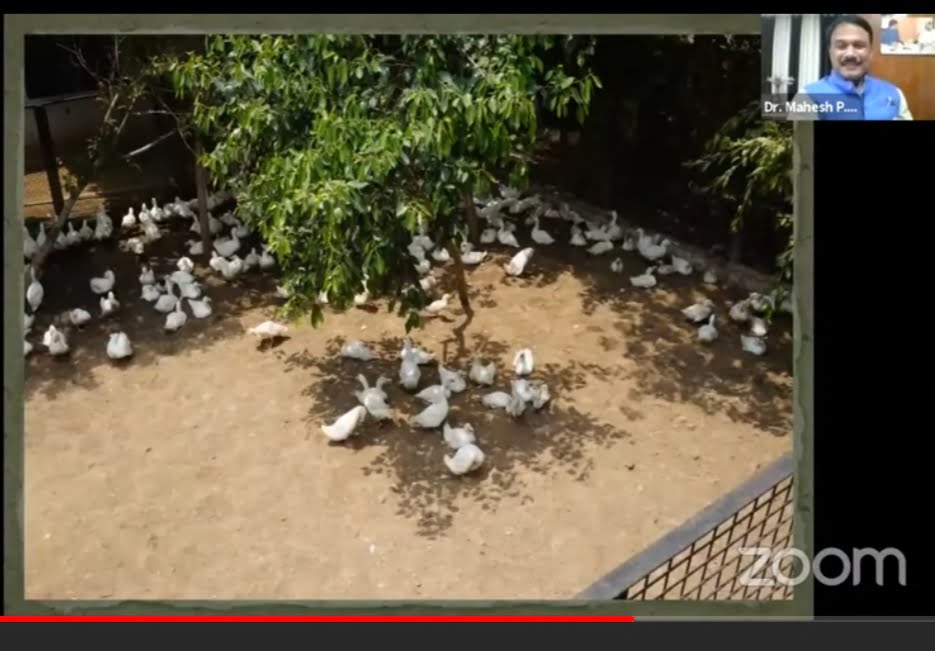 Dr. Mahesh concluded the programme by interaction with the panelists and answering many queries by the audience. He suggested to Shyam Sundar Chaudhary for branding of quail meat in the name of Laawri wala. Dr.Mahesh assured to the panelists and participants about the consistent technical support and supply of chicks of diversified poultry. The event was well appreciated. The team CPDO&TI guaranteed to conduct such many more programmes in the coming future.
Sri. Anwar Basha, Senior faculty of CPDO&TI executed the job of admin of conducting Discussion Forum very effectively. The other team members of CPDO&TI worked hard in making this programme successful. The entire programme was live broadcasted on CPDO&TI Youtube:CPDO&TI TRAINING for the first time. All the recordings of panelist and speakers are uploaded on the same day as a ready reference in the facebook and Youtube channels.
All these recordings are uploaded on our Facebook page https://www.facebook.com/cpdoti.bangalore and official Youtube channel CPDO&TI TRAINING. All are requested to subscribe the channel.