News
VAKSINDO FORAYS INTO INDIAN POULTRY VACCINE MARKET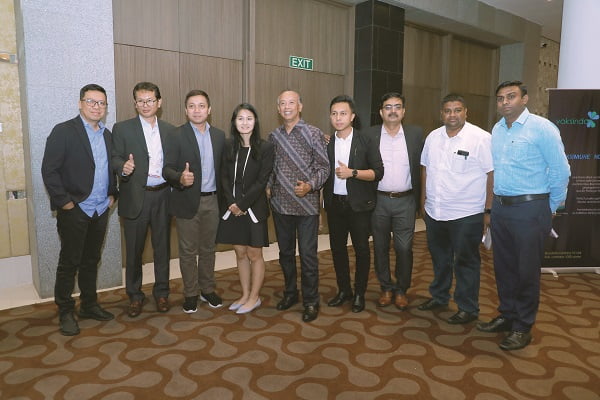 VAKSINDO Animal Health (VAH), research-based vaccine manufacturing company of Japfa was launched in India during 13th Poultry India show on 27th November'2019 at Avasa Hotel, Hyderabad.
VAKSINDO launch was celebrated with prominent poultry farmers and leading poultry consultants invited for the technical seminar on "Significance and latest developments in Poultry Vaccines".
Dr. Teguh Yodiantara Prajitno, PhD in Molecular Biology (Germany), presented on "Egg production drop due to Newcastle disease in Broiler breeders and it's impact on the performance of the commercial broilers".
About: Dr. Teguh is the Director of animal Health at Japfa Comfeed, Indonesia, Managing Director of Vaksindo Satwa Nusantara. Dr. Teguh has focused on R & D and, production of autogenous vaccines.
Dr. Teguh illustrated how VAKINDO was instrumental in Japfa's growth story in Asia. He gave presentation on how Newcastle disease virus is evolving in Asia. Newcastle disease is most dreaded disease which causes severe hatching egg production drops up to 50% within 4 weeks of infection which takes further nearly 6 weeks to recover the productivity near normal. He also shared on various aspects of degraded performance of commercial broilers hatched of infected breeders.
He emphasized need of efficacious and effective poultry vaccines with changing poultry genetics and disease challenges. He emphasized that eradication of Newcastle disease is not possible but, control could be possible by using VAKSINDO's research-based vaccine.
VAKSINDO developed research-based Newcastle disease vaccine, inactivated by using molecular biology technology. He illustrated few research slides about how genotype specific vaccines are better than LaSota or R2B origin -ND inactivated vaccines. VAKSINDO has innovative technology in collaboration with prominent USA universities to define antigenic match. It was well understood that Antigenic mass and antigenic match are both important to control moving ND challenges.
Vaccination strategy suggested by VAKSINDO for Newcastle disease is vaccinating breeders with research-based vaccines every 10 weeks interval. This vaccination programme would hyper-immunize the breeder stock while achieving protective maternal antibody levels in commercial broiler chicks.
Aviagen technical service team attended the conference and interacted with vaccine research team of Vaksindo.
Dr. J.L. Vegad, eminent poultry pathologist of India, in his keynote address about  "Building Strong Immunity in Poultry" discussed on six-point disease prevention strategy through research based quality vaccines, nutrition, biosecurity, mycotoxin control, farm- and gut health- management.
Mr. Ranga Rao Baru, Head of Operations, India, VAH welcomed Guest of honor Ms. Gabriella Santosa , Aviagen technical service team, progressive farmers and poultry veterinarians.  He introduced Vaksindo's Pan India Distribution channel partner – Zevak Animal Health Care Pvt. Ltd., Mr. Abhilash Nair, Managing Director of Zeus Biotech and welcomed his team.
About JAPFA: PT Japfa Comfeed Indonesia, Tbk.  is one of Indonesia's largest agri-food companies that has been producing vital animal protein staples for the nation since 1975. Japfa is one of the fastest growing poultry conglomerates in Asia.
About VAKSINDO : Established in 1983, VAKSINDO is first animal vaccine manufacturer in Indonesia and a strategic link in Japfa Comfeed's value chain. VAKSINDO actively collaborate with international research institutions to keep abreast of new and developing trends in animal health. Vaksindo Animal Health Pvt. Ltd. is based at Hyderabad and, is subsidiary of PT. Vaksindo Satwa Nusantara, Indonesia.