Article
Moving Towards "Atmanirbhar Bharat' in Poultry Meat Production & Consumption Post COVID-19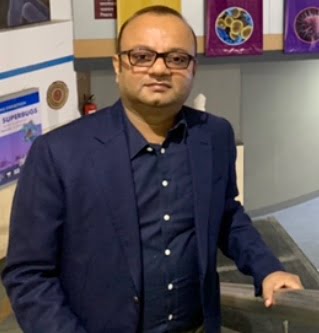 Dr. Shirish Nigam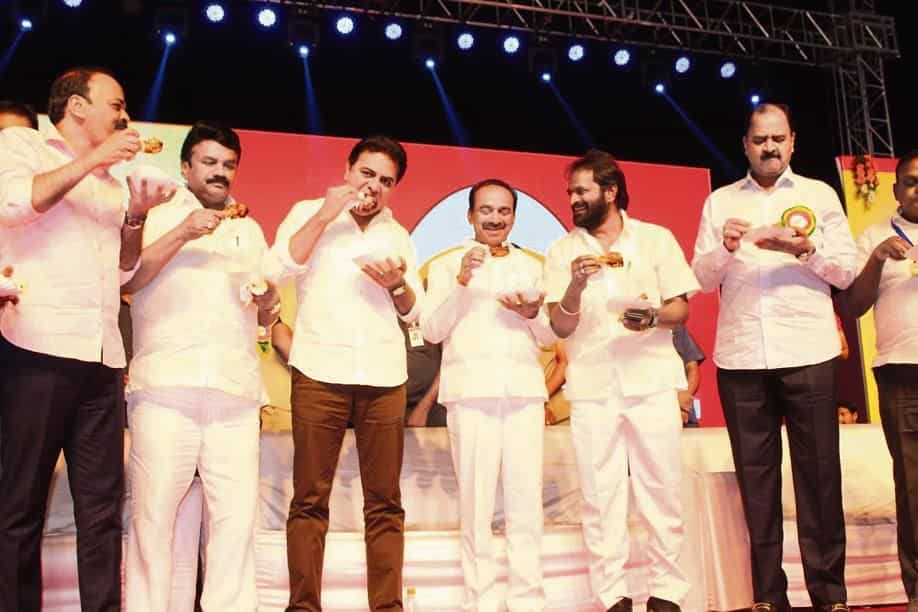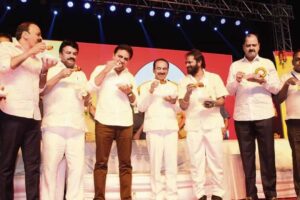 Ministers from the Telangana government eating chicken at a public event to refute rumours that consumption of poultry products can cause Covid-19. (Image courtesy: WWW.NEWSMETER.IN)
Chicken meat can arguably be considered as "King of all meats' owing to its availability, taste and nutritive values. In India, the chicken meat consumption is steadily rising YoY and the annual consumption in FY 2019 was considered to be around 3.8MMT with a CAGR of around 6%.
For FY 20-21, this consumption is anticipated to decrease owing to numerous factors including reduction in placements, negative social publicity, prevalence of misconception of getting Covid-19 infected through eating chicken, increase in retail cost of chicken meat and reduction in disposable income of people amid continuous lockdowns and slowdown of economy as a whole.
Nevertheless, this trend is absolutely temporary as the situation is going to turnaround soon after the Covid situation gradually improves. There is a tremendous scope of amplifying the pro?ts amid changing environment in current scenario. It is paramount that poultry producers work on a paradigm shift in their business and operational models so that they adopt to new "normal" and meet the changing expectations and needs of the customers.
To understand the changing patterns and rising expectations of the chicken meat consumers, a market survey was launched in May,2020. The survey lasted for nearly 5 weeks and covered nearly 200 non-vegetarian customers. Their responses were recorded and analysed to get the insights and changing trends of chicken meat consumption. The demography of respondents was represented by 74% male population and more than 50% of the respondents belonged to service class. 60% of the respondents belonged to North and Southern parts of India and 40% from North and Eastern region.
The outcomes of the survey are highlighted in context of the changing business scenario. More and more people are operating from home and moving out only in case of emergencies. This has led to the increase in the consumption of food among households but at the same time the demand in the restaurants and hotels has plummeted. Moreover, the due to the closure of educational institutions has also resulted in the decline in the demand of poultry meat. Thus, in order to compensate the loss in later segment, it is eminent to reach directly to customers by increasing the retail sales. Immunity has become a buzzword now and even a layman knows the importance of boosting immunity through good quality proteins. Also, there is an increased focus of government which may result in launch of new supportive policies and schemes for this sector in the time to come. It was highlighted by our honourable PM in his Independence Day message that poultry and animal husbandry can play an important role in doubling the farmer's income.
Preference of Meat :


Chicken meat was considered as most preferred meat owing to its nutritive features and safety. The consumption pattern was analysed and found to be weekly once by over 50% of the population covered.
Chicken meat is considered as one of the healthy meats and is relatively low in fats and cholesterol among other meats. It has good amount of proteins of high biological value and is laden with n-3 polyunsaturated fatty acids. It provides selenium as antioxidant and aids in immunity building of body to fight against pathogenic bacteria and virus.


The poultry meat production is expected to rise with a CAGR of around 9% from FY 2015-16 to FY 2022-23. The meat availability per capita is also bound to rise by CAGR of 7% thus creating lot of scope and opportunities in this segment.


The study reiterated the well-known fact that Indian consumers prefer the fresh cut chicken than other forms. This is the traditionally preferred form of chicken which may shift towards the packed and branded chicken. Post covid outbreak, safety of chicken meat becomes paramount and largely people will shift towards a meat with full traceability and untouched by hands. This is re?ected in the study where nearly 46% of the respondents will/may look for anew outlet with assured quality, safety and traceability of chicken meat.
Key Challenges Amid Changing Environment
The pandemic has brought many challenges in poultry industry in terms of ?uctuations of market demand, supply chain issues, labour sourcing, inconsistency in cash ?ow among the key highlights. This has given the opportunity to poultry producers to reinvent their approach of doing business in "new normal". There is a dire need to reaching direct to consumers to minimize the risk of business and reduce the dependency on traders and middlemen. The key drivers in the changing business and market scenario can be projected as follows:
a. Creating alternate ways of supply chain to reach consumers
b. Technological advancements and innovations
c. Resources optimization and enhancing business process efficiency
d. Effective forecasting and agility in remodelling the business operations
e. Sustainable ways of poultry production with minimized antibiotics
Communicating the Message Effectively
As the Covid-19 pandemic start emerging, spread of rumours citing the spread of virus through eating poultry meat wreaked havoc on the industry and lead to drastic fall in the chicken consumption. Largely, social media was blamed for the loss owing to its lightening speed of spread across all the sections of society.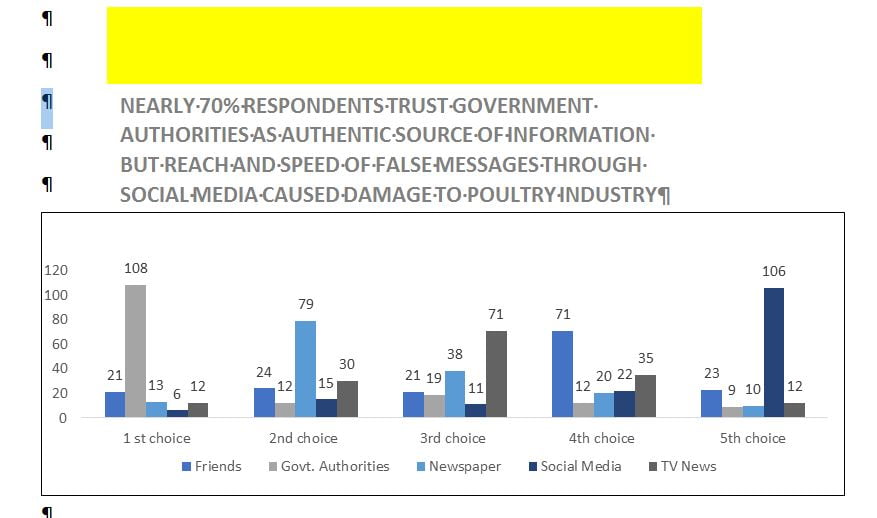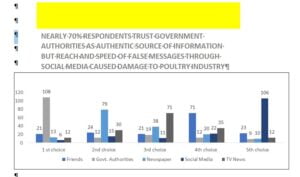 In the study, it was observed that nearly 70% of the respondents considered government authorities as a credible source of information and social media was considered least reliable source of information.
Recovering from Losses
As per the estimates, poultry industry suffered a loss to the tune of Rs. 1.6 Billion per day. This was largely created by Fake News and irresponsible and baseless news of linkage of spread of corona virus by eating chicken meat. Various efforts were made by FSSAI, political leaders, integrators and other stakeholders of industry to curtail the loss but did not proved enough. Lot of chicken melas and awareness camps were organized to spread right information among general public.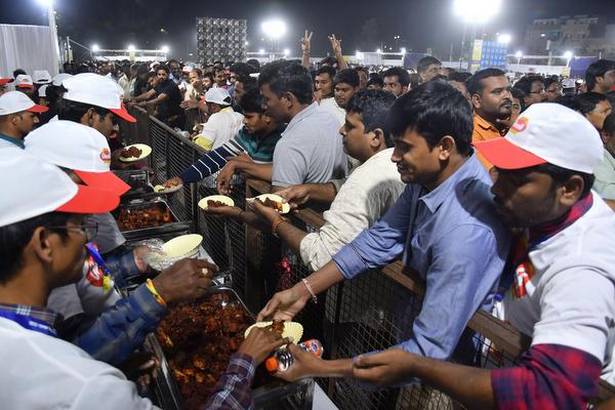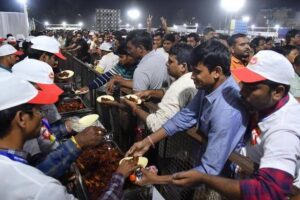 It generated lot of interest and attracted crowd who attended and participated in the mela consuming chicken and busting the myth.
In the study conducted, it was found that around 22% of the respondent stopped eating chicken amid corona pandemic. It may be due to the lack of right information or due to precautionary approach as meat is considered as luxury food item and not a necessity.


Need of the Hour- Good Quality Chicken Meat with Complete Traceability
In the current study, it was estimated that people are focused on quality post covid and will prefer a branded chicken which represents quality and trust.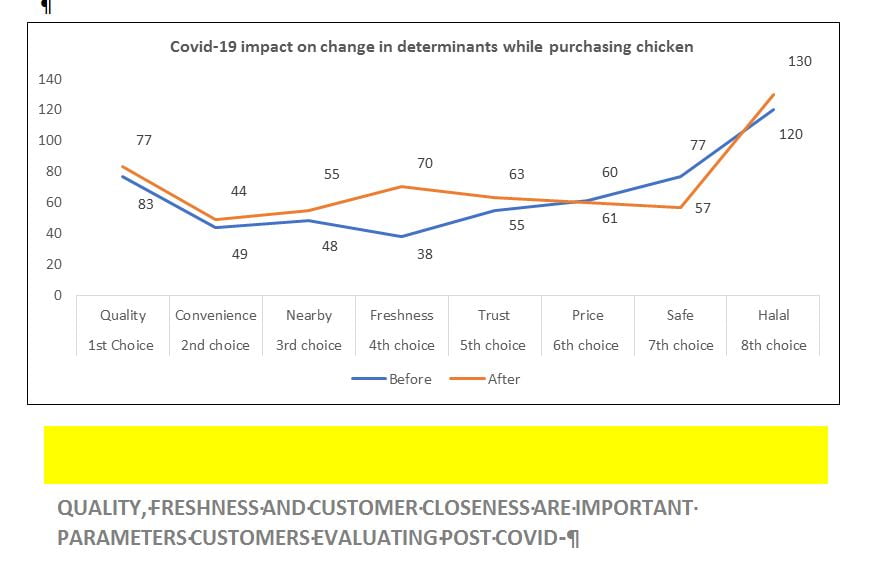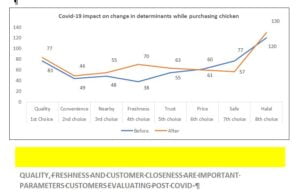 Paradigm Shift for Quality
Most of the respondents were in agreement to receive a nicely packed branded chicken with guarantee of quality and traceability directly delivered to their home.
It is paramount that the business process to be again looked from new angle and perspective and then backed with required technological and operational innovations, poultry producers should carve a new way which leads to the pro?table future. Today's consumer is technologically well connected and understands the importance of value additions in food delivery systems. They are willing to pay premium towards a good quality and hygienic chicken meat. The same was re?ected during the survey where a whooping 70% of the respondents were ready to pay premium to the tune of up to 30% of the normal cost of chicken.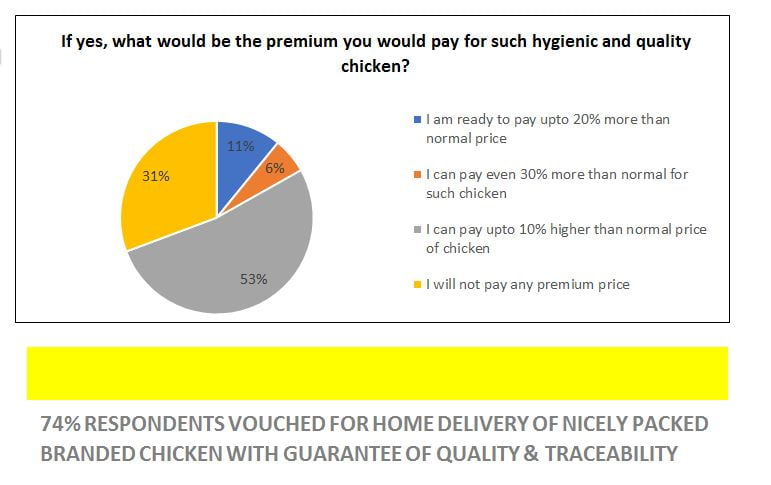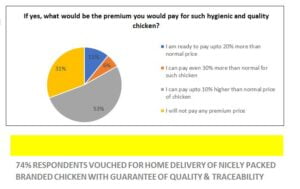 Conclusion
The growing pandemic has created a need for the safe and hygienic food. The chicken meat in India is largely based on wet markets and individual meat sellers. There exists a huge opportunity for safe, hygienic and branded product as the segment is growing by double digits which has got a huge thrust from the pandemic outbreak.
The current study delved into the mind of new age consumers with a changing mindset. Due to the change of consumer mindset following the Covid19, this study revealed that the future surely lies in branding, processing and adding value to the produce. Today's consumer is well connected and aware about the latest advancements and willing to try new products and services which satis?es the quality parameters. The need of a good quality protein is clearly established to improve the immunity and stay healthy. Thus, it becomes vital that poultry producers innovate and bring technological advancements and innovations in supply chain and production processes to connect with the consumers directly. For this, the integrators can directly get bene?t from the organizations working on "Partners in Progress" model and has the expertise in planning and executing speci?ed programs including antibiotic reduction.
(Disclaimer: The views expressed by author are personal and does not endorse the view of company. Currently the author is working as Managing Director of EW Nutrition South Asia)