News
DUN & BRADSTREET – RBL BANK SME BUSINESS EXCELLENCE AWARD 2019 TO INDIAN HERBS, SAHARANPUR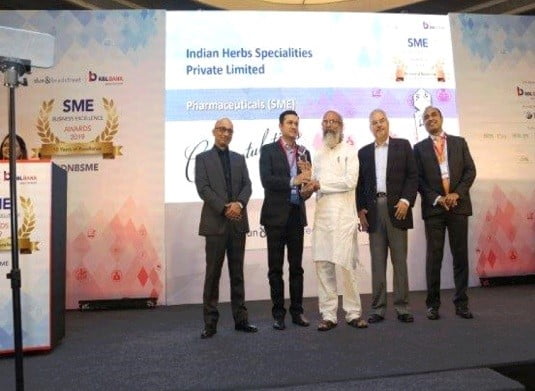 Dun & Bradstreet, the world's leading credit rating agency and knowledge providers, has selected Indian Herbs Specialities Pvt. Ltd., as a winner of the RBL Bank SME Business Excellence Award 2019 in the Pharmaceuticals sector, in recognition of the role it is playing in the nation's development. The recognition is given to most innovative companies besides other criteria.  The award was presented by Shri Pratap Chandra Sarangi, Honourable Minister for Micro, Small & Medium Enterprises (MSMSE) ministry, Govt. of India, at a grand event held on 20th November, 2019 at Hotel Hyatt Regency, New Delhi and on behalf of Indian Herbs, the award was received by its Director, Shri Vipul Agrawal.
Indian Herbs, has been winner of many prestigious awards from Government of India, Government of Uttar Pradesh and reputed autonomous bodies and associations in the past, for outstanding quality products, outstanding R & D achievements, outstanding entrepreneurship, product quality excellence, significant export performance etc.
The latest award from D&B adds further credentials and credibility to Indian Herbs, which has now become a company with global reach.  Indian Herbs' products are now marketed in around 50 countries of the world.
Natural (herbal) products are now preferred all over the world due to the adverse and untoward effects associated with synthetic chemical products and additives.  Indian Herbs is a leading and pioneer enterprise in this field and its products are very successfully marketed in different parts of the world, including the developed countries.