News
PFI conducts successful 31st AGM at Coimbatore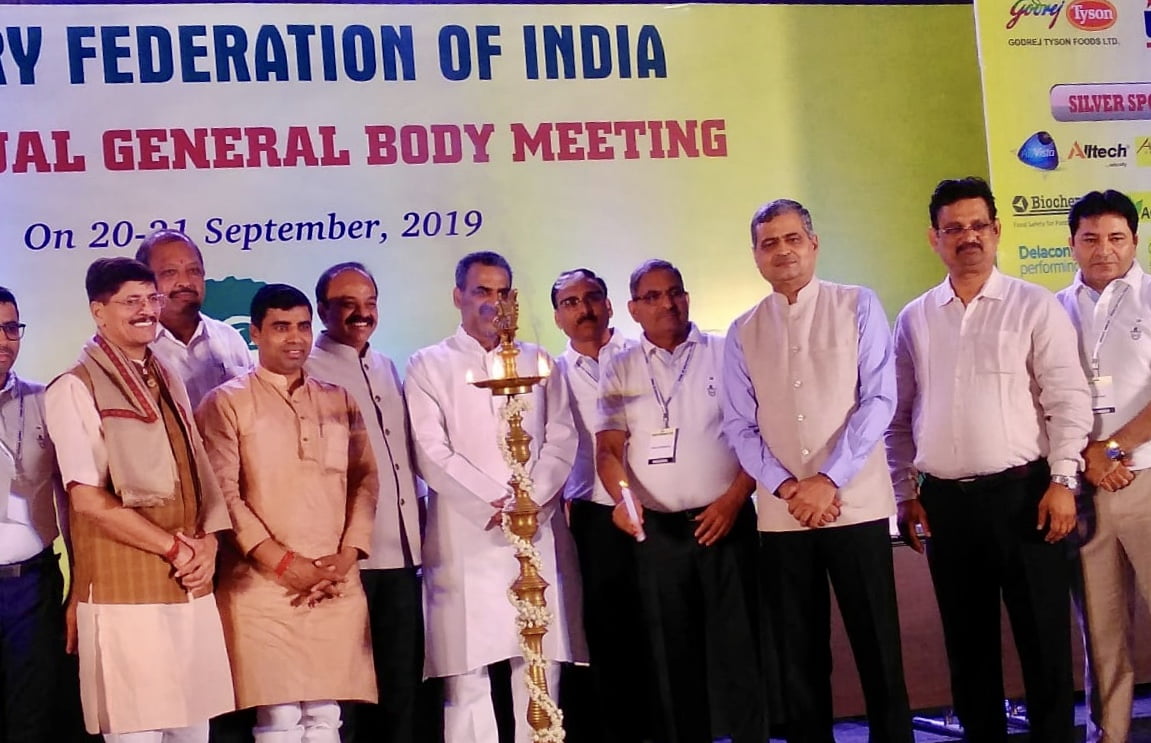 Coimbatore:
Poultry Federation of India (PFI) conducted its 31st Annual General Body (AGM) Meeting from September 20-21, 2019 at Hotel Le-Meriden, Coimbatore, Tamil Nadu. On September 20, 2019 the AGM meeting was successfully conducted and endorsed by the PFI members. The members passed the necessary deliberations and minutes during the meeting. Dr Pawan Kumar Agarwal gave a presentation on "Protein for all." He said protein is an essential requisite for all animals. He stated that PFI along with USSEC organizes seminar series across the country to create protein awareness among people, wherein it is explained as to how much protein is required by a person on a regular basis to maintain good health.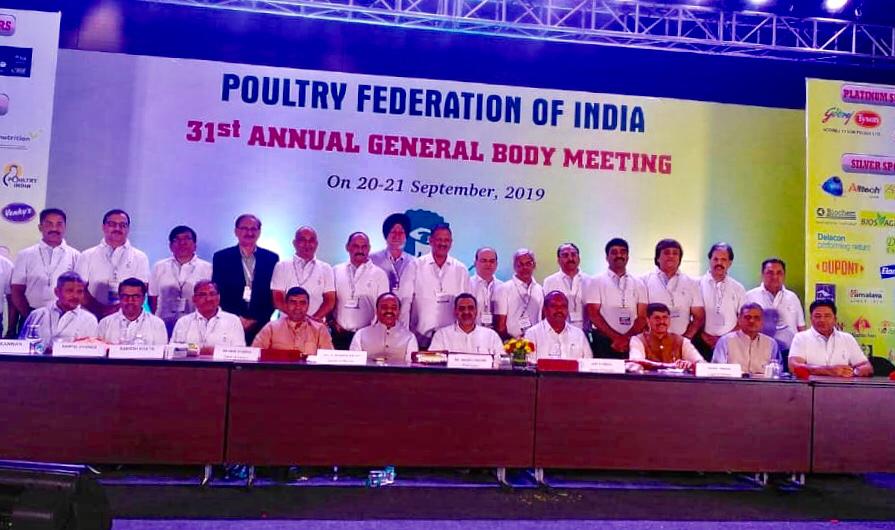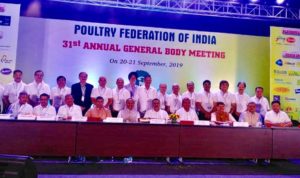 On September 21, 2019 the PFI activities started with the registration of the delegates and later followed by Opening Remarks by Mr Selvan Kannan. Mr Ramesh Khatri, President PFI welcomed the gathering and briefly explained the activities of the association. After this the Inaugural Lamp was lit by the dignitaries. Mr Ramesh Khatri thanked everyone for having attended the AGM.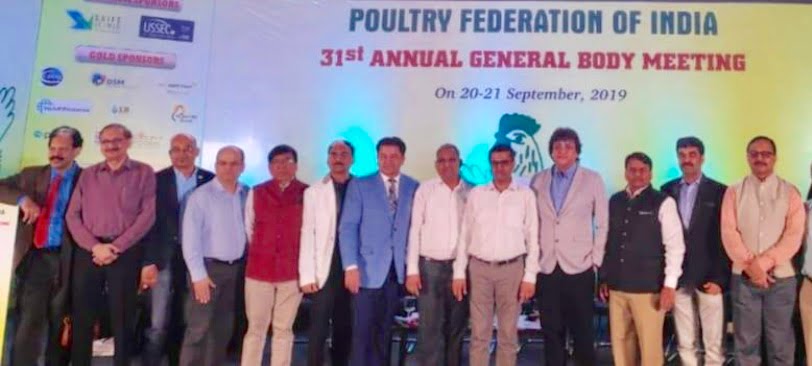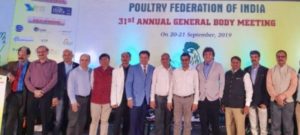 Mr Vijay Sardana, Advisor PFI presented in exhaustive detail about the activities of PFI. He said of the 2000 page literature available on animal welfare, just a few of them is relevant in the Indian context. He said the animal welfare is a techno-legal issue and added that this fight is between perception and facts. He stated that since this matter is sub-judicial, the reliance is more on facts and proof to convince the court. He said that our greatest weakness is that we don't of facts. He said the facts put up by NGOs are strictly applicable to European countries and their climatic conditions. He explained that the climatic condition in India is totally different as it has a temperate climate and so the welfare norms of the western cold countries cannot be applied to India. The PFI convinced the court that Western animal welfare norms cannot be applied in India.
He further said that at times it is easy to prove what is wrong but extremely difficult to explain what is right. He said we should take the help of the technical scientists who can factually summarize and explain the rearing of poultry under Indian climatic conditions. He said that if we present wrong or half baked facts then it will be problematic for the poultry industry. He clarified that the Indian poultry scientists should now start the detail research of animal welfare issues in India. He said we got the positive result of whatever challenges we faced till date. He aid our scientists put their best and chalked out the remedial measure in support of animal welfare issues a in India and this was presented to the government. He stated that the NGO's against whom we are fighting are financially robust with heavy funding from different sources in India and abroad, so our industry should stand united in such an adverse condition.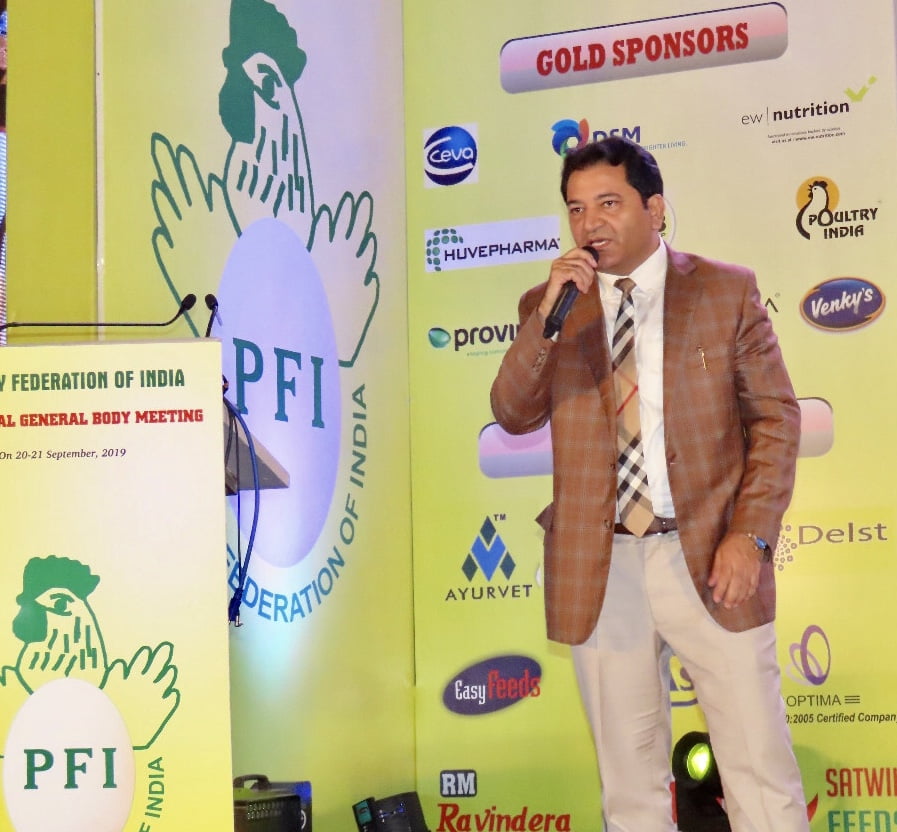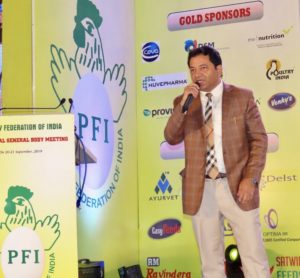 Mr R Lakshmanan, Managing Director, Shanthi Group, praised the sincere efforts of PFI in tackling the adverse conditions faced by the Indian poultry industry. He said fighting the NGOs on cage ban and animal welfare issues was not an easy task and fortunately PFI was able to present a strong case against them.
Mr B Soundararajan, Suguna Group was also all praise for the concerted efforts of the PFI in tackling various issues that inflicted a tough time for Indian poultry. He said the manner in which PFI used its manpower and resources to present its case with government and in the courts is commendable.
Dr PK Shukla, Registrar, DUVASU, Mathura, spoke on escalating feed prices. He said in the recent past there has been a surge in prices of essential cereals, especially maize and soybean which are basic feed ingredient for poultry.  He was all praise for the efforts of PFI in tackling various issues like cage ban, middlemen in poultry, antibiotic residues etc which are adverse to Indian poultry.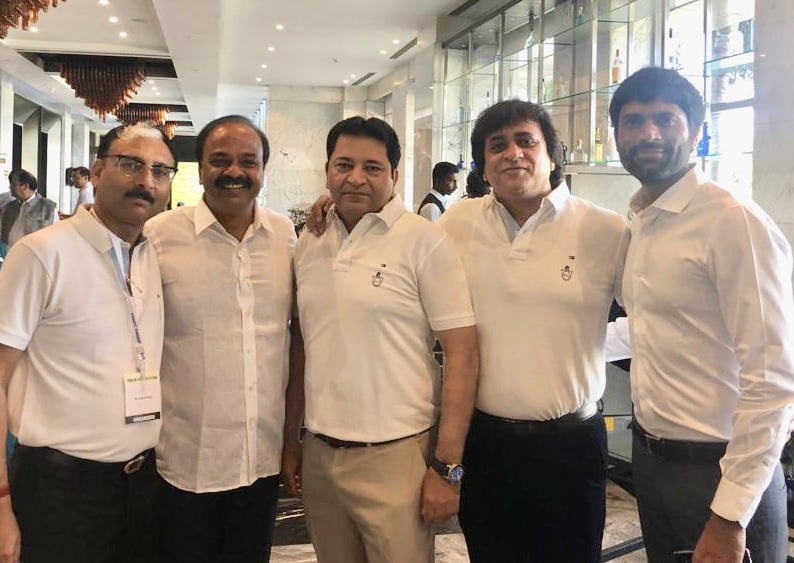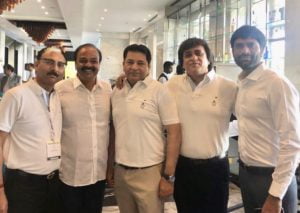 Mr Ashok Thakur, Director, NAFED appreciated the efforts of PFI in its united fight for the welfare of the poultry industry.
Mr OP Singh, Managing Director Huvepharma stressed on the need of qualified veterinarians to tackle various poultry issues at the farm level. He said it is extremely essential to create a sense of awareness for protein consumption with the general population for a better hygiene and also increase the per capita consumption pattern of egg and broiler meat.
Mr Mahipal Dhanda, MLA Panipat, Haryana praised the efforts of PFI in successfully handling the various adverse conditions faced by the Indian poultry industry. He requested the politicians to reign in the feed prices and make maize and soybean available to poultry farmers at affordable prices. He presented in detail on the cage ban scenario and the negative role of the NGOs. He discussed the antibiotic resistance and its detrimental effects.
Mr AKP Chinaraj, MP, Namakkal, Tamil Nadu praised the efforts of the PFI and promised all help to the poultry industry.Dr G Ranjith Reddy, MP, Chevella, Telangana praised the efforts of PFI for the welfare of the poultry industry and asserted that he being a farmer himself knows the hardship faced by the poultry industry and will co ordinate with the government for the benefit of the poultry industry.
Dr Sanjeev Balyan, Minister of State, Ministry of Fisheries, Animal Husbandry and Dairying, Government of India spoke cage ban, import of chicken leg and assured full support from his side by presenting the case to the government. He said that a poultry Advisory Committee should be set up along with zoning provision for Avian Influenza affected geographical area. He said that he is always with the industry and will extend his support in future too. He also said that one more laboratory on the lines of Bhopal High Security Animal Disease laboratory should be set up in southern state.
Dr PS Mahesh, Director, CPDO gave a presentation on –"Shaping the future of Indian poultry in new millennium."  He presented an outline on what efforts should be made to witness poultry at its optimum best.Mr Krishna Gangurde presented the current maize production, consumption and availability scenario. In a panel discussion with Dr G Dvegowda topics like- food safety, antibiotic residue, antibiotic free poultry, pollution, water management and to educate people to increase the per capita poultry consumption.
Dr AS Ranade spoke on biosecurity, sanitation, environmentally controlled houses, bird handling and a lot more.Dr SV Rama Rao spoke on layer cage management and law commission. Dr M Kadam spoke on poultry welfare issues, bird handling, bird injury during transportation, feed management, natural bird behavior and space for poultry birds at a farm. The vote of thanks was proposed by Mr Ranpal Dhanda, Secretary, Poultry Federation of India and thus ended a very successful PFI meeting at Coimbatore.