News
IPJA Technical Seminar at Nashik a phenomenal success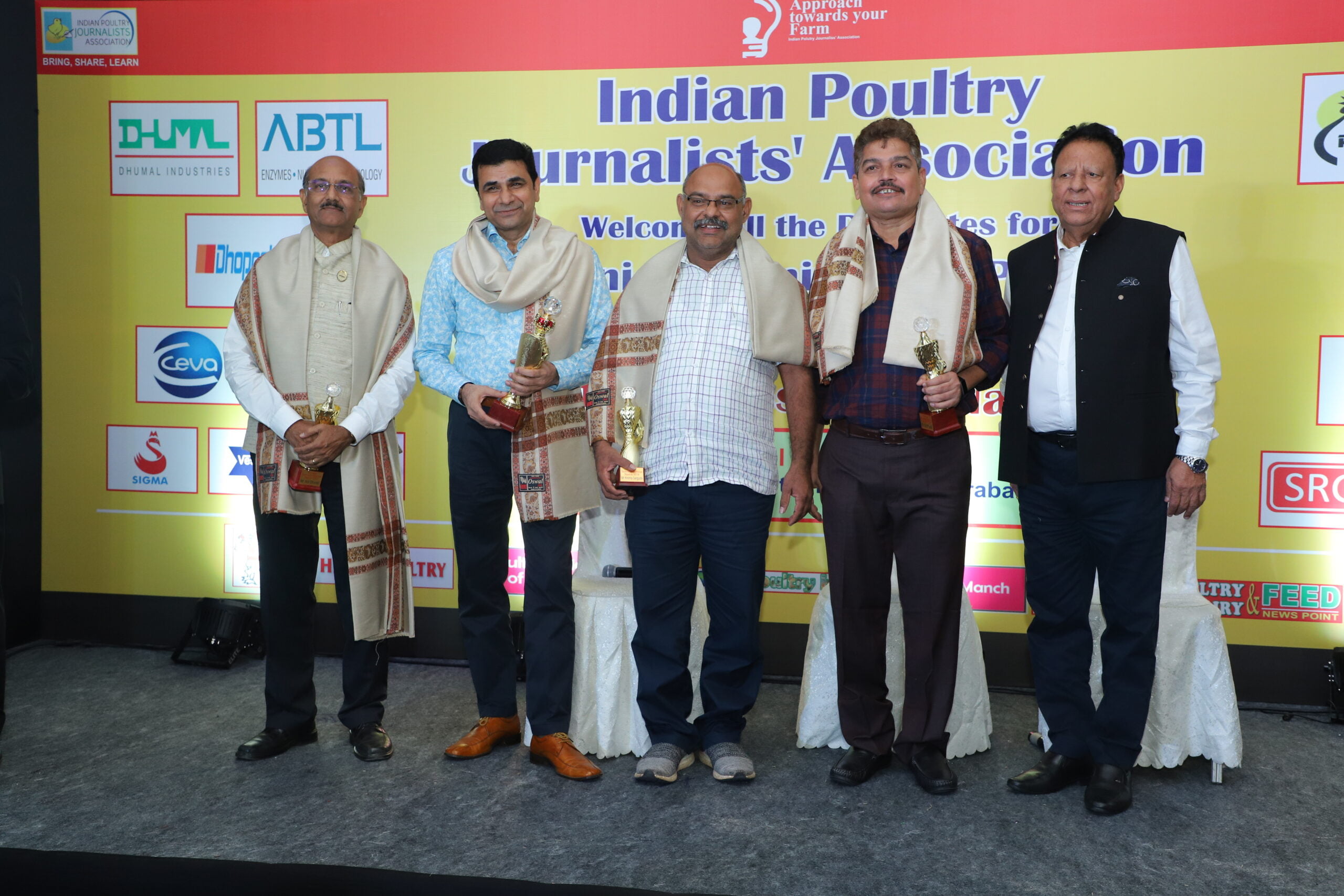 Nashik:
 The Indian Poultry Journalists Association (IPJA) Technical Seminar organized at Hotel Express Inn, Nashik, on September 28, 2019 was phenomenal success in a sense that it witnessed a colossal congregation of delegates encompassing hatcheries, integrators and the entire Western India.
The seminar started with Ganesh Vandana and lighting of Inaugural Lamp. The delegates remembered Late Padmashri BV Rao, the doyen of Poultry Industry, who deftly chiseled the very foundation of Indian poultry to amazing heights from Western India. Bigwigs of Poultry like Anil Dhumal, founder President of Indian Poultry Equipment Manufacturers Association, past President, Mr. Harish Garware, newly elected President Mr. P. Chakardhar Rao, INFAH President Dr. DK Dey, Mr. Uddhav Aher, Mr. Krishna Gangurde, Dr. Anil Phadke, paid floral tribute to Late Dr Rao.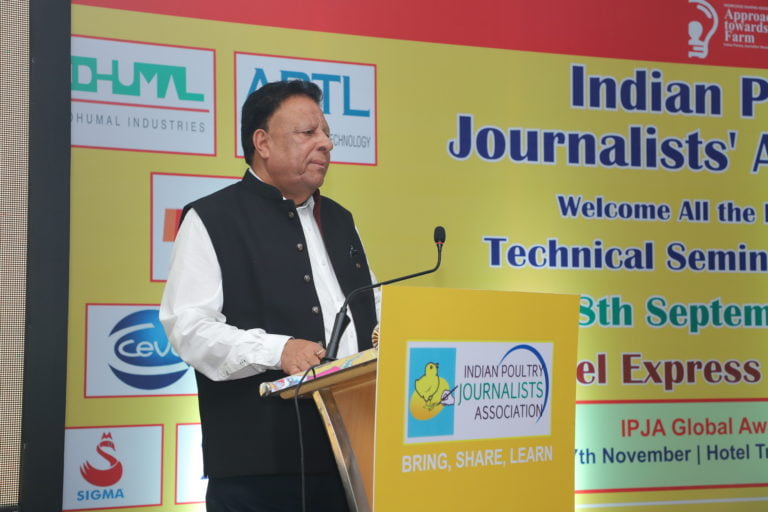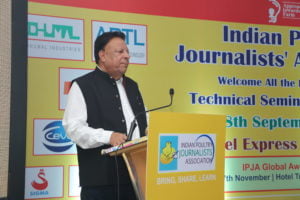 The Seminar began with welcome address by Mr. BS. Rana President, Indian Poultry Journalists Association. He welcomed all the dignitaries, poultry farmers and sponsors at this technical seminar and was glad to see the huge participation of around 600 poultry farmers at this venue.
He said we are indebted to, the contribution of Late Dr BV Rao, who had a dream of seeing Indian poultry at the top of the world. So to realize his dreams, we have started to educate our poultry farmers, on the latest information available across the world. Dr Rao laid the foundation of our vibrant Indian poultry decades ago, and we are trying our best to accelerate it to greater levels of accomplishment. In other words all are efforts, is a tribute to the father of Indian poultry-Dr BV Rao.
By implementing the latest information, the Indian poultry production will achieve great heights in terms of volume, quality and global trade. The technical seminars that we organize across India have the best speakers and we create a very convincing atmosphere for the farmers to interact with the technical experts.
Nashik is a location with immense potential and huge poultry activities in and around this area. Moreover, Maharashtra has been a hub of hectic poultry activities, since decades and has a sizable poultry contribution on the national level. This seminar shall highlight, the important aspects of poultry production delivered by the experts, he added.
Indian Poultry Journalists Association has been consistent and proud organizer of successful poultry seminars across India. Here on behalf of IPJA, he stated that, we are a non-profit organization. He stated that this year we organized such seminars at Hyderabad, Namakkal, Patna, Ranchi and Bhubaneswar, with huge farmer attendance and well appreciated by poultry fraternity. The present rise of the Indian poultry sector is due to the efforts of the private players and the government has a minimal role in it.
Apart from this, in an effort to double the agriculture farmers' income, the government has raised the MSP of the crops. This rise in MSP, has raised the price of Maize, Soybean and other cereals, and this again, is a problem for the poultry farmers, as more than 70% expenditure is made on feed.
He stated that we are totally dedicated to the cause of poultry development in India and wish to see that the poultry farmers of this country, implement the latest techniques, and information in poultry production, which is on a par with the world standards.
He said we shall felicitate the star performers of Maharashtra poultry industry and honour them for their exceptional contribution. These people are the heroes, who shape our industry and take it to greater heights.
Well, being very much aware of the limitations of the Indian poultry farmer in terms of exposure and access to latest poultry trends, we have taken this initiative, to provide them with the technical details from our side on this platform to ensure that poultry production conforms to the world standards, he added.
He stressed that to deliver quality information, IPJA has roped in the best speakers, who are masters in their domain and can enlighten the assembled gathering to boost poultry production in India. During the seminar, the farmers can get their doubts cleared by the technical experts, he added.
Mr Rana stated that India is a WTO member and so cannot check the inflow of foreign poultry players for long and these days, it is extremely difficult to protect the domestic industry of any sector by any country. This means that the product should be competitively priced and quality should be on a par with the world standard. Our efforts, aim to empower our farmers, to attain these two objectives.
With the passage of time, business is becoming more competitive across the world, and for survival, one has to make the desired changes. Moreover, it is a fact that the present day consumers are very health conscious and serious about the ingredient contained in the product, he added.
Consumers today are sensitive enough to discard the edible products with antibiotic residues and compromised product quality. So it is always advisable that the Indian poultry producers stick to adequate bio-security measures, Good Manufacturing Practices (GMP), Hazard Analysis at Critical Control Points (HACCP) and a lot more.
Besides this, the demand for organic food is rapidly increasing, with each passing day. By switching over to organic poultry farming, value added processed products, our poultry producers can hope to make huge gains, as the consumer is always ready to pay for this, he added.
Apart from this, the superior quality products can also ensure huge export potential, which is yet another channel to robust earning by the company. Mr Rana thanked the dignitaries, all my IPJA members, speakers and sponsors, to have tried their best to make this event a grand success.
Mr.Uddhav Aher in his Key note address presented on the current status of Maharashtra Poultry.  He high-lighted  that Nashik  is very popular with Kumbh Mela,  grapes and onion production  but it is identified with Poultry now-a-days.  He estimated that out of 27 crores layer population of India , Maharashtra shares at least 2.2 crores producing 1.8 crore eggs every day. While consuming 2.5 crore eggs Maharashtra faces a short fall of 40 lakh eggs, which is procured from Gujarat, Telangana and Tamilnadu. Mumbai alone consumes 1.5 Crores of eggs  and rest of Maharashtra  consumes 75Lakhs, he added.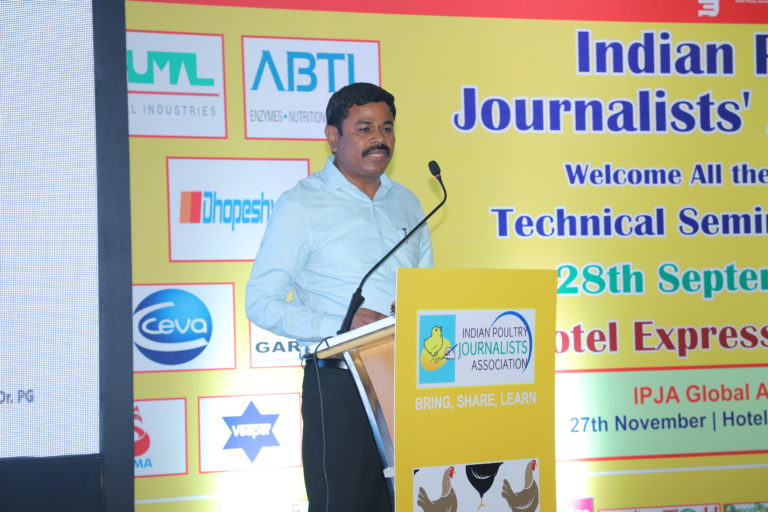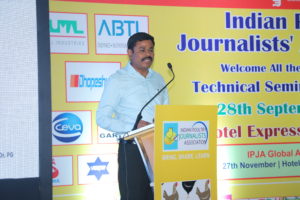 Reporting on Broiler position, he claimed that Maharashtra broiler production is 11% which is 4.2 crores  while India produces about 38 crore broilers.  He said every month 68 lakh birds are exported to Gujarat, MP, Goa and Karnataka borders.  He said 80% of farmers are under integration while 20% have independent operations.  65% of Poultry farms are located in Pune, Nashik, Sangli pockets and remaining 35% in rest of Maharashtra, he added.
Referring to consumption patterns Mr. Uddhav assessed that AP,Telengana and West Bengal have 98% non-veg consumers while Maharashtra stays as 5th largest consumer  with 60%, Gujarat 40%, Punjab 33% and Rajasthan 25% according to Industry  Survey and NSSO ARPL analysis. He said Mumbai has a typical distinction with per capita consumption of 26.5 kg (live chicken) and dressed chicken 1.8 kg. Approximately 4-5 lakh birds in week days and 7-8 lakh birds on weekends whereas 12.5 lakh birds during festival days.  Bombay alone consumes 1.80 crore birds every month while Pune consumes 1.5 lakh, Nashik 0.75 lakh birds and Aurangabad 0.40 lakhs per day.
Estimating the shares breed-wise Mr. Uddhav mentioned that 84% Cobb, 12% Suguna and 4% are other breeds while next year share of other breeds is increasing by 10% more. Broiler Breeder placement is estimated to 5 crores per year all over India, 50 Lakhs come to Maharashtra, he added. Hatching Eggs requirement is 5 crores , captive production is 4 crores  and approximately one crore come from Telengana and Karnataka while  a shortfall of 8 lakh broiler breeders was observed in Maharashtra.
Dealing with feed issues, he highlighted the maize productions for the last 3 years during Khariff production. During 2016-17 maize was produced in 9.14 hectares with average production of 3 tonnes  aggrating to 27.42lakh tones . In 2017-18 maize was produced in 8.2 lakh hectares @2-5 lakh tones per hectare thus only  20.5 lakh tones  were produced . In 2018-19, 31.5 lakh tones were produced in 8.6 hectares @ 2.5 lakh per hectare. In Rabi season also 3.4 lakh hectares, 3.3 hectares and 1.15 hectares @ 3.1, 2.7, and 1.9 lakh tones per hectare produced total 10 lakh tones, 9 lakh tonnes and 2.2 lakh tones produced as per Maharashtra government estimates.
He said poultry consumes 15 to 17 lakh tones maize, Starch requirement is 7 to 8 lakh tonnes, popcorn and others 1 lakh tones. Population of poultry growth is at 7% per year.  Maize production has come down to 25% due to insect infestation in 2019 Khariff season, he added
Mr. Uddhav Aher observed that demand for automation has increased in poultry with best performances quick return of investments  within 4-5 years instead of 7-8 years in routine course of farming.  He extended this credit to Gartech and Dhumal Industries in revolutionizing the poultry farming in Maharashtra.  Explaining his activity in marketing tender of hygienic, fresh chicken in 5 outlets  under brand "Prochicken" Mr Uddhav, presented the slide show authored by Shruti Aher.
Dr. S.S. Nadgauda made a fulfledged presentation on Feeding for Top & consistent performance. He said that it depends on biosecurity, proper vaccination and pullet growth. He cautioned that inadequate ventilation ,  poor feeding system and imperfect feed quality could only hamper the laying process.  As automation is increasing, we find that feeding techniques are improved, wastage is arrested, labour saved and hence better results found with automated feeding farms, pellet feeding also showed better performances, he added.  As body weights were abnormal, egg size is also extraordinary. We may achieve egg mass but achieving number of eggs is economic concern in India, he stated. Pre-lay diet has to be prepared carefully and 2700-2850 KCALs energy is required by birds.  He said producing big size egg is also a problem as shell problems crop up and breakages are seen so egg size should be controlled. Check for E.coli contaminations frequently, get automatic scales to control body weights while data collection, data processing and analysis is must for correcting the rearing, feeding and lighting systems, he added.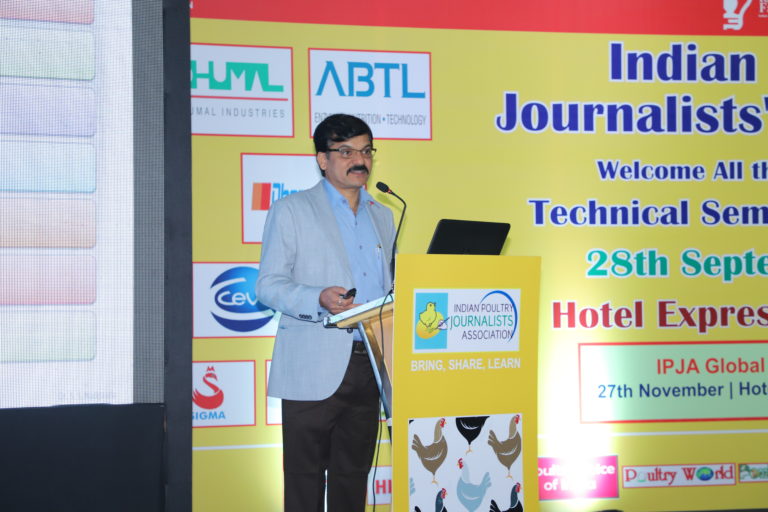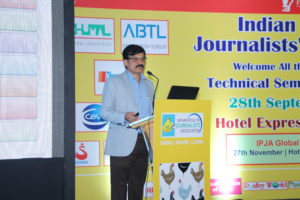 Mr. Harish Garware gave a presentation on –"Challenges in broiler farming." He spoke on the adverse conditions and the best farm practices to augment broiler production. He said that with the best breeds, good feeding practices, adequate environmental conditions, optimum FCR and vigilant medication, we can obtain the best results in broiler production.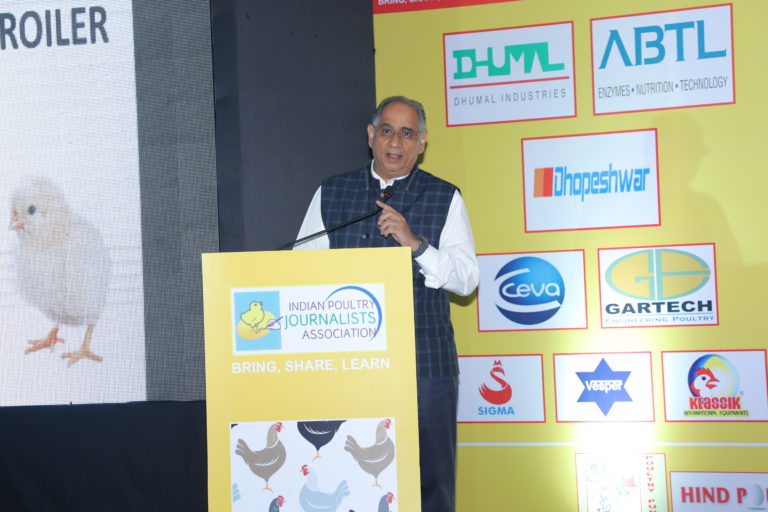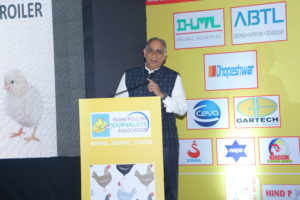 Dr. Rajesh Kokje gave a power point technical presentation.  He said at 35 days, 2.2 KG body weight with 1.5 FCR and below 5% mortality is indicative of good farming practices and added that we are not achieving this at all at farms or all batches. He said well begun is half done, so one should fully concentrate all efforts when Day Old Chicks arrive as they are very delicate and must be put in a condition so that they can sustain the temperature through space heaters and infra red  brooders should be used.  He stated that bird should be 1 Kg by 25th day with the first 10 to 12 days important. Along with temperature, air velocity, humidity, proper drinking and feeding system, adequate space given per cubic feet is to be properly monitored.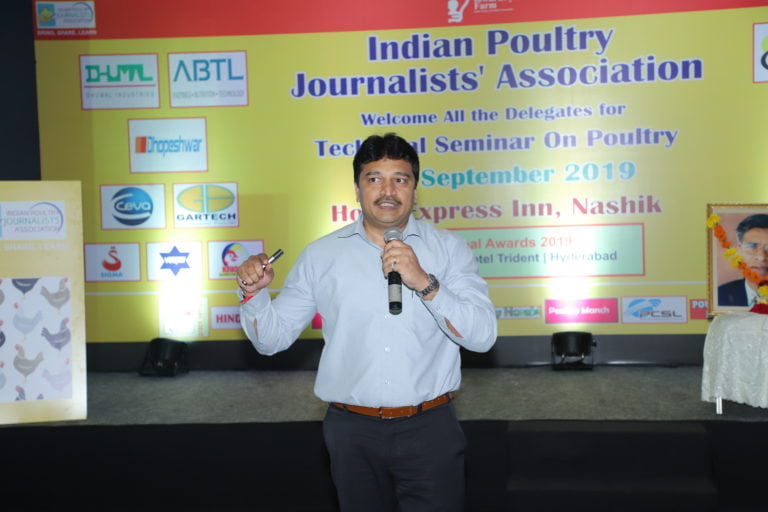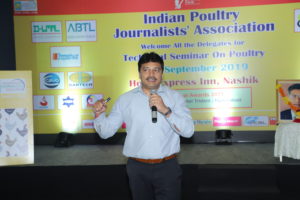 Mr. Milind Limaye of Ceva Polchem, gave a detailed presentation on Gumboro Disease which is a worldwide problem with 100% mortality on breakouts and added that Biosecurity is best way to protect from this disease and any failure would attract this disease as it is an immunosuppressive disease. He said onset of this virus follows series of problems. He stated that the vaccine given should provide protection in the presence of right number of MABS ( Maternal Antibodies)and added that any flaw in breeder vaccinations may reflect in commercial Broilers and cause huge losses. He explained about prime, Killed and booster doses of Vaccines to be administered and presented examples of losses occurred in 2005 and 2017. He introduced the features of Transmune IBD Vacine.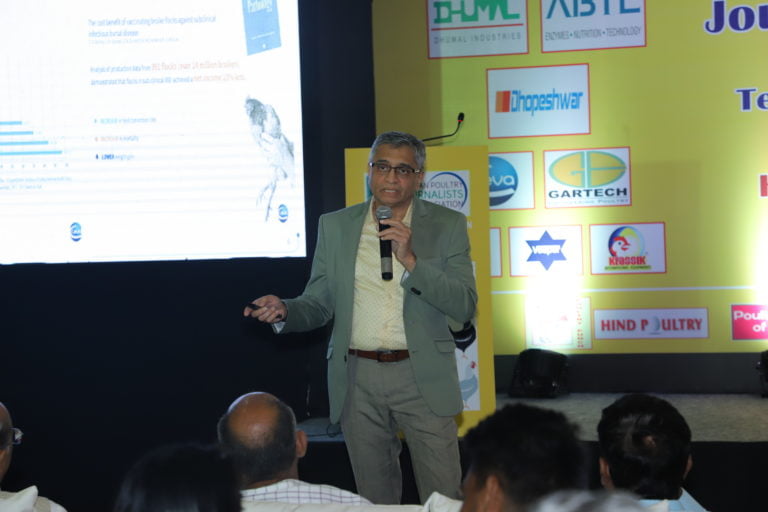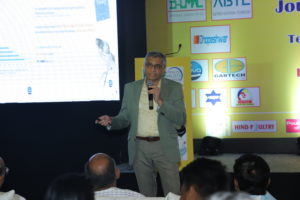 Dr. Shyam Vane on behalf of Hipra, recently launched Company, introduced their Range of Vaccines.  He also explained Smart Vaccination procedures that they have introduced in India. He stressed on the vaccination schedule to be followed by the poultry farmers along with the importance of biosecurity.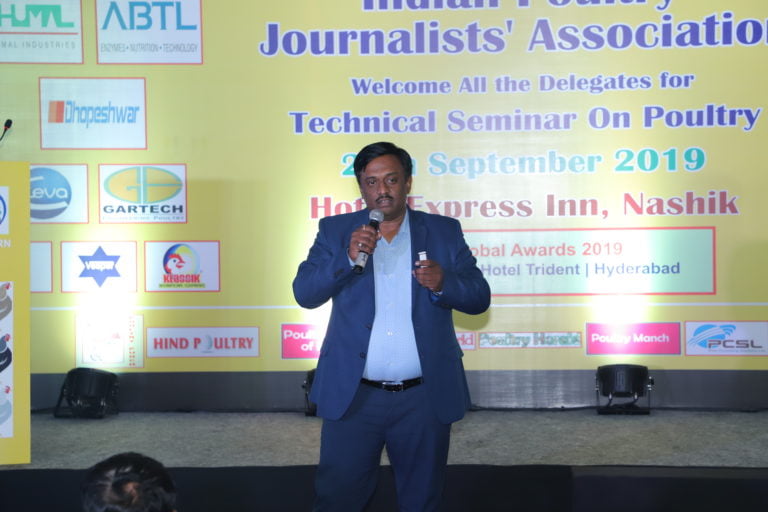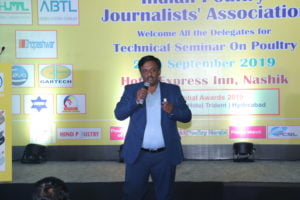 Mr. Shirish Dhopeswarkar of Dhopeswar Engineering Works, Hyderabad gave a presentation on waste management and creation of wealth from waste. He said that nowadays new challenges have rose with animal welfare issues and this could only be solved with installation of rendering plants designed differently for Breeder Farms, Layer Farms, Hatcheries etc. He made a slide show and also presented a video on Litter Management and Waste Management.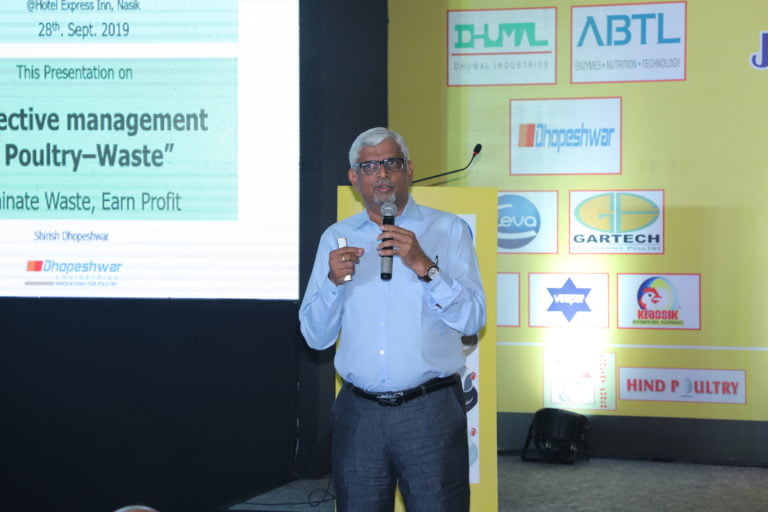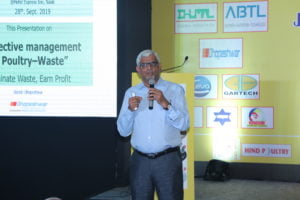 Mr. OP Singh, Managing Director, Huve Pharma India Pvt. Ltd., made a detailed presentation on Food Safety & Sustainability in Broiler and Egg Industry.  It would not be possible to continue your farming  the same way you have been doing, he  warned . He suggested that on Animal welfare issues  and future needs  of new age consumers, farmers should look into the upcoming problems as consumers will be very much  concerned that what growth promoters are used, whether  the chicken are grown on hygienic  conditions are not or was it from the farm free from pollution and as per norms of welfare and food safety regulations.  He observed that for the last 50 years total food production has increased by  157%,  milk production  has gone up by  only 98% and meat productions by 237%, while chicken has registered 270% growth and egg abnormally at 308%. He feared that Avian Influenza and low pathogenic Avian Influenza continues to be a threat connected to human health. He said diseases like mycoplasma, ND, poor gut health also cause economic losses to farmers in absence of standard operation procedures are not practiced in hatcheries and farms.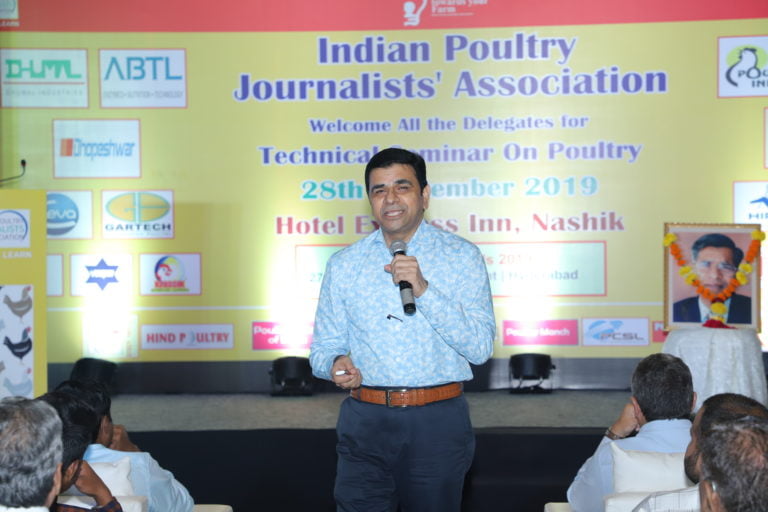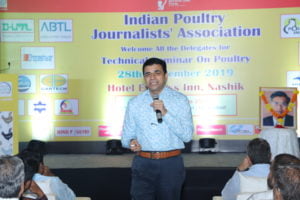 Mr OP Singh predicted that land, labour and logistics are going to be scarce. In the coming years, we should modernize our farming as protein producing Industry, he added.  He said in the coming two decades there will be a growth of 45% in the world and 60% in Asia region.  He stated that as per the survey by international bodies we rank as 77th place in following Food Safety and Standards though Indian poultry takes second and third positions to Eggs Productions and chicken, we are nowhere in world markets. He stated that we have not yet geared up for export markets while lack of storage and marketing facilities, always push us back. Food standardisation and certification Labs are yet to be established, he added
He said future will be driven by consumers and we have to design our products as per the tastes of consumers and cannot go on selling what we have with us. He stated that we should change ourselves to sell what consumers need and like and should be prompted by growing young urban consumers.  He said that demand grows for ready to eat and ready to cook products against live and dressed chicken.
We should be careful about chemical contamination all over the country as all samples have shown that  12%  prohibitive  lime stone is used in feed.  When they observed 16 samples 12 were caught with lead. He said all Associations should write to government on all confronting problems faced by poultry industry.
Mr. P. Chakradhar Rao, the newly elect President of Indian Poultry Equipment Manufacturers Association, made a presentation on Importance of Water in Poultry.   He said birds can survive without feed also but never without water as 70 to 80% body contain water only. He stated that water plays vital role and that we should always make pure water available to birds.  With sufficient number of drinkers and nipples and arrange nipples at 20 to 30 degrees height or 30 to 40 and never above 40, he added.  He advised to flush the hot water from time to time and install water pipes in the sheds according to requirement of the age of the bird, size of bird 4 to 6 inches to bird's height, for Chicks 1 to 1 and ½ inch only.  He cautioned that dust particles to be removed from pipe lines from time to time and sedimentation of medicine powder or anything else to be removed from time to time. He advised that nipple should be leakage free and litter should be dry.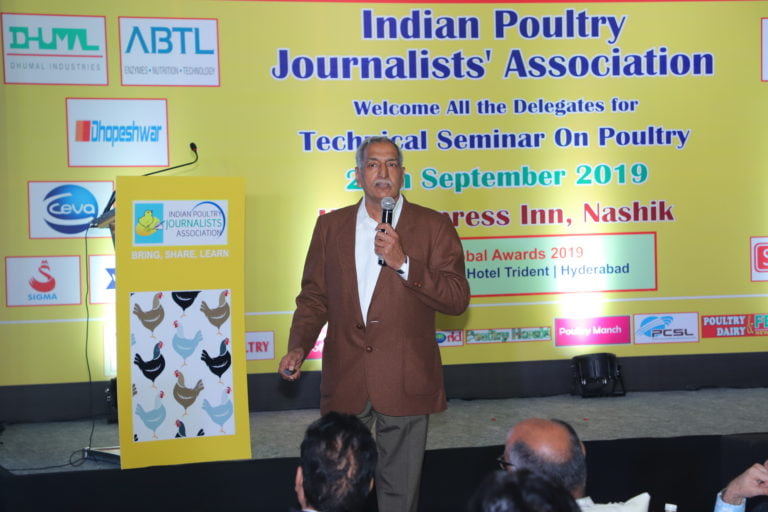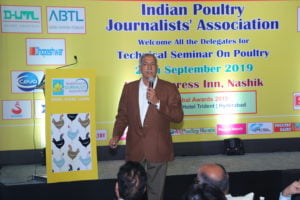 He introduced his company as largest nipple manufacturer supplying in India and exporting to many other foreign countries as well. He reported that they have produced about 10 crores nipples and installed in countries all over the world.  He said besides nipples the company manufactures cages, feeding systems and also egg collection systems.
Dr. Anand Khandwekar made a presentation on Role of Gut Health in improving growth and  productivity. He said that we have been constantly carrying out research and improving the bird's standard for more weight, for lesser feed intake within a stipulated time and also introducing new feed ingredients as this increases pressure on intestines. He said even the feed security norms demand better gut health and forbidding the usage of antibiotics and in the present scenario, we should understand and improve the feeding procedures.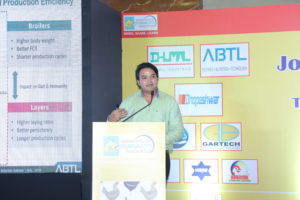 He stated that Infections like salmonella pose a great threat to gut health and 70% bird immunity depends on gut health only and that gut integrity can only maintain productions and better health of the bird.  Scientists have successfully introduced enzymes for better digestibility and utility of feed served to birds as specially designed enzymes are made available for corn-soy, wheat soy feeds, he added.  He said that farmers should be in touch with nutritionists to alter their feed regime from time to time according to fluctuation in prices of feed ingredients.
The last presentation was made by Mr. Akshay Dhumal who discussed environmentally controlled houses for betterment of poultry. His slide presentation impressed the gathering as he gave an account of shed fabrication, insulation against heat, ventilation system, air flow management, humidity maintenance etc. He stressed on modern brooding and feeding systems that was put on display. He displayed modern sheds made for SKM 49 X 354Ft. sheds for 25,000 birds each.  It is given to understand that EC Houses could be constructed @ Rs. 180 and Rs. 250 to 275 high cost. With evaporative cooling system, temperature within the shed could be maintained from 19 degrees to 28 degrees for ideal productions.  In the EC houses broiler integration farmers earn Rs. 10 per Sq. Ft.  whereas ordinary shed farmers get only Rs. 4 per Sq. Ft .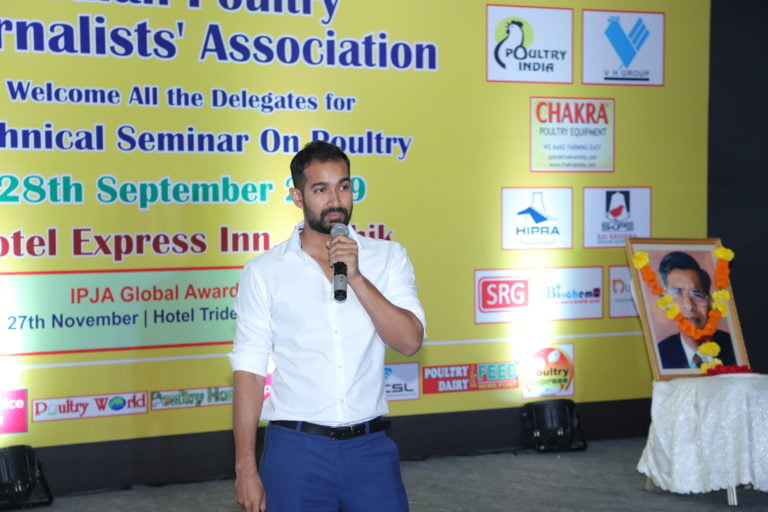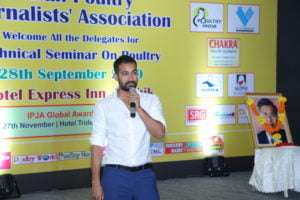 The Technical seminar concluded with the panel discussion moderated by Mr OP Singh and panel members Mr Krishna Gangurde , Mr Anil Dhumal and Dr. Anil Phadke . Dr. P G Phalke successfully conducted the seminar with his anchoring. Vice President of IPJA Mr. MK Vyas, Treasurer Mr. MN Rao, Joint Secretary Mr. Amit Rana, EC member Mr. NSN Murthy were also there in the IPJA Team. Nasik Farmers appealed the IPJA leaders to plan at least one seminar an year in a similar way as they met whole poultry fraternity of Nashik without any inhibitions and differences on a single platform.
FEW GLIMPSE OF SEMINAR