News
INFAH held its 8th AGM on 9th August 2019 at Mumbai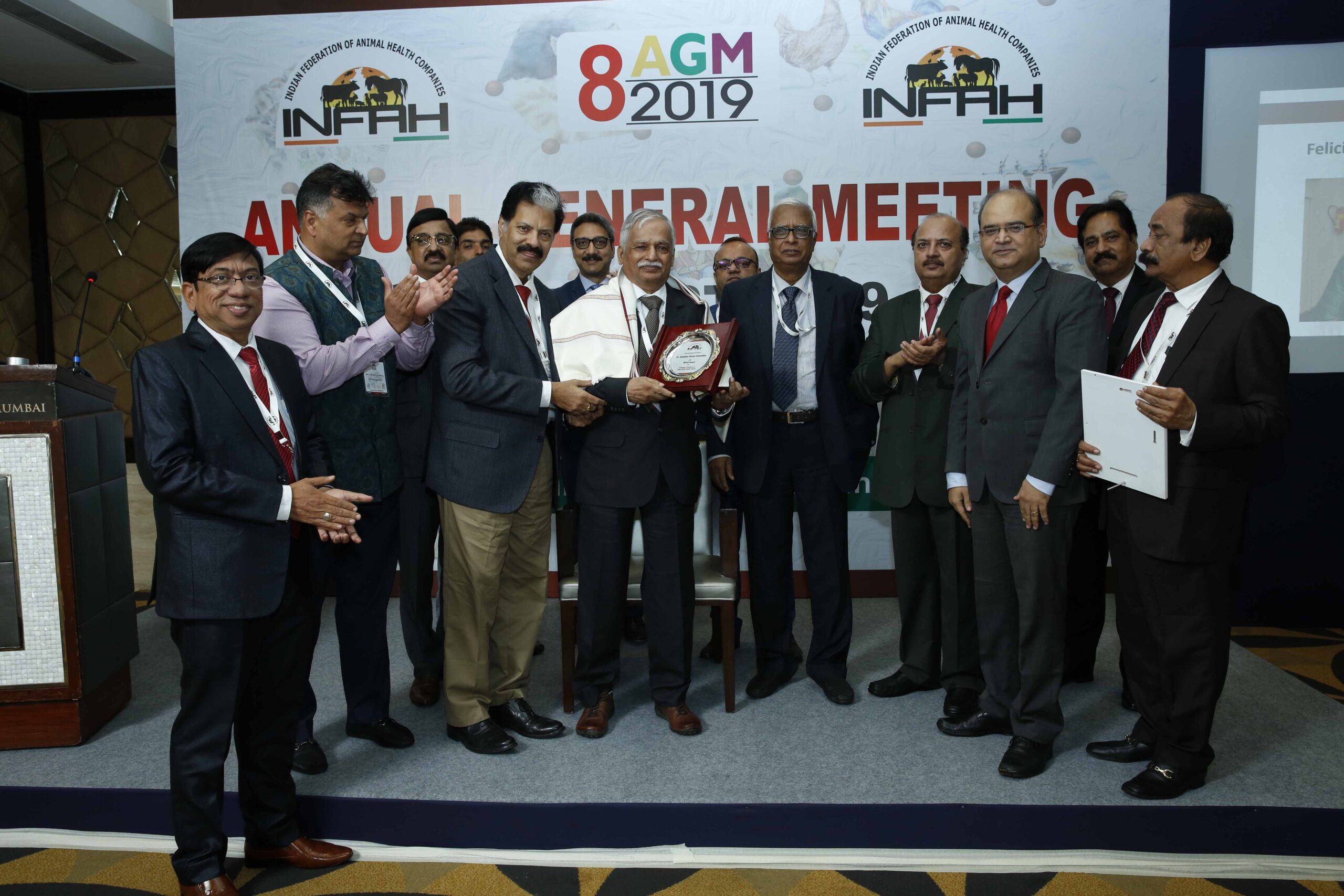 The 8th Annual General Body meeting of INFAH was held on 9th August 2019 at Hotel Taj Santacruz, Mumbai. The meeting was attended by more than 80 industry colleagues representing Indian Animal Health & Nutrition Industry.
Indian Federation of Animal Health Companies (INFAH) has a clear vision towards creating trust among Veterinary Professionals, Livestock, Poultry, Companion Animal and Aqua stakeholders, enhancing animal health Industry's value and contribution to society, by setting high standards of competitiveness, ethical business practices, innovation and leadership among its members and ensuring significant presence across the globe.
In the welcome address by Dr. Arun Atrey, Immediate past President-INFAH, expressed that role of INFAH has become more significant to meet the newer challenges, adopt new culture and practices, be more proactive towards our role in policy making, decisions and overall creating new opportunity for sustainable growth by adopting best professional and ethical practices. INFAH is totally committed to meet the expectations of its members. However, it would need constant encouragement and guidance from all. Dr Atrey welcomed all members and guests to 8th AGM.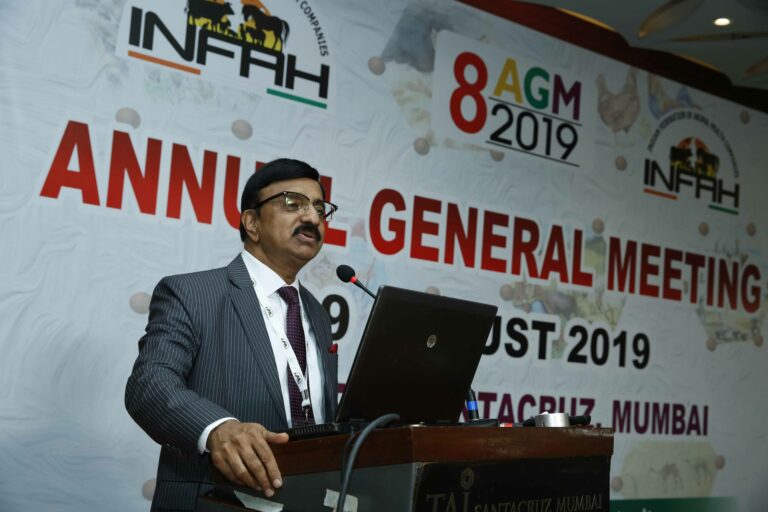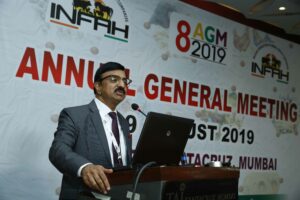 Dr. Arun Atrey Addressing the INFAH Members
Dr. D. K. Dey, President INFAH, welcomed all the members to 8th AGM. He took this opportunity to congratulate all the members for being a part of INFAH's journey of the last 7 years which was full of challenges and achievements. With the support of all the members INFAH have been able to create some new milestones that would give a new direction to its future growth. The key challenges which our industry is facing are animal welfare groups relentless pressure on cage ban impacting layer industry, mixed response from the policy makers on AMR, Issues related to classification of animal feed supplements by different authorities.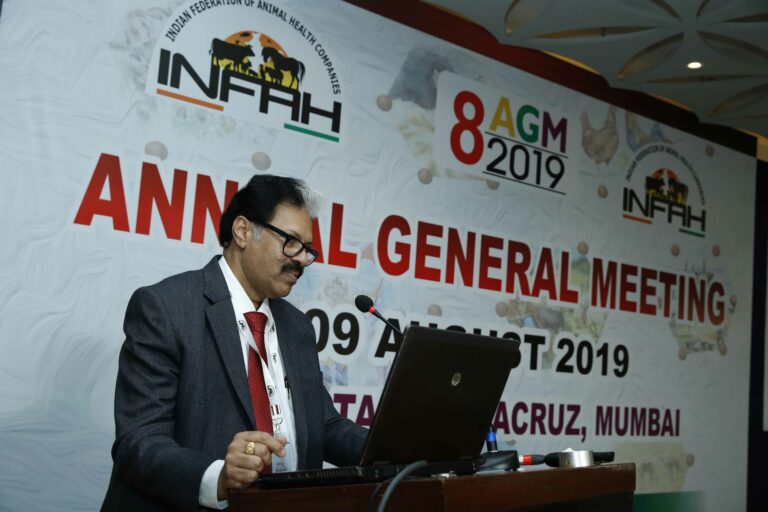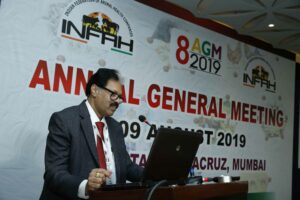 Dr D.K.Dey Addressing the INFAH Members
Dr. Vijay Makhija, General Secretary, INFAH, emphasized that the journey of INFAH will always remain challenging due to ever changing regulatory environment and continual demand for cost effective solutions. He applauded the "Passion" of all managing committee and subcommittee members to take INFAH to greater heights. He presented the overview of full year activities of INFAH. Some of the key highlights were; participation at One Health conference, synthesis of white paper on feed supplements, contribution towards INFAH members views for the CDSCO's initiative of guidance document on biologicals & therapeutics, providing support during Kerala floods, SOPs on good marketing practices, Initiatives for attracting & retaining talent, representations to government officials for swift imports & exports of animal Health & nutritional products, garnering support for inclusion of Ayurveda in veterinary curriculum and post graduate studies, collaboration with industry associations, IPJA award recognition etc.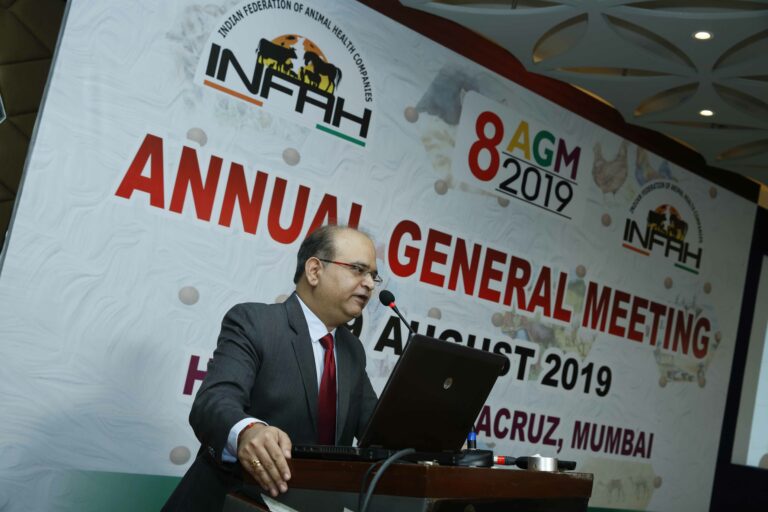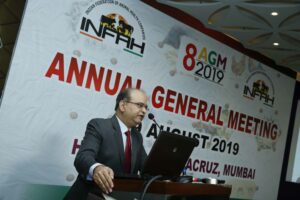 Dr Vijay Makhija presenting Annual Activity Report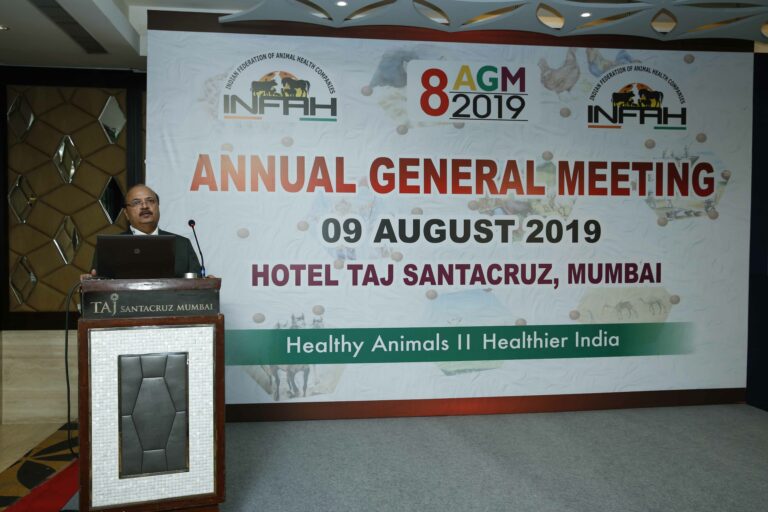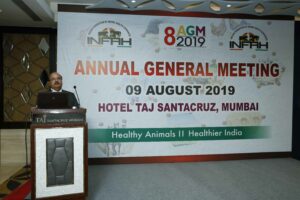 Mr Satish Pasrija sharing insights on the White Paper on Feed Supplements
During the AGM, an insightful presentation "White Paper on Feed Supplements" was made by Mr. Satish Pasrija (Past President & Chairman Subcommittee on Feed Supplements). In this paper INFAH has comprehensively covered various aspects of feed supplements and engaged all stakeholders for their inputs for the same. INFAH has carried out holistic research by bringing together all inputs required to precisely define status and prevent ambiguity at all levels. This document will be mother document for feed supplements and can form basis for bringing uniformity in understanding and implementation within industry and regulatory bodies
Dr.B. P. Manjunatha, Chairman of Human Resource Subcommittee, emphasized on the need for attracting & retaining talent. Dr Manjunatha also emphasized on good human resource practices which as an Industry we need to adapt and follow. He called for a collective effort of INFAH members in this direction.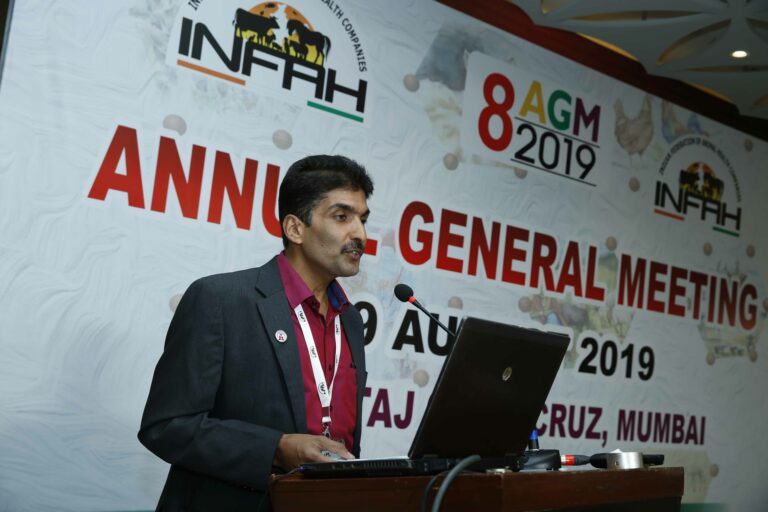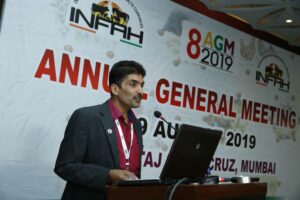 Dr B. P . Manjunatha sharing update on Human Resources needs of industry
Dr. P.G. Phalke (Treasurer INFAH) conducted the AGM proceedings, welcomed the new member Tineta Pharma and announced the result of newly elected members for the period 2019-21.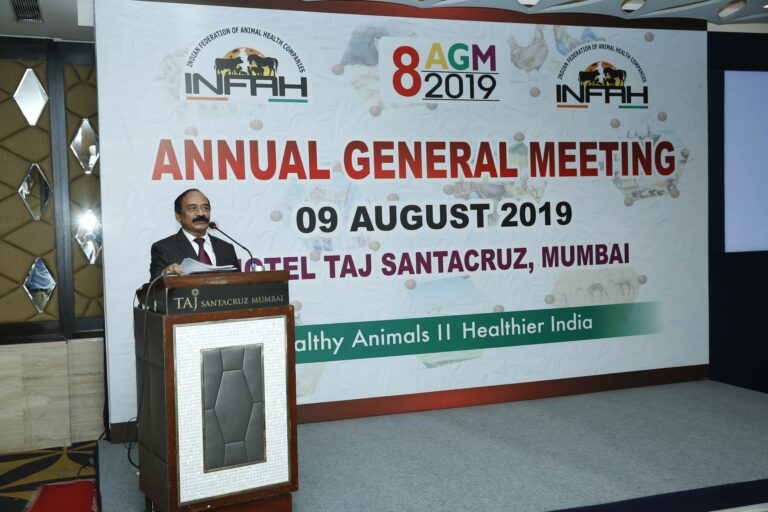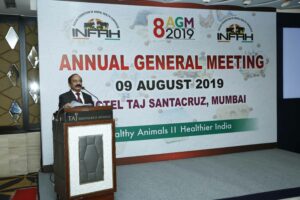 Dr P. G.Phalke conducting AGM
During the AGM Mr. Vijay Teng, Vice President- INFAH, addressed the members by ensuring that the INFAH is well positioned to shape the environment in Animal Health industry in alignment with changing economic and regulatory scenario. INFAH is well prepared to contribute to the overall growth of India with the objective of Healthy Animals, Healthier India. Mr. Vijay Teng expressed sincere gratitude towards the immediate & past presidents Dr. Arun Atrey & Mr. Satish Pasrija for their exemplary leadership and periodic guidance to the Managing Committee.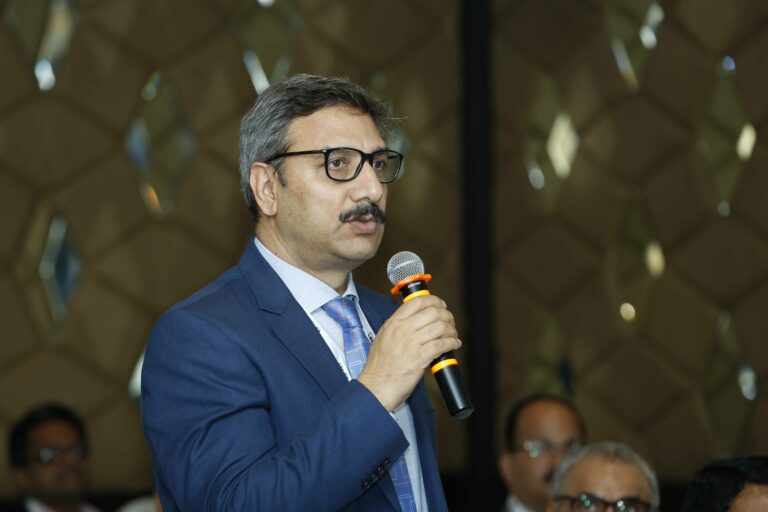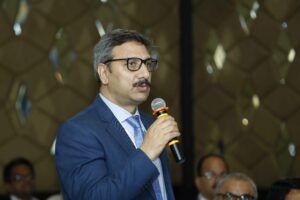 Mr Vijay Teng addressing the INFAH Members
INFAH Managing Committee specially honoured Dr D. K. Dey for his outstanding contribution as President of INFAH for the last two years. Managing Committee also took special effort to recognize contributions of subcommittee members & the respective Chairmen.
During the AGM following insightful presentation were made by Guest Speakers
Changing Dynamics of Indian Agri System by Mr Ram Kaundinya
Evolving Innovation Ecosytem in Agritech & Farm Tech – Mr Himendra Mathur
On the 8th AGM, INFAH Recognized the contribution of individuals towards development of AH sector in the form of "INFAH Award".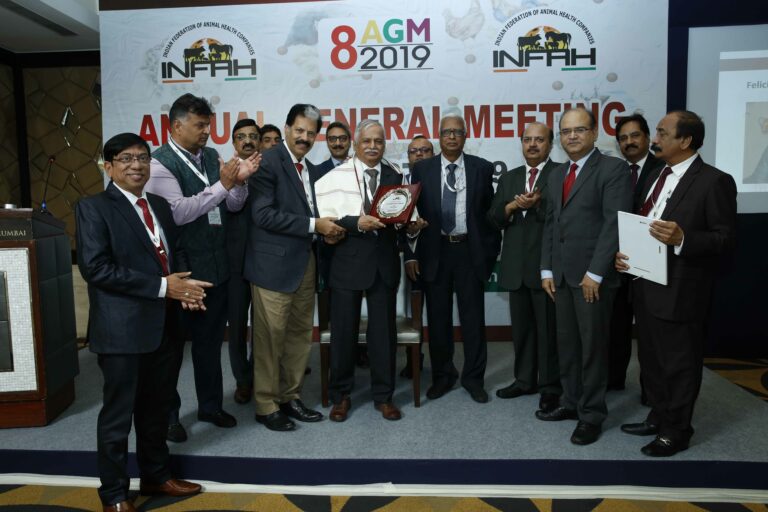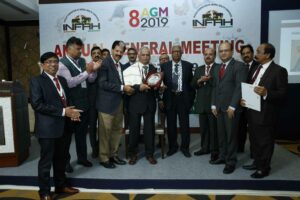 Dr. S.S.Chousalkar received INFAH Award
"INFAH Award" was presented to Dr. S.S. Chousalkar for his exemplary contribution to society at large and Animal Health Industry in particular. Dr. Jeetendra Verma read the citation for him. Over a period of more than five decades he served relentlessly working towards development of Animal Health sector. Dr S.S. Chousalkar contributed significantly to enable access of quality & affordable products for the Indian farming community.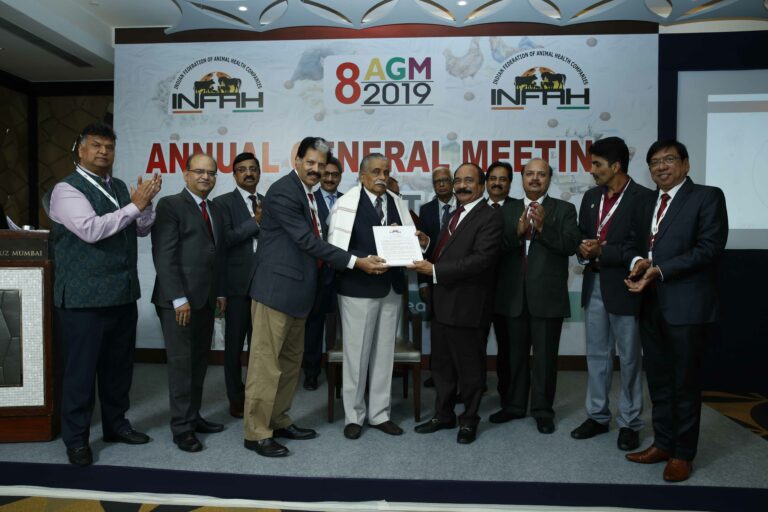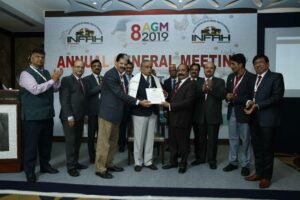 Dr. Y.G deshpande received INFAH Award
"INFAH Award" was also presented to Dr. Y.G. Deshpande for his outstanding contribution to the Animal Health Industry. Mr Anurag Agarwal read the citation. Dr Deshpande has immensely contributed in the area of veterinary pharmaceutical marketing, product development, product promotion along with consistent interaction and admirable relationships with academicians, research workers, practicing veterinarians & farmers.
All the awardees thanked INFAH for the award and delivered an Inspirational speech by sharing their success mantra with the audience.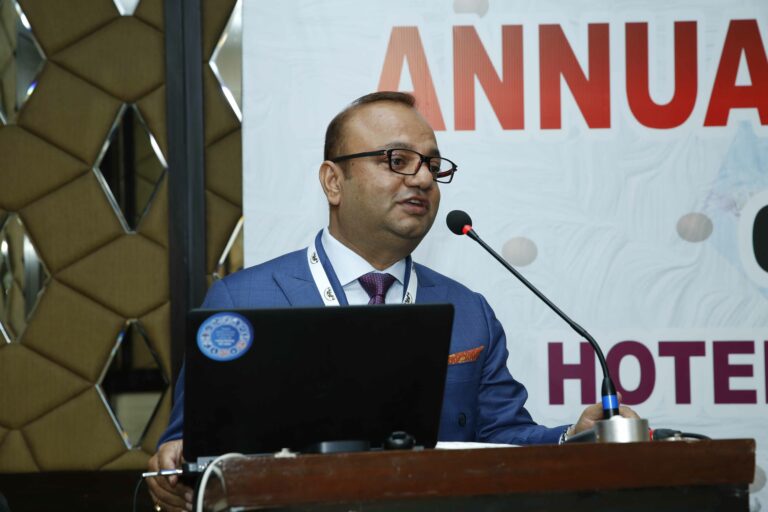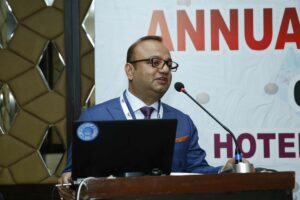 Dr Shirish Nigam expressing vote of thanks
Dr. Shirish Nigam, Joint Secretary INFAH, proposed vote of thanks. At the very outset he thanked all INFAH Members for their valuable presence during the AGM and their unstinted support to INFAH initiatives. Dr Nigam expressed sincere gratitude to entire managing committee for their continuous support. He thanked Guest Speakers, Mr Ram Kaundinya and Mr. Hemendra Mathur for sparing their valuable time & sharing their rich insights with INFAH members. He recognized the contribution of each Subcommittee member and support of Dr Phalke and Ms Bhavana for the effective functioning INFAH. He thanked Dr. Nitin Bhatia & Dr. Rajni Choudhary for providing support in organizing the 8th AGM and for INFAH Connect publication. He thanked the hospitality and arrangements done by hotel staff. The program ended with networking dinner.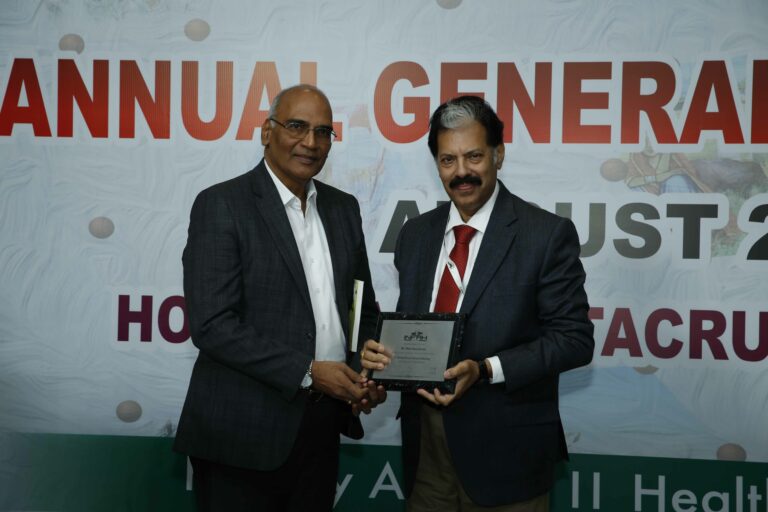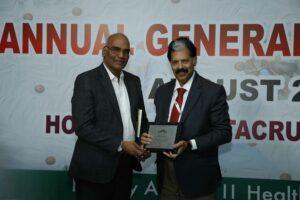 Dr D.K.Dey faciliating Guest speaker Mr Ram Kaundinya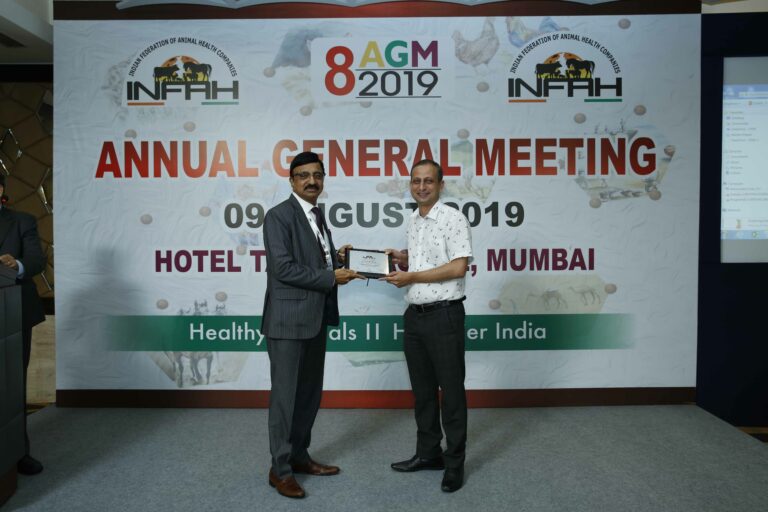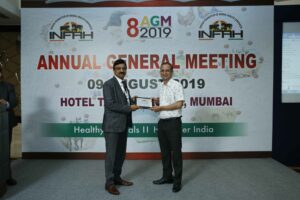 Dr Arun Atrey facilitating Guest Speaker Mr Himendra Mathur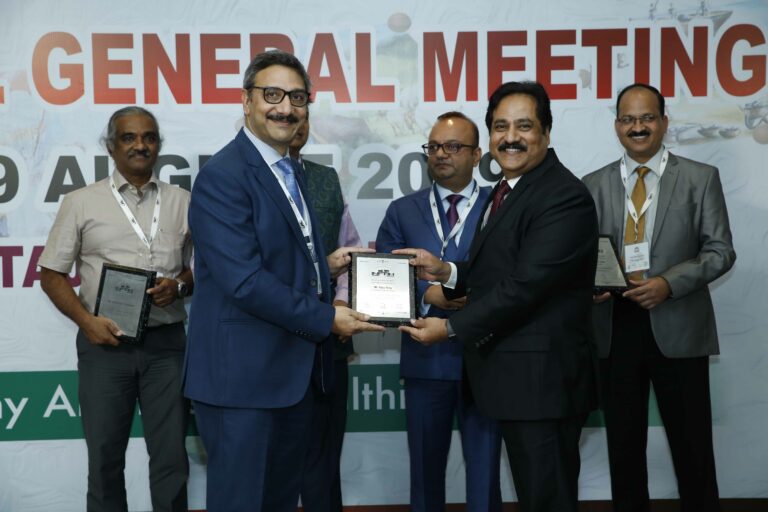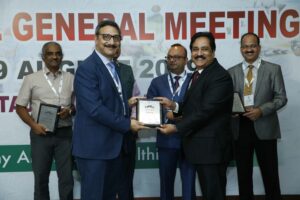 The Managing Committee of INFAH for the period 2019-2021 is as follows
1.
Mr. Vijay Teng, President
8.
Dr. Arun Atrey, Executive Member
2.
Mr. Anurag Agarwal, Vice President
9.
Dr. D. K. Dey, Executive Member
3.
Dr. Vijay Makhija, General Secretary
10.
Dr. Sandeep Karkhanis, Executive Member
4.
Dr. B. P. Manjunatha, Joint Secretary
11.
Dr. Jeetendra Verma, Executive Member
5.
Dr. P. G. Phalke, Treasurer
12.
Mr. Gautam Chatterjee, Executive Member
6.
Dr. Shirish Nigam, Resident Secretary- Delhi

7.Mr. Satish Pasrija, Executive Member

13.
Dr. Tanweer Alam, Executive Member