News
I P Marketing Services a trusted partner in animal health industry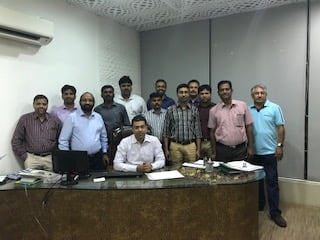 Dr Onkar Pawaskar and Dr Mangesh Sagar
I P Marketing Services, a partnership firm was started in the year 2008 by Dr Onkar Pawaskar. It was then started with an intention to cater to poultry feed additive needs mainly by representing many of the multinational companies in Indian market and trading of certain commodity products. In a course of time with a zest to grow, Dr Onkar started looking ways for expansion of the company.
Dr Mangesh Sagar joined Dr Onkar Pawaskar from day one in the journey of I P Marketing Services growth. Dr Mangesh Sagar has gained deep production experience in his initial years of career with sound technical knowledge of manufacturing. Dr Onkar Pawaskar with his earlier sales and marketing experience in many MNC's has exposure to domestic and global markets with international standards in quality. Looking at the long term vision of growth and knowing the obstacles of dependency on MNC's in the pathway, both the doctors started giving thought to start their own manufacturing facility in order to become an independent company. With the number of meetings, brainstorming sessions, technical knowhow and available resources both then decided to start their own manufacturing facility at Dr Onkar's own land at Karjat, Raigadh district of Maharashtra. Mr. Sanjay Kamat who heads the finance department guided the company with their profound experience in establishing the company.
With mere a plain land in the beginning, a manufacturing facility started taking shape with manufacturing and storage sheds, factory office, labor quarters, laboratory for quality check, waste disposal system in place, fire extinguishers, hygiene and safety measures and most importantly with all required bio-security measures to avoid any kind of infection and infestation. Mr. Ashapak Shaikh with his logistics and expert manufacturing activities at ground level has taken up production and transportation responsibilities.
The journey then started with identifying quality conscious, genuine and reliable raw material suppliers. Initially started with only one product, the company has now more than 30 products in its portfolio. Most of the products are been manufactured with the high quality sifter, pulveliser, state of the art mixers of different sizes with spraying machines to fulfill the need of accuracy of different products. The company is now a proud manufacturer of many poultry feed additives and supplements like cocktail enzymes, toxin binders, pellet binders emulsifiers etc. The factory has 12 labors, 2 supervisors and a lab technician. Its head office is located at Thane, Maharashtra.
Volschendorf a marketing hand of I P marketing Services has a strong team of marketing personals that has wide experience in poultry industry at farm and corporate level with customer building confidence. The team has done a great work to take the IPMS products to each and every corner of the India.
I P Marketing Services initially received ISO 22000:2005 and ISO 9001:2015. It now proudly announces the receipt of FAMIqs certificate from TUV Nord, a further milestone achieved. FAMIqs has made IPMS a more reliable and quality partner for many industry mates and also to many others who want to get associated nationally. The certification has also opened the doors internationally, for distant buyers who look for trusted overseas partners and also where FAMIqs certification is necessary for business trade. I P marketing Services is now one of the most trustworthy suppliers of poultry feed additives and supplements nationally and globally.
With all above endeavors, I P Marketing Services has now emerged as trusted name in the poultry fraternity. Dr Onkar Pawaskar wishes all our distributors and customers a bright and prosperous future without which our journey would not be complete and assures to be their long term reliable business partner. We also thank our seniors and consultants for their time to time guidance.