News
Boost to Srinivasa's expansion plans with IFC's Partnership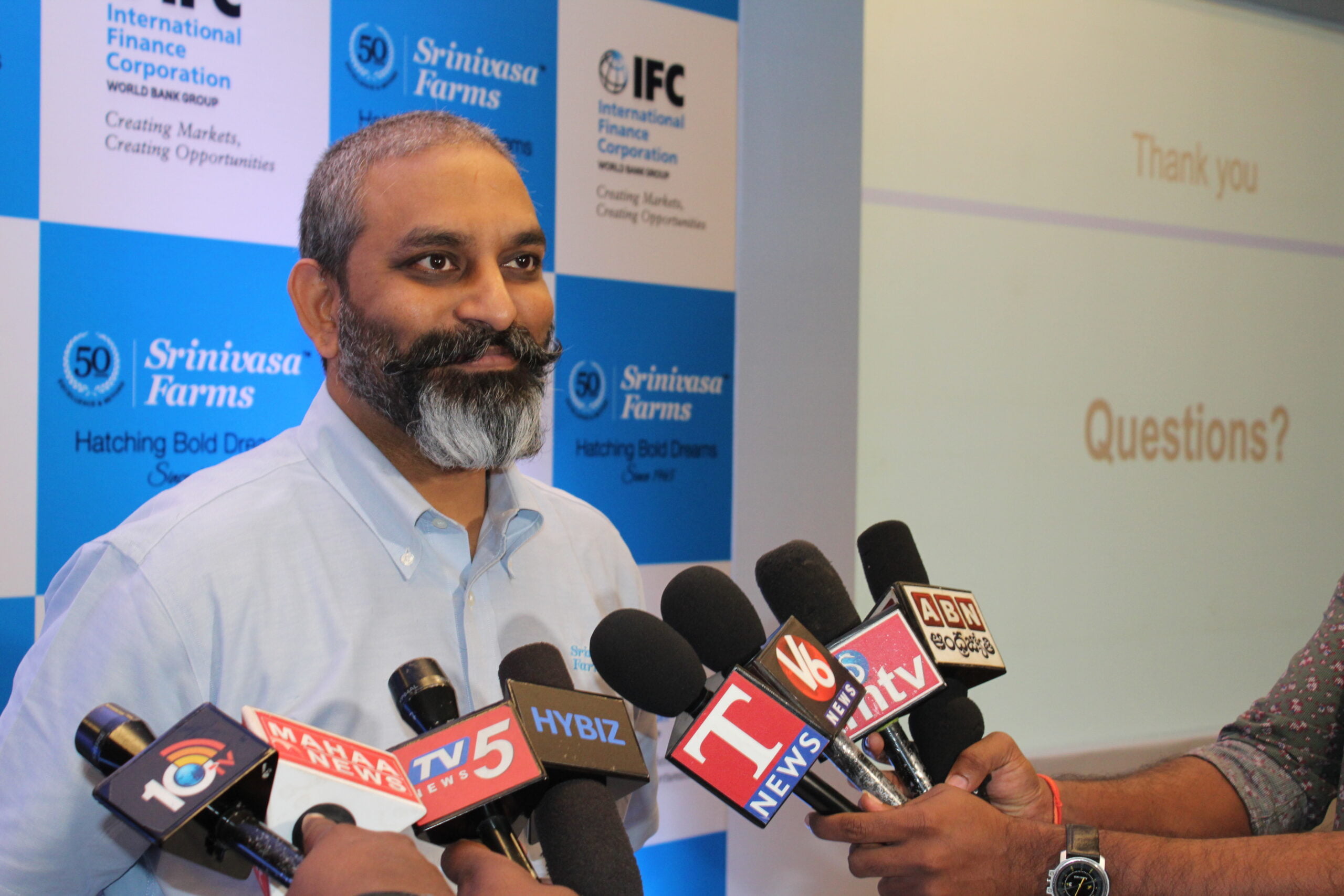 Hyderabad, India | August 8, 2019
As part of strategic investment to support India's agri business sector, International Finance Corporation (IFC), a member of the World Bank Group, has committed to invest INR 1,300 million (or USD 18.75 million equivalent) in Srinivasa Farms Pvt. Ltd. ("SFPL" or "Srinivasa" or the "Company") to partner with the Company in its pursuit to expand pan India with capacity enhancement and product diversification. The first tranche of INR 650 million (or USD 9.37 million equivalent) has already been invested.
Srinivasa Group had its moorings way back in 1965 when Mr. Jagapati Rao Chitturi (Chairman) forayed into poultry business in Hyderabad. The Company is a leader in the integrated layer and broiler business which has diversified interests in soya, feed, contract farming, chicken processing and retail.
Hy-Line International, the world leader in Chicken layer (egg laying) genetics, has tied up exclusively with Srinivasa Farms in India, which is a testimony to the Company's legacy and sound fundamentals in poultry.
One among its many achievements that the Company has embarked on was setting up of the state-of-the-art chicken processing plant near Hyderabad, India, to produce a variety of value-added chicken products for hotels and restaurants and fast food segment. The Group is also putting up a Mega Food Park as part of its diversification plans to provide food processing infrastructure to small and medium enterprises in Andhra Pradesh in a plug and play mode.
The poultry sector generates economic benefits along the value chain by integrating small farmers into production processes. In India, it is one of the most organized sectors in agriculture with a market value of $16.8 billion. Even though India's per capita consumption of eggs and chicken has grown in the last five years, it is expected to grow further at 7-10 percent per annum. India already ranks 3rd in egg production and 4th in broiler production, globally.
"Strengthening the agribusiness sector is at the heart of India's development agenda. It is a sector of strategic focus for IFC. Investment in the poultry sector can lead to job creation for low-skilled workers who are entering formal labor force for the first time," said Mr. Jun Zhang, IFC Country Head in India. "Srinivasa's successful expansion will create jobs, improve rural logistics, and help create a market linkage for small farmers."
Apart from funds infusion, IFC will contribute to the partnership by bringing to the table its global expertise in the poultry sector, technical advisory on best operating practices and climate-smart agricultural practices, corporate governance, and food safety standards. IFC's investment will help roll out the Company's network to new areas and expand farmer reach.
KPMG was the exclusive financial advisor to the company for the transaction.
Mr. Suresh Chitturi, Vice Chairman and Managing Director of Srinivasa Farms (and also the Vice Chairman of International Egg Commission, UK & Vice President of All India Poultry Breeder Association) said – "over the next 2-3 years we will invest over INR 3000 MN in doubling our capacities. The plan is to pursue a collaborative growth model to expand allied businesses such as retail, processed foods and agri-businesses, besides value added products. Our project expansion will create many more jobs with best practices in work force management and sustainable development keeping environment in focus."
About Srinivasa Group
Founded by a pioneer of the poultry industry by establishing his first poultry farm in 1965. Today, Srinivasa is fully backward integrated in the poultry value chain, with presence in soya & feed, layer and broiler breeding and broiler integration (contract farming) with a vision to move up the poultry value chain, the Company recently set up a chicken processing unit and opened company owned retail outlets. It further plans to venture into egg processing and chicken value added products.
Srinivasa is a leader in the poultry industry with long standing relationship with poultry farmers. Srinivasa entered into exclusive pan-India distribution agreement with Hy-Line International for layer chicks. The Company is headquartered in Hyderabad with over 2,500 employees and serves over 1,000 customers / farmers across 30+ cities in the region. Currently, Srinivasa is present in 16 states across India.
For more, log on to www.srinivasa.co
About IFC (International Finance Corporation)
IFC – a sister organization of the World Bank and member of the World Bank Group – is the largest global development institution focused on the private sector in emerging markets. We work with more than 2,000 businesses worldwide, using our capital, expertise, and influence to create markets and opportunities in the toughest areas of the world. In fiscal year 2018, we delivered more than $23 billion in long-term financing for developing countries, leveraging the power of the private sector to end extreme poverty and boost shared prosperity. For more information.For more, log on to www.ifc.org