News
HONORING A LEGACY — REWARDING GREAT TALENT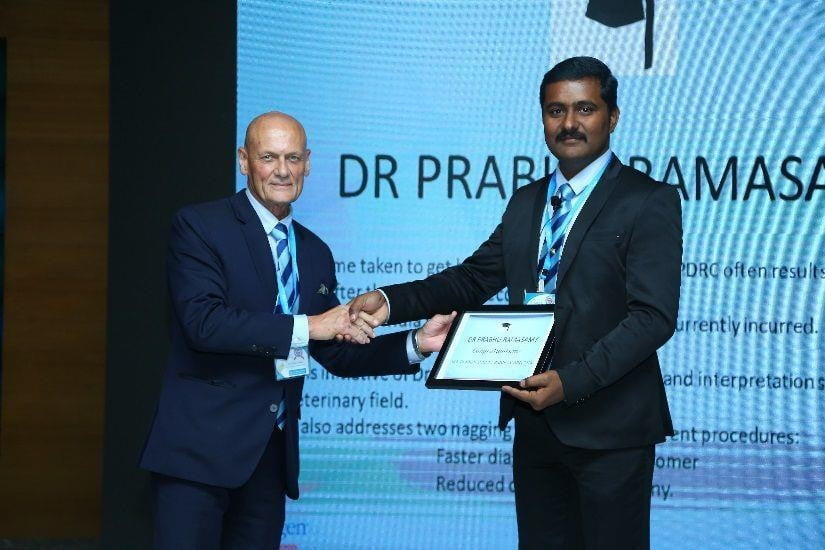 April 24, 2019 – Udumalpet, India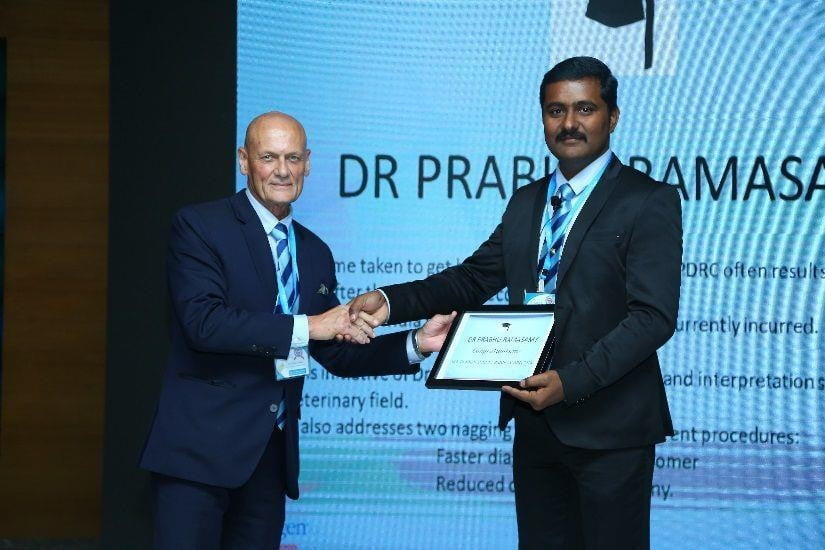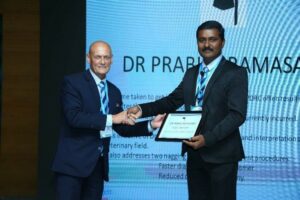 India's Dr. Prabhu Ramasamy is honored with Ian Panton Scholarship
Dr. Prabhu Ramasamy, Aviagen's Technical Service Manager in India, is the new recipient of the 2018 Ian Panton Scholarship award. Paul Gittins, Aviagen India Senior Business Consultant, presented the scholarship to him at Aviagen India's recent production management school.
Each year Aviagen leadership chooses an employee from around the world to receive the award, which consists of financial support for one year to go toward advancing his or her career. In addition to the funding, Ramasamy will be mentored by a senior manager.
To be eligible, applicants submit their resume, along with a video interview that highlights their background and outlines the project that the award will enable them to work on.
Highly qualified poultry professional
Ramasamy joined Aviagen India as Technical Service Manager in 2014, supporting grandparents, parent stock and broilers. In this role, he adds enormous value by designing and implementing plans to help improve the bottom line for Aviagen customers. To do so, he works closely with global experts in health, nutrition, hatchery and ventilation to provide a comprehensive support package for Aviagen customers.
Prior to going to Aviagen, he worked for Shanthi Feeds as a Zonal Manager, responsible for placement and production of 1.6 million broilers per week, overseeing vaccination and medication programs for the broiler farms, as well as developing biosecurity protocols to prevent disease in those broiler farms. He also worked as a Research Fellow for the Veterinary College and Research Institute in Namakkal, collecting useful data on poultry diseases to help poultry farmers. He holds a Bachelor of Veterinary Science and Animal Husbandry from Tamil Nadu Veterinary and Animal Sciences University (TANUVAS), a Master of Veterinary Science from Kerala Veterinary and Animal Sciences University and a Post Graduate Diploma in Feed Manufacturing Technology from TANUVAS.
Noble goals for scholarship
Ramasamy plans to use the scholarship to fund his study of Avian Histopathology at the University of Georgia. This expertise will greatly benefit Aviagen in its ongoing commitment to help customers around the world provide their local communities with a healthy and safe source of affordable protein.
"I'm extremely humbled and honored to accept the scholarship award, and plan to use it to enhance my knowledge base to better serve our company and our customers," explained Ramasamy.
Paul Gittins, senior advisor for Aviagen India, pointed out that, "At Aviagen India we are all very proud of Dr. Prabhu getting this prestigious award. Not only does he have a chance to further develop his diagnostic skills but importantly the customer will benefit from faster diagnosis and treatment. A win-win for everyone."
Honoring an Aviagen and industry great
When Aviagen established the Ian Panton scholarship fund in 2011, its mission was twofold: to support the development of future industry leaders, and to honor Ian Panton, an Aviagen and industry legend.
Panton dedicated four decades of service to Aviagen, its people and the industry. His history began in Scotland with Ross® Breeders in the early 1970s, and he advanced to become CEO of the Aviagen Group worldwide in 2000. Although he retired at the end of 2009, he continues to serve the industry by speaking at numerous Aviagen- and industry-related events.
About Aviagen
Aviagen® is a global poultry breeding company that develops pedigree lines for the production of commercial broiler chickens under the Arbor Acres®, Indian River®, and Ross® brand names. The Rowan Range® and Specialty Males® are specialty breeding stock from Aviagen that offer greater flexibility for customers to meet specific or niche market requirements. The company is based in Huntsville, Alabama, USA with a number of wholly-owned operations across the United Kingdom, Europe, Turkey, Latin America, India, Australia, New Zealand, and the U.S.A., and joint ventures in Asia. Aviagen employs more than 4,600 people and has a distribution network serving customers in more than 100 countries.
For further information, please visit www.aviagen.com