Article
Causes of dead-in-shell embryos in chicken egg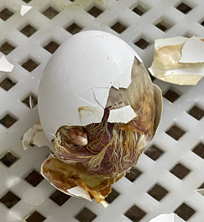 1 – Simran Kaur – Ph.D. Scholar, Department of Animal Genetics and Breeding, College of Veterinary Sciences, Lala Lajpat Rai University of Veterinary and Animal Sciences (LUVAS), Hisar-125004
2 –  Amandeep Singh – Assistant Professor, Department of Veterinary Anatomy, College of Veterinary Sciences, Lala Lajpat Rai University of Veterinary and Animal Sciences (LUVAS), Hisar-125004
3 – Rahul Kumar – Assistant Professor of Zoology, College of Agricultural Bawal-123501, Rewari, CCS Haryana Agricultural University, Hisar-125004
*Corresponding author email: sudansimran321@gmail.com
Introduction
Over 65% of all chick embryo deaths take place in the early and late stages of development. Environmental or genetic factors may contribute to embryonic mortality. In most cases, late phase mortality occurs when the need for effective respiratory gas exchange is greatest. The circumstances of incubation, dietary deficits, and malformations are some more primary factors associated with increased mortality. Bacteriological analysis of dead-in-shell embryos previously revealed bacterial isolates from different species viz., E. coli, Salmonella, Staphylococcus, Pseudomonas, Bacillus subtilis, Streptococcus, Proteus, Micrococcus and Klebsiella (Hananeh et al., 2021). The stage of gut absorption (days 16 to 19) and yolk sac absorption (day 20) aid in determining when the embryo died. However, the cause of the fatality typically happens considerably much earlier. Fully formed embryos, for instance, can 'drown' in the shell during the internal pipping phase due to inadequate egg weight loss during incubation (Kolariczyk, 2022).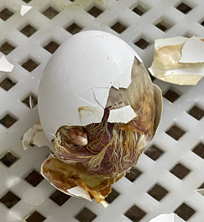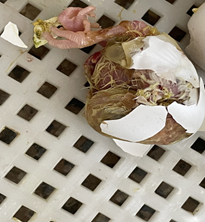 Causes of embryo mortality at different phases of development:
The early phase, which occurs prior to the blood ring phase, is primarily influenced by the health of a breeder flock (nutrition, diseases), egg handling (collection, cooling, unstable temperature, rough transport), and mistakes made during hatchery procedures (traying, storage, disinfection, preheating, beginning incubation program).
Medium phase: Temperature concerns, such as a suboptimal temperature or rate of temperature increase or a nonuniform temperature distribution, which locally results in extreme values inside the machine, are the key factors affecting embryo fates during the first week of incubation. Air supply and humidity have just a little impact during this stage.
Late embryo mortality is even more complicated. Embryos die late owing to fatigue caused by sustained exothermic overheating (after day 10 to 12) or inadequate development caused by a continuously low temperature. Another possible cause is inadequate or uneven ventilation during the last days of incubation.
Precautions
Identify eggs that are truly infertile and remove them from analyses of embryo mortality.
Sort deceased embryos by age to find peaks in mortality.
Make inferences about potential reasons.
Before making changes to the incubation schedule, take into account egg shell temperatures and weight loss.
Conclusion
Taken together, it is possible to conclude that the dead in shell embryo in the chicken is caused by pathogens, poor egg handling at hatcheries and poor sanitation and disinfection methods. This disease inquiry serves as a reminder of the basic biosecurity precautions and hygienic practices required at chicken farms.
Bibliography
Hananeh, W.M., Al-Natour, M.Q., Alaboudi, A.R., Abo-Shehada, M.N. and Ismail, Z.A.B. (2021). Congenital abnormalities in dead-in-shell chicks associated with mixed bacterial infections. Heliyon, 7(2): 1-5
Kolariczyk, M. (2022). The poultry site. Available at https://www.thepoultrysite.com/articles/analysing-embryo-mortality