News
"CENTRE OF EXCELLENCE FOR ANIMAL HUSBANDRY- CEAH ,THE ANIMAL HUSBANDRY ACADEMY OF INDIA"

CENTRE OF EXCELLENCE FOR ANIMAL HUSBANDRY
Centre of Excellence for Animal Husbandry- CEAH, Bengaluru, The Animal Husbandry Academy of India which is Consortium of 5 organizations at Hessarghatta namely CPDO&TI, CFSPTI, CCBF, AQCS AND RFS formed as per Aprroval of Ministry F.A- 43011/3/2023- Estt( HQs) dated 14th March 2023 under one Admin made functional by online launch of CEAH Brochure by Shri G.N. Singh Joint Secretary ( Admin) MFAHD, DAHD, New Delhi on 1/4 2023.
Sir, conveyed Best wishes of Secretary, AHD. Shri Rajesh Kumar Singh I.A.S to CEAH family Headed by Dr Mahesh P S Joint commissioner and Director, along with Dr Arun Prasad JC ( Admin), Dr H. Teggi JC( Training) , Dr Bhaskar DC( DDO) and Dr Tapan kumat Sahu ( HOO) along with entire Academy team of CEAH participated.
Special wishes were also given by Admin I team through online.
Best regards,
Dr Mahesh P S
Joint commissioner and Director
CEAH BENGALURU
The Animal Husbandry Academy of India.
CEAH-BENGALURU – Animal Husbandry Academy of India is setup under Government of India, Ministry of Fisheries, Animal Husbandry& Dairying, Department of Animal Husbandry and Dairying as a consortium of 5 Organizations at Hessarghatta vide Order No. F.A-430011/3/2023-Estt (HQs), dated, 14th March, 2023. This Academy is formed as per the guidelines of DoPT for National Programme for Civil Service Capacity Building (NPCSCB) under "Mission Karmayogi" of Government of India.
Centre of Excellence for Animal Husbandry, the Academy is a unique consortium of large scale production centers and training institutes under one umbrella organization namely, CEAH-Bengaluru. Located at Hessarghatta, North-West of Bengaluru. This Organisation is modeled on three knowledge pillars (3is)-Latest Information, Inspiration and Innovation for the knowledge aspirants across the country and globe in the Animal Husbandry Sector.
CEAH-Bengaluru is spread over 642 acres across four campuses at Hessarghatta.
Campus-1 consists of Central Poultry Development Organisation & Training Institute (CPDO&TI),
Campus-2 consists of Central Frozen Semen Production & Training Institute (CFSPTI) and Central Cattle Breeding Farm (CCBF),
Campus-3 consists of Animal Quarantine and Certification Services(AQCS) and Campus-4 consists of Regional Fodder Station(RFS).
Facilities Available:
CEAH-Bengaluru has state of art Poultry Automation units , Modern dairy sheds, ET lab, Sex-sorted
semen lab, International Animal Quarantine facility, biggest fodder seed production unit in the country
with latest technology adoption for irrigation. The Academy consists of four campuses with conference
halls, class rooms, officers and farmers hostels with boarding and lodging facilities.
The Objectives of CEAH Primarily are:
1 – To Develop Capacity Building for Training in Domain Expertise for Animal Husbandry Officers and                   Entrepreneurs across the Country and the Globe.
2 – Act as a nodal centre for Capacity Building Commission.
3 – To establish farmer demo units with successful business models for adoption at field.
4 – Large scale production & supply center for Animal Husbandry Products in Dairy, Poultry & Fodder Sectors.
5 – To establish world class infrastructure of Animal Husbandry Sector.
6 – To move towards achieving self sufficiency.
The consortium consists of CPDO&TI which is a premier poultry training and capacity building center since 1960s. The mandate of CPDO&TI has been capacity building, production and supply of poultry products namely hatching eggs, dayold chicken, duck and turkey along with entrepreneurs training and hand holding. CPDO&TI so far has trained man power across India and Globe at various levels.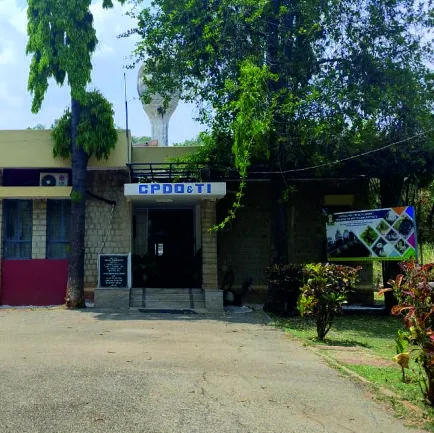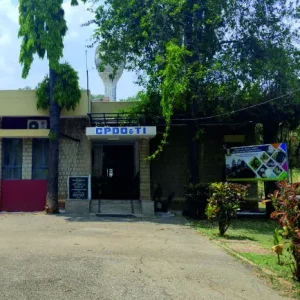 Products Available:
Chicken: Kaveri, Aseel & Kalinga Brown
Ducks: White Pekin & Khaki Campbell.
Turkeys: Broad Breasted Large White & Large Bro
CFSP&TI is a premier training institute also established during 1960s with a primary mandate of production of bovine frozen semen of Indigenous, exotic breeds of bulls for use of Artificial Insemination programmes in the country apart from conducting professional training, workshops, seminars in the field of frozen semen technology. CFSPTI is the flag bearer for monitoring semen stations across the country under Central Monitoring Unit with MSP protocols established by Govt. of India. CFSPTI is establishing sex-sorted semen laboratory as a innovative technology for animal reproduction.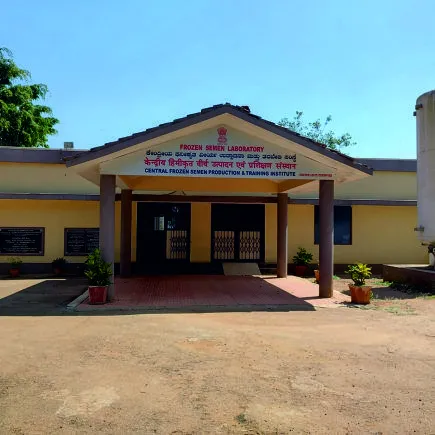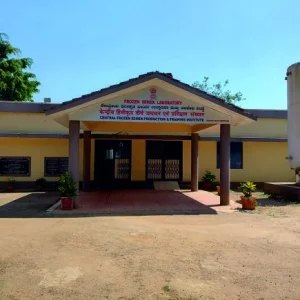 Products Available:
Frozen Semen of Exotic & Indigenous Bovine Breeds
Future: Embryo Transfer, Sex Sorted Semen
CCBF was established during 1962 under ICAR and transferred to Govt. of India in 1975. The primary mandate of this Institution being to produce purebred HF bull mother herd along with production of purebred HF bull calves for breeding programs across the country.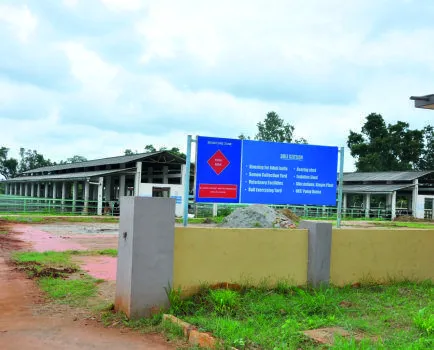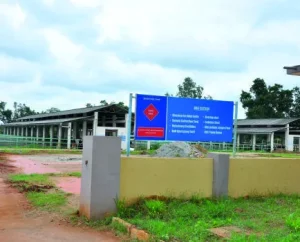 Products Available:
Milk, High Pedigreed Bull Calves
AQCS was initiated in August, 2009 at Bangalore International Airport and a new campus is established at Hessarghatta during Nov. 2022. The primary function of AQCS is to provide internationally accepted certification services for both export and import, enforce provisions of livestock importation act, to inspect and register plants or mills exporting the animal byproducts.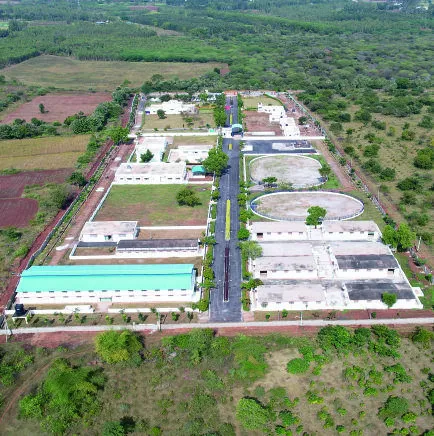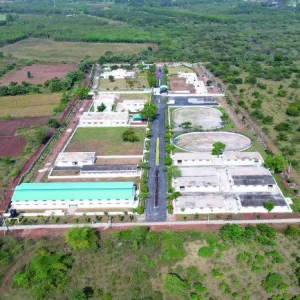 Services Available:
Export/Import Guidance on Livestock and Livestock Services.
RFS was established as a Indo-Australian fodder seed project during 1979. The primary mandate of this organization is production and supply of foundation and certified seeds of improved variety of fodder and forages across the country. This organization also imparts training on fodder production, fodder demonstration and mini kit programme at village level.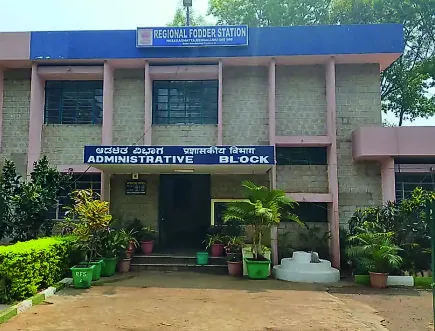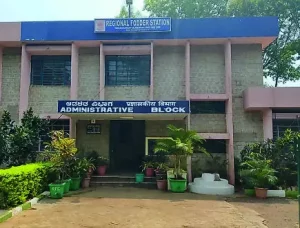 Products Available:
Fodder Gold- Australian Perienial Fodder Seeds, Green & Dry Fodder, African Tall Maize, CoFS etc.
CEAH – Bengaluru with above 5 organizations under one umbrella will be the largest facility in the country offering both large scale production of Dairy, Poultry, Fodder Seeds, Demonstration, innovation for capacity building and training for India and Global.
Indian Animal Husbandry Sector is valued at 15 lakh crore contributing to the National GDP with Dairy sector being 7 to 8 lakh crore, small ruminants 3-4 lakh crores, Poultry Sector 1.8 lakh crores. Animal Husbandry sector is presently more efficient and tech savvy. CEAH – Bengaluru aspires to provide state of art single facility with modern technology and infrastructure in Animal Husbandly sector.
This Academy Proposes Following Programmes for the Year 2023-24:
1 – Comprehensive Refresher Programme (one week) for Veterinary Officers of Department of Animal Husbandry of State Governments, Govt. of India, ICAR Institutions and Veterinary Universities. This Programme is envisaged as a Capsule Module offering Latest Technologies, Innovations in Dairy, Poultry, Export/Import and Fodder Development in the country along with Soft Skills, Leadership Management, Govt. Schemes, Information on Animal Husbandry institutions in the Country will be covered.
2 – Tailor made Programmes in the areas of Dairy and Poultry with Specific Training Need Analysis.
3 – Mid-Career Programme for Senior Officers of Animal Husbandry of State and Centre offering Modules on Finance, Human Resource Management, Stress Management, Leadership Programme etc.
4 – Round Table Conference/Workshops for Government and Private Sector with a Specific Mandate of Animal Husbandry Topics.
5 – Certificate Courses for the youth in the area of Artificial Intelligence, Machine Learning, Internet of
Things, Date Analytics, Block chain Technology and such other Latest Technologies for Dairy,
Poultry, Fodder, Export/Import Issues.
6 – Startup and Entrepreneurs Courses as per the Latest Needs of the Sector.
Please Note: Latest Course Calendar will be updated periodically.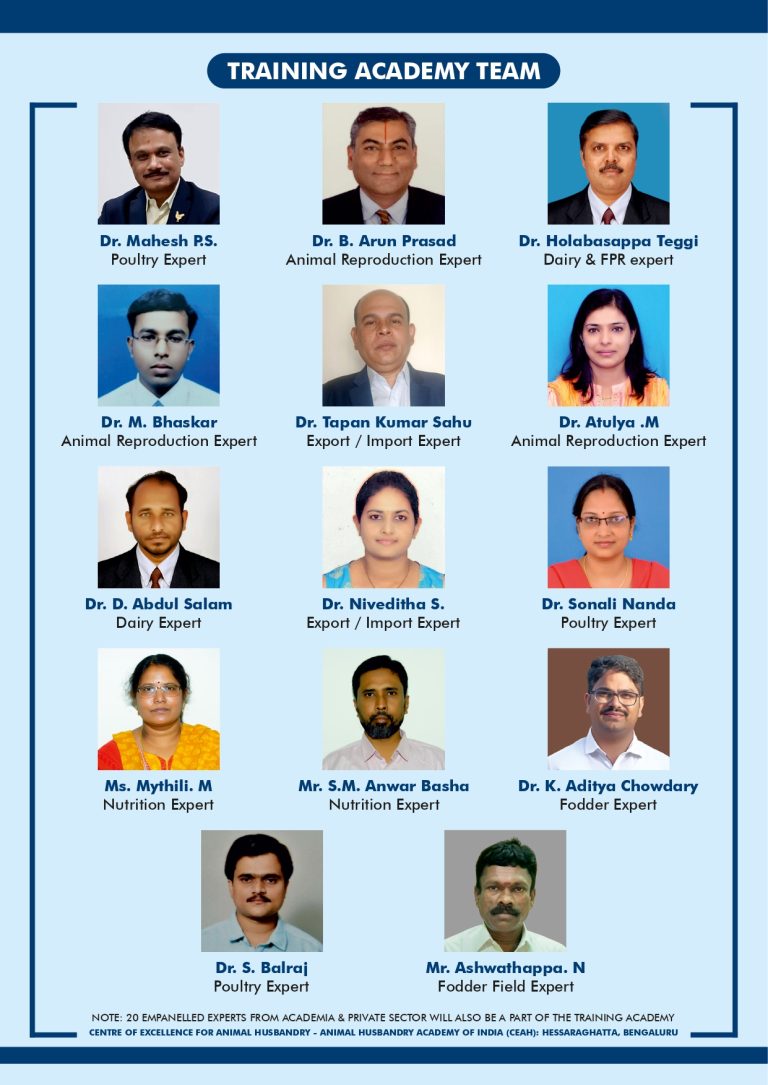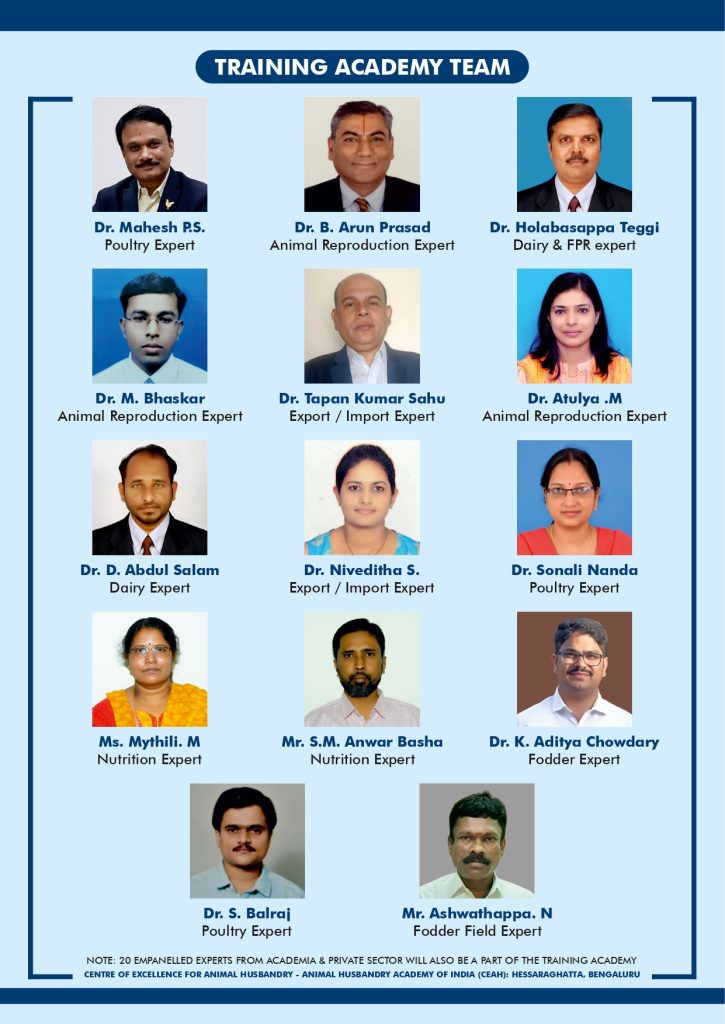 CEAH – BENGALURU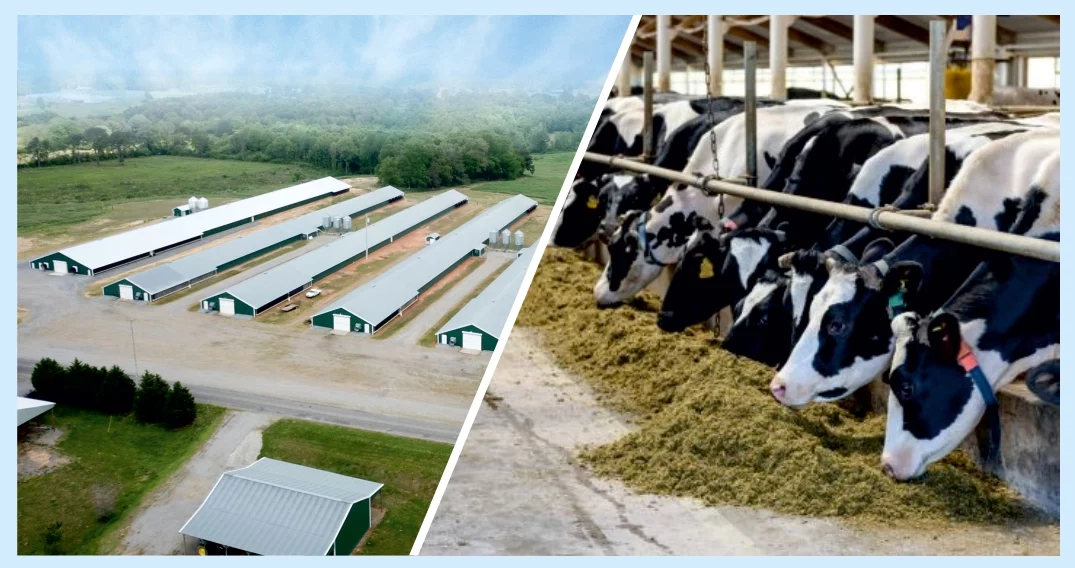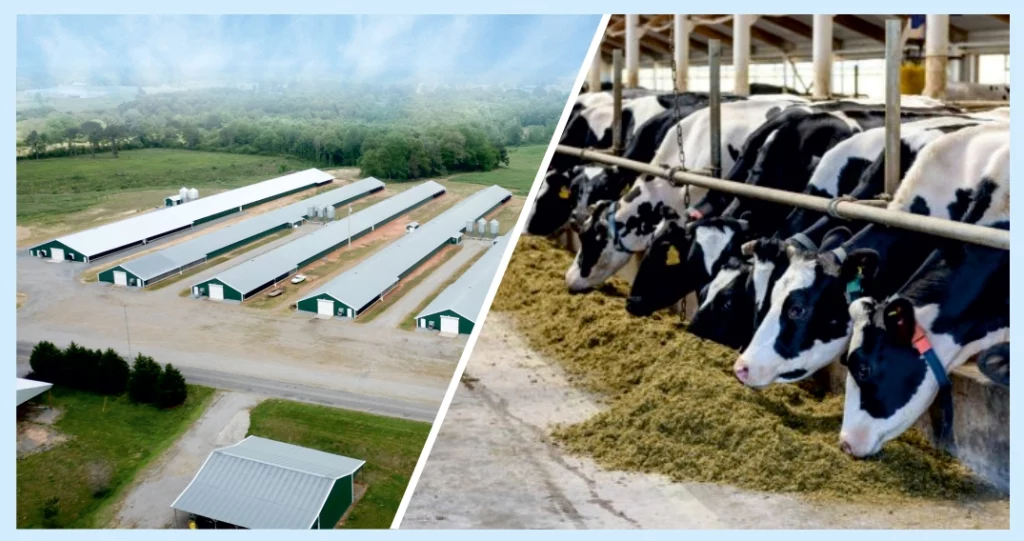 BRIEF ABOUT HESSARGHATTA:
Hessarghatta is a scenic location at 30 kilometers to the north west of Bangalore in Karnataka State of India (GPS
coordinates: 13 9′ 19"N, 77 27'50" E). Hessarghatta is known for huge lake and organizations related to Agriculture and Animal Husbandry activities. Green Campus is the neighborhood for all institutions.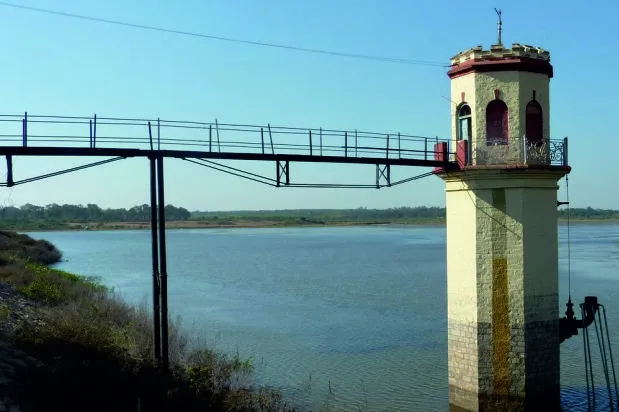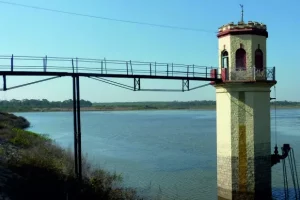 HOW TO APPLY:  Candidates should write to the DIRECTOR CEAH, requesting for a Specific Programme,  Intended for Training. Apart from this, Group of Officers, Entrepreneurs, Farmers, Industry Associations, Private Sector Companies, can write to Director-CEAH for Specific Need Based Tailor Made Programme.
REACHING CEAH FROM BENGALURU 
BY ROAD: (Kempe Gowda Bus Station)
Bus No.: 253 series and 266 from Majestic (Kempe Gowda) Bus Station-Opposite Amar Hotel.
FROM AIRPORT: (Kempe Gowda International Airport)
Take a Cab to the Institute via Yelahanka-Rajankunte or Chikkabanavara- Hessarghatta Route
Use Vayu Vajra Volvo A/C bus service to Hessarghatt \ Via Majestic Bus Stand.