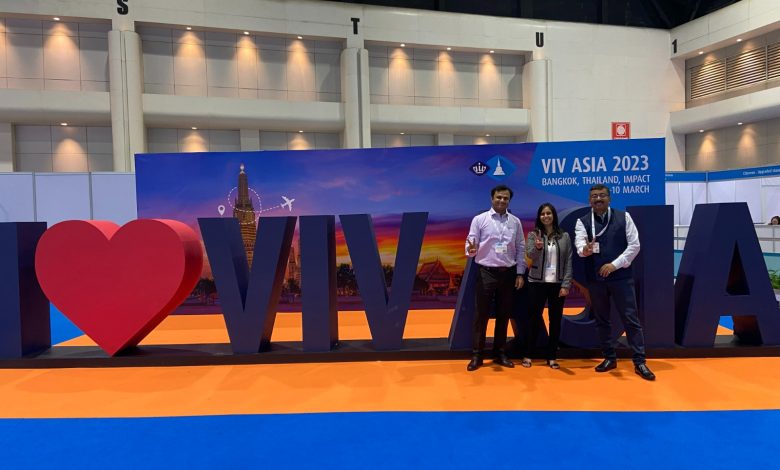 Zoetis unveils the 1st Biodevice Learning Center
to support biodevice business expansion in Asia Pacific
Zoetis has opened the first learning center in Pathumthani, Thailand, to enhance customer service support through regular colleague trainings and routine device demonstrations for Zoetis customers on the Embrex® line of in ovo vaccination biodevices.
This initiative reinforces Zoetis' commitment to continuous learning of colleagues that supports a customer-centric approach.
Worldwide, Zoetis is the largest supplier of in ovo vaccination equipment and leads the industry in customer satisfaction1
 Pathumthani, Thailand – March 8, 2023 – Zoetis has committed to advancing animal care and humankind across a continuum of care by driving innovative growth, enhancing the customer experience, and cultivating a high-performing organization. Zoetis opens the region's first BioDevice Learning Center in Pathumthani, Thailand, to support not only its purpose and response to rising biodevice demand, but also to improve customer experience and field-service colleague competency development. Furthermore, having the Embrex Biodevice products on site allows a true touch-and-feel experience for customers who are considering adopting the technology to learn more about its features and benefits.
In addition, Zoetis has training facilities in Madrid, Spain, and Durham, North Carolina, the United States. The Zoetis learning centers enable regular service specialist training and upgrade programs, as well as customer visits for device demonstrations.
Arkhom Cheewakriengkrai, Vice President of Southeast Asia and South Asia and distribution markets, states that "We have observed a noticeably expanding demand for sophisticated biodevice equipment for in ovo vaccination and service among the proprietors of hatchery businesses and those who operate hatcheries throughout Southeast Asia and South Asia. Because our colleagues are the primary force behind our company's success and are what sets us apart from the competition in the market, we have made it a priority to contribute to the learning and advancement of our biodevice colleagues to accommodate both the expansion of our company and the ambitions they have for their professional careers. Today, we are delighted to open the first Zoetis Biodevice Learning Center in the Asia Pacific region. The purpose of this center is to provide customers and colleagues, not limited to only biodevice teams from around the world, with the opportunity to experience our next-generation biodevice technological equipment and to leverage this learning center for the purposes of learning and development."
 For over 30 years, Embrex® BioDevices from Zoetis have delivered exceptional performance and unmatched support. The introduction of automated in ovo vaccination by Embrex® in 1992 with the Inovoject® system, the world's first commercial in ovo vaccination biodevice, fundamentally changed how poultry companies approach vaccine delivery at the hatchery. Using automated in ovo vaccination with Embrex technology helps address labor challenges, improves and provides earlier immunization,2 benefits bird health,2 and drives hatchery efficiency when compared with competitor single needle   in ovo vaccination and subcutaneous vaccine administration.2
In 2018, Zoetis released the next generation of the Inovoject® system, the Inovoject® NXT. Building on the gold standard Embrex brand, the Inovoject NXT system brings together patented loop-wire design with Haylo™ technology for gentle egg handling, Embrex Accusight™ technology for egg identification, and Embrex Precixion™ technology for up to 100% injection-site accuracy3 in order to optimize the vaccination process.4 The Inovoject NXT system is the result of decades of poultry health and biodevice equipment experience working with poultry producers to effectively immunize chicks and address disease challenges while advancing productivity in the challenging hatchery environment.  
 "Every year, Embrex® BioDevices® injects more than 20 billion eggs in over 40 countries, and this number is increasing year after year. We are pleased to provide more impactful learning opportunities to our field service colleagues on Embrex in ovo vaccination technology by establishing a learning center in the Asia Pacific region. In-person and hands-on training not only improves our colleagues' skills and capability and their comprehensive understanding of the device, but it also reinforces our commitment to providing exceptional service to our customers."  Curtis Shuey, Vice President of Global BioDevices and Site Leader, says.
A Service and Support-based Model for Customer Success
Zoetis backs its Embrex products with best-in-class, dedicated technical support available 24 hours a day, every day, helping ensure trouble-free operations that empowers customer success. This unsurpassed and inclusive service with no hidden fees enables continuous hatchery improvement through sustained attention to best practices and utilizing science-based tools to achieve consistent results. Customers have access to subject matter experts to gain insights for process improvement and maintain their success over time.
The team includes some of the world's foremost in ovo vaccination experts, so customers receive guidance from leaders in the field and assistance from technicians who support through:
Site inspection to determine the hatchery readiness status
Device installation, initial start-up, and hatchery staff training for operation
Maintenance, emergency service, process evaluations, and spare parts
Zoetis continues to be recognized for its service, equipment and technology of the Embrex portfolio and has earned a higher satisfaction rating compared to any other supplier.1
1 International and US NPS Score Surveys, 2022
2 Barbosa T, Williams C, Villalobos T. Efficacy and Marek's disease protection comparison between different vaccination methods, in Proceedings. 18th Congress World Veterinary Poultry Association 2013;217.
3 Data on file, Study Report Nos. 02-18-70R7D PS-5802CDI SR, 02-18-70R7D PS-5802B SR, 02-18-70R7D PS-5802C SR, 02-18-70R7D PS-5802CD SR, 02-18-70R7D PS-5802D SR and 02-18-70R7D PS-5802I SR, Zoetis Inc.
4 Data on file, Study Report No. 05-18-70R7D, Zoetis Inc.
About Zoetis
As the world's leading animal health company, Zoetis is driven by a singular purpose: to nurture our world and humankind by advancing care for animals. After innovating ways to predict, prevent, detect, and treat animal illness for more than 70 years, Zoetis continues to stand by those raising and caring for animals worldwide – from veterinarians and pet owners to livestock farmers and ranchers. The company's leading portfolio and pipeline of medicines, vaccines, diagnostics and technologies make a difference in over 100 countries. A Fortune 500 company, Zoetis generated revenue of $8.1 billion in 2022 with approximately 13,800 employees. For more information, visit www.zoetis.com