News
Aviagen Global Nutrition Services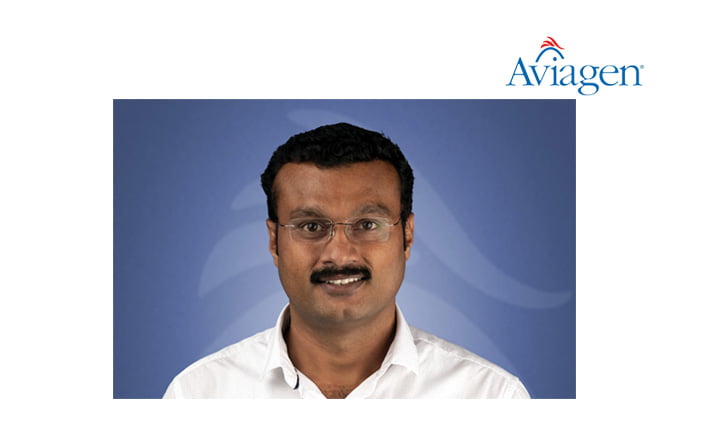 Aviagen India's Venkatesh Gunasekaran Strengthens Global Nutrition Team with Expertise, Passion and Commitment
February 03, 2023 – Udumalpet, India. – Aviagen® India is pleased to announce that Venkatesh Gunasekaran, Technical Manager for Aviagen India since 2020, has been appointed to Aviagen's Global Nutrition Team. This team is dedicated to promoting bird welfare, sustainability, and performance through optimal nutrition. In this new role, he will share the latest nutrition advice with customers across India, as well as with his colleagues at Aviagen India.
"Good nourishment from the start of a bird's life is vital. I am excited to join the Global Nutrition team, as this role will allow me to make a difference by helping to continually improve the health and robustness of both our internal flocks and the birds we provide to poultry producers," commented Venkatesh.
Marc Scott, Business Manager for Aviagen India, added that this appointment is a recognition of the considerable talent within the India team. "Aviagen India realizes that to breed the best, we need the best, and we therefore seek to expand our operations with the industry's most insightful, bright and passionate poultry professionals. With his background and insight, Venkatesh will greatly benefit our customers, as well as our internal teams in their efforts to strengthen the poultry industry throughout the country."
Venkatesh will report directly to Marcelo Silva, Aviagen's Global Head of Nutrition Services.
"We welcome Venkatesh to the Global Nutrition team. He will be a valuable asset to our team as we work to enhance bird health, welfare and sustainability through good nutrition. Through this mission, we promote the economic sustainability of our customers and their ability to feed the world," concluded Marcelo.
About Aviagen
Since 1923, Aviagen® has been a preferred global poultry breeding company with a mission to help its customers — the world's chicken meat producers — supply sustainable, affordable and nutritious protein to their growing communities. Putting into practice its corporate value of "Breeding for Welfare and Sustainability," Aviagen implements efficiencies that make commercial chicken production environmentally and socially responsible and economically beneficial to producers, while at the same time promoting bird performance, health and welfare.
To meet varied market demands, Aviagen offers a full portfolio of breeding stock under the Arbor Acres®, Indian River® and Ross® brand names. The Rowan Range® and Specialty Males® target slower-growing and other niche market needs. Aviagen is based in Huntsville, Alabama, US., with operations across the UK, Europe, Turkey, Latin America, India, Australia, New Zealand, Africa and the US, and joint ventures in Asia. The company employs close to 8,000 people, and serves customers in 100 countries.
For more information, please visit Aviagen.com, or follow Aviagen on LinkedIn.