Article
Biosecurity measures in poultry farming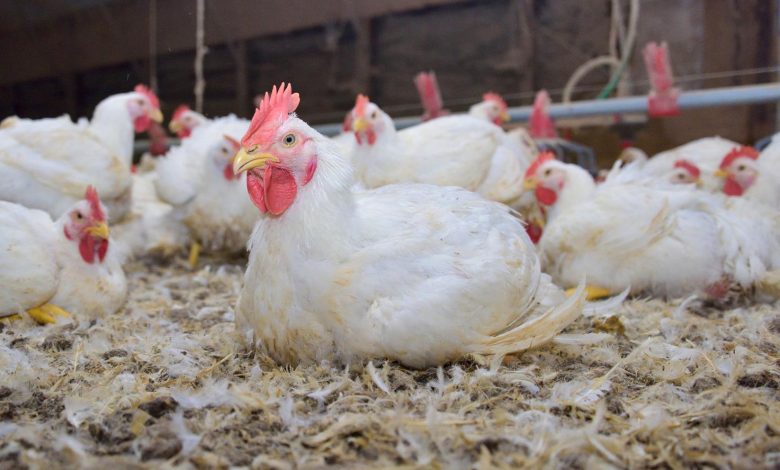 Biosecurity measures in poultry farming
1 Mamta Kumari 2 Subhash Chandar and 3 Renu Singh 1 College of Veterinary and Animal Science, Navania, Udaipur (RAJUVAS), Rajasthan 2 Veterinary Officer, Animal Husbandry Department Rajasthan 3 College of Veterinary Science and Animal Husbandry, DUVASU, Mathura
Bio-security refers to an overall strategy or sequence of measures employed to exclude infectious diseases from a production site. Maintaining an effective bio-security program, employing good hygiene practices and following a comprehensive vaccination program are all essential to disease prevention. A bio-security program involves a sequence of planning, implementing and control. The aim is to reduce pathogens and prevent their reintroduction.
Outlined below are various key points to a successful bio-security program:
Restrict entry of visitors to the farm. Keep a record of all visitors and their previous farm visits.
Farm workers should visit the youngest flock first, (at the start of the day) and oldest flock at the last.
-Avoid contact with wild birds and backyard poultry.
-Farms should be fenced.
-Keep doors and gates locked at all times.
-No dense foliage around sheds, no roosting site for wild birds
-Provide boots and coveralls for staff and visitors for each shed
-Clean footbaths should be placed at the entrance of each shed. These should be changed regularly.
-Before leaving the farm, clothes should be changed and wash hands and arms.
-The equipment's used between farms should be thoroughly cleaned and disinfected before use.
-Clean and disinfect all coops, crates and other poultry containers or equipment before and after use
-Provide wheel dips or wheel spraying facilities at the farm entrance and allow only necessary vehicles on site.
-Farm animals other than poultry should be fenced separately and have a different entrance from
the poultry farm enterprise.
– No pet animals should be allowed in or around the poultry housing.
-All farms should have a vermin control plan which includes frequent monitoring of rodent
activity. Adequate supplies of rodent bait must be maintained.
-All houses should be vermin proof. Maintain a strong vector control program for insect,
mammalian and avian vectors.
– The area around the poultry house should be free from vegetation, debris and unused equipment
that could harbor vermin.
-Ensure that feed, water and bedding sources are free from infectious agents
-Clean up feed spills as quickly as possible and fix any leaking feed bins or feed pipes.
-Farms should have toilet and hand washing facilities separate from the poultry house.
-A dedicated changing facility for protective clothing and footwear should be sited at the farm
entrance.
-Provide hand-sanitizing facilities at the entrance to each house.
-Provide well-maintained footbaths at the entrance to each poultry house.
-Clean footwear before using footbath to remove organic material, which could inactivate the
disinfectant.
-Review your biosecurity plan and flock health program, including vaccination protocols, with
veterinarian on a regular basis.
-Sick or dying birds should be sent to a state laboratory for diagnosis. Commercial growers should
contact their flock supervisor.
-Poultry units should be distantly located or well bifurcated from each other.
Provision of separate feed storage facility at units of different species may also be considered.
-Equipment meant for different species of birds should be separate.
-Provision of all-round spray system of disinfectants at the entry of each species units
Exclusive infrastructure facility is essential to rear each species separately and to follow all-in
all-out system
-Proper vaccination schedule must be followed.
-Feed shoulde be regularly analysed for mycotoxins
Isolation and quarantine of new birds:
– Birds have been used for a show or a fair, and new birds
– New birds should be kept separate from old stock for at least 21 days .
– should be observed for any disease symptoms
– samples (blood, faecal, swabs) should be collected for thorough investigation before mixing to
the already existing old stock.
– It should be ensured that shed houses birds of same age group, even if farm consists of birds of
different age group.
Cleaning and disinfection-
– It should be carried out frequently to reduce the build –up of pathogenic organisms
– Disinfectants like chlorine dioxide and peracetic acid for disinfection or sterilization may be used
– disposal of dead birds and poultry manure and sanitizing the drinking water
– Proper ventilation with adequate air flow in all sheds is recommended.
– Regular testing of Microbial load – at different places is recommended
– Newly purchased equipments should be thoroughly washed with soapy water or otherwise should
be disinfected before use.
– Newly purchased cages should also be subjected to washing with soapy water or should be
disinfected.
– Clean feeder and waterer's daily.
Complete house cleaning-
Complete disinfection of the shed after removing the flock. First the droppings, left over feed and feathers should be removed. Then fumigation and disinfection should be done. The shed should be kept empty for minimum 10 days.
– When the birds are present in the house, clean the litter, sweep the house, regularly disinfect the
feeders, waterers and provide clean drinking water.
Disposal of dead birds:
– Dead birds should be removed quickly along with all possible contaminated feed and litter. All
the material may be disposed off by rendering, burial or incineration.
-Documentation and Record keeping
-Records of visitors, vehicles, disinfectant spray schedule, feed arrival, equipment arrival, health
check-up, vaccination, Salmonella testing schedule, microbial load testing, record of mortality of birds,
vector control programme, feed testing etc should be done.