News
Stallen – 25 Years Celebration/Technical Conclave
Stallen – 25 Years Celebration/Technical Conclave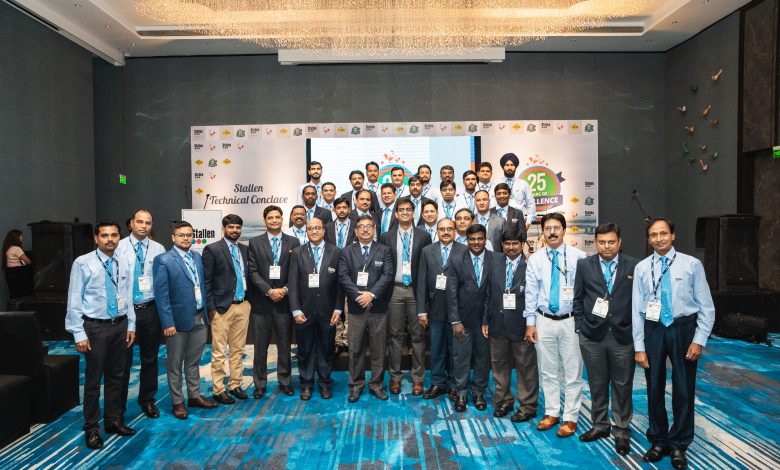 In August, 2022 Stallen completed and celebrated 25 years of excellence in the poultry industry with an event in Goa. They conducted a technical conclave and celebration from 7th to 9th August at the Hyatt, Goa.
This was attended by the head office team, sales team, as well as key customers, consultants, veterinarians and industry leaders. It was an event to remember with a company overview, musical evening with comedian. Everyone participated in the fun and frolic by singing and dancing to popular Bollywood songs. The next day session had  two technical sessions and a gala night. Representatives from FATRO, Italy were present to offer an introduction to FATRO and their global presence along with their product range.
The first technical session was an engaging but yet extremely insightful one on mycoplasma, its problems and its prevalence in India led by Dr.Sanjay Raj Anand.The session detailed the conditions and symptoms of this disease and its prevention using MS-VAC (MS, inactivated vaccine) and MYC-VAC (MG, inactivated vaccine) as well as CORIVAC (Coryza inactivated vaccine).The session also highlighted and busted common myths on the disease and the truth on medication Vs vaccination.
The second session was an informative one that highlighted the respiratory complex problems in poultry with specific reference to Infectious Bronchitis virus conducted by Dr Mahendra Chaudhari. Stallen-FATRO's solution to these problems were presented via IB-OLVAC and OLVAC B+G+R.
The gala dinner was an elaborate affair at a venue at Anjuna beach and had local entertainment and performers which enthralled the participants with their dance movements. Through the 3 days, with the coordinated outfits and planned entertainment, the industry was on one platform – customers became friends, and staff celebrated being family! The event capped out the 25 years in the same fashion Stallen has completed 25 years in the industry – being friendly, being genuine, being honest and most of all putting their stakeholders first!
Company Brief
Stallen South Asia Private Limited was founded in 1997 by Mr Amit Parikh. Mr Parikh started out in the human pharmaceutical manufacturing industry, and a result of consequential events and lineage, he founded Stallen – a veterinary company with a focus on poultry. In 2010, Stallen and FATRO, from Bologna, Italy entered a joint venture to promote their products in India which also led to the launch of their avian vaccines. Today Stallen manufactures, markets and distributes: feed additives, pharmaceuticals, biosecurity solutions and vaccines for poultry in India, Nepal, Bangladesh and Sri Lanka. In addition our products are exported to over 60 countries in 6 continents globally. Collectively, the Stallen group employs more than 200 people across the Indian subcontinent.
Leadership
Stallen is currently led by Mr Aniket Parikh – by education a chemical engineer, but has grown up right alongside Stallen. He holds a BSc and MSc in Chemical Engineering along with a Master's in Biotechnology, from Johns Hopkins University USA – he is responsible for the development, manufacturing and expansion of the company. He is ably supported by Mrs Jagruti Parikh who overseas the management and financial control of the group. Along with them is Dr. Sanjay Singhal, COO, a veteran in the veterinary business with an extensive experience in this industry. Apart from the team at the head office in Mumbai, Stallen has a robust field force led by managers who have been with the company for multiple decades. There are more than 20 employees with more than 15 years at the company, and some with more than 40 years!
Facilities
The Stallen group is probably one of the only companies in the Indian animal health marketplace who doesn't do any 3rd party manufacturing. Every single product they sell – they sell proudly as self made. Stallen has 3 facilities in Maharashtra – 2 for feed additives and 1 for formulations. All vaccines are imported from FATRO, Italy. In addition, they have a feed additives manufacturing plant in Alexandria, Canada. All manufacturing facilities are GMP, FDA and ISO compliant. They have been audited and approved by the various countries we export to as well. The FATRO facilities are all EU-GMP and EU-GLP certified adhering to the highest quality standards.
Distribution
Stallen's products are distributed via our channel partners across the sub-continent who have been with the company for many years as well as direct to customer. Stallen is one of the only companies that strongly focuses on serving our customers directly with a large percentage of direct-to-customer sales which allows them high flexibility and liberty for service and quality.
Future
The past 25 years have seen several cycles of the avian influenza along with the unexpected pandemic – but Stallen has survived it all and come out on top. This is a testament to its quality and promise of service – Stallen has a big pipeline of products it is looking to launch. On the immediate front they will be launching 3 new vaccines along with a range of bio-security products. Within the next 6 months Stallen will also start production at its new pharmaceutical factory that is constructed with the US-FDA standards and to be EU-GMP compliant with a view to export veterinary drugs world over while also supplying our flagship products like Cleantab and Binodox.
Like Mr. Amit Parikh often said, 'The show much go one'……even after him, his vision and mission for Stallen continues as the team believes in what was started and they are energized to make it a reality.