News
"Solika Energy Pvt Ltd Inaugurates the Telangana State's first-ever Compressed Biogas Project Based on Poultry Litter"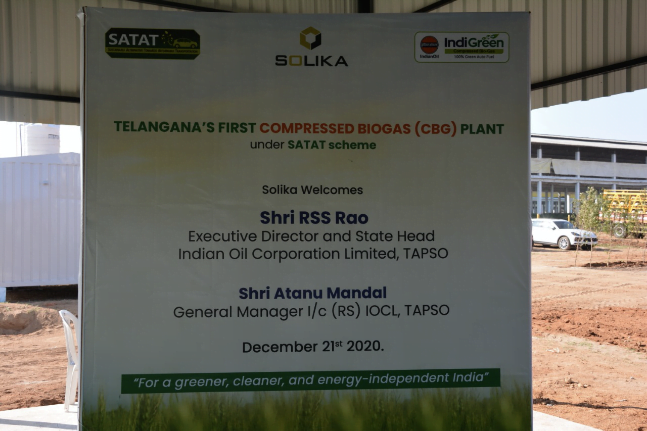 On Monday, December 21st, 2020,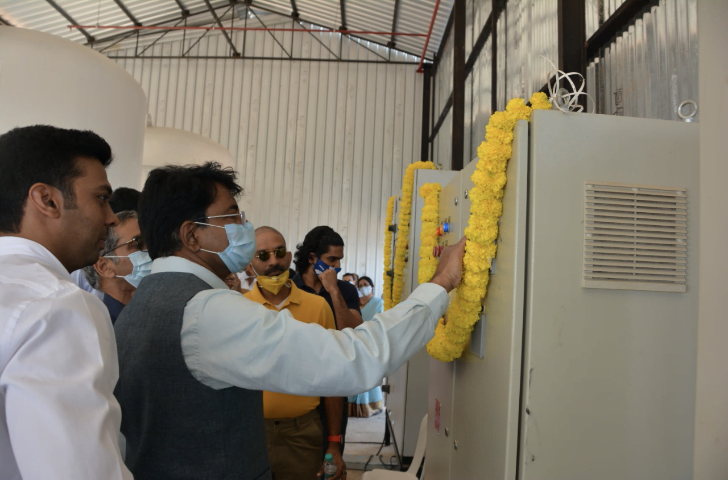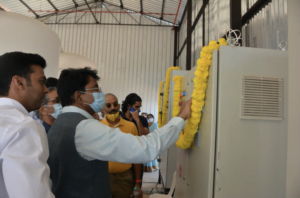 Shri RSS Rao, Executive Director of IOCL, TAPSO, along with Mr. Suresh Chitturi, IEC Chairman & Managing Director, Srinivasa Farms Group inaugurated a 2.4 Tonnes per day capacity Compressed Biogas (CBG) Project at Udityal Village, near Balanagar, Telangana.
This project exclusively uses poultry litter as the raw material and is located next to a large commercial poultry farm with over 4.5 Lakh birds. All the raw material is collected from the poultry sheds. This is the first poultry litter-based CBG project in Telangana and Solika has built this project under the Sustainable Alternative Towards Affordable Transportation (SATAT) scheme by the Ministry of Petroleum and Natural Gas (MoPNG). The CBG produced in this project will be supplied to an IOCL outlet in Attapur, Hyderabad. Commercial sale at this outlet is expected to start from next month.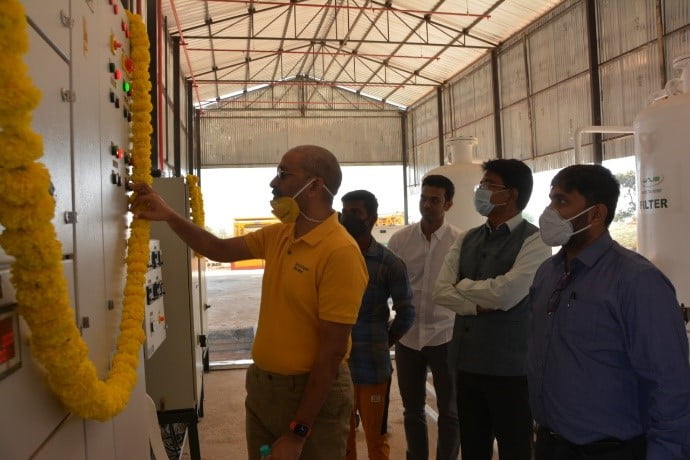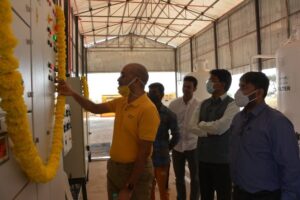 In addition to CBG, this plant will also generate around 15 Tonnes of good quality organic manure as a byproduct on a daily basis. Suresh Chitturi explained the importance of sustainable energy and how Solika plans to provide this to the local farming communities for their benefit to Shri RSS Rao, Executive Director – IOCL.
As per Mr. Suresh Chitturi, Solika has developed a unique process of ammonia reduction which results in sustained reuse of water making the biogas plant zero liquid discharge The unique process removes and reduces all impurities like feathers, stones, sand, and also reduces high ammonical nitrogen with a help of biological culture and at the same time providing an unique solution to the poultry community .
Solika is also currently in the process of setting up the second CBG project in Telangana. This project is expected to have a CBG production capacity of 3.0 Tonnes per day.
About Solika.
Solika Energy Pvt Ltd is a Compressed Biogas company backed by Srinivasa Hatcheries, one of the leading poultry companies in India and XEMX Projects. XEMX Projects is promoted by Himadeep Nallavadla. Solika believes that CBG will play an important role in India's energy future as it is able to help reduce fuel imports, provide a viable cleaner alternate fuel to vehicles, and provide additional sources of revenue to India's agricultural sector.