News
ENTREPRENEURS DAY ON 26th NOVEMBER, 2020 ORGANISED BY CPDO&TI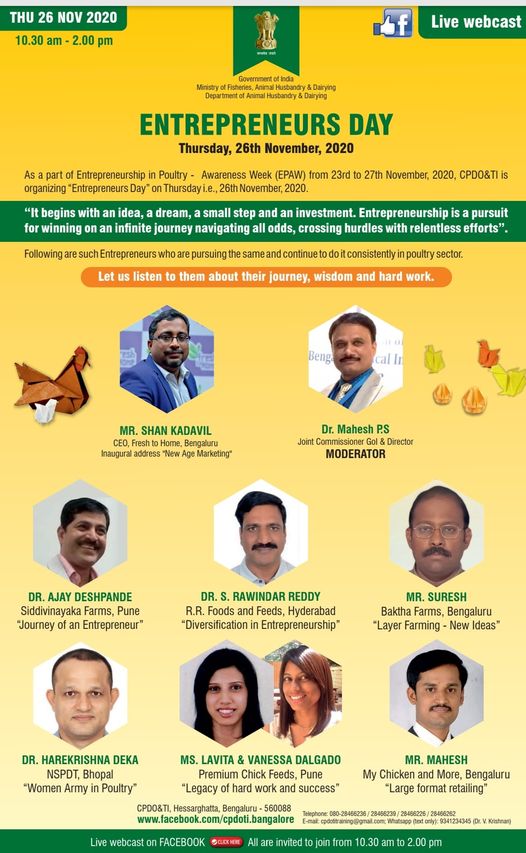 Central Poultry Development Organisation & Training Institute under Government of India, Ministry of Fisheries, Animal Husbandry & Dairying,  a premier Institute located at Hessarghatta, Bengaluru  organized a  5-day online Entrepreneurship in Poultry – Awareness Week (EPAW) from 23rd  – 27th November, 2020.
The programme was planned to impart the knowledge for entrepreneurs focused on Business models in Indian Poultry, Commercial Poultry Farming & Rural Poultry Farming, Credit proposals for Bank, Government of India Schemes, and understanding of profitable poultry models, Nutrition, Disease Management and Medications etc.
EPAW was planned to create awareness among prospective entrepreneurs, Bankers, graduates and veterinarians across India. The schedule was very comprehensive covering all the aspects above mentioned. Prof. P.K. Shukla, Former Joint Commissioner & Dean, DUVASU, Mathura inaugurated the programme on 23rd November, 2020 and narrated ample opportunities in poultry sector with perspective of Athmanirbhar Bharat and Vocal for Local initiatives given by Hon'ble Prime Minister. Dr. Mahesh P.S., Joint Commissioner, GoI & Director presented an overview of poultry sector and Dr. Krishnan illustrated the basics and nuances of poultry farming on the first day.
Dr. Sonali Nanda and Prof. B.S.V. Reddy, former Dean of Veterinary College briefed the audience about management aspects and salient features of Poultry Nutrition. Dr. Baburaj, DGM, Venkys India elaborated on common poultry diseases, medications and vaccinations followed by Dr. Lipi Sairiwal, Assistant Commissioner GoI briefed on Government of India Schemes in poultry.
On 26th November, 2020 Entrepreneurs day was conceptualized for getting the first hand information from the hard working successful entrepreneurs in poultry sector. Concluding day on 27th November, 2020 Dr. Jeevan Sonawane, Director, Novelvet presented on Incredible Eggs and Chicken – Facts and Myths. Dr. Mukund Kadam, Head Poultry AICRP, Nagpur presented on various business models of Rural Poultry. Dr. Mahesh presented on availing credit facilities in Nationalized Banks and various business models of poultry in detail as a final session.
All these recordings are date wise posted on our Facebook page with the link https://www.facebook.com/cpdoti.bangalore . All are requested to browse any time at your convenience.
ENTREPRENEURS DAY (26th November, 2020):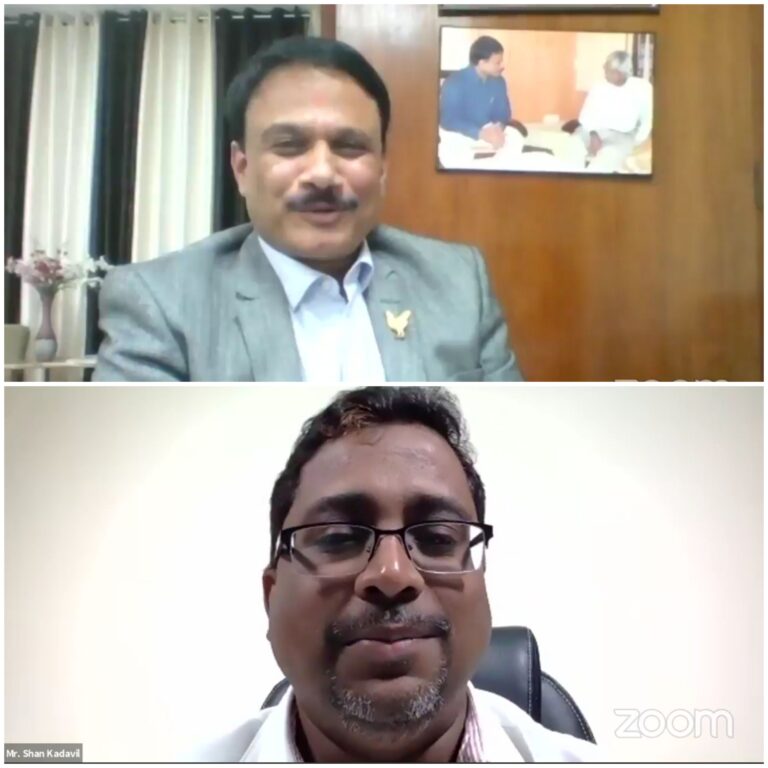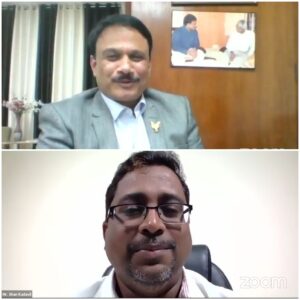 The Entrepreneurs Day was inaugurated by Mr. Shan Kadavil, CEO, Fresh to Home a Bangalore based New Age Marketing Company claims to be largest vertically integrated platform in online marketing of Meat and Fish in the world. Mr. Shan,a multi functional leader, former Indian head for Zinga (US company), Vice President, Support dot com (US) and Chairman of Debaux Technologies honored with "Best top 100 Tech Indians", Most promising Entrepreneur of 2019 and also honored with Champions of Change by Hon'ble Prime Minister of India. Shan participated in World Economic Forum. This inspirational leader presented in his inaugural address about opportunities of new age marketing with 2.5 crore online food buyers. He briefed for the future entrepreneurs to be optimistic, celebrate failures in shortest times come back with a differentiated game plan to achieve success. Further, he mentioned that poultry sector should focus on showcasing products beneficial to humankind with "Immunity" concept being built-in. He narrated the nice innovative way of branding Haldi powder and Moringa by the US companies smartly marketing at abnormal prices.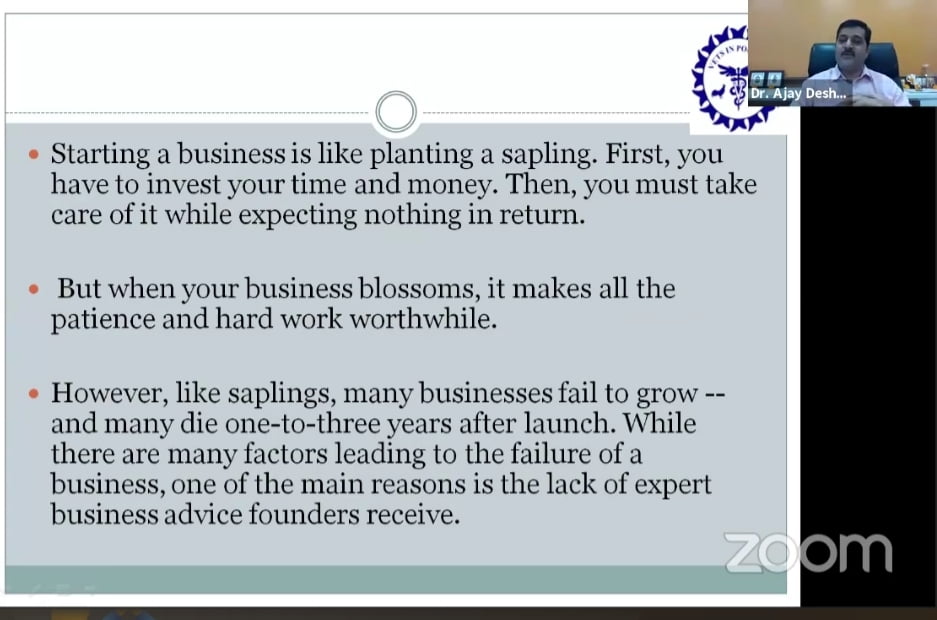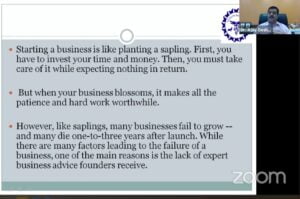 Dr. Ajay Deshpande, Director, Siddi Vinayaka Farms, Pune narrated his Entrepreneurship journey from being a former employee of a private company to the owner of his own company. He acknowledged the role in confidence building and unraveling potential of himself by his life partner to achieve the present status. "The success from any Entrepreneur involves hard work, listening to gut feeling, burning desire never give up attitude, listening to mentors and keeping anecdotes and quotes by the side during crisis for the path to success".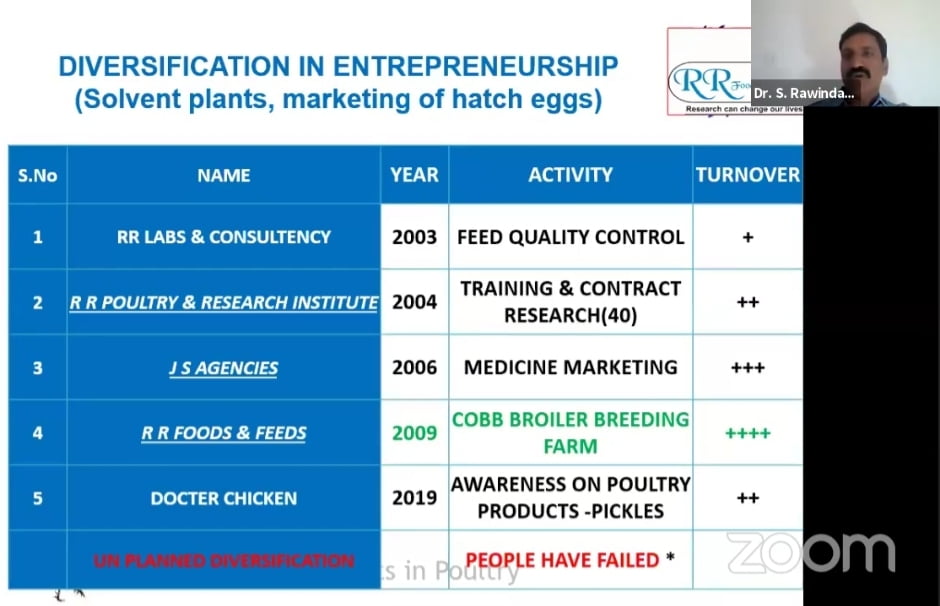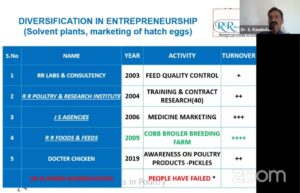 Dr. Rawinder Reddy, Director RR Foods and Feeds, Hyderabad elaborated on diversification in his entrepreneurship journey of 3 decades being a owner of RR labs and consultancy, Contract research firm, medicine marketing and finally presently RR foods and feeds with broiler breeding farms and branded products under the brand name "Doctor Chicken". He cautioned the entrepreneurs that unplanned diversification can end up in failures. However, sticking to one plan is also not an option for the entrepreneur.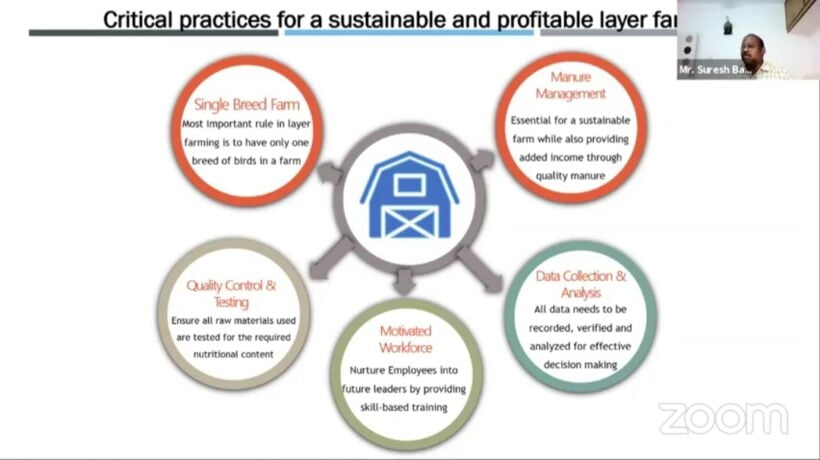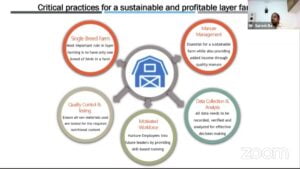 Mr. Suresh Babu, Bakhta Farms, Bangalore being a mechanical engineer and owner of successful ventures of layer farming in Karnataka, elaborated in detail practical tips for a successful layer farm. This included Cardinal Thumb rules at Chick stage, Grower and layer stage and presented a hub model with a recommendation of single breed farm, quality control testing, manure management, data collection and analysis and motivated work force being part of his success. He acknowledged the contributions of Dr. B.V. Rao and NECC for the growth of poultry sector in India.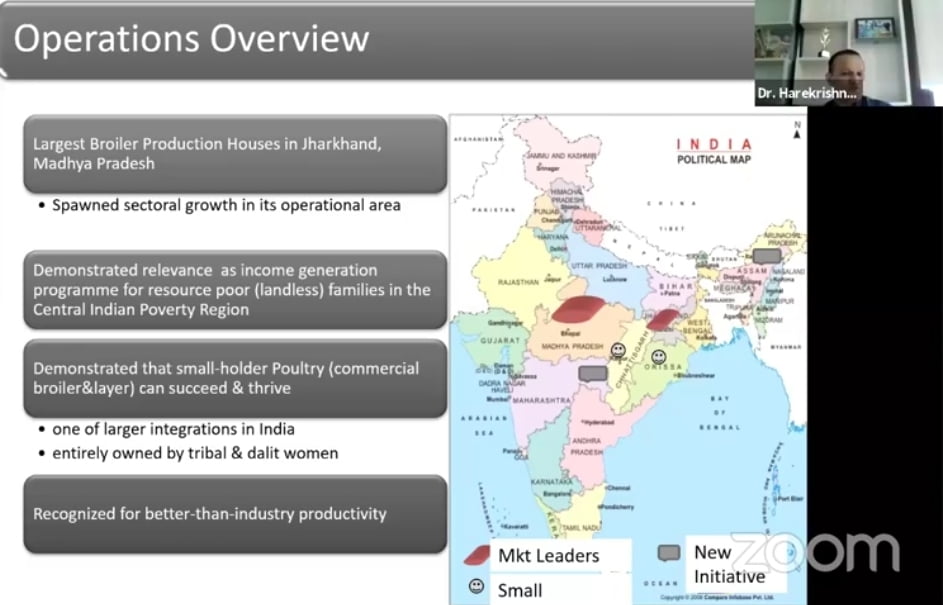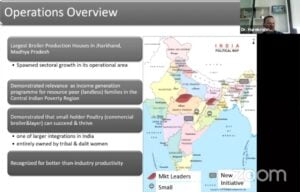 Dr. Harekrishna Deka, CEO of National Small Scale Poultry Development Trust, first of its kind organization built by tribal women force of about 20,000 women from Madhya Pradesh, Jharkhand, Maharashtra, Assam and Odisha. In his presentation he acknowledged the spirit of women force that too tribal women transforming from a wage earner to a owner or stakeholder of the trust. NSPDT presently is the largest broiler producers in Jharkhand and Madhya Pradesh and entering into other five states of India with a turnover of 500+ crores producing 30 lakh broilers per month. Their model involves smaller units of 500 broilers and 300 layers raised at a neighborhood of tribal villages with a three tier structure producer societies to cooperatives and to the federation. The NSPDT has won almost all the awards for the NGO and not for profit category in India. Dr. Mahesh, Joint Commissioner GoI wished NSPDT under the leadership of Dr. Deka to create "Amul" kind of revolution in poultry sector with the inspiration of Milk Maha Man, Dr. Kurian.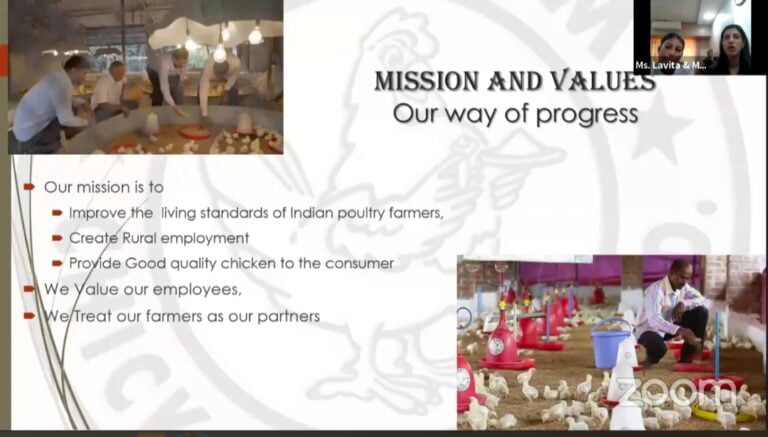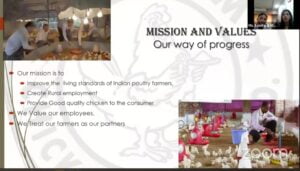 Ms. Lavita and Ms. Vanessa Dalgado the next gen of the founders of Premium Chick Feeds Ltd., Pune narrated ample opportunities of leadership role for the women in poultry sector which was otherwise dominated by men. They mentioned that they are self motivated to join the organization established by their parents from grassroots to the level of 2000 crore business as on date. By their joining to the group they have motivated 25 women to join along with them in the company. The level of confidence and professionalism both the sisters expressed is nothing less than any male counterparts. They are committed in building the organization to the next level by product development, branding and quality chicken outlets across the country.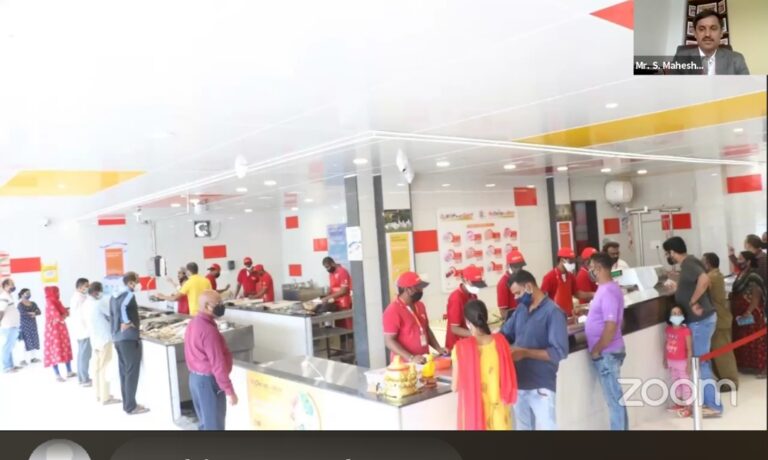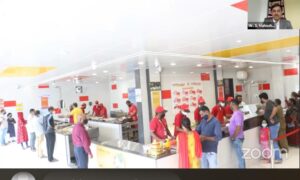 Mr. S. Mahesha, founder director of My Chicken and More started his career in a poultry company and moved on to become an entrepreneur and established his own enterprise. His bold and courageous initiatives of establishing large format retailing shops similar to MRP shops are highly inspirational and thought provoking. In 2020 My chicken and more established largest 2500 sqft retail shop for chicken, fish and meat products along with culinary items in the shop. Dr. Mahesh and other panelists expressed real surprise and appreciated his courage and confidence in his business. Dr. Mahesh wished him to establish still bigger formats of retailing similar to Decathlon.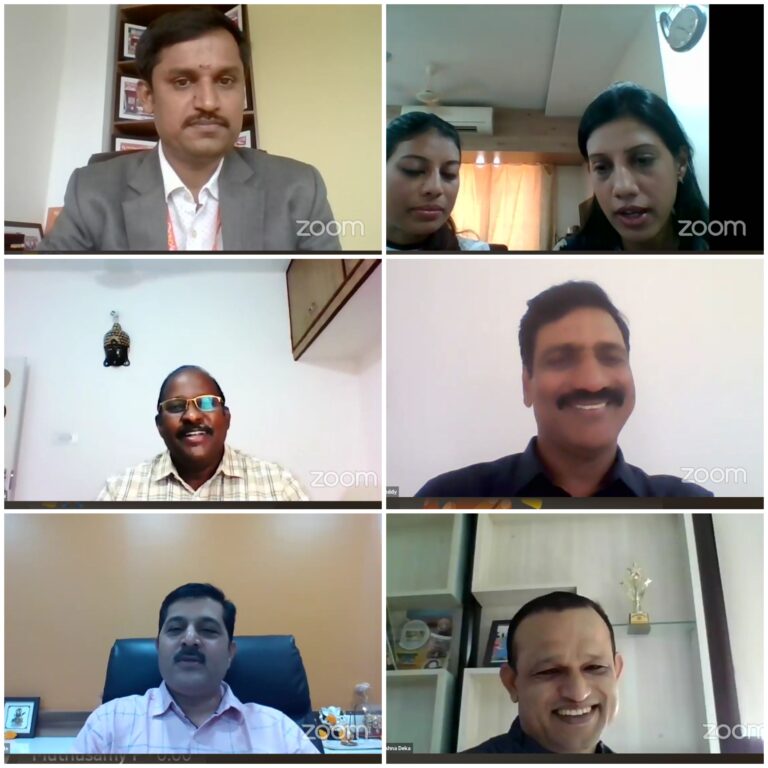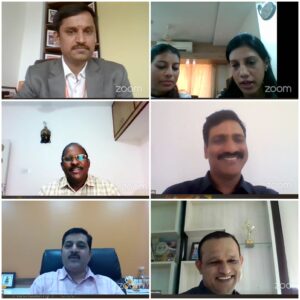 The entrepreneurs day programme has become a platform for showcasing entrepreneurs across the value chain in poultry sector. The programme is well received in both zoom and facebook with a viewership crossing 2000 for the day. All presentations of the speakers can be viewed at our face book page posted on 26th November, 2020.
Sri. Anwar Basha, Senior faculty of CPDO&TI executed the job of admin of conducting EPAW very effectively. The other team members of CPDO&TI worked hard in making this programme successful. The entire programme was live broadcasted on CPDO&TI facebook: www.facebook.com/cpdoti.bangalore. All the recordings of 5 days are uploaded on the same day as a ready reference for the facebook visitors.
CPDOTI has launched you tube channel with the link https://youtu.be/09O81gdL-I8 with id CPDO&TI TRAINING. All future programs will be live in you tube and to be posted in facebook. Viewers can see past recordings in you tube.All are requested to subscribe.