Article
IMPACT OF HEAT STRESS IN POULTRY PRODUCTION: MITIGATION STRATEGIES AND APPROACHES TO OVERCOME THE FUTURE CHALLENGES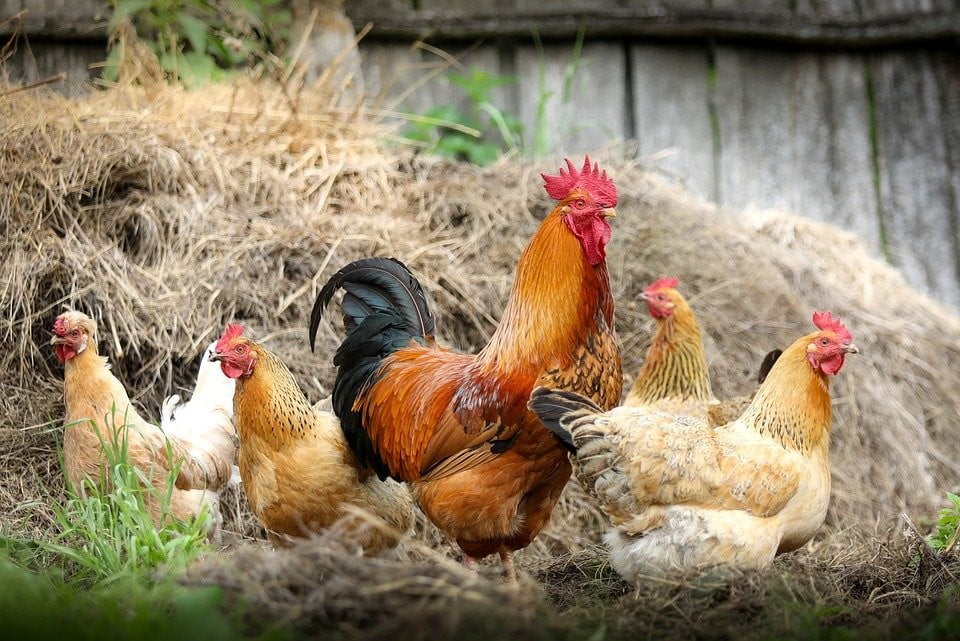 Dr. Richa Tiwari, BVSc & AH, MVSc (Veterinary Public Health and Epidemiology)
Former Research Scholar, School of Public Health and Zoonoses, Guru Angad Dev Veterinary and Animal Sciences University, Ludhiana, Punjab, India.
INTRODUCTION
Poultry industry is an important sector of livestock production and plays an important role in economic growth. Rising consumption and production of poultry products, can have negative impacts on the productivity and health of chickens thereby affecting nutrition of humans due to various stressors which also includes abiotic factors. Over the years, long term single-trait selection for yields has resulted in modern poultry genotypes with greater metabolic activity, producing more body heat and lower heat tolerance. The birds when exposed to heat stress leads to alteration in behavioural, physiological and immunological responses which causes unfavourable effect on their overall productivity, and is much more pronounced during hot seasons. The losses due to heat stress in broilers include high mortality, diminished growth, reduced egg production, deterioration in meat and egg quality and safety.
Heat stress impairs the performance, productivity and health of the birds by reducing feed intake, decreasing nutrient utilization, disrupting intestinal structure and compromising the immune systems. It results from a negative balance between the net amount of energy flowing from the bird's body to its surrounding environment and the amount of heat energy produced by the bird. The issue of environmental stress is now quickly becoming a great point of interest in animal agriculture, particularly due to public awareness and concerns.
HEAT STRESS IN POULTRY
Stress represents a biological response of the animal to a stimuli that disturb its normal physiological equilibrium or homeostasis. Due to the global warming, high temperature is one of the most important stressors affecting poultry industry worldwide. Hence, effort has to be undertaken to cope with the detrimental effects of heat stress on poultry. The optimum temperature for performance/ thermoneutral zone is between 19-22ºC for laying hens and 18-22ºC for growing broilers. When poultry birds are in 'thermoneutral zone', they do not suffer from heat stress as body temperature is held constant and the birds lose heat at a controlled rate using normal behaviour. However, any deviation from this zone results in heat stress. Heat stress is caused by various environmental factors such as, sunlight, thermal irradiation, air temperature, humidity; characteristics of the bird e.g., breed, metabolism rate, bird's activity and thermoregulatory mechanisms as well as the housing conditions of bird. Signs indicating heat stress in poultry includes: gasping, panting, spreading of wings, lethargic and droopy acting, extremely pale cones and wattles, closed eyes, lying down, drop in egg production, reduced egg size, egg weight, poor shell quality, increased thirst, decreased appetite, loss of body weight and increased cannibalism.
BEHAVIORAL AND PHYSIOLOGICAL EFFECTS OF HEAT STRESS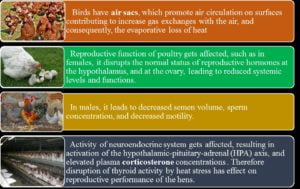 IMPACTS OF HEAT STRESS ON INTESTINAL MORPHOLOGY AND MICROBIOLOGY
Heat stress impairs the intestinal morphology, impaired digestive and absorptive capacity and increased permeability to luminal antigens and toxins. Diversion of systemic blood flow from internal organs to peripheral circulation causes ischemia and hypoxia in the intestinal epithelial cells. Corticosterone hormone responsible for the damage of intestinal mucosa in birds delay proliferation of the intestinal epithelial cells that in turn lowers intestinal villus height and crypt depth. Such distortions provoke the changes in intestinal morphology and integrity.
IMPACTS OF HEAT STRESS ON PHYSIOLOGY AND IMMUNE SYSTEM
It has been reported that heat stress can adversely change the metabolic status and physiological equilibrium in birds, leading to health problems and high mortality rate. Decreased blood Na, K and partial pressure of carbon dioxide (pCO2), disturb acid-base balance and cause respiratory alkalosis, respectively. Lower relative weights of thymus and spleen in laying hens and reduced lymphoid organ weights in broilers have also been reported under heat stress conditions. Apart from this, increased and decreased production of corticosterone, antioxidants and enzymes have been attributed to the compromised immune functions in birds. Additionally, researchers revealed lower levels of total circulating antibodies, as well as lower specific IgM and IgG levels, both during primary and secondary humoral responses in broilers. Under environmental stressful conditions, as the bird's body attempts to maintain its thermal homeostasis, increased levels of reactive oxygen species (ROS) leads to oxidative stress of body, where heat shock proteins (HSP) are released to protect the body from the deleterious cellular effects of ROS.
IMPACTS OF HEAT STRESS ON PERFORMANCE
The deleterious effects of heat stress on the growth performance of broilers results in poor appetite and reduced feed intake, impaired digestion and lowered digestive enzyme activity. Some research reports suggest that chronic heat exposure negatively affects fat deposition and meat quality in broilers. Additionally, significant reduction of egg weight, egg shell thickness, eggshell weight and eggshell percent are also observed.
CAN HEAT STRESS IMPACT FOOD SAFETY?
During the growth period of broilers heat stress has been associated with undesirable meat characteristics and quality loss. More recently, food safety has become a major issue to the poultry and egg production industry worldwide. Foodborne pathogens, such as Salmonella and Campylobacter, and their subsequent dissemination along the human food chain are a major public health and economic concern in poultry production. Increasing evidence demonstrates that stress can have a significant deleterious effect on food safety through a variety of potential mechanisms, where stress is linked with pathogen carriage and shedding in animals. It can lead to colonization of bird's body by pathogens, increased faecal shedding and horizontal transmission, which consequently leads to increased contamination risk of poultry products.
Many recent studies have demonstrated that bacteria, such as Salmonella and Campylobacter, exploits neuroendocrine alterations due to the stress response in the host to promote growth and pathogenicity. Therefore, it is of great importance to be aware that environmental stresses, such as heat stress, can potentially alter the host-pathogen interaction. Moreover, under heat stress conditions, increased concentrations of reactive oxygen species (ROS) causes increased intestinal permeability, which in turn facilitates the translocation of bacteria from the intestinal tract. Nevertheless, several epidemiological studies have reported seasonal effects on the occurrence of food-borne pathogens in broiler and layer flocks as well as in retail poultry products. Therefore, this area represents a critical gap of knowledge that needs to be filled, due to its wide implications to our understanding of the ecology and epidemiology of pathogens in poultry flocks under high temperature or heat stress conditions.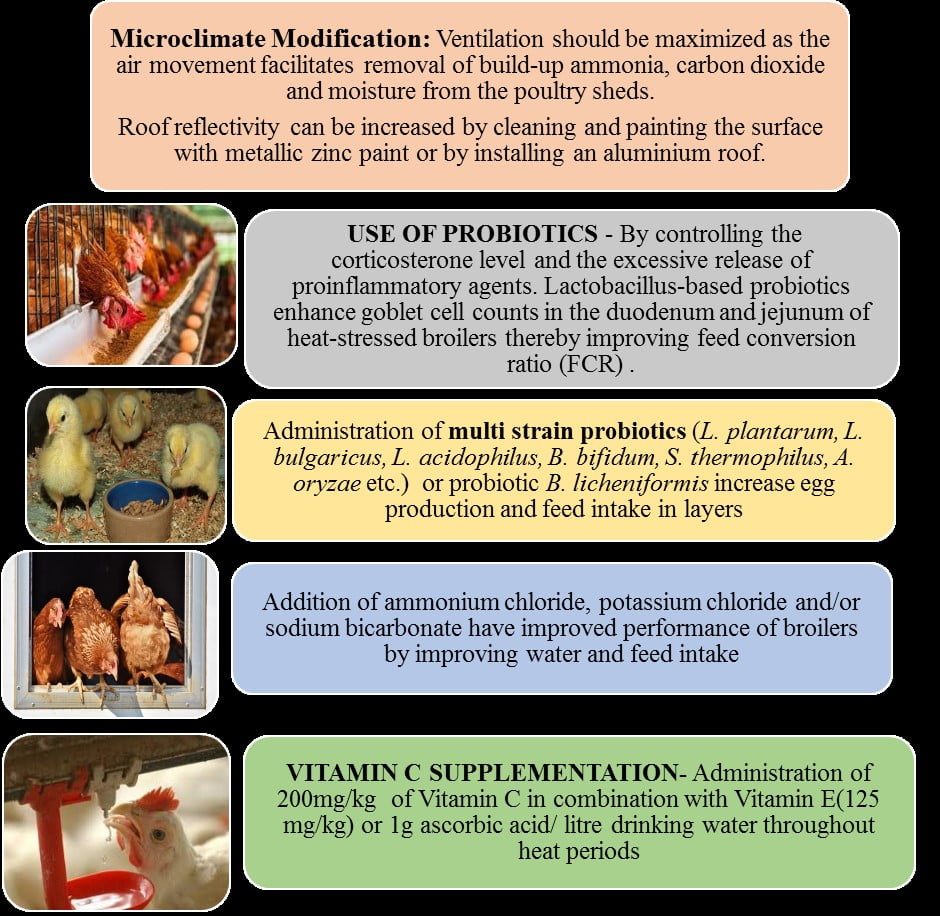 MITIGATION STRATEGIES TO AMELIORATE HEAT STRESS IN POULTRY
CONCLUSION AND FINAL CONSIDERATIONS
Heat stress is one of the most important environmental stressors challenging poultry production worldwide. Finally, it is important to mention the intervention strategies involving different approaches, including environmental management (such as facilities design, ventilation, sprinkling, shading, etc.), nutritional manipulation (i.e., diet formulation according to the metabolic condition of the birds), as well as inclusion of feed additives in the diet (e.g., antioxidants, vitamins, minerals, probiotics, prebiotics, essential oils, etc.) and water supplementation with electrolytes. More recently, two innovative approaches have been explored, including early-life conditioning (i.e., perinatal heat acclimation) and genetic selection of breeds with increased capacity of coping with heat stress conditions (i.e., increased heat tolerance). However, these potential opportunities, although promising still require further research and development. Besides the above mentioned approaches, newer methods are also being explored, including genetic marker assisted selection of poultry breeds for increased heat tolerance and disease resistance. Application of molecular techniques in poultry breeding has great potential to improve poultry productivity in a sustainable manner and thus help in understanding various cellular and molecular mechanisms involved in production, physiological and immunological aspects of the poultry birds, which in turn can help in development of breeds better adapted to changing climate.