News
GRAND PARTICIPATION OF INDIAN HERBS IN KOLKATA INTERNATIONAL POULTRY FAIR 2020 HELD IN KOLKATA FROM 12–14 FEBRUARY, 2020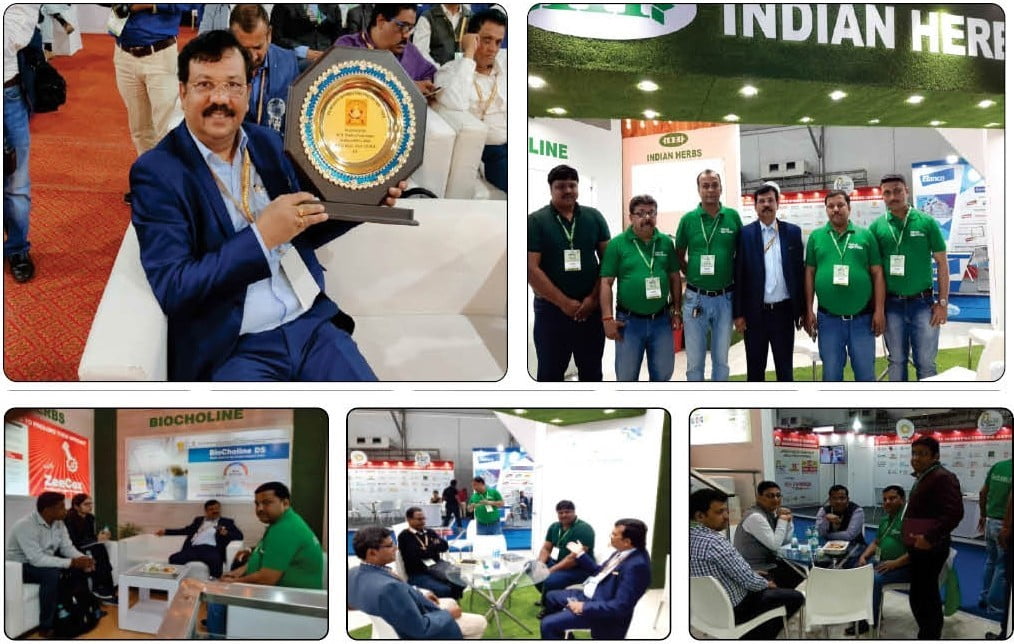 KOLKATA
INDIAN HERBS, the pioneer and market leader and No.1 Company in Herbal Animal Health Care Products Industry since 1951, showed its strong presence in KOLKATA INTERNATIONAL POULTRY FAIR 2020 held at Eco Park, Major Arterial Road, New Town, Kolkata from 12th to 14th February, 2020 with its Technical and Marketing team. The sales and marketing team gave a warm welcome to the customers and consultants. The company has won best prize for its attractive, well designed stall and warm hospitality to the visitors.
The awareness about reducing the usage of antibiotic is increasing day by day amongst the poultry farmers and consultants. INDIAN HERBS is helping the industry in producing antibiotic free chicken and eggs by providing natural solutions. The focus of INDIAN HERBS is on Food Safety through Feed Safety.
The development of Veterinary Ayurveda has tremendous impact on animal health care. It has increased productivity in livestock, poultry and fish farms. The contribution of INDIAN HERBS is commendable for economic upliftment of rural farmers through better animal health and productivity. The farmers are now able to afford safe and effective treatment of their animals at a very low cost and the farming has become more profitable and rewarding.
INDIAN HERBS is the originator of concept of Veterinary Ayurveda. INDIAN HERBS was the first company to harness the rich treasure of herbs by developing phytogenic products on modern scientific lines. It offers unique phytogenic alternatives for synthetic products with better efficacy at lower cost which are free from side effects and residual toxicity. The company is catering to wide range of animal species including poultry, ruminants, equine, swine, pets, aquatic and other animal species for more than six decades. The products of INDIAN HERBS are useful to produce antibiotic and residue free chicken and eggs.
INDIAN HERBS has developed and introduced unique formulations for use in poultry industry as natural alternatives of synthetic products in important segments such as Choline (BioCholine), Vitamin C (Herbal C), Natural Vitamin C with Chromium (HeatBeat), Vitamin E (E-Sel Power), AGP (Herbiotic FS), Respiratory Antiseptic (Animunin), Immune Potentiator (ImmuPlus), Metabolic Stimulant and Liver Tonic (LivoLiv-DS & LivoLiv 250), Coccidiosis (ZeeCox), Methionine (HerboMethione Plus), Lysine (HerboLysin), Natural Calcium (MagaCal), Male Vitality and Breeding Efficiency Optimizer (ProLibid), Optimum Ovarian Function (OVIMAX) Anti-stress & Adaptogen (StressCheck), Renal Tonic (NephTone) etc. The products are not only most economical and ecofriendly but also improve the quality of feed, productivity and profitability.
These products are being used by the leading institutions in India and abroad with excellent results. The products are successfully being exported to more than 50 counties across four continents including Asia, Europe, Latin America and Africa. INDIAN HERBS has also received the certificate from EXPORT INSPECTION COUNCIL OF INDIA, Ministry of Commerce and Industry, Govt. of India and was the first Herbal Company to get this recognition.
The R&D Centre of INDIAN HERBS, which is approved by the Ministry of Science & Technology, Govt. of India since 1986, is well equipped with the best available state of the art modern facilities for standardization and quality control of herbal products.
Scientific evaluation on herbal products in comparison to synthetic products is a continuous process at INDIAN HERBS. Regular field trials and research studies at universities are being conducted on these products in India and abroad to ensure consistently best quality and efficacy of its products. More than 200 scientists have been awarded Masters and Doctorate degrees for their research work which has resulted in publication of more than 1000 research papers in the eminent national and international scientific journals. INDIAN HERBS has the distinction of getting more than 22 Patents in USA, Europe, India etc. and many Patents are pending in USA and other countries for innovative research on herbs and herbal products.
The stall of INDIAN HEBRS attracted a large number of visitors, including feed millers, integrators, large farmers, consultants, nutritionist and distributors etc. All the queries of the visitors were answered by the technical team of INDIAN HERBS to their best satisfaction.
INDIAN HERBS is committed to foster the wellbeing of animals through nature's bliss and caters antibiotic free, residue and resistance free, environment friendly, cost effective phytogenic solutions for animal healthcare.