News
Vesper Celebrates 42nd Foundation Day at Bangalore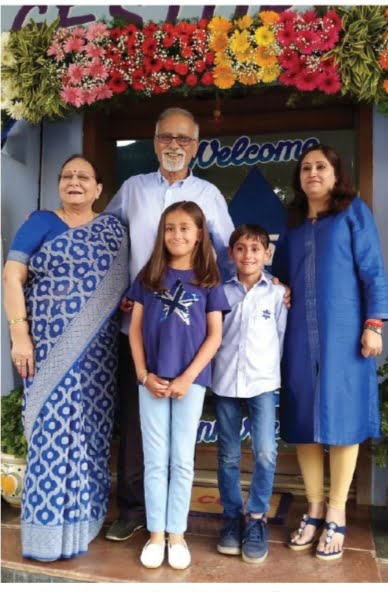 Bengaluru
Dr. Suresh Sharma (born on 24th July, 1948) a Veterinarian graduated from the Bengaluru Veterinar y College in 1972 is the elder son of Mr. P.N. Sharma an army officer from the Farm's Corps of the RVC., who's last posting was in Bengaluru, thereafter they settled there and started a Dairy Farm w ith 200 HF cows, in Village Singapura , Vidyaranyapura, Bengaluru.
Father and son managed the Dairy Farm for several years, then Dr. Suresh Sharma joined M/s Sarabhai, in the sales and marketing of veterinary products division where he sharpened his marketing skills and public relations, later decided to start VESPER PHARMACEUTICALS.
He has great insight, knowledge and logical approach to medicine, drug molecules and treatment practices. His sense of wit kept him apart and he has earned healthy respect from all in the poultry industry. He was proudly called as Toxol-Man by Dr. B.V. Rao, Chairman of Venkateshwara Hatcheries.
Dr. Suresh Sharma at very young age took a daring step as a veterinarian to set up "Vesper Pharmaceuticals" on 25th October, 1978. The growth of "VESPER" has been phenomenal and since 1978 it has grown nationally and internationally. Continuous improvement, proactive practice, innovative products catering to variety of needs with no compromise in quality, are the key ingredients for "Vesper Group's" success.
On 25th Oct 2019, Vesper Group celebrated its 42nd foundation day at Head Quarter Village Singapura – Bengaluru, which was attended by Vesper Group Managing Director Dr. Suresh Sharma, Madam Ruby Sharma (CEO), Madam Vijaya Sharma and other family members apart from office staff at Head Quarter office.
The celebration was a fun filled function with special cake cutting ceremony and launching of a new product, RC-Ves from Vesper Labs – Bengaluru.
Dr. Suresh Sharma is also a good cine actor and he has acted in many Kannada films and TV serials which are successful and popular in Karnataka. He received many awards for his acting skills.
Dr. Suresh Sharma is a veterinarian with visionary outlook, the watchword is Vision. Vision that catalyzes research creates products and cares for its poultry pharma industry.
In recognition of Dr. Suresh Sharma's achievement and contribution to the veterinary profession, he was awarded "THE BEST VETERINARIAN", awarded by Veterinary Association in the year 1991 for creating challenging products like Toxol, lmmolyte, CMI Plus, Respiron, Thermocare, Protosol, and Zymolact for poultry industry.
Vesper Group's products like Masticare, Gynaecare, Toxol lnj., Oxy-ves La, Scabisol Injection, Thermovet Injection. Pyrovet Injection etc., for cattle industry are all innovative products and in good demand.
Vesper Group also produces performance enhancing and health care products for Pets and aqua (shrimps and fisheries).
Today the Group has following Companies under its umbrella:
VESPER PHARMACEUTICALS (1978)- Poultry Health Products Division, Aqua Products Division, Pet Products Division, Animal Health Products Division
Herbal Farma (1991) – Herbal Products for Poultry & Livestock
Orchid Spa Pvt. Ltd. (1993) – Antibiotics and De-warmers for poultry and Livestock.
Vesper Labs (2002) Poultry Feed Supplements, Liquid orals, Toxin Binders, Growth promoters etc.
Spa Farma(2009) -Innovative feed supplements, Antibacterials for poultry and livestock.