News
BIOMIN COMMITS TO AMR CHALLENGE TO COMBAT ANTIMICROBIAL RESISTANCE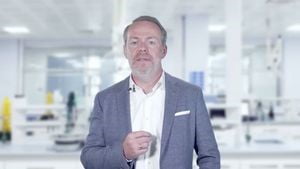 Getzersdorf – Animal nutrition firm BIOMIN has announced efforts to combat antimicrobial resistance (AMR) in the agriculture sector.
BIOMIN has made a public commitment to the AMR Challenge, a multi-stakeholder initiative led by the U.S. Centers for Disease Control and Prevention (CDC) for governments, private industries, and non-governmental organizations worldwide to make progress against antimicrobial resistance.
In particular, BIOMIN commits to "expanding the reduction of non-medically necessary use of antibiotic feed solutions across the agriculture sector globally." This will be accomplished primarily through greater adoption of the firm's biotech-based solutions that cover mycotoxin risk management, gut performance and animal nutrition.
"In order to preserve the medicinal value of antibiotics, we need to use less of them. That means using alternatives to promote growth and maintain healthy animals," stated Dr Jan Vanbrabant, Managing Director of BIOMIN and Executive Board Chairman of ERBER Group.
"We use unparalleled technologies to deliver effective, easy-to-use solutions to the feed and animal protein sectors that bring such benefits and generate return on investment for our clients," he added.
Sustainability pioneer
"Since 1983, BIOMIN has been dedicated to supporting the feed and livestock industry with innovative non-antibiotic solutions," explained Dr Jan Vanbrabant.
The commitment by BIOMIN to the AMR Challenge coincides with the firm's goal to support sustainable agriculture, which entails the responsible use of antibiotics, enhanced profits and productivity, producing affordable food, generating employment, reducing the environmental footprint of farm animals and ensuring their health and welfare.
Science driven
As part of its pledge, the firm highlighted its research and development activities led by the BIOMIN Research Center, which aim "to further enhance the sustainability of the livestock and aquaculture industries and to limit or decrease rates of antibiotic resistance on farms."
A number of recent initiatives by BIOMIN including the opening of the Christian Doppler Laboratory for Innovative Intestinal Health Concepts in Livestock and the Feed and Food Quality, Safety and Innovation (FFOQSI) project specifically address improving animal gut health and combatting antibiotic resistance.
BIOMIN promises to support these activities "through knowledge sharing of scientific findings and industry best practices along with technical consulting for commercial partners."
Specifically, the firm has held dedicated events across the world in recent years focused on antibiotic-free feeding programs featuring industry, academic and in-house experts.
The company is fully engaged in scientific and industry conferences and symposia throughout the world, culminating in the biennial World Nutrition Forum