Article
Overview of organic poultry production system
Meesam raza*1, Sudhir jaiswal1, Sandeep uniyal2, Anjali kumari3
PhD scholars, 1Division of poultry science, 2Division of animal nutrition 3Livestock production and management section, at Indian veterinary research institute, izatnagar bareilly- 243122
Organic refers to the way livestock and agricultural products are raised and processed, avoiding agrochemicals such as synthetic pesticides and fertilizers In organic poultry production systems, birds are to be raised outdoor without cages, they are fed organic feed and managed with practices such as natural treatments.
Basic Requirements for Organic Poultry
The basic requirements include:
Appropriate housing that permits natural behavior, including outdoor access
Certified organic feed, including pasture
No antibiotics, drugs or synthetic parasiticides
Organic processing of meat and eggs
Record-keeping system to allow tracking of poultry and products
Organic system plan including description of practices to prevent contamination, monitoring practices and list of inputs
Production that does not contribute to contamination of soil or water
No genetically modified organisms, ionizing radiation or sewage sludge.
Living Conditions and Housing
Housing should protect birds from the inclement weather, maintain a comfortable environment, provide ventilation and clean bedding and allow birds to exercise and conduct natural behaviours. Cages are not allowed. In addition, the birds must have access to the outdoors for exercise areas, fresh air and sunlight and must be able to scratch and dustbath. organic hens are given access to an outdoor area (at least 4 m2 per bird) during the warm season. This outdoor area should be mainly covered with grass or other types of vegetation, which means that it is difficult to use a permanent pasture area. For smaller flocks the solution is often some type of mobile hen house, which can be moved to a new pasture at regular intervals. For bigger farms, block grazing can be applied, i.e. dividing the pasture into smaller stripes or sectors and alternating between these
Chicks, are normally confined during brooding when they need to be heated although outdoor access can be provided at a young age. Birds can be confined during cold weather except some hardy breeds. Organic pullets are often not provided outdoor access until they are ready to lay, at about 20 weeks. All-slat flooring is generally not permitted. Some flooring should be solid with litter so birds can scratch. If birds are likely to eat their litter, it should be organic. litter treatments are to lower pH and reduce microbial growth and ammonia production are not allowed in organic production or if any must be natural. For example, synthetic materials, such as the commercially available Poultry Litter Treatment (sodium bisulphite), are not permitted. Some small producers use hydrated lime to lower moisture in litter. Although hydrated lime is permitted in organic livestock production, hydrated lime is only permitted for external pest control.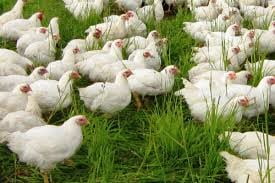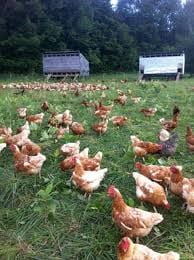 Artificial lighting:
Artificial lighting is permitted but there are limits on its use. When managing layers and breeders, the lighting period should not be longer than 16 hours or the longest day of the year.
Feeding of organic poultry:
Feed used for organic poultry production must not contain:
Animal drugs, including hormones, to promote growth
Feed supplements or additives in amounts above those needed for adequate nutrition and health maintenance
Plastic feed pellets
Urea or manure
Mammalian or poultry slaughter byproducts fed to mammals or poultry
Feed or forage to which any antibiotic, including ionophores, has been added.
Slaughter age
Slaughter age is appropriated as 81 days (broilers) or 140 days (turkeys and geese) Medical treatment in case of disease.
The rules for organic farming clearly state that animals showing signs of disease or injury should immediately be seen to and be given appropriate care If antibiotics or chemotherapeutics are used in organic flocks, the withdrawal time for meat is double the official conventional withdrawal time (EU rules). For eggs, the withdrawal time for organic flocks is double the statutory time.
Biosecurity
Free-range systems, where the animals are allowed to go outside on pasture, will increase the exposure to a number of potentially harmful microbes like Salmonella and Campylobacter. If feeding pans are placed outdoors they may attract rodents and small birds, which may carry Salmonella bacteria, There are also a number of intestinal helminths, which may affect free-ranging and organic birds. For example, Ascaridia galli, Heterakis gallinarum and Capillaria obsignata The most efficient way of reducing the parasitic load is to change pasture grounds regularly.
Living requirements at a glance:
| | | |
| --- | --- | --- |
| Living condition | European Union | Soil Association (UK) |
| Flooring | At least 1/3 of house must be solid with litter (all slats not permitted) | At least ½ of house must be solid with litter (no more than ½ slats permitted) |
| Equipment | — | Minimum feeder space(linear): 2.5 cm; minimum drinkers: 10 birds per nipple |
| Perches | 18 cm/layer | 18 cm/layer |
| Nests | 8 layers/ nest | 6 layers/ nest |
| Maximum indoor density | 6layer/m2;10meat, poultry/m2(21 kg/m2 max)a | 6layer/m2;10meat,poultry/m2(21 kg/m2 max); 2 turkey/m2 a |
| Outdoor area | At least 1/3 of birds; lives; mainly covered by vegetation; shelter required on pasture; access to pond for waterfowl | At least 2/3 of meat birds' lives and of all laying lives; well-covered with vegetation; shelter required on pasture; access to pond for waterfowl; outdoor drinkers required |
| Lighting | — | Artificial lighting cannot extend daylength more than 16 hours |
If mobile housing is used in which the popholes remain open at night, the indoor stocking density can be increased: 16 birds/m2 (maximum of 30 kg live weight). This type of housing must not be larger than 150m2.
Conclusion :
Most of the health and welfare problems seen in conventional poultry systems for loose housed or free ranging birds can also been found on organic poultry farms. The organic poultry farmers are often enthusiastic, but sometimes lack basic poultry knowledge.There is a need for information about biosecurity, disease detection and disease prevention on organic poultry farms.