News
CENTRE OF EXCELLENCE FOR ANIMAL HUSBANDRY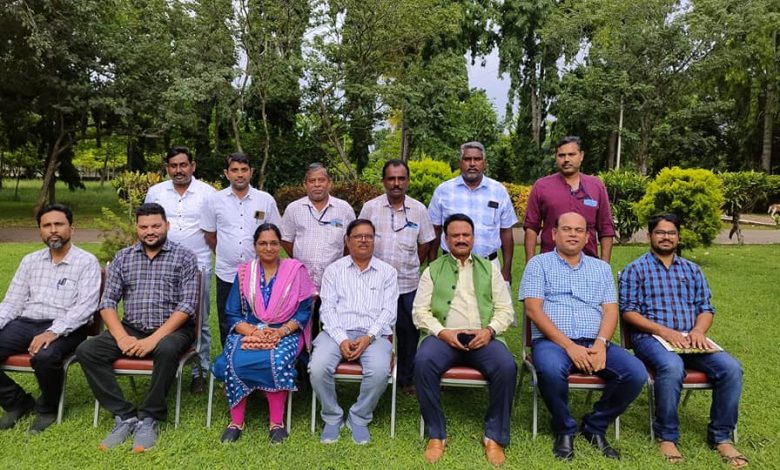 CENTRE OF EXCELLENCE FOR ANIMAL HUSBANDRY – CEAH BENGALURU ORGANISES VARIOUS PROFESSIONAL TRAINING PROGRAMMES NAMELY CRP, SSOT, HOET, INTERNSHIP AND ODWS DURING 1ST QUARTER OF 2023-24
CEAH-Bengaluru – Animal Husbandry Academy of India is setup under Government of India, Ministry of Fisheries, Animal Husbandry & Dairying, and Department of Animal Husbandry & Dairying as a consortium of 5 organizations at Hessarghatta vide Order No. F.A-430011/3/2023-Estt(HQs), dated, 14th March, 2023. This Academy is formed as per the guidelines of DoPT for National Programme for Civil Service Capacity Building (NPCSCB) under "Mission Karmayogi" of Government of India.
CEAH-Bengaluru is spread over 642 acres distributed in four campuses at Hessarghatta. Campus – 1 consists of Central Poultry Development Organization & Training Institute (CPDO&TI), Campus – 2 consists of Central Frozen Semen Production & Training Institute (CFSPTI) and Central Cattle Breeding Farm(CCBF), Campus – 3 consists of Animal Quarantine and Certification Services(AQCS) and Campus – 4 consists of Regional Fodder Station(RFS).
CEAH Bengaluru has state of art automation units at poultry, Modern dairy sheds, ET lab, Sex-sorted semen lab, International Animal Quarantine facility, biggest fodder unit in the country with latest technology adoption for irrigation. The Academy consists of four campuses with conference halls, class rooms, officers and farmers hostels with boarding and lodging facilities.
CEAH Bengaluru organises various professional training programmes namely CRP, SSOT, HOET, INTERNSHIP AND ODWS during 1st quarter of 2023-24 for various State of India inviting Veterinary Officers, Subject specific experts, M.Sc. graduates, Livestock officers and women and farmers across the country.
Comprehensive Refresher Programme(CRP): This is a flagship programme of CEAH Bengaluru offering 360 degree perspective of Animal Husbandry for young veterinary professionals in creating knowledge enriched smart veterinarian in the country. The course involves not only interactive sessions but visits, activity based learning, communication skills, leadership skills and business models of successful entrepreneurs in the areas of Dairy, Poultry, Piggery, Sheep & Goat. Apart from this networking of Govt. of India Institutions, ICAR Animal Science Institutions and Schemes of State Government, Central Government along with Project appraisal and detailed project report areas are being covered.
So far State of Karnataka (1 batch), Telangana (2 batches), Andhra Pradesh (1 batch), Goa (1 batches) have been trained. For the upcoming months till September, States of Andhra, Telangana, Goa, Tamilnadu (TANUVAS have even booked for Assistant Professors) are scheduled. So far, 105 trainee veterinary officers have been trained at CEAH Bengaluru.
Semen Station Officers Training(SSOT): This Course is specifically offered by CEAH – CFSPTI for young officers of Semen Stations across the country. The course includes all the technical issues related to Frozen Semen Technology, Bull assessment, Quality Control issues and minimum standards of Semen Stations. The states of Karnataka, Andhra Pradesh and Uttarakhand have deputed 10 officers for the programme.
Internship for M.Sc., Graduates: CEAH Bengaluru offered a special crafted internship for M.Sc. Graduates of Premier University of Bangalore namely St. Joseph's University. The internship was designed to meet the curriculum requirement of Animal Husbandry Sector in India, various Husbandry Practices in Dairy, Poultry, Fodder, Export/Import issues. They were exposed to on the spot practical training and briefed about large scale opportunities of science graduates also to enter the mainstream of Animal Husbandry Sector. St. Joseph's deputed 10 students of M.Sc., along with two faculty who also underwent the internship programme on Animal Husbandry at CEAH.
Hands-on Experience Training (HOET): This training programme was designed on the request of Directorate of Lakshadweep for their staff at Animal Husbandry Department namely, Stockmen and Livestock Inspectors. During the 5 days programme of HOET which is similar duration to CRP and SSOT, the trainees were exposed to sample collection of blood, urine, Swab samples etc in both Dairy and Poultry. They were also trained on Animal Handling, Insemination, treatment etc along with visits to all the units of CEAH. They were specifically taken to SRDDL, Bengaluru and Veterinary Dispensary at nearby village to have hands on experience at field level.. Lakshadweep deputed 6 of their staff for the first batch.
Course Fee for the 5-days programme namely, CRP, SSOT and HOET is Rs. 5,000/- per candidate which is inclusive of Boarding, Lodging, Training Kit and Course Material for the programme.
One Day Workshiop (ODWS): This programme is designed as an exposure cum workshop for farmers, women entrepreneurs and veterinarians across the country. The programme is planned for an exposure visit of each campus of CEAH namely, Regional Fodder Station(RFS), Central Cattle Breeding Farm(CCBF), Central Frozen Semen Production & Training Institute (CFSPTI), Central Poultry Development Organisation & Training Institute (CPDO&TI) along with AQCS. The trainees will be exposed to theoretical and practical aspects at the field in the areas of Dairy, Poultry and Fodder. This course is free for Farmers and Women and chargeable with a course fee of Rs. 1,000/- for entrepreneurs and veterinarians across the country.
CEAH PODCAST SERIES: CEAH Bengaluru has launched Podcast Series on a monthly basis. This is hosted in the CEAH Youtube Channel namely CEAH Bengaluru Academy. The podcast is designed to illustrate the journey of successful entrepreneurs in various areas of Animal Husbandry Sector. The first podcost series in May-2023 was on Poultry Sector – Sri. Kishore Kumar Hegde, Managing Directror, Lifeline Group. Second in June 2023 on Dairy Sector – Sri. Ravindra Navale, Founder of IDFA and the third podcast in July 2023 on Sheep and Backyard Poultry – Sri. Dr. B.R. Athani, Managing Director, Future Greens.
CEAH Bengaluru invites everyone to visit Campuses and can request for need based training programme by writing to:
Dr. Mahesh P.S.  M.V.Sc., PGPPM(IIMB),
Joint Commissioner & Director
CENTRE OF EXCELLENCE FOR ANIMAL HUSBANDRY –CEAH Bengaluru
"CEAH BENGALURU ACADEMY"
Hessarghatta, Bengaluru – 560088, Karnataka, India
Telephone: 080-28466239 (Direct); 080-28466236; E-mail: ceah.bengaluru@gmail.com
Facebook: Ceah Bengaluru; Youtube: CEAH Bengaluru Academy; Twitter: @BengaluruCeah