News
Biochem Pharma's Participation at Livestock Philippines 2023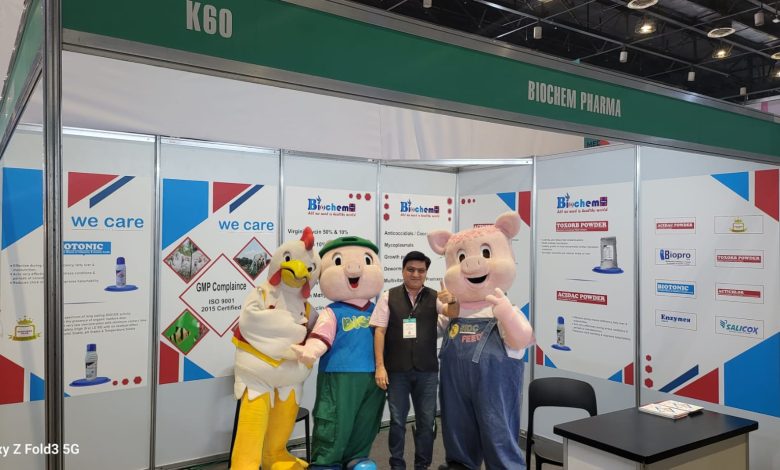 Introduction:
Livestock Philippines 2023, held on 5th, 6th & 7th July, was a remarkable event that brought together industry leaders, experts, and stakeholders in the animal health and livestock sector. Among the standout participants was Biochem Pharma, an esteemed Hi-Tech Life Science company renowned for its dedication to exploring new possibilities in the animal health segment. With a commitment to providing high-quality solutions, Biochem Pharma showcased its innovative products and expertise, leaving a lasting impact on attendees.
Highlighting Innovation in Animal Health:
Biochem Pharma, with its years of expertise, unveiled a wide range of advanced Animal Health products at Livestock Philippines 2023. Fueled by cutting-edge technology and scientific knowledge, the company's offerings revolutionize the field of animal health. Their solutions aim to enhance the well-being and productivity of livestock, ultimately supporting the sustainable growth of the industry.
Impressive Engagement at the Event:
During the Livestock Philippines 2023 event, Biochem Pharma actively engaged with industry leaders, experts, and stakeholders. The company participated in insightful discussions and knowledge-sharing sessions, contributing to shaping the future of animal health. Their presence and commitment to excellence drew attention and admiration from attendees, cementing Biochem Pharma's position as a trusted leader in the field.
Commitment to Quality and Sustainability:
Biochem Pharma's success can be attributed to its unwavering dedication to delivering trusted solutions of the highest quality. The company's experienced team ensures that all products meet rigorous standards, providing effective and reliable outcomes for livestock health. Furthermore, Biochem Pharma's focus on sustainability aligns with the industry's growing demand for environmentally conscious practices, fostering a more sustainable future for the livestock sector.
Looking Ahead:
With the success achieved at Livestock Philippines 2023, Biochem Pharma continues to drive innovation and make significant contributions to the animal health industry. As a trusted leader, the company remains steadfast in its mission to enhance animal well-being, improve productivity, and support the sustainable growth of the livestock sector. With their progressive approach and commitment to excellence, Biochem Pharma is poised to shape the future of animal health.
Conclusion:
Livestock Philippines 2023 was a significant milestone for Biochem Pharma, where their trusted solutions and innovative approach garnered attention and appreciation from the animal health community. As the company continues to pave the way for advancements in the industry, their dedication to quality, sustainability, and the well-being of livestock sets them apart as a pioneer in the field. Biochem Pharma's participation in this prestigious event signifies their commitment to shaping the future of animal health, one breakthrough at a time.