Article
World Soybean Research Conference | Soy Summit 2023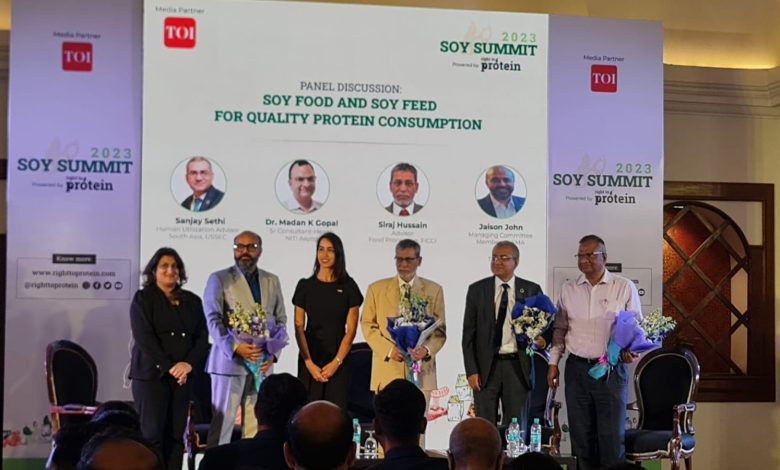 Soy Summit 2023: Key Industry Stakeholders Share How Soy Can Bridge India's Protein Gap
 The conference held to commemorate Soy Month, emphasized the utilization of soy for both animal feed and human consumption to attain nutrition security.
 India, May 2nd, 2023: Protein education initiative, 'Right To Protein', while celebrating 'Soy Month' in April, hosted Soy Summit 2023, with The Times of India. Held on 27th April 2023 at the Ambassador Hotel in New Delhi, the Summit witnessed an enriching industry discussion in-person with over 70 attendees, including thought leaders, policymakers, B2B & B2C businesses, health and nutrition organizations, and opinion influencers about the utilization of soy for both, human food, and animal feed, in order to help achieve nutrition security.
To raise awareness about the importance of adequate protein consumption and the role of soy in enabling this, the speakers at the Summit called for collaboration among the government, industry, and the private sector to encourage production and use of soybean as a versatile, accessible, and affordable source of high-quality protein. They addressed the numerous health benefits that can be fulfilled by soybean in addressing the problem of inadequate protein intake in India, as well as its availability for poultry (animal feed) and human. consumption.
"There was practically no soybean in India until 50 years ago, but it has quickly become popular given its protein content. Given its rich protein content, there is a great opportunity for the government to introduce new soy cuisines and products just like they've done for millets." said Mr. Siraj Hussain, Advisor, Food Processing, FICCI. The Summit emphasized on how soybean, often overlooked in terms of marketing efforts, has the potential to revolutionize protein consumption in the country. It offered solutions like harnessing the collective efforts of all stakeholders, to popularize soy as a relevant and reliable source of protein. It reinforced the need for liberal trade to keep soybean prices affordable and appealed to food manufacturers for innovation to strengthen the role of soy in the era of flexitarianism.
The Soy Summit 2023 threw light upon how India could strive to consolidate its position as a supplier of protein-rich resources by promoting soybean indigenous cultivation and consumption, to address protein deficiency as well as to create a lucrative opportunity for the protein industry to flourish. Pratichee Kapoor, Director – Big Bets: Middle East, Indian Subcontinent & Africa, Kerry Group, emphasized on this, adding that "I believe soybean has not been marketed well in the country but if all the key stakeholders start making concentrated efforts towards popularizing soy as a relevant source of protein, especially in a protein-deficient country like India, it can do wonders for us all". Adding to this, Dr. Sudhanshu – Secretary – Ministry of Commerce (APEDA) said "Just like millets, soy needs to be popularized for us to achieve protein sufficiency and there are great prospects for soy and its value-added products in today's age".
Dr K Madan Gopal, Sr Consultant, NITI Aayog highlighted that "If soybeans were paid attention to earlier, they would have also been as popular as millets are today. Through thorough research and scientific advancements, we can figure out a way so that the processing of soy can be done at locally, and it can become more accessible and affordable to all."
"Soybean is more affordable and accessible than other protein sources. The cost of soybean protein at 50 rupees per kg, with 37% of protein, is probably one of the cheapest protein sources available to Indians. I believe it will gain more importance not just for protein consumption, but for consumption of lipids and healthy fats as well," Sanjay Sethi, Human Utilization Advisor, South-Asia, US Soy said.
The Soy Summit also delved into how soybeans' significance extends beyond being a protein plant-based source alone. It primarily alludes to the livestock industry, where the breed and feed determine the quality of the final product which is soybean's complete amino acid profile, comprising all 20 essential and non-essential amino acids. Talking about this role of soy in determining the quality of animal-based protein foods, Jaison John, Member, Managing Committee, Compound Livestock Feed Manufacturers' Association of India (CLFMA of India) said, "We need to understand that today's feed is tomorrow's food. Therefore, high-quality soybean meals for animals are crucial determine the protein content of animal-based protein foods that we consume. It is important to equip our farmers with affordable soybean meals to make sure our livestock, aqua and poultry consumes quality feed."
The Soy Summit laid foundation to the discussions of maximizing the utilization of soy in meeting protein requirements and attaining nutrition security, facilitating the exchange of insights from distinguished speakers. It emphasized the significance of soy consumption for both humans and animals, while also promoting sustainable agriculture and food production practices that offer benefits to farmers and consumers alike. The participants and speakers also played a role in dispelling myths and showcasing the potential for enhancing protein consumption and nutrition in diets. Moving forward, key takeaways from the Summit will help foster collaboration between the government and industry stakeholders to effectively address the nutritional requirements of the population at large.
About 'Right To Protein':
"Right to Protein" is a public health initiative that aims to raise awareness about the importance of protein in the diet and the right of every individual to have access to sufficient, affordable, and high-quality protein. The campaign emphasizes the role of protein in supporting good health, reducing malnutrition, and promoting sustainable development.
The "Right to Protein" campaign aims to increase public understanding of the importance of protein and to encourage governments, businesses, and other organizations to prioritize protein production, distribution, and consumption in their policies and practices. This can include promoting sustainable agriculture and animal husbandry practices, supporting research and development in the field of protein science, and ensuring that people have access to a variety of affordable and nutritious protein sources. The campaign also works to raise awareness about the global burden of protein deficiency, which is a significant public health concern, particularly in developing nations. By promoting the "Right to Protein," the goal is to improve nutrition security to improve health outcomes, reduce poverty and hunger, and support sustainable development.
For Media Queries, Please Reach Out To:
Nishita Chakraborty | E: nishita.chakraborty@fleishman.com | M: +91-7208663517
Devvrat More | E: Devvrat.more@fleishman.com | M: +91-9869062202
For more information, visit www.righttoprotein.com and follow @righttoprotein on Twitter, Facebook, LinkedIn and Instagram.