News
IPJA AWARDS IN HYDERABAD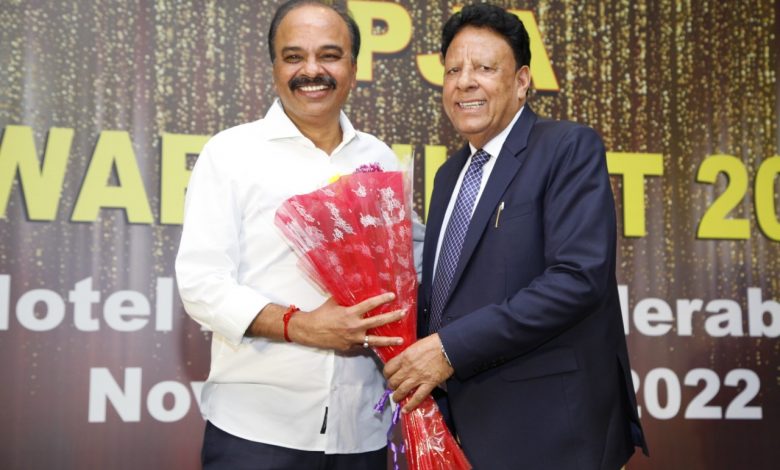 Indian Poultry Journalists Association (IPJA) conducted an impressive Global Award Ceremony at Hotel Avasa, Hyderabad on 24th November, 2022 . A galaxy of poultry stalwarts from across the globe descended on the venue of this glittering ceremony. Mr. B S Rana welcome Shri Dr.Ranjeet Reddy Hon'ble Member of Parliament GOI and all the dignitaries present on this occasion.
Given these reasons, the IPJA Global Awards have always been a success. The present broiler chicken production technology's effects on performance and economic factors were evaluated. Most production and economic indicators differ significantly amongst the broiler chicken farms studied.
The Award began with a welcoming presentation by Mr. B. S. Rana, President-Indian Poultry Journalists' Association, who stated that IPJA has been organizing technical seminars in various areas of the nation for several years to make farmers aware of new innovations in poultry farming. Moreover, knowing that in poorer nations, these poultry systems predominate. Poultry may be farmed in highly industrialized and commercial settings as well. He also stated that every year, the IPJA holds the IPJA GLOBAL AWARDS in Hyderabad to recognize outstanding work done by Indian and global companies in the fields of poultry breeding, pharmaceuticals, equipment manufacturing, research and development, feed manufacturing, processing, introducing innovative products, healthcare, and a few other fields.
He stated that this year's IPJA Global award recognizes outstanding work done by Indian and global companies in the fields of poultry breeding, pharmaceuticals, equipment manufacturing, research and development, feed manufacturing, processing, introducing innovative products, healthcare, and a few other fields. While wrapping off his welcoming address, he expressed his gratitude to the poultry industry's workers for their unwavering support. Poultry farming in India is the result of many years of resourcefulness and innovation in the face of adversity. Furthermore, the industry as a whole, with its low-cost model and increasing output, is a showcase of success like few others around the world. Poultry farmers, breeding firms, integrators, and animal health nutritionists can attend the event to evaluate their peers' accomplishments and assess the utility of such techniques and practices for their national and worldwide poultry products.
To begin, he thanked the chief guest, all of the delegates present on this occasion, as well as the award recipients, jury team, sponsors, and hotel officials for making this vital function possible.
First and foremost, we pay our respects to the late Dr. B.V. Rao. Few people have the foresight to start a revolution. One such visionary was Dr. B. V. Rao. He was a small-scale farmer who set out on a quest to revolutionise chicken farming in India. The transformation of poultry farming from an art to a science is a real illustration of what one man and his team can do when given the correct push and guidance. His life was a narrative of commitment and neverending endeavours to make India selfsufficient in all aspects of poultry. On a worldwide scale, India now ranks third in egg production and fourth in broiler production.
Dr. B. V. Rao was intelligent enough to see that in order for modern chicken farming and management to thrive, not only theoretical but also handson instruction would be required. A revelation that resulted in the founding of Poultry Management and Technology. He also congratulates our jury panel for their careful consideration and judicious approach in selecting the most deserving recipients of the IPJA Global Award. We believe in giving fair appreciation to excellent achievers and have given it fresh vitality.
Trusting you all agree that being acknowledged and honoured just increases a person's morale, which
leads to improved productivity every time. He congratulates these outsidethe- box thinkers and magicians who have made their fantasies a reality. All of the stalwarts being honoured tonight are the torchbearers for this promising industry's bright future.
Since its founding, the Indian Poultry Journalist Association has been completely dedicated to the objective of raising poultry awareness and developing the sector. We are a non-profit organisation, and every money we collect goes to the poultry producers. Our goal is to educate farmers and increase poultry output.
We have spent every financial assistance on the poultry sector itself, hosting technical seminars across India, and have received an overwhelming response and praise. Our first focus is the welfare of the poultry sector, which is why we are working so hard.
We have done all necessary to provide poultry farmers with cutting-edge scientific knowledge in order to increase their quality production, and we have had some success. We wish that all poultry groups will band together and share their concerns with the government. Several businesses and people are continually contributing to the expansion of the Indian poultry sector.
However, given the success of our sector and the popularity of our products, management has chosen to broaden the scope of our operations. Now we aim to target the high-income segment while also expanding our commercial activities to other states and, eventually, other nations. Following an in-depth brainstorming session and discussion with management and all other important stakeholders, it was determined that the organisation will use digitalisation, in addition to other traditional methods, to promote itself amongst the public.
Innovation in medicines and animal nutrition is rescuing birds from illness outbreaks. As a result of these innovations, the amount of antibiotics used in chicken has been reduced. We also know that we will need to limit antibiotic use in order to make substantial inroads into the export market.
Animal welfare has been addressed via innovation by poultry equipment manufacturers. Feed manufacturers' quality feed manufacturing has aided in improving the FCR, resulting in the saving of millions of tonnes of feed and assisting farmers in receiving a remunerative price.
Today's broiler business is a highly technological and fast-evolving agricultural enterprise.Vertical
integration means that a solitary business termed an "integrator" executes all or most of the production aspects. Integrators are often the owners of breeding flocks, hatcheries, feed mills, and processing units.
All of these remarkable discoveries and efforts required a genuine platform from which these firms and individuals could be recognised. It is critical to acknowledge the contributions of various multinational firms and people who have made significant contributions to the growth of the poultry sector in India.
We overcome every obstacle and struggle together, which have now become /milestones for us. The project was also extremely important because it is about creating ways and methods to change the poultry society and advancement, eventually promoting sustainability.
Shri Dr.Ranjeet Reddy praised the efforts of IPJA in recognizing and felicitating the outstanding performers in poultry. He said IPJA is doing a great service to the Indian poultry sector by organizing such programmes. He said poultry has a great potential to provide mass employment as well as protein rich diets to fight malnutrition in the country.
Following is the list of the recipients of IPJA Global Award 2022 stated below:
LIFETIME ACHIEVEMENT AWARD – Late Mr.Handojo Santosa JAPFA COMFEED , Indonesia
Best Scientist: Dr.G.B.Puttannaiah , Bengaluru,Karnataka
Best Processor – Nandu's Food Pvt.Ltd., Mr.Naveen Kumar Pasuparthy, Bengaluru, Karnataka
Best Equipment Manufacturer -Sai Krishna
Poultry Equipment ( Mr. M. Srikanth), Karim Nagar,Telangana
Best Healthcare Products International – Huve Pharma , Dr. L N Kanora – Belgium
Best Breeder – Aviagen India Pvt. Ltd., -Coimbatore, Tamil Nadu
Best Innovation in Poultry – Interface Pharmaceuticals Pvt. Ltd. ( S K Malhotr), New Delhi
Best Animal Nutrition – NOVUS INTERNATIONAL ,Bengaluru, Karnataka
Best Farmer – Mr.Kuljas Rai ( Rai Poultry ) ,Amritsar, Punjab
BEST HEALTH CARE PRODUCTS NATIONAL – PROVET PHARMA PVT.LTD., Chennai ,Tamil Nadu
BEST DISTRIBUTOR – TARA ENTERPRISES ,Telangana, Hyderabad
BEST FEED MILLER – NOVELTECH FEEDS ,Maharashtra
BEST IMPACT IN POULTRY – Dr.Balaswamy , Telangana
IPJA APPRECIATION AWARD FOR ASSOCIATION :-
CLFMA OF INDIA
POULTRY FEDERATION OF INDIA ( PFI )
Indian Federation of Animal Health Companies (INFAH)
Karnataka Poultry Farmers & Breeders Association ( KPFBA )