News
IPJA Created another Milestone While Conducting Technical Seminar in Rajasthan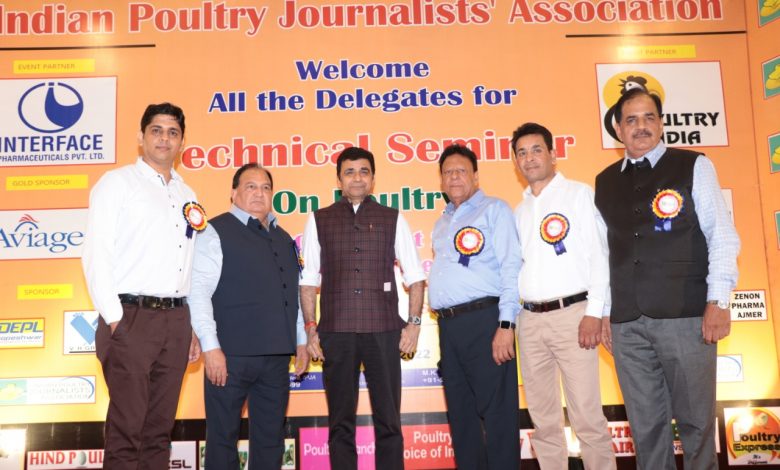 On August 20, 2022, the Indian Poultry Journalists Association (IPJA) achieved yet another milestone by hosting the first ever successful technical seminar in its series of seminars in the poultry industry in Ajmer (Rajasthan) at the Hotel Paradizzo.
More than 350 farmers from Ajmer and surrounding areas, including districts like Bhilwara,Udaipur, Kota, Bewar, Sekar, Jodhpur, and Jaipur in Rajasthan state, attended the poultry technical seminar.The technical seminar in Ajmer was chosen because Ajmer is a rising market with a layer population of more than 80 million birds producing close to 70 lakh eggs each day. Ajmer and its neighbouring areas are quickly becoming a broiler production center in Rajasthan. The Indian Poultry Journalists' Association organised this technical seminar on the poultry segment to boost the profitability of poultry farming in this region.
Mr. B. S. Rana, President of the Indian Poultry Journalists' Association, initiated the Technical Seminar program. In his welcome address, he discussed IPJA's operations and the goal of holding technical seminars across the country. He told the audience that, while Rajasthan is predominantly a vegetarian state, the efforts made in this region to produce eggs are greatly appreciated. "The IPJA has selected the greatest presenters for this technical session, and their experience will be extremely valuable to the poultry farming community in this region," he added.
Mr. O. P. Singh, Chairman & Managing Director of ABTL Limited & Huvepharma SEA (Pune) Pvt. Limited, inaugurated the exposition show with a respectable speech that elicited a thunderous response from the audience, who talked about the current state of the Indian poultry industry in a variety of ways. The brilliance of his speech was the farming fraternity's pin-drop quiet until he finished, followed by a two-minute thumping response on clapping.
In his one-hour speech, he covered practically every aspect of the Rajasthan poultry farming community. He stated that beginning a poultry farm is pointless unless you have specific aims in mind. He argues that poultry farmers should stop relying on traders and instead focus on promoting their products. He warned the chicken producers that continuing to produce eggs without a proper marketing setup was pointless. He also emphasised poultry producers' togetherness by organising a cooperative to market their products.
Dr. S. K. Malhotra, Event Partner of the Seminar and Managing Director of Interface Pharmaceuticals Pvt. Ltd., delivered a brief presentation on his company's products and also endorsed Mr. O.P.Singh's verdict among the farmers in attendance.
Dr. Irshad Ahmad, an Aviagen Technical Consultant and another conference sponsor, demonstrated his programme and spoke about the necessity of biosecurity in poultry. Dr. Irshad Ahmed stated in his PowerPoint presentation that good biosecurity in chicken farms is critical to preventing disease outbreaks and controlling disease spread on farms. He noted that disease can be transmitted by people, vehicles, trash, manure, poultry machinery, rats, feed contamination, and a lack of sanitation, and that strong biosecurity practises must be followed to prevent it.
From waste to wealth, another well-known poultry industry personality and seminar sponsor, Mr.Shirish Dhopeshwar, Managing Director of Dhopeshwar Engineering Pvt. Limited, delivered an important presentation on effective chicken waste management.
According to Mr. Dhopeshwar's presentation, the old technique of disposing of chicken waste is no longer allowed due to many environmental rules, and there is a need to handle the waste scientifically. He claimed that by properly managing farm mortality, manure, hatchery, and slaughter waste, it could be converted into profit. He went on to say that Dhopeshwar Engineering Works, a pioneer in the production of such poultry waste rendering facilities of various capacities, eliminates waste while also making an additional profit for chicken farmers.
Dr. Someshwar Zadbuke ,Vice President – Strategic Marketing Noveltech India another famous speaker, discussed the chicken industry's feeding issues and potential remedies.
Dr. Alok Khare, a famous poultry consultant from the Ajmer region, gave the final lecture on the necessity of management in successful chicken production. Dr. Khare covered practically every aspect of chicken management, from shed construction through chick arrival, and from brooding to moulting. He also emphasised the necessity of biosecurity in chicken production and expressed sorrow that this element is not being addressed in this location.
Dr. Raj Kumar Jaipal, President NECC Ajmer Zone, Mr. O. P. Singh, Managing Director HUVEPHARMA and ABTL, Mr. Hemraj, Managing Director-Lokesh Oil Mills Private Limited, Mr. Neeraj Goyal, Managing Director-ZEON Pharma, Mr. Vijay Raj Pareekh, Proprietor-Sahaydri Poultry Medicines, including Mr. Bindu Khan, a poultry farmer; all were felicitated by Team IPJA.
Mementoes were also given to all of the presenters, including Mr. O. P. Singh, Mr. Shirish Dhopeshwar, Dr. Irshad Ahmad, Dr. Alok Khare, and Dr. Someshwar, for their engaging presentations on various topics.
Poultry India and Interface Pharma Private Limited (Event Partners), Aviagen India, ABTL (Gold Sponsor), and Zenon Pharma from Ajmer, Dhopeshwar Engineering Works, Chakra Group of Companies, and VH Group all received mementoes (Sponsors).
The Indian Poultry Journalists' Association will have its next technical seminar on October 8, 2022, in RAIPUR, Chhattisgarh, and the IPJA Global Award on November 24, 2022, at Hotel Avasa in Hyderabad