News
Workshop on Feed Requirements for Livestock Sector: Opportunities and Challenges held on April 12, 2022 at Hyderabad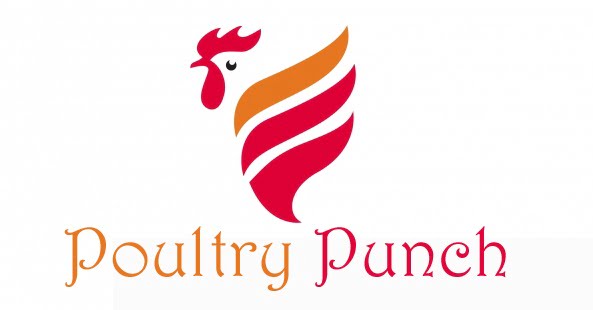 Workshop on Feed Requirements for Livestock Sector: Opportunities and Challenges held on April 12, 2022 at Hyderabad
In India the livestock sector particularly poultry, cattle and aqua is growing at a rate of 8-10% and thereby the requirement of feed is also increasing, as it constitutes 65-70% of the production cost. In the recent past the industry has faced challenges with respect to availability and high cost of inputs viz. soyabean meal, maize etc. The potential feed requirement in the coming years is expected to increase further in view of changing food habits, increase in protein demand etc. Technological interventions are urgently needed to ensure availability of enough quantities and good quality feed in cost-effective manner for the survival and growth of the animal husbandry sector.
In view of the above, All India Poultry Breeders Association and Biotech Consortium India Limited (BCIL) along with   Animal Nutrition Society of India (ANSI) organised a knowledge sharing "Workshop on Feed Requirements for Livestock Sector: Opportunities and Challenges"  on April 12, 2022 at Hotel Avasa, Hyderabad. More than 80 participants from poultry industry, seed industry, scientists from research institutions and universities, nutritionists, officials from central and state animal husbandry department, media and other stakeholders participated in the workshop.
Dr. O. P. Chaudhary, Joint Secretary, Department of Animal Husbandry and Dairying, Government of India indicated that contributions of livestock sector in total agriculture and allied sectors has increased significantly. He indicated that the issue of supply and availability of soyabean meal and maize has been brought to the notice of the government as also price volatility. He assured that government is committed to support the livestock industry and several initiatives have been taken including permission to import GM soyabean meal. He appreciated this initiative and requested to send the recommendations to the department.
Mr. Suresh Chitturi, MD, Srinivasa Farms and  Vice President, All India Poultry Breeders Association and Mr. D. Raghava Rao, MD, Kohinoor Hatcheries Private Limited shared detailed information on the current feed requirements and potential demand over next decade. It was stressed that the industry holds great potential not only to meet increasing domestic requirement, but also can lead the exports of animal products. However, this requires consistent supply of feed to make it competitive in the International market. For example, the gap in supply and demand of protein meals is estimated at approx..4 MMT in 2022 and likely to increase to 7 MMT by 2025.  The gap is expected to increase over time as the demand for milk, eggs and meat continues to grow as the Indian economy grows.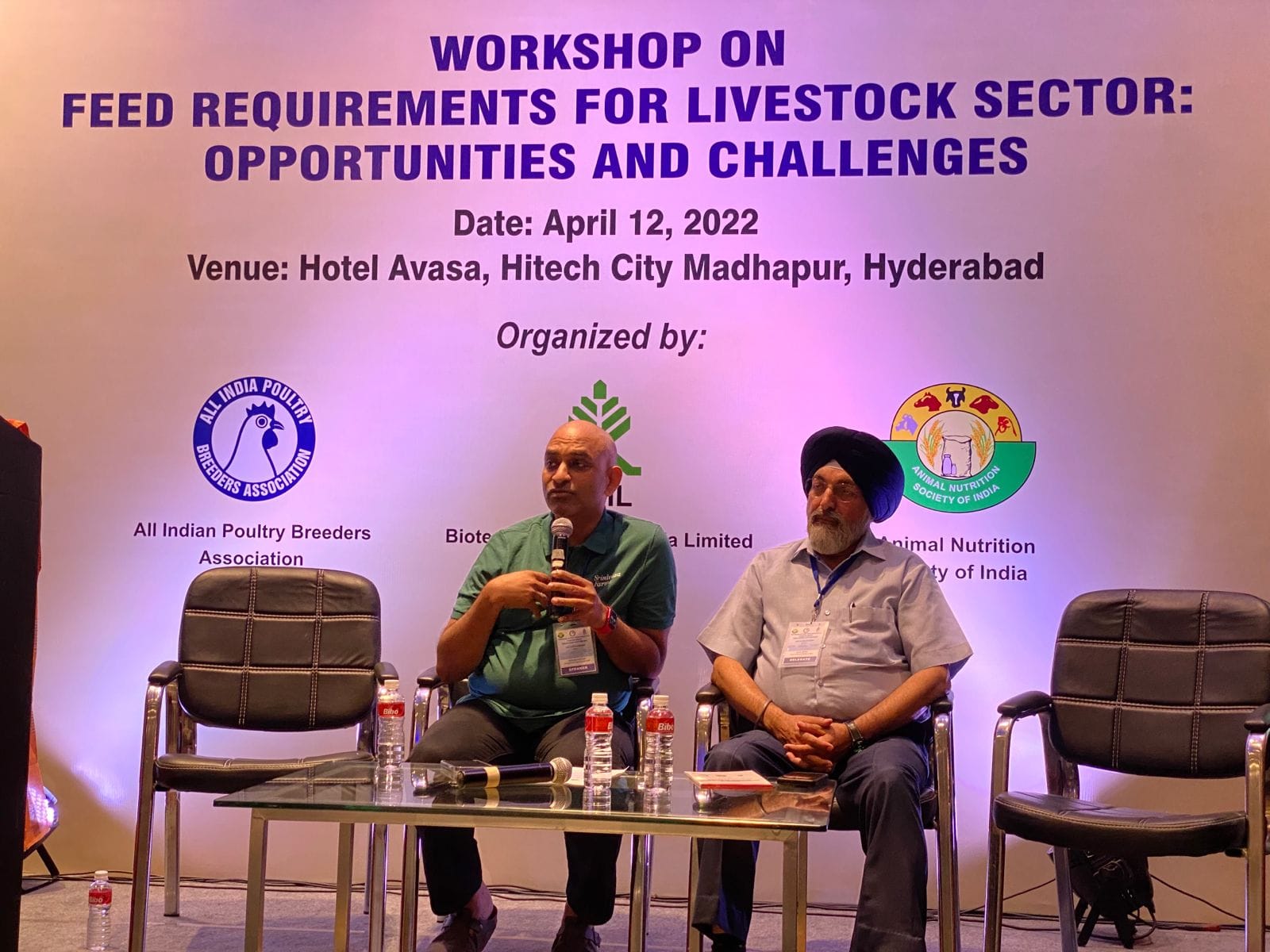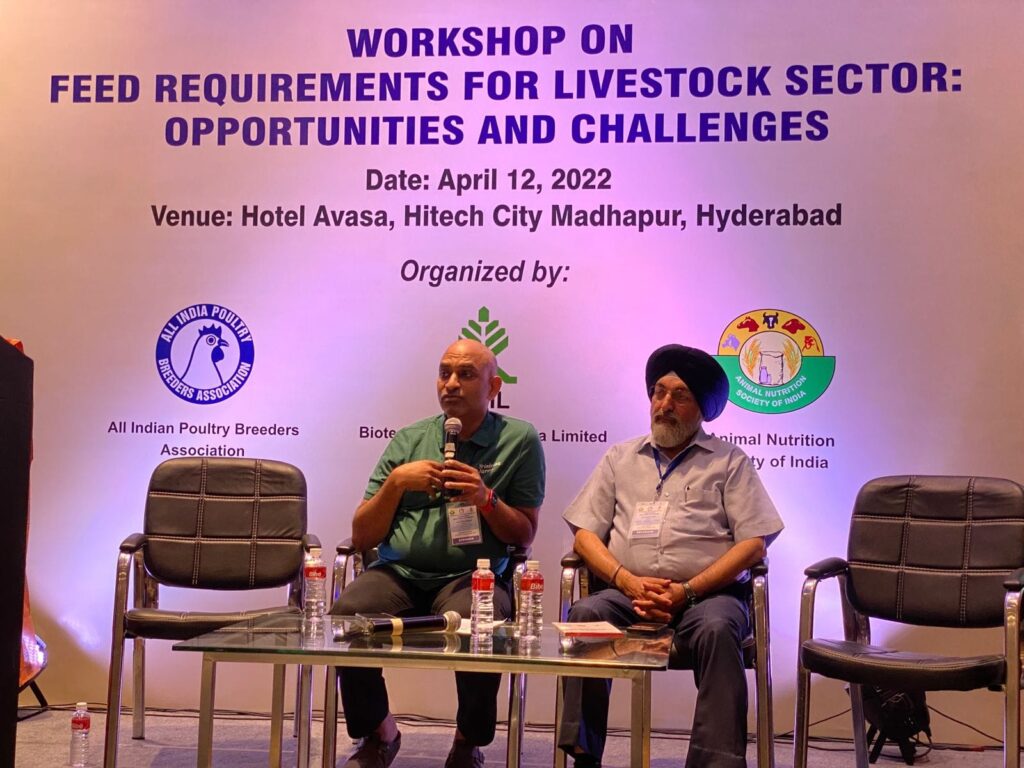 It was opined that all options including the use of GM crops and novel derivatives should be explored. They also stressed that adoption of GM crops be encouraged so as to increase the productivity which will bring benefit not only to farmers but also to the livestock farmers and industry.  The industry participants desired those imports may be permitted in the short term to meet the current demand and at the same time streamlining of policies and investments in research for facilitating use of GM crops for increasing productivity for tapping future potential.
Dr.Vibha Ahuja, CGM, BCIL spoke about safety and nutritional aspects of GM crops. She informed that state of the art internationally accepted methodologies are available for pre-market safety assessment of GM Crops and indicated that there are no confirmed reports of any adverse effect from the use of GM crops in the last 25 years in more than 70 countries. She also clarified various myths prevalent regarding the use GM crops by the feed industry and provided factual information.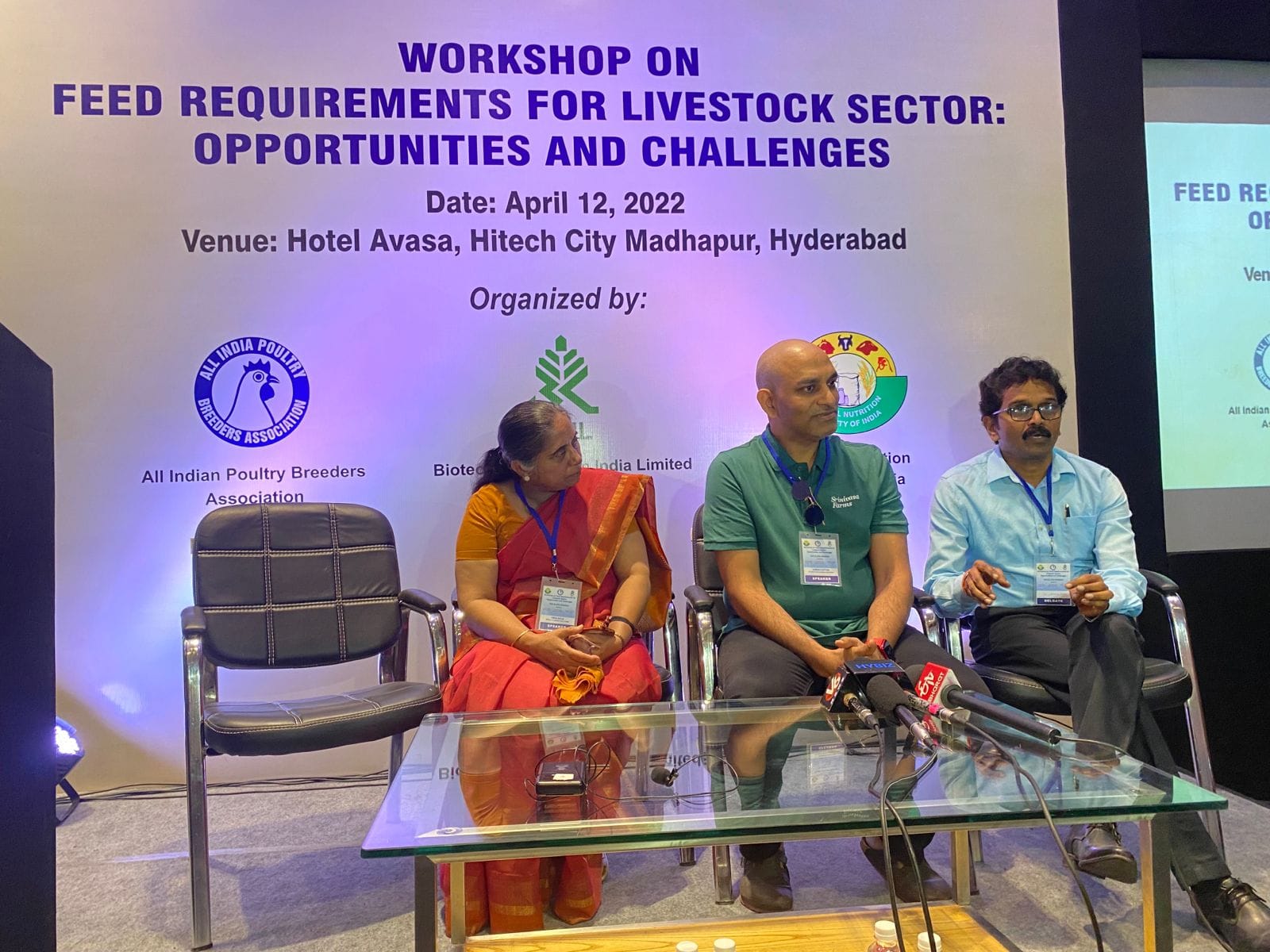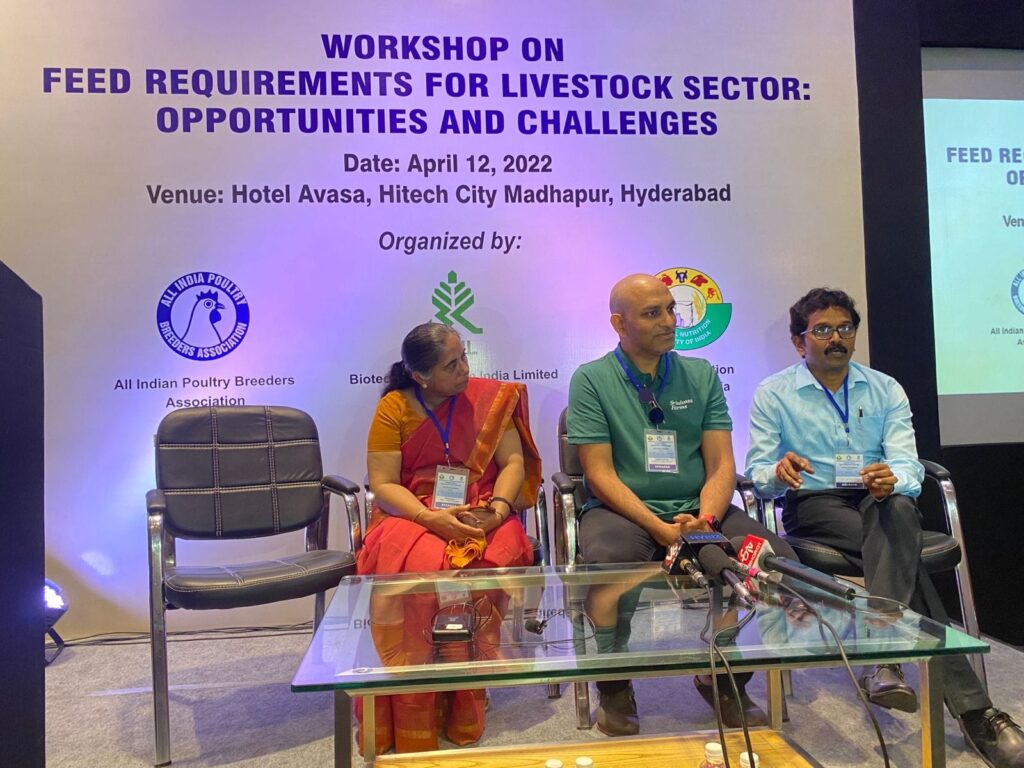 Dr. S. V. Rama Rao, Principal Scientist (Animal Nutrition) from ICAR-Directorate of Poultry Research spoke about nutritional requirements of Poultry and how research can contribute to enhancing productivity.
Mr. Ram Kaundinya, Director General, Federation of Seed Industry of India and Dr. Paresh Verma, Executive Director -Bioseeds Division, DCM Shriram Limited, Hyderabad informed that India has been lagging behind in the area of GM crops despite highly successful experience with Bt Cotton, which turned India into second largest exporter of cotton in the world from an importing country. They highlighted several issues and sought urgent interventions from the Government to introduce well proven technologies in the country to meet the demand from livestock sector.
Senior representatives from US Grains Council and US Soyabean Council provided information on the global scenario that included use of by-products such as DDGS as a source of high protein and high phosphors and also introduced tools such as nutritional calculator for improving the nutrition for the livestock industry.
Participants shared their views and requested the associations to prepare strategic plans and approach the government for time bound decisions so that the industry can benefit from the use of new technologies such as GM crops.
The workshop was well received and recommendations will be forwarded to the Department of Animal Husbandry for their consideration.