News
Indian Federation of Animal Health Companies (INFAH) celebrates its 10th Year Anniversary & appoints Managing Committee for 2021-2023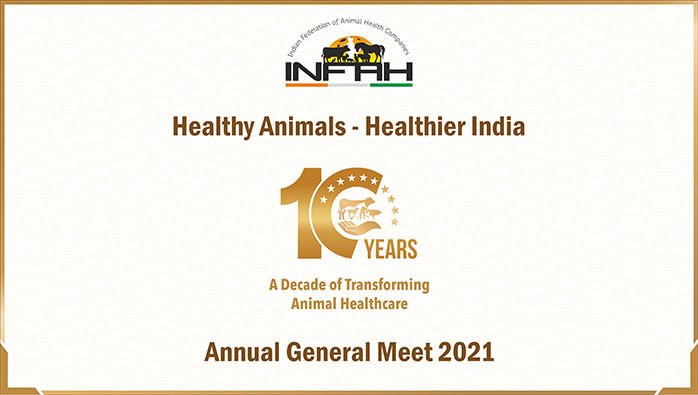 Indian Federation of Animal Health Companies (INFAH) hosted its 10th Annual General Body Meeting virtually on 27th Sep 2021 and 28th Sep 2021. Members had creative, virtual experience showcasing INFAH's Vision and Mission along with gallery of INFAH's Milestones. The AGM was attended by more than 100 industry colleagues representing Indian animal health and Nutrition industry.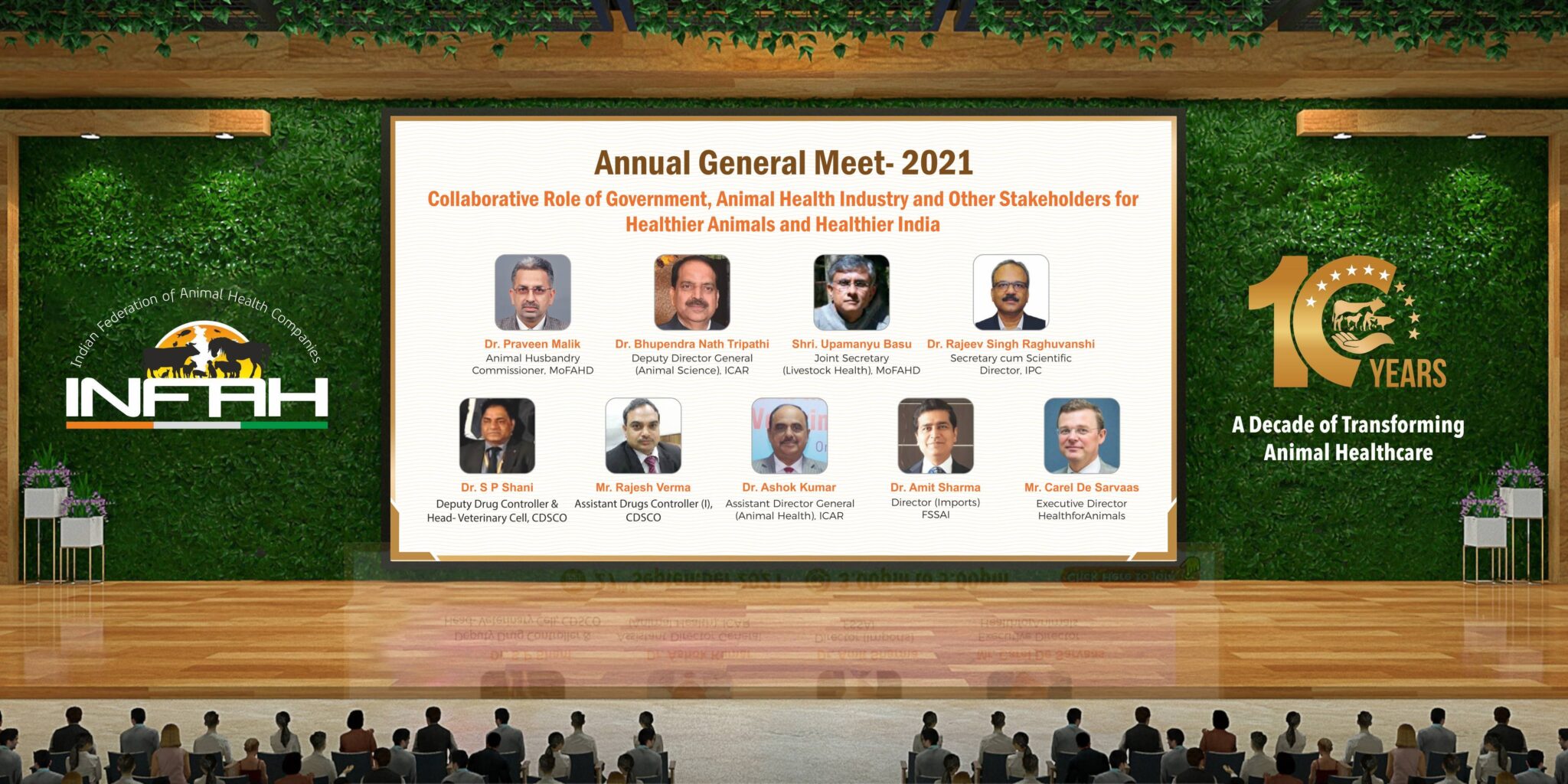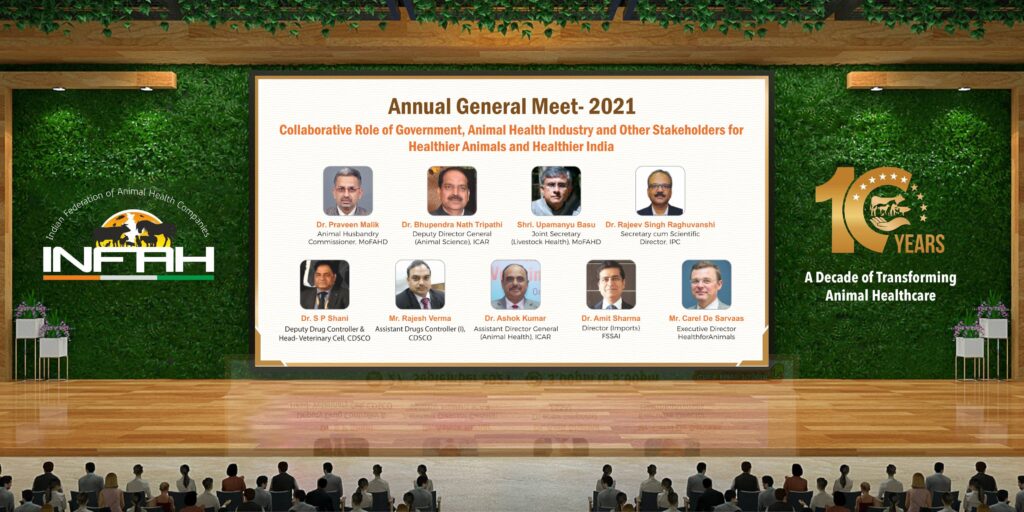 On 27th Sep,2021 at the Inaugural session, Dr Vijay Makhija, General Secretary delivered welcome note. Inaugural address was given by Mr Vijay Teng, President- INFAH, showcasing the 10 years journey of INFAH, releasing the special edition of Annual report 2021 and launching INFAH movie which showcases INFAH's accomplishments and key milestones.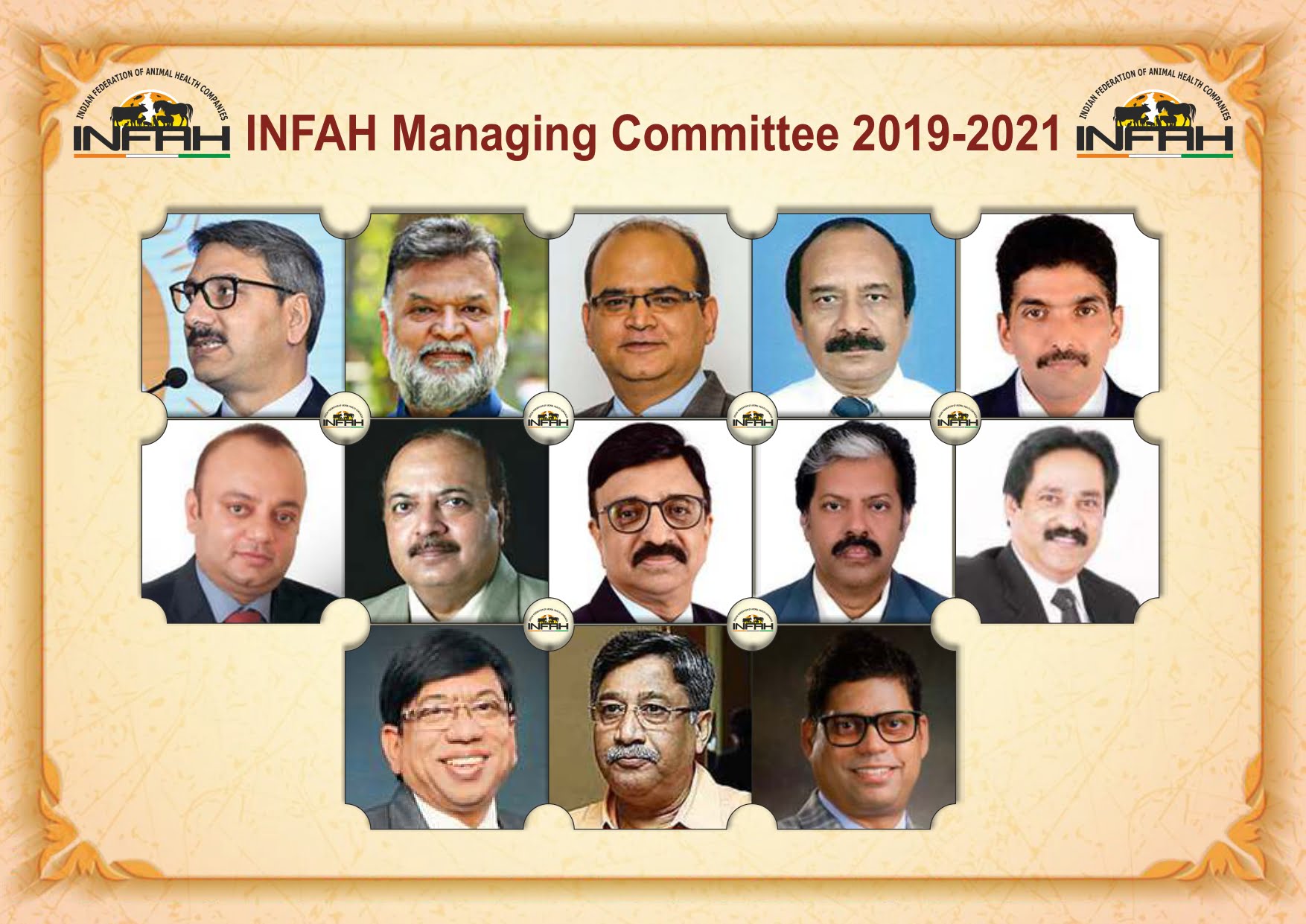 10th Year Commemorative talk on Role of Government, Animal Health Industry & other stakeholders for making Healthier Animals & Healthier India was organized. INFAH members had the unique opportunity of listening and interacting with Regulators, policy makers & dignitaries viz. Dr Praveen Malik, Animal Husbandry Commissioner, MoFAHD; Dr. Bhupendra Nath Tripathi, Deputy Director General (Animal Science) ICAR; Mr. Upamanyu Basu, Joint Secretary (Livestock Health), MoFAHD; Dr Rajeev Singh Raghuvanshi, Secretary Cum Scientific Advisor, Indian Pharmacopeia Commission; Dr. S. P. Shani, Deputy Drug Controller & Head Veterinary Cell ,CDSCO; Dr. Ashok Kumar Assistant Director General (Animal Health ) ICAR; Dr. Amit Sharma, Director (Imports ), FSSAI; Dr. Rajesh Verma Assistant Drug Controller CDSCO &and Mr. Carel De Sarvaas (Executive Director, HealthForAnimals) Mr. Anurag Agrawal, Vice President- INFAH, shared his views on role of Ayurveda in Indian animal health care sector.
Three distinguished stalwarts Dr M.L. Kanchan, Dr S N Singh and Mr Bharat Tandon were conferred with INFAH Award for their contribution towards Animal Health Industry. On 10th Year anniversary special award was presented to Dr. Romila Iyer for bringing the diversity in the Animal Health sector and making significant contribution. The award ceremony was conducted by Dr B.P Manjunatha and Dr Tanweer Alam.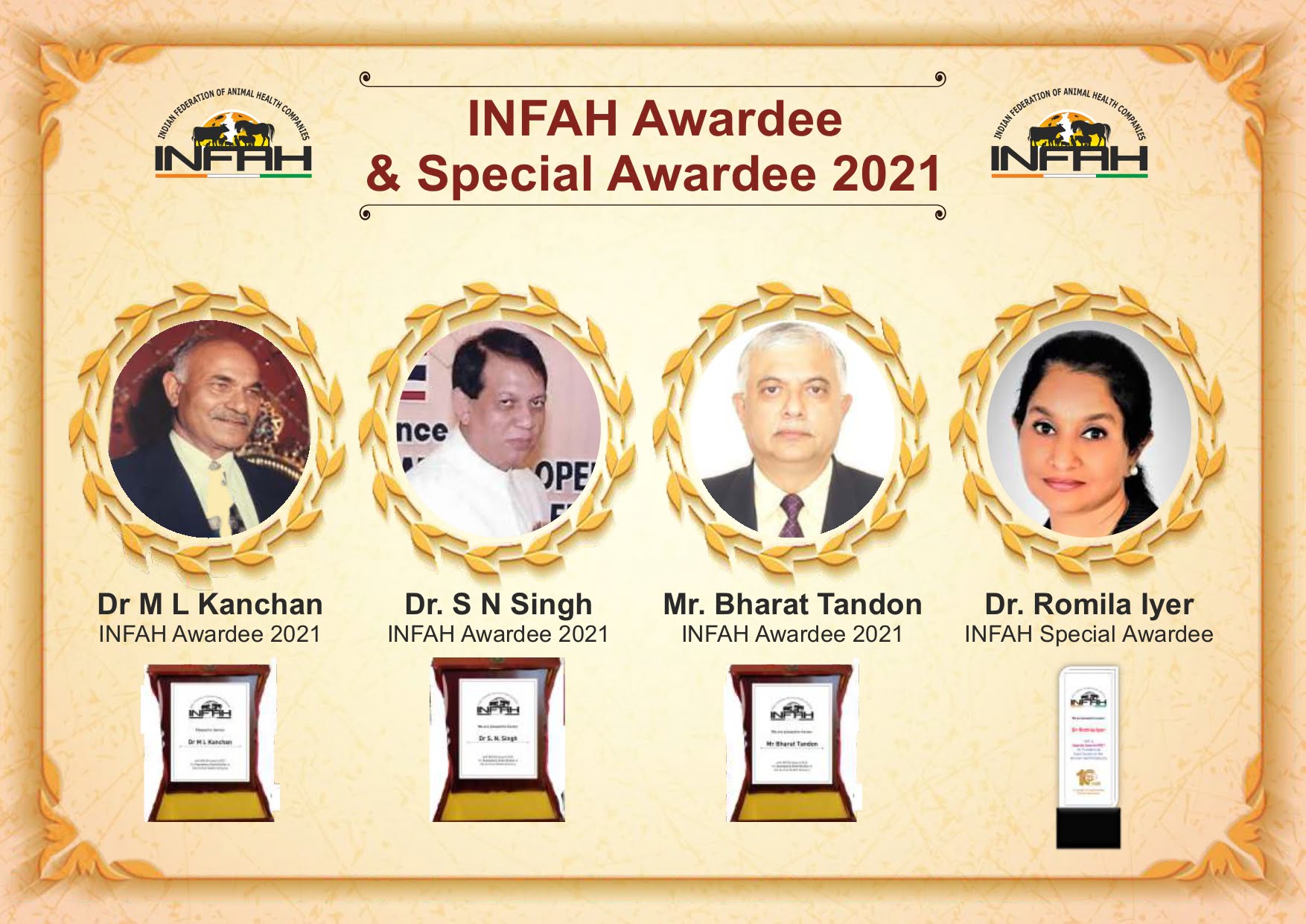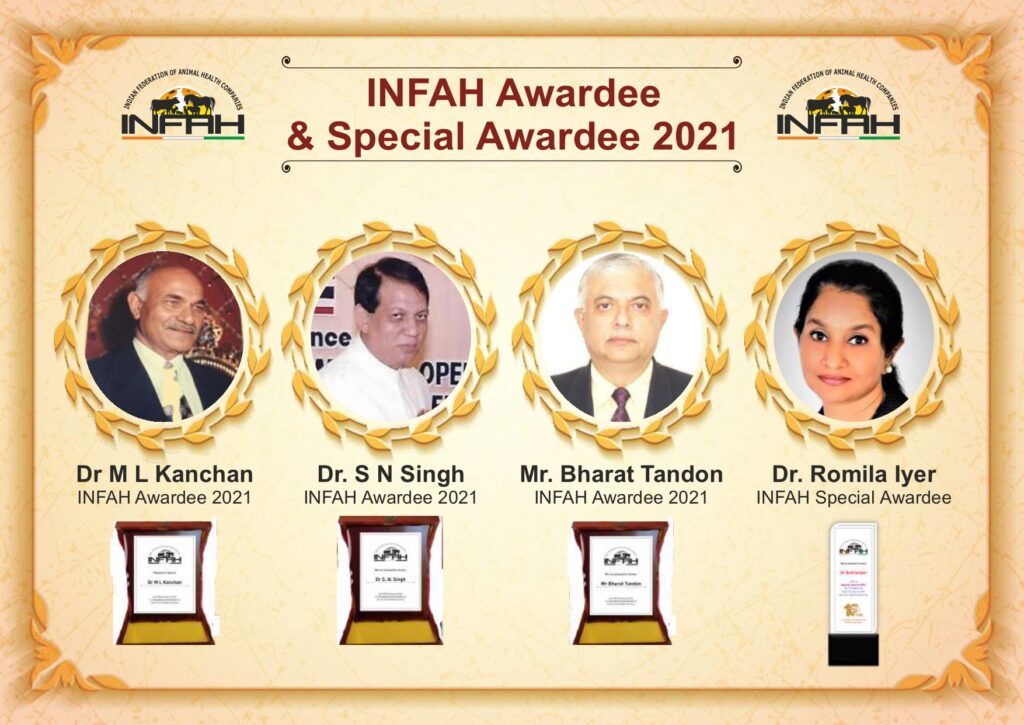 Day 2 of AGM
Dr Shirish Nigam Resident Secretary New Delhi, delivered welcome note, President address was given by Mr Vijay Teng. Dr. P.G. Phalke Treasurer conducted the AGM proceedings. Dr. Vijay Makhija, General Secretary, INFAH presented the full year activity report for 2020-2021.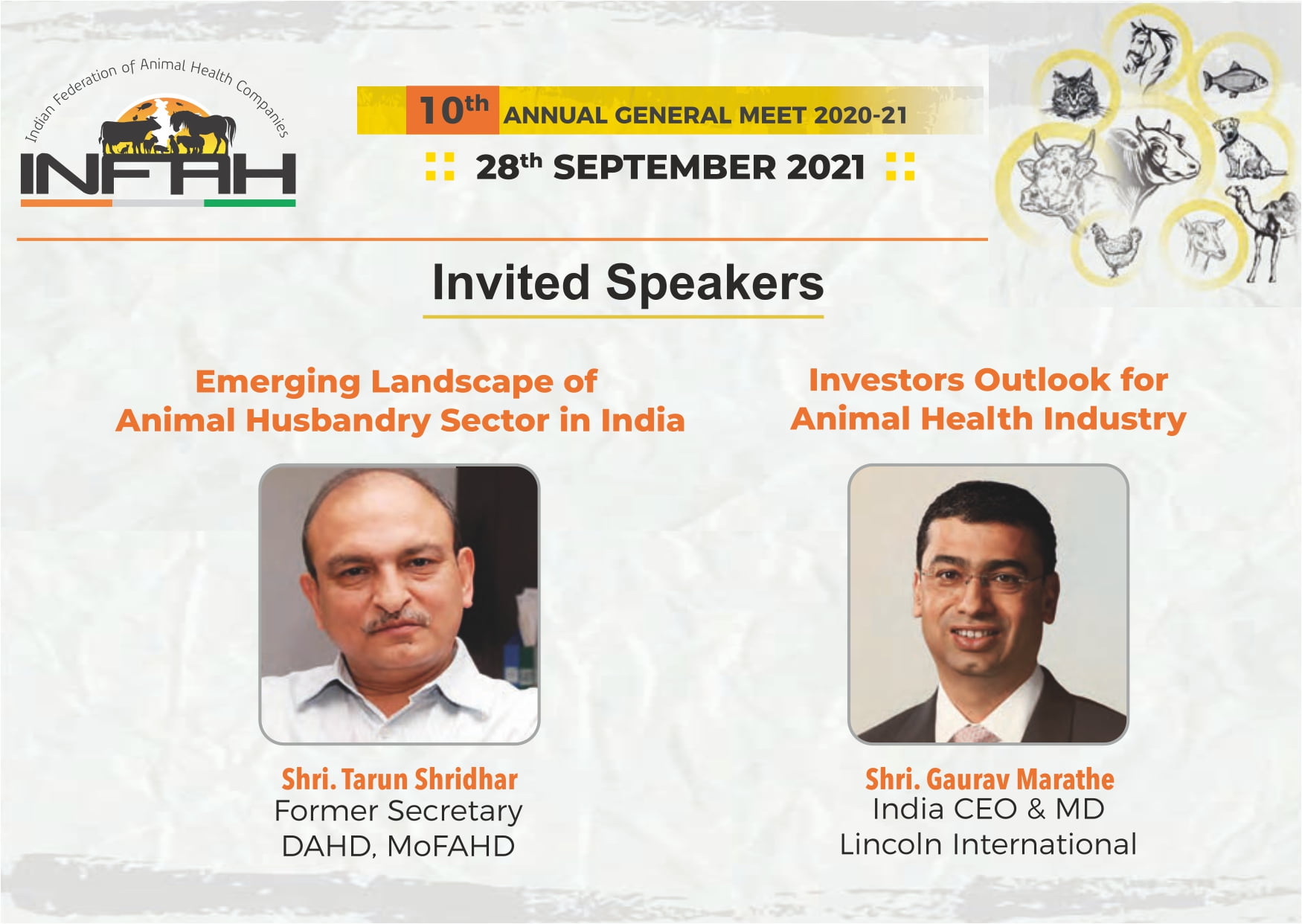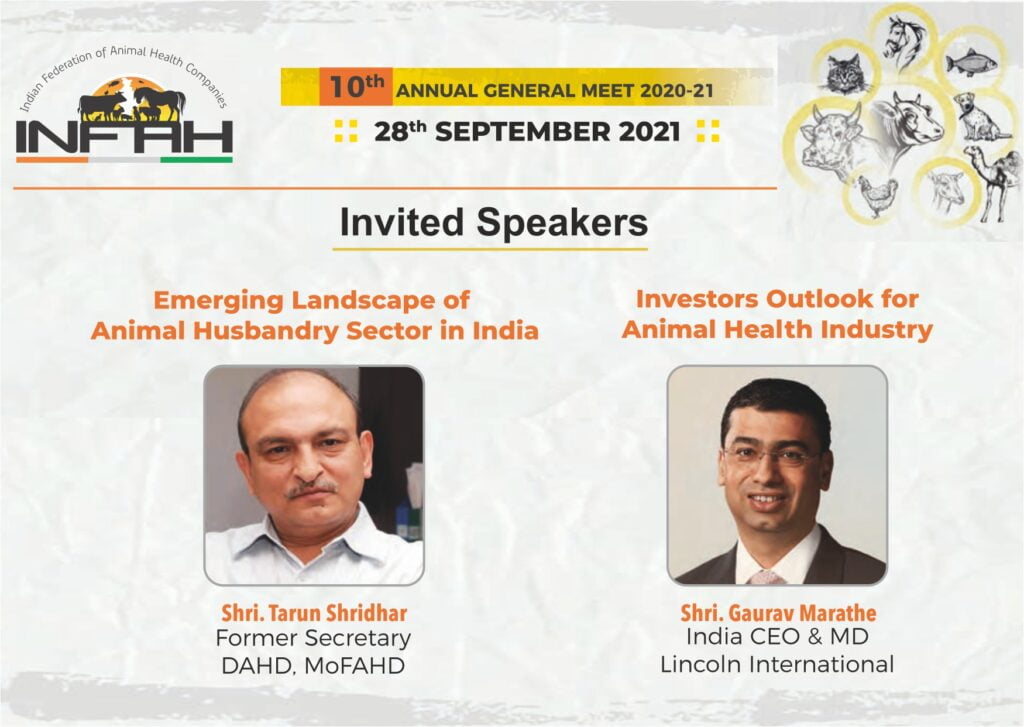 Mr Tarun Shridhar (Former Secretary, MoFDHD) delivered talk on "Emerging Landscape of India's Animal Husbandry sector" and Mr Gaurav Marathe (CEO India, Managing Director Lincoln International Advisors Private Limited) presented on "Investor Outlook for Animal Health Industry.
INFAH's Founder Members – Dr Asim Banerjee, Mr Satish Pasrija, Dr Arun Atrey, Dr D K Dey, Mr. Vijay Teng, Dr. Sandeep Karkhanis & Dr P G Phalke, Managing Committee, Subcommittees, INFAH Connect Team, INFAH Support Team and INFAH office team were felicitated at the AGM for their valuable contribution over the years and for successfully conducting the 10th AGM. Industry associations AAHA, CLFMA, IAAVR, IPEMA, PFI participated in this event and were also felicitated for the valuable support. New Members were welcomed and presented the Membership Certificate. The award ceremony was conducted by Mr Anurag Agarwal and Dr Jeetendra Verma.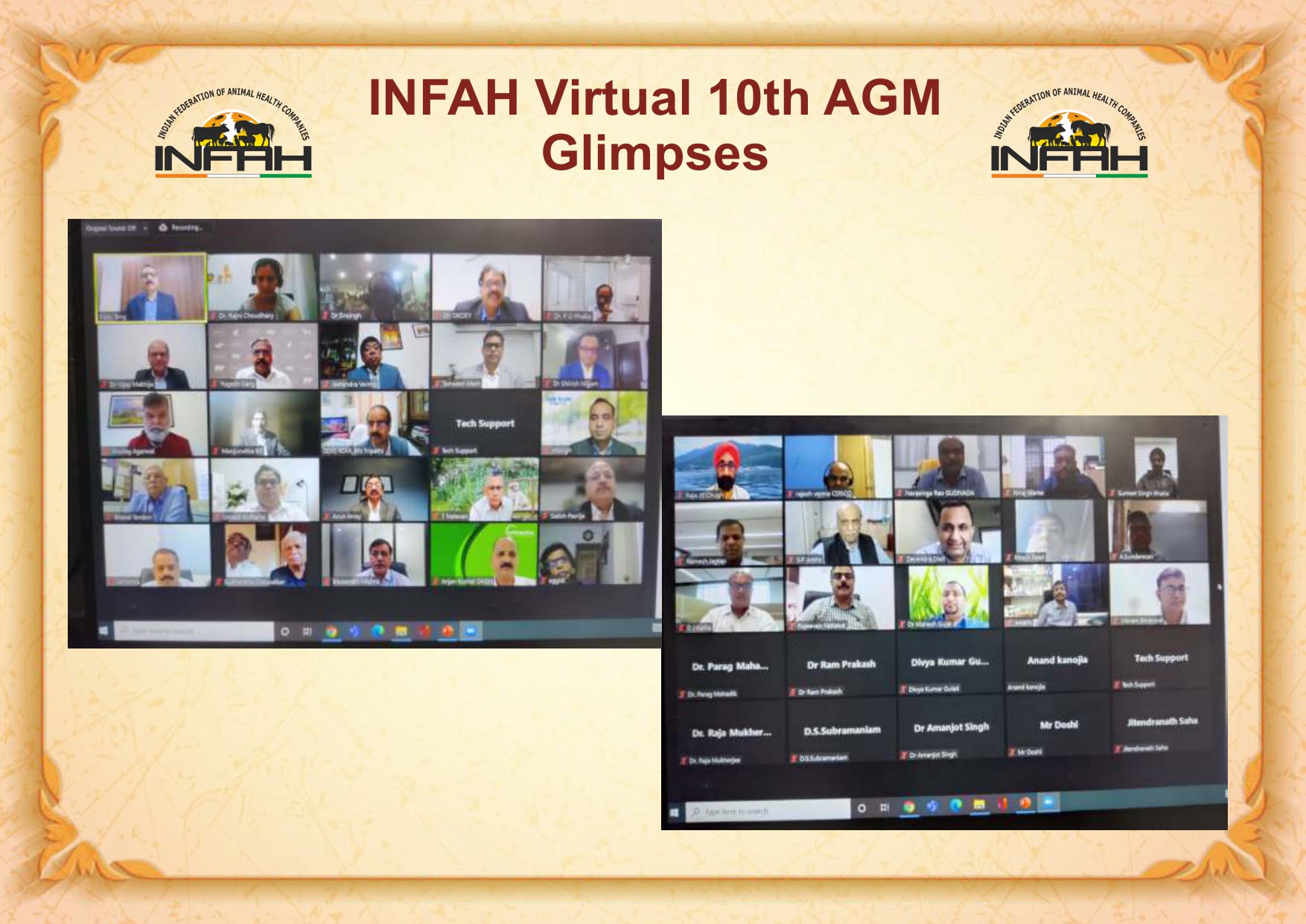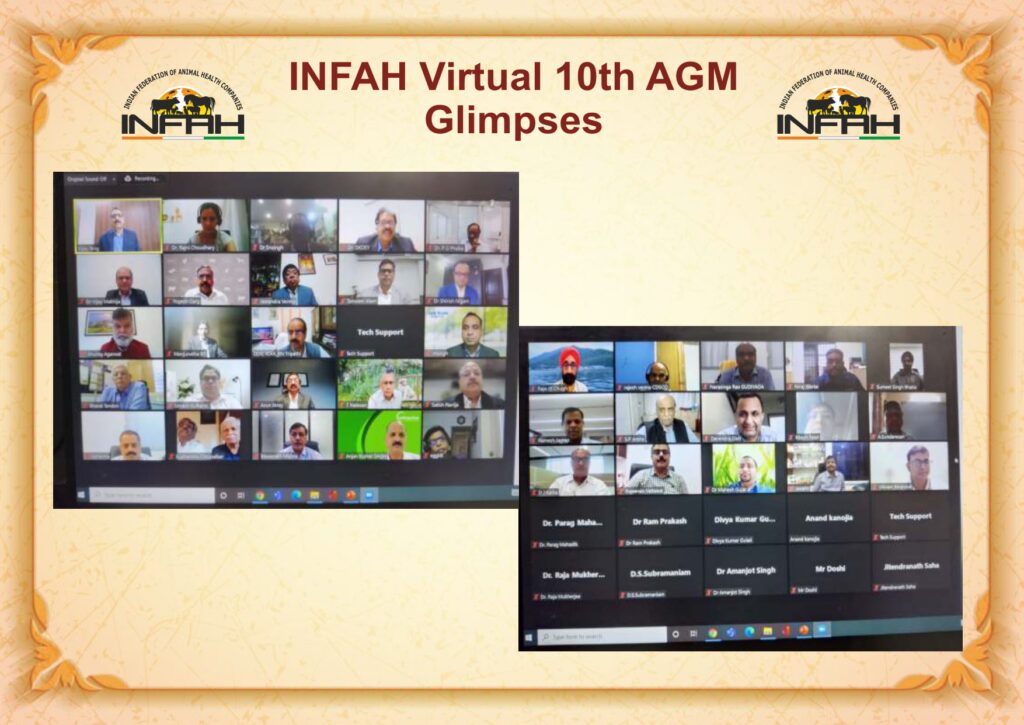 Dr. B P Manjunath (MC member) proposed the vote of thanks. AGM concluded on a very positive note with a resolve to continue the contribution of INFAH towards betterment of the Industry and Society.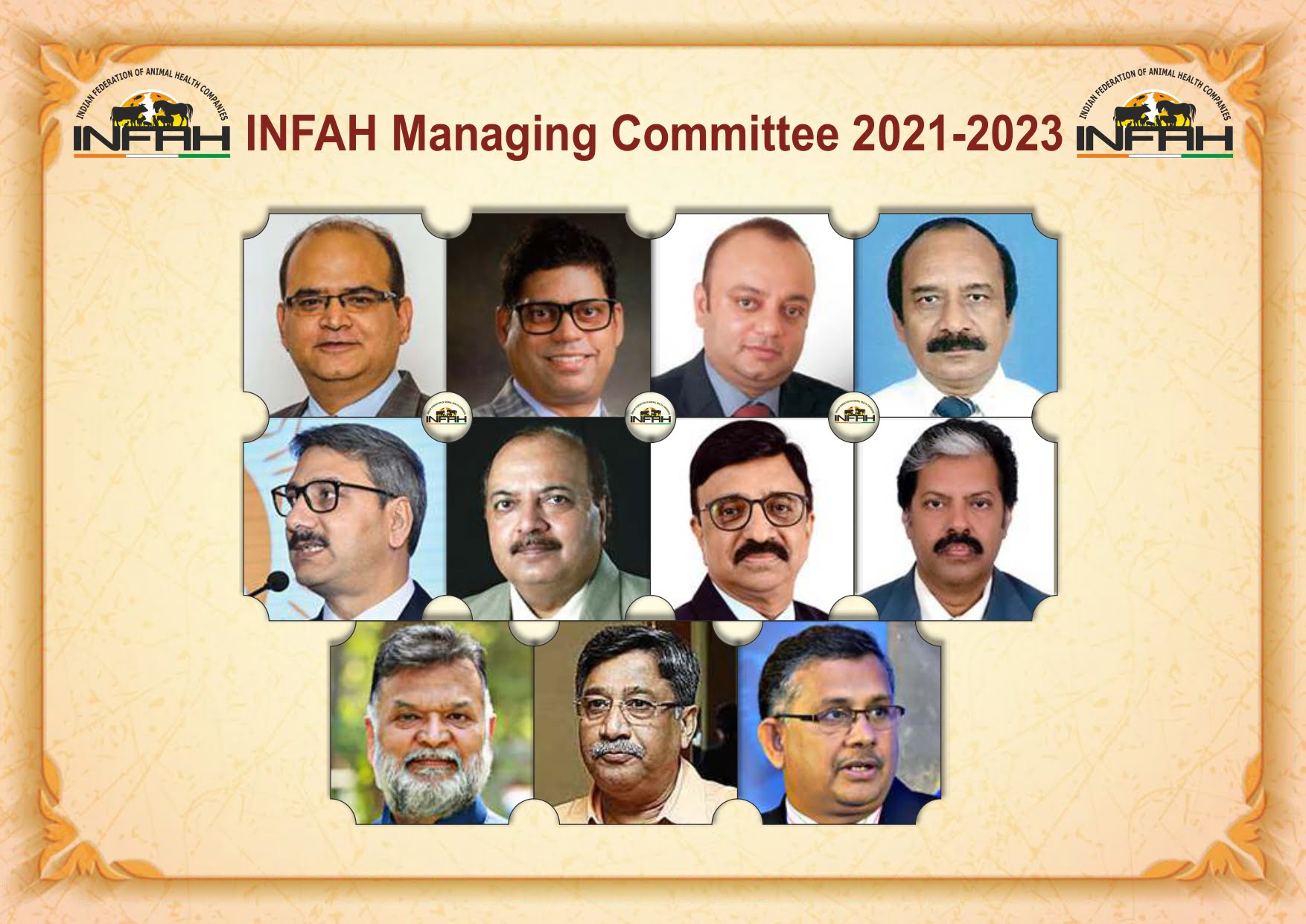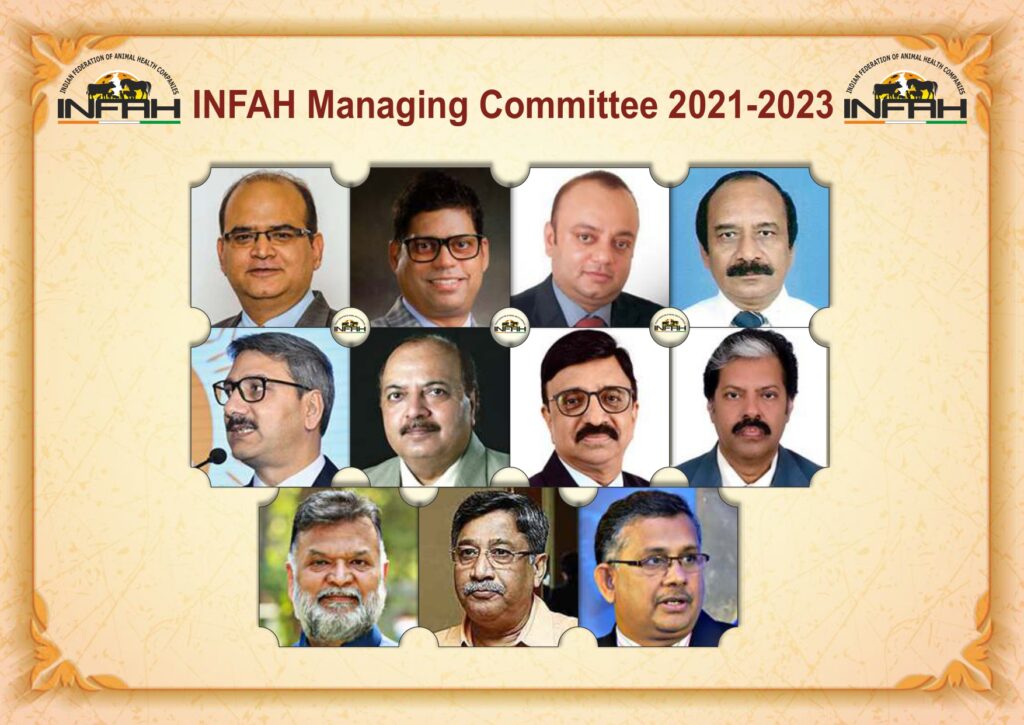 The New Managing Committee is as under:
1) Dr. Vijay Makhija (President)
2) Dr. Tanweer Alam (Vice President)
3) Dr. Shirish Nigam (General Secretary)
4) Dr. P.G. Phalke (Treasurer)
Executive Members
5) Mr Vijay Teng, Immediate Past President
6) Dr D.K. Dey, Past President
7) Dr Arun Atrey, Past President
8) Mr Satish Pasrija, Past President
9) Mr Anurag Agarwal
10) Mr Gautam Chatterjee
11) Mr Natesan