News
ONLINE DISCUSSION FORUM (ODF)–ON TRENDS IN POULTRY HEALTH, SEASON-2 ORGANISED BY CPDO&TI IN ASSOCIATION WITH INFAH, ON 16 September 2021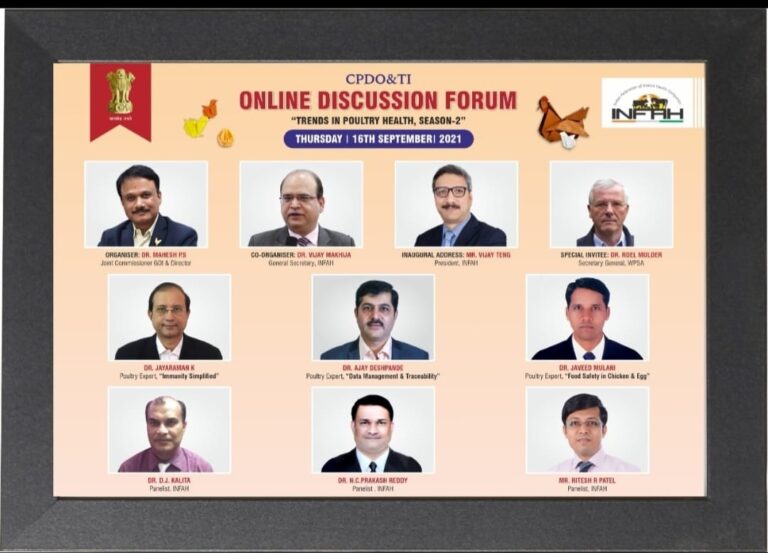 Central Poultry Development Organization & Training Institute under Government of India, Ministry of Fisheries, Animal Husbandry & Dairying, a premier Institute located at Hessarghatta, Bengaluru organized a one day online Discussion forum – on TRENDS IN POULTRY HEALTH, SEASON-2 ORGANISED BY CPDO&TI in association with Indian Federation of Animal Health Companies, on 16TH September , 2021.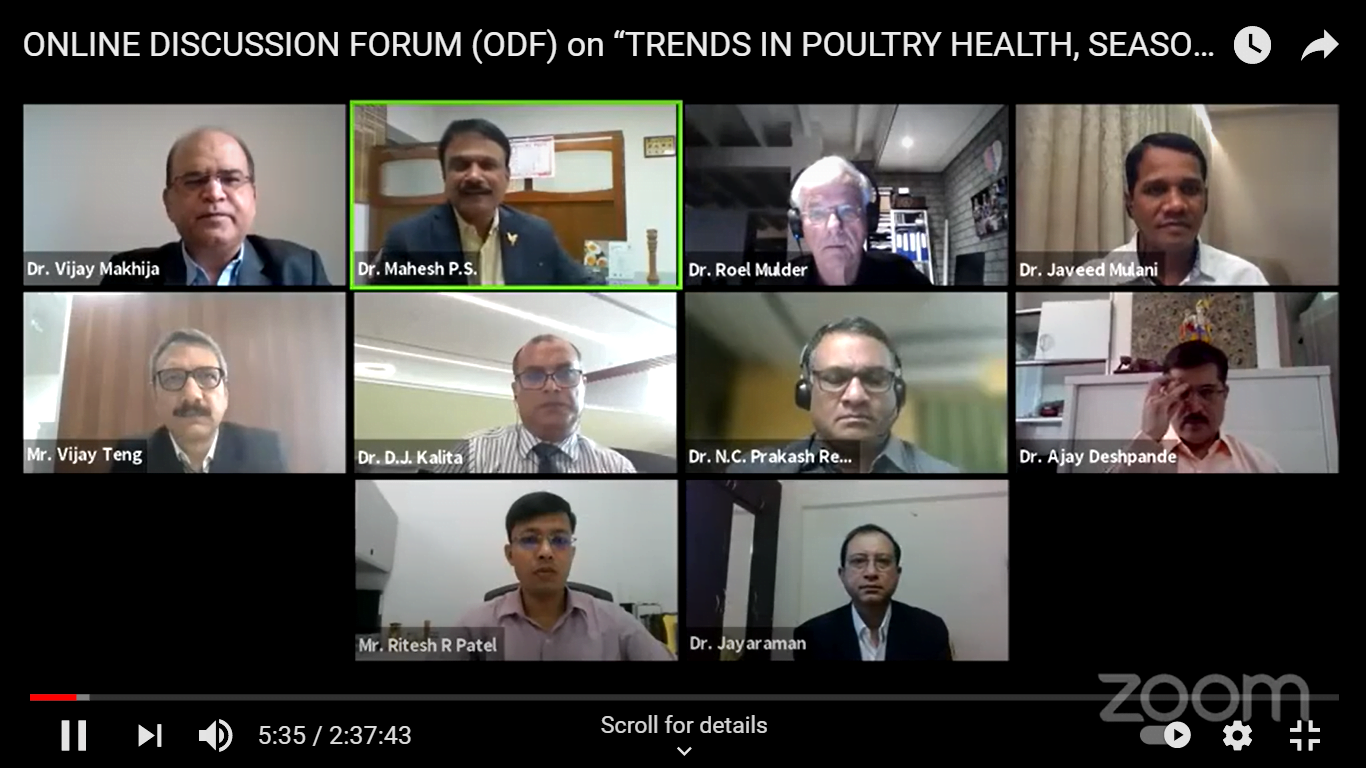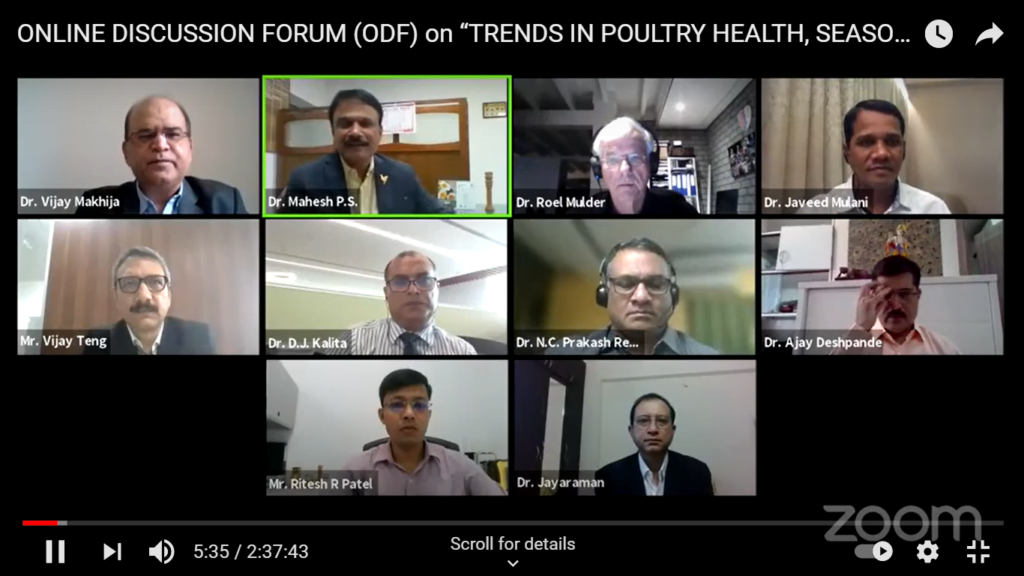 Poultry sector in India is a techno-commercial sector with contribution of nearly 1.5 lakh crores to the GNP with about 6 million people being employed directly or indirectly. Poultry Farming Practices in India are one of the best in the world. The Science adopted in Genetics, Nutrition, Management and Disease prevention are one among the best in class matching Global Standards. Presently it is estimated that 4.5 billion broiler population, 250 – 300 million layers and about 3.5 to 4.0 crore broiler breeders are being reared in India. The health specialists have achieved huge task in disease prevention and health management in the country. However, poultry health is a dynamic, ever evolving entity among poultry farming. It is always required to get abreast with the latest knowledge and tips for poultry health management. Hence, this discussion forum is envisaged to outline the present trends in poultry health. Since poultry health is a vast subject, it has been envisaged to conduct in series wise as Season-1, followed by many.
This event was organized in association with Indian Federation of Animal Health Companies (INFAH) under the leadership of Mr. Vijay Teng, President and Dr. Vijay Makhija, General Secretary along with poultry expert members of INFAH.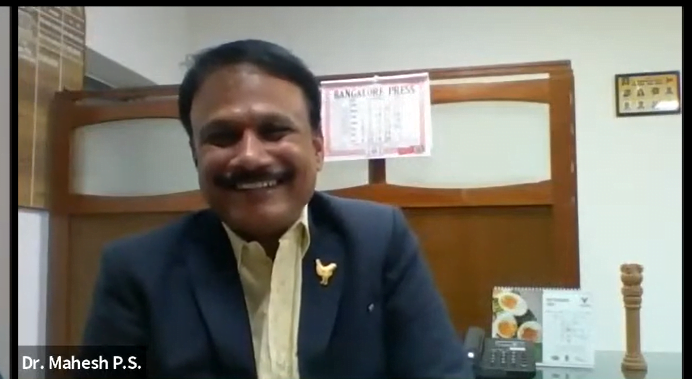 The Online Discussion Forum started sharp at 10.30 am on 16th September 2021 by opening remarks from Dr. Mahesh P.S., Joint Commissioner & Director, CPDO&TI. He briefed about the legacy of CPDO&TI being an organization built over six decades (1960). Dr. Mahesh appraise the delegates that speaker have joined from different parts of country & overseas as well. The online discussion forum is streamed on Zoom link & also on YouTube channel of CPDO&TI. The topics of the Online Discussion Forum focused on the Immunity, Data management & Traceability, Food Safety, One Health approach to tackle AMR.
Further he elaborated that digitalization, consumerism, focus on safe food and health would create more demand for protein foods like eggs and chicken in India with a priority preference for safe and certified traceable products. Hence, he advised to adopt latest software's for data collections in various poultry operations.
Dr. Vijay Makhija, General Secretary, INFAH, made a presentation from Mumbai, Maharashtra digitally about activities of the Organization which is formed in 2012. At present, it has 52 members representing more than 85 percent of Animal Health Markets turnover in India. INFAH is celebrating its 10th anniversary this year & is one of the largest animal health organization across the globe. He mentioned about INFAH's moto being "Healthy Animals, Healthier India". INFAH is invited in all major decision making pertain to Animal health sector and is considered as a voice of Industry. INFAH has focused approach via sub committees on various aspects of health issues related to scientific research in veterinary field. This organization has set out guidelines and working in liaison with government in various committees. This online discussion forum is organized by members of Biologicals & Biosecurity sub-committee of INFAH.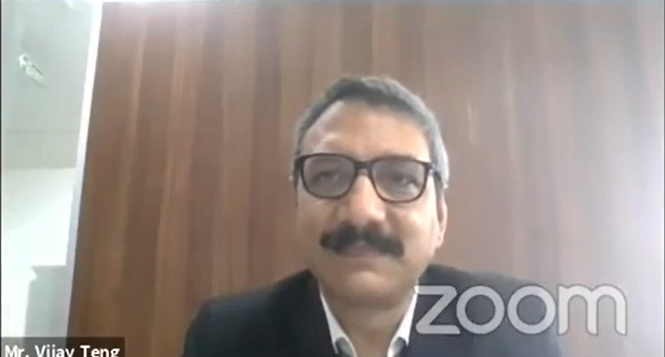 Mr. Vijay Teng, President, INFAH in his inaugural address through online from Ahmedabad, Gujarat, appreciated the efforts of CPDO&TI organization under Government of India for conducting such innovative programmes through digital gateway. He elaborated on changing preferences in food habits with more focus on protein foods like egg and chicken recipes. He assured to extend full cooperation and support to CPDO&TI for conducting many more seasons under Poultry Health series.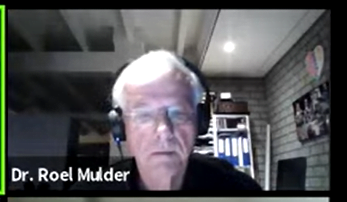 Dr. Roel Mulder Secretary General of World Poultry Science Association (WPSA) joined online from Netherlands. He thanked INFAH for inviting him to this online discussion forum. He shared that WPSA is the "The leading global network for poultry science and technology". Its motto is Working together to feed the world. The WPSA is a long established (est. 1912) and unique organization that strives to advance knowledge and understanding of all aspects of poultry science and the poultry industry. Its mission is to facilitate sustainable and socially equittable poultry production worldwide by encouraging and liaising research scientists, educators and those working in the many sectors of the industry. With a large and truly international membership of 8000, the organization's objectives are promoted in various ways. These range from high-profile international congresses and conferences to the many diverse meetings organized by WPSA national branches (of which there are about 80), two federations of branches, in Europe and in the Asia Pacific region and two networks, the African Poultry network and the Mediterranean Poultry network. The World's Poultry Science Journal, the official organ of the WPSA, has developed a highly international reputation for its content, which covers virtually all aspects of production and science in the poultry industry. He shared Co-operation with other associations and organizations & is looking forward to explore collabaration with INFAH.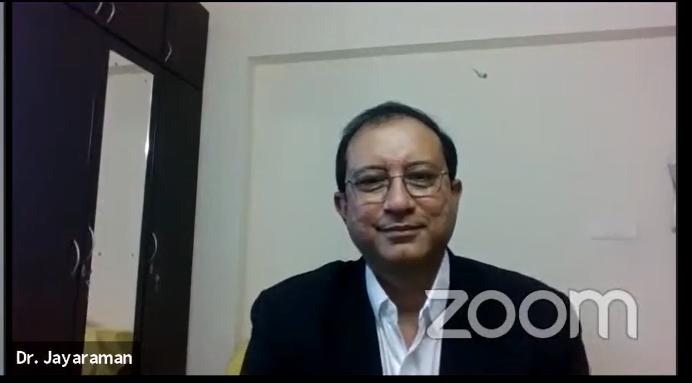 Dr. Jayaraman K Poultry Expert joined from Coimbatore spoke on the topic "Immunity Simplified". In his presentation he elaborated in detail about the concept of Immunity development post vaccination. He emphasized the significance of strong gut health. In addition he shared practical experiences with regards to basics of immunity, how to device optimal vaccination schedule ,understanding vaccination failures & tips for better immunization . His key take home messages were , Understand basics to device good schedule and understand failures , Combined approach of correct spacing , combination of live, killed and supported by immune modulator gives good result ,latest technology vaccines are good but world of caution ,use with judicial schedule and health status ,take note of variants and emerging disease , don't plan for best immunity , but plan for optimal immunity . It come with cost. His detailed presentation can be viewed through CPDO&TI YouTube channel: CPDO&TI TRAINING.
Dr. Ajay Deshpande, Poultry Entrepreneur presented online from Pune, Maharashtra about the topic Data Management & traceability. In his address he narrated simple practical elements of importance of data management and traceability for efficiency enhancement. His key take home messages were : Poultry industry over the years has evolved into a modern state, the traditional farming systems without proper data keeping, data analysis and traceability doesn't exist now a days, the organization can't grow without having its data system in place, Livestock farmers, feed mills, slaughterhouses, hatcheries and all departments of a poultry company are becoming more and more adept at capturing data, True value is generated from the information that can be obtained from the analysis of these data. When data is in its place, the quality of your decisions improve drastically. By nature, people have different ways of processing information, but a centralized system ensures a framework to plan, organize and delegate, If your organization is looking to stay ahead of the curve, it requires a good data maintenance system in place.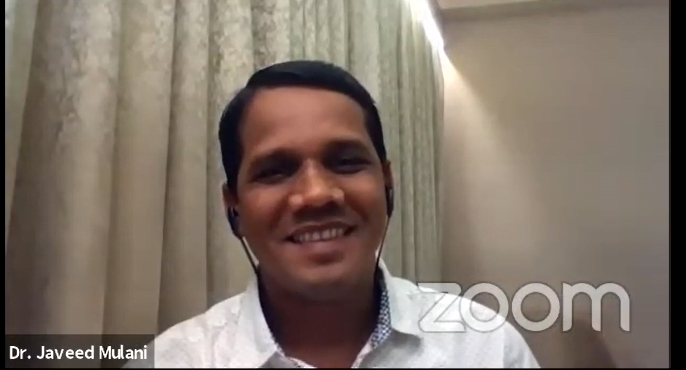 Dr. Javeed Mulani , working with OSI Vista Processed Foods Pvt. Ltd. joined online from Coimbatore Tamandu . He addressed on the topic "Food Safety in Chicken Meat Production" & gave overview of Food Safety in Indian Poultry, Food Safety Hazards in Chicken Meat, Transparency Requirement in Poultry Supply Chain, Food Safety Key Considerations at Broiler Farm , Critical to Quality and Safety Points at Poultry Processing Plan & Role of Government Agency. His key take away messages were as follows:
• Innovative Farm Best Practices: follow new innovative best practices to ensure food safety at each stage of Poultry supply chain and make sustainable poultry farming.
• Modern Poultry Processing Plant: Growing demand of safe and good quality chicken meat processed at HACCP base modern poultry processing plant.
• Traceability: It increase transparency in poultry supply chain and increase confidence about safety of chicken meat.
• Guideline for Wet Market: Formalize regulation/guideline to improve GMP practices in wet market which contribute >90% in Indian poultry Industry.
• International std and FSSAI regulation: Follow stringent international standards & FSSAI food safety regulation to lead in world.
• Consumer awareness: Increase awareness about safe and good quality of chicken meat and increase the consumption of chicken meat in country.
Question and Answers with the speakers was conducted by Dr. Vijay Makhija. The details can be accessed through Youtube / Facebook link of CPDO&TI and LinkedIn of INFAH.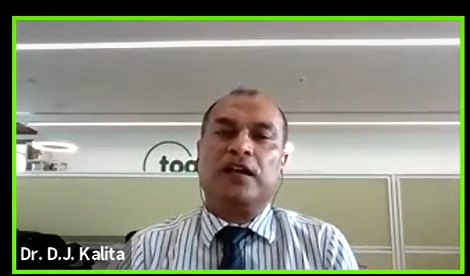 The final session of the day was Panel Discussion with three regulatory & technical personnel's namely, Dr. D.J. Kalita, Dr N. C . Prakash Reddy and Mr. Ritesh Patel of INFAH Biological & Biosecurity sub-committee.
They shared insights on One Health approach to tackle AMR, role of vaccines, Biosecurity & Diagnostic to address AMR & key initiatives of INFAH with regards to addressing the issues of AMR. Elements of National Action Plan on AMR were discussed in brief. INFAH promotes judicious & prudent use of antimicrobials & impart continuous education on following the withdrawal periods.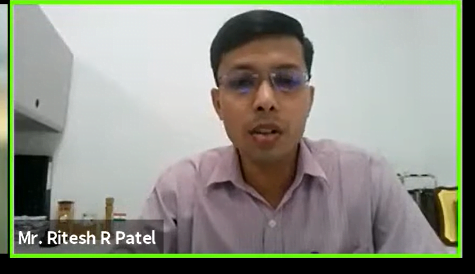 Dr. Mahesh P.S., Joint Commissioner & Director, CPDO&TI mentioned that Team CPDO&TI would conduct many such programmes in the coming months. The programme was conducted live on zoom, YouTube channel of CPDO&TI along with recordings posted on Facebook: cpdoti.Bangalore, on youtube: CPDO&TI TRAINING and LinkedIn of INFAH. All are requested to download "Latest App of CPDO&TI" from Google Playstore by typing "CPDO&TI" for Android Version.
Sri. S.M. Anwar Basha, Senior faculty of CPDO&TI executed the job of Admin of conducting Discussion Forum very effectively and proposed vote of thanks for the delegates. The other team members of CPDO&TI worked hard in making this programme successful. Team CPDO&TI thank all the viewers participated through Zoom and Youtube. It is also acknowledged that Print Media extends great support by wide coverage of all online events of CPDO&TI across the country.
Click link for viewing full recording of the event https://youtu.be/FKQXv4pNm9g