News
KARNATAKA POULTRY FARMERS & BREEDERS ASSOCIATION (KPFBA) ABHIVANDANAM PROGRAMME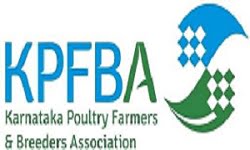 [smartslider3 slider="11″]
STATE-OF-THE-ART POULTRY DISEASE DIAGNOSTIC LAB SOON IN BENGALURU
A state-of-the-art Poultry Disease Diagnostic Laboratory and R&D Centre is coming up on the campus of the Karnataka Veterinary, Animal and Fisheries Sciences University (KVAFSU) here in Bengaluru. The Centre will be a boon to Karnataka and also the country as it will be involved in pioneering research in the field of poultry sciences, according to Dr. B.Sushanth Rai, President of the Karnataka Poultry Farmers & Breeders Association (KPFBA). Announcing this at 'Abhivandanam' (felicitation) programme of key contributors to the poultry sector, Dr. Sushanth Rai said the KVAFSU had allotted a building on the campus and extended all support to set up the Centre which is going to be a historic milestone in the journey of KPFBA. The Vice Chancellor of KVAFSU, Dr. H.D.Narayanaswamy said that the R&D Centre will enormously help the poultry sector in understanding and dealing with various disease outbreaks. The President acknowledged the efforts of Dr. G.B.Puttanaiah; Dr. Narayanswamy,Vice Chancellor, KVAFSU; Dr.Yathiraj, Member of Board, KVAFSU and Dr. K.C Veeranna, Registrar, KVAFSU in getting the Centre.
UNFOUNDED RUMOURS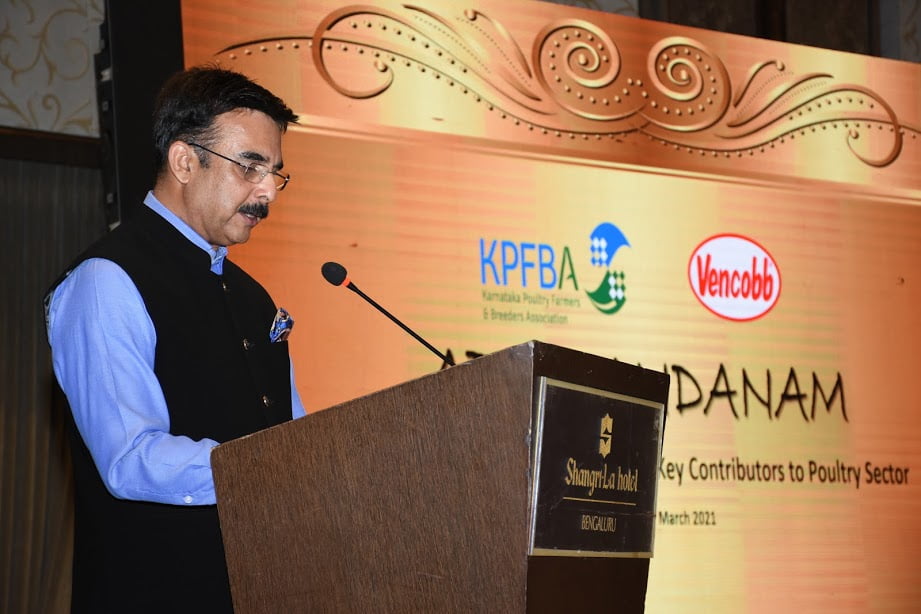 Dr. Sushanth Rai recalled how rumours regarding chicken being disease carriers spread faster than the Corona virus, resulting in the collapse of the broiler market like never before. The KPFBA and other associations in the country had to run from pillar to post not only to quell the 'unfounded rumours' but also restore confidence in the market and this was possible in Karnataka as several government officials supported the sector. The KPFBA felicitated nine distinguished personalities of the poultry sector in a programme called 'Abhivandanam', organised at Hotel Shangri-La, Bengaluru on March 19. The dignitaries who were honoured included: Sri. Govindaraju,MLC, Karnataka Legislative Council; Dr.Narayanaswamy, Vice Chancellor, KVAFSU; Prof.Dr. Yathiraj, Member of Board, KVAFSU; Dr.Veerannaa, Registrar, KVAFSU; Dr. B.N Shivaram, Director, Dept. of AH & VS; Sri. D.K Kantaraju, Chairman, Karnataka Cooperative Poultry Federation (KCPF); Dr.Shivarudhrappa, K.H. Managing Director, KCPF; Mr. M.R.I Magdum, General Manager, Venkateswara Hatcheries Pvt Ltd. and Dr. G.B Puttannaiah, Chairman, Tech Committee, KPFBA.
Dr.Sushanth Rai thanked the timely cooperation and coordination of many officials such as, Dr.Shivarudrappa; Dr. M.T Manjunath, the then Director, Dept of Animal Husbandry & Veterinary Services; Mr. Ibrahim, IAS, Principal Secretary; Dr. O.P Chowdry, IAS, Joint Secretary, Govt of India; Pawan Kumar Agarwal, IAS, Secretary, Govt of India; and Smt. Vandita Sharma IAS – Development Commissioner. He also acknowledged the Government of Karnataka's initiative for releasing a pro-poultry advertisement in all the major dailies to remove misconceptions about chicken. He also appreciated Mr. Inayath Ulla Khan, Executive Secretary for playing active rule in delivering his duties specially during and post lockdown.
The poultry sector, he said, was fortunate to have representation in the Karnataka Legislature as well as in the Parliament. The KPFBA congratulated Mr. Ranjit Reddy and Mr. Chinnaraju, both MPs and Mr. Govindaraju, MLC.
POULTRY IS FARMING ACTIVITY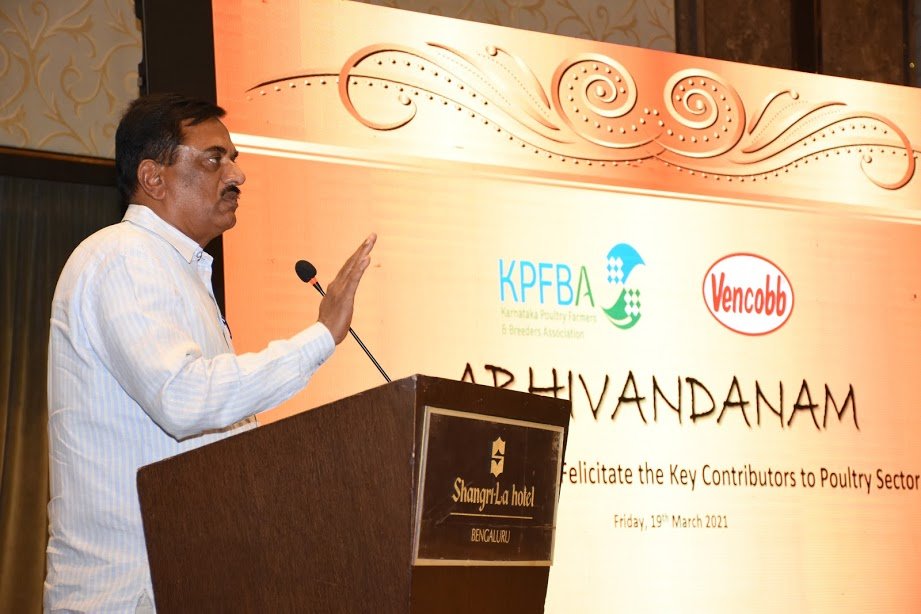 Mr. Govindaraju said poultry should be treated as a farming activity and not industry. He said in Karnataka there may be nearly 30,000 poultry farmers and a couple could raise 10,000 birds earning Rs. 60,000 per month.
INDIA HAS 25 VETERINARY COLLEGES, BUT LAGS BEHIND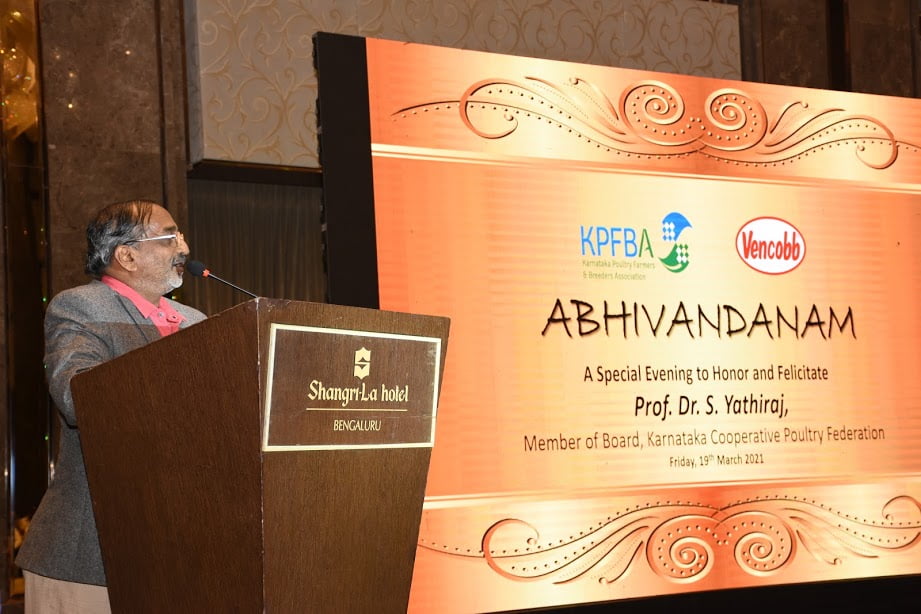 Prof.Dr. S. Yathiraj, Member of Board, KVAFSU, and former dean of KVAFSU said there was need for introspection within the sector as India is far behind many countries in the world in terms of poultry growth. The US has about 25,000 poultry farmers and only 25 veterinary colleges but was in the second position, while India with 55 veterinary colleges and 12 veterinary universities and about 30,000 farmers in Karnataka alone was ranked way behind countries such as Argentina, Thailand etc. Poultry is the best source of protein and there is need to popularise it more and more.
SHORTAGE OF TRAINED MANPOWER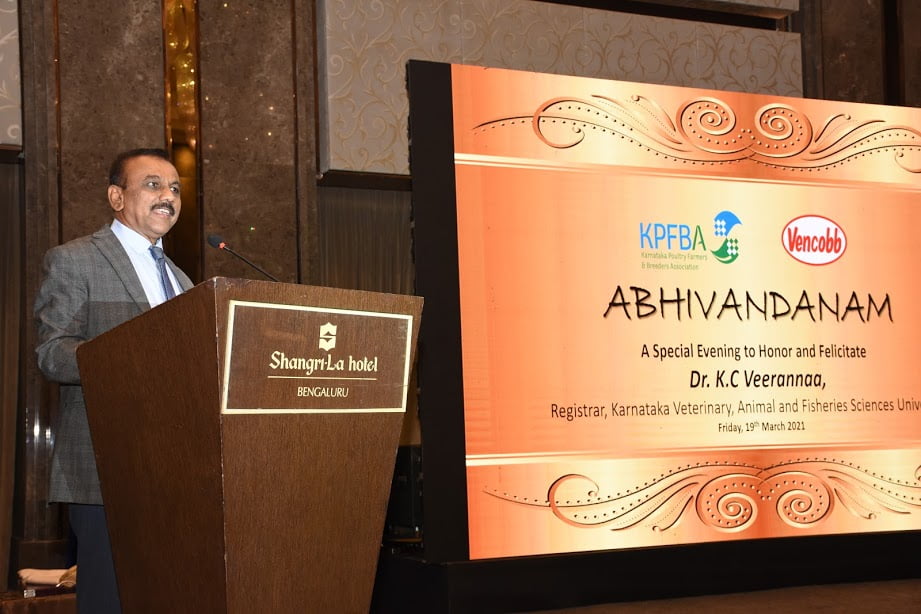 Dr.K.C Veerannaa, Registrar, KVAFSU said as there was shortage of trained manpower in the poultry sector there was need to expand diploma and certificate courses. Congratulating the KPFBA for mooting the lab, he hoped that it would help the small farmers.
NEED TO FOCUS ON MARKETING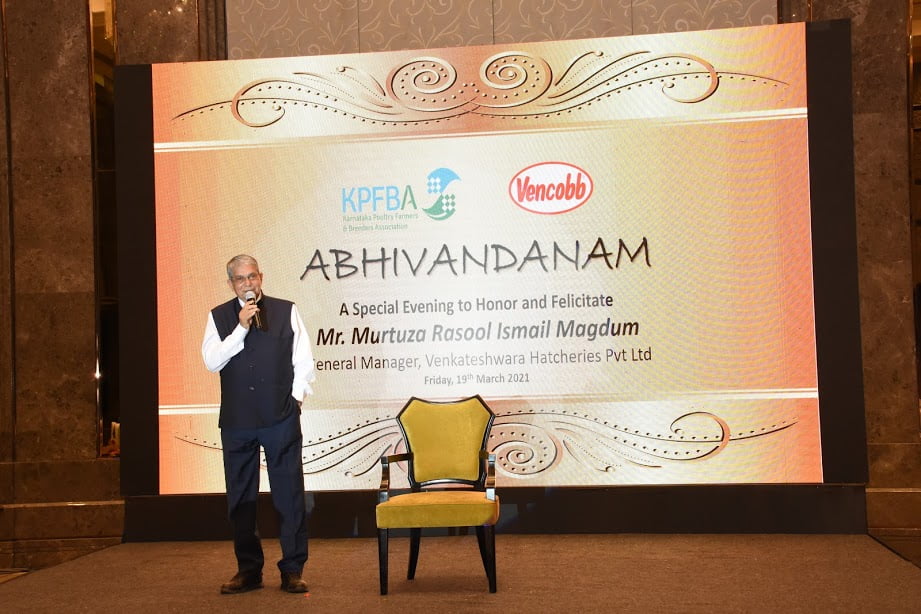 Mr. M.R.I Magdum, General Manager, VHPL, who is known as 'management guru' in the poultry sector recalled how the late B.V.Rao took risks and introduced many new methods of poultry management. He remembered 'how Rao sahib asked the VHPL team to experiment, innovate. Till 1982, there were no poultry birds in the cages. We introduced it and there were positive results as the quality of chicks was good. In 1986 for the first time we introduced broiler parents in to the cages. The production reached a phenomenal 87 per cent and in the slats system it was around 78 per cent. The credit goes to Rao sahib who said unless we take risks, there is no growth. If we have to grow, we have to focus on marketing."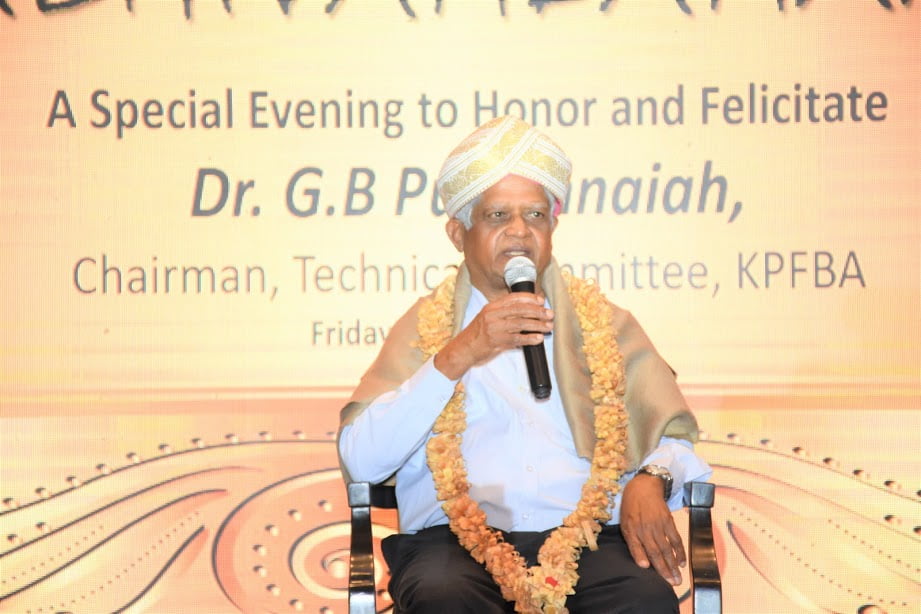 Dr. G.B Puttannaiah, Chairman of the Technical Committee of KPFBA for many years gave the background to how a decision was taken in just four meetings to set up a state-of-the-art poultry diagnostics laboratory in KVAFSU. He acknowledged the efforts of the Vice Chancellor, Dr. Narayanaswamy and Dr. Yathiraj and other other KVAFSU officials for understanding the needs of the sector and acting quickly upon it.
NATIONAL POULTRY REGISTER SOON
The Government of India is soon coming out with a National Poultry Register which will ensure authentic national documentation of valuable sovereign genetic resources. Documentation of indigenous breeds is expected to help in their sustainable use, improvement and preservation, according to Dr. P.S.Mahesh, Joint Commissioner, Government of India and Director of Central Poultry Development Organization and Training Institute.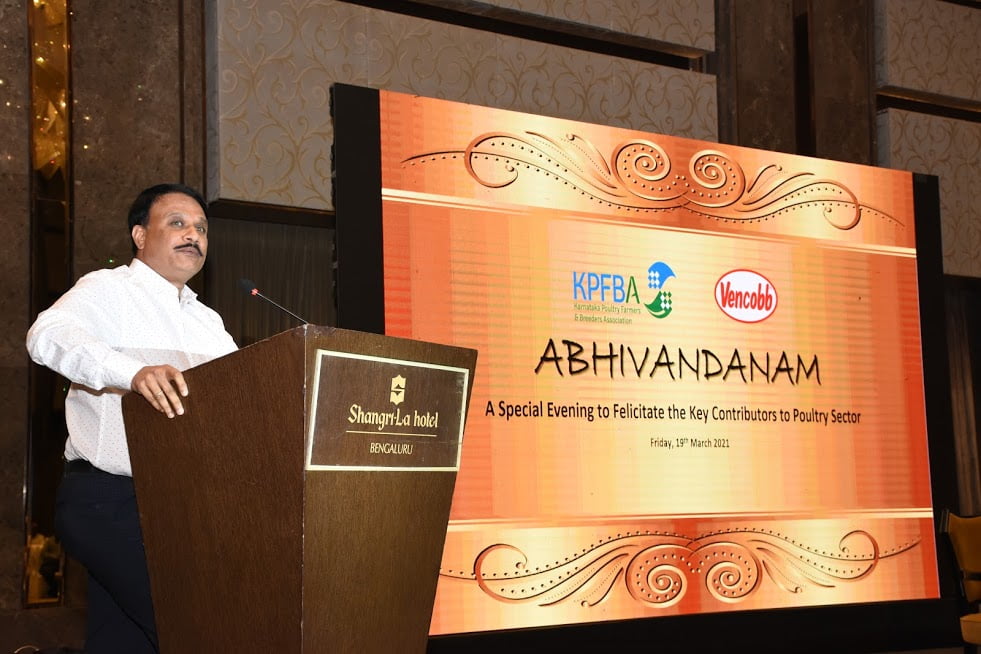 He was addressing the members of the Karnataka Poultry Farmers and Breeders Association (KPFBA) as part of the 'Abhivandanam' (felicitation) programme for key contributors to the poultry sector, here recently. Dr. Mahesh exhorted the members to help in the enumeration of the poultry which would commence soon. It will be designed similar to Arogya Setu app as to help in easy digital registration of poultry resources. The NPR is essential to have proper records of farmers and other players and poultry and provide necessary inputs for the organized growth of the sector, he said.
NATIONAL POULTRY BOARD ON THE ANVIL
Dr. Mahesh also mentioned that also on the anvil is setting up a National Board for Poultry similar to the Coffee Board or Tobacco Board to come up with strategies for the growth of the poultry sector. Presently, the focus is on supply management than on 'demand development' and cited the example of a poultry company which had used celebrity endorsements and it was making huge business post that. Poultry has the best nutrition and it was imperative to run campaigns such as 'Dawa math khao, anda khao' (don't eat medicine, eat eggs).
Many eminent poultry personalities, business leaders, scientific communities, government officials, academicians and other stake holders such as Dr.Devegowda, President, IVPI; Dr.Muniyellappa, Scientist, IAH &VB; , Dr. Byre Gowda, Director, IAH &VBl Dr.Raghavendra Bhat, Director, NIANP and many others graced the occasion.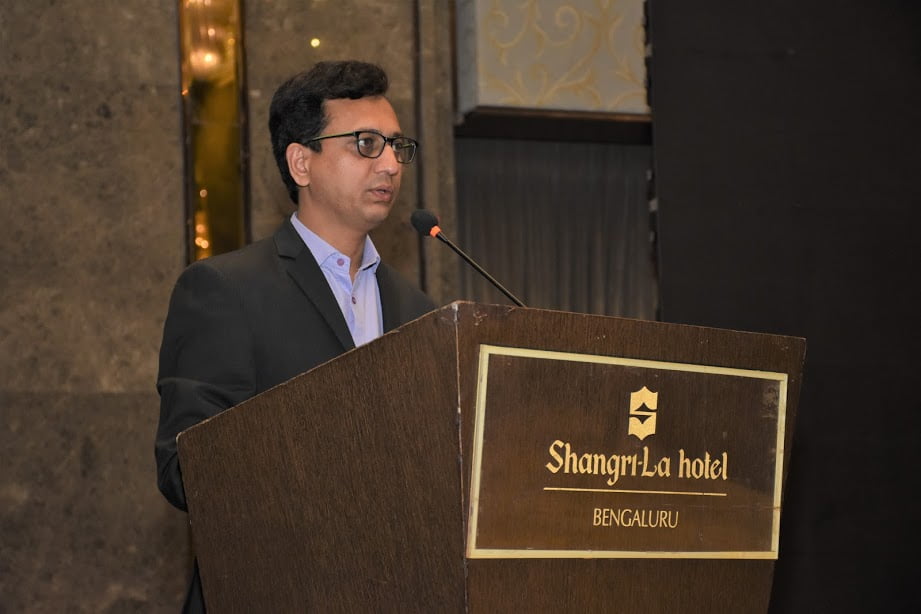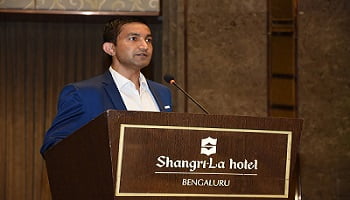 Dr. Anjan Goswami, General Secretary, KPFBA welcomed the gathering while Mr. Inayath Ulla Khan, Executive Secretary, proposed a vote of thanks. The programme wrapped up with mimicry artist Dayanand entertaining the audience.