News
ONLINE DISCUSSION FORUM (ODF)–OF PAN INDIA POULTRY TRAINING / EDUCATION FACILITIES ORGANISED BY CPDO&TI, BENGALURU ON 8TH JANUARY, 2021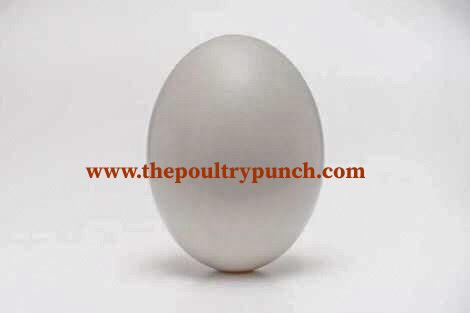 8th January, 2021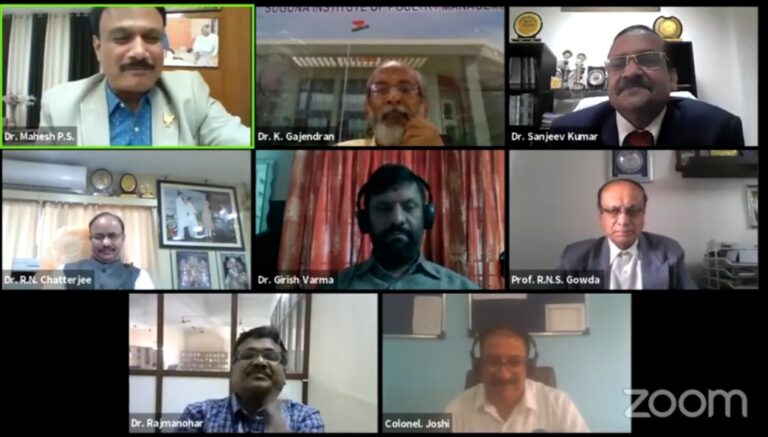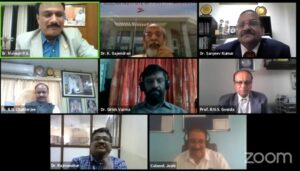 Poultry sector in India is a techno-commercial sector with contribution of nearly 1.5 lakh crores to the GNP with about 6 million people being employed directly or indirectly. Human resource development forms a significant backbone for the sector which well acknowledges that there are good number of technocrats / specialists along with work force in the sector. However, keeping in pace with the growth of the sector the middle management and experts in specific areas of automation, management, soft skills etc is the need of the hour.
CPDO&TI the premier poultry training institute in the country took lead in organizing pan-India ODF of poultry training / education facilities across the country. IN this forum, Dr. Sanjeev Kumar, Director, ICAR-Central Avian Research Institute (ICAR-CARI), Izatnagar, U.P., Dr. R.N. Chatterjee, Director, ICAR-Directorate of Poultry Research (ICAR-DPR), Hyderabad, Colonel. Joshi, GM & Head, Dr. B.V. Rao Institute of Poultry Management & Technology (IPMT), Pune, Dr. K. Gajendran, Principal, Suguna Institute of Poultry Management (SIPM), Udumalpet, Tamilnadu, Dr. Girish Verma, Dean, College of Avian Science & Management (CASM), Thiruvazhamkunnu, Kerala and College of Poultry Production & Management (CPPM), Hosur, Tamilnadu and host Institute, Central Poultry Development Organisation & Training Institute (CPDO&TI), Hessarghatta, Bengaluru deliberated about facilities in general and training activities in particular during the day.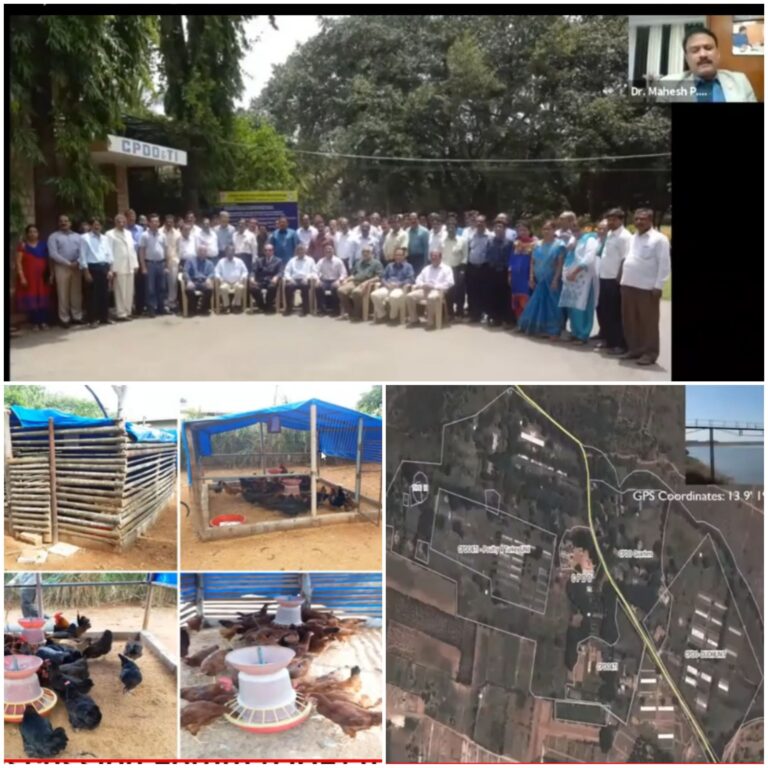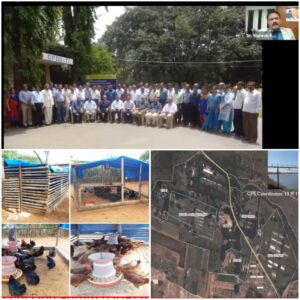 Dr. Mahesh P.S., Joint Commissioner, GoI & Director welcomed all the panelists for the discussion forum.  Prof. R.N.S. Gowda, former Vice chancellor, KVAFSU and poultry expert inaugurated the event and stressed the need for coordination, collaboration and remodeling of courses at all Institutes and educational facilities suiting to safe food and biosecurity in the farms. Further, Prof. felt that such an initiative of establishing one platform for training / educational facilities is highly needed and appreciated the initiative by CPDO&TI along with other institutes. He also felt that during this digital era of post covid virtual platforms like this made easy for all the panelists to join and to create a historic record in youtube channel of CPDO&TI and Hibiz TV for future reference to the needy.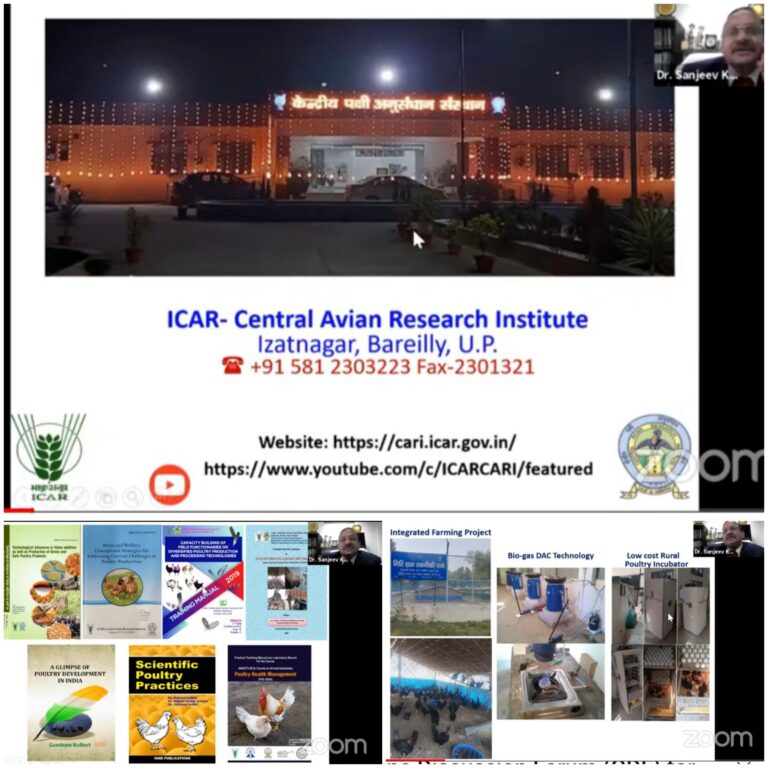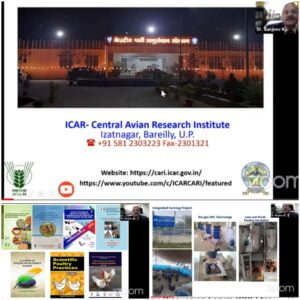 Dr. Sanjeev Kumar, Director, ICAR-CARI elaborated in detail about the facilities available at the Institute. CARI is the only Institute mandated for research in alternate species including chicken namely, Duck, Quail, Guinea Fowl, Turkey etc. CARI was established in 1979 with a mandate of research and human resource capacity building. CARI is the premier institute offering masters and PhD programs in the specific field of poultry specializations. He further narrated about various breeds of poultry released by CARI across the country. They conduct lot of training programmes namely, short term training programme of 6-days, sponsored training programmes, specialized training programs (12 days), EDP programme (6 days) and International short courses (one week). For more details one can reach CARI through website: https//icar.org.in/cari/    CARI has all the facilities for conducting research and trials in different departments of poultry science. CARI has established a new campus in 2020.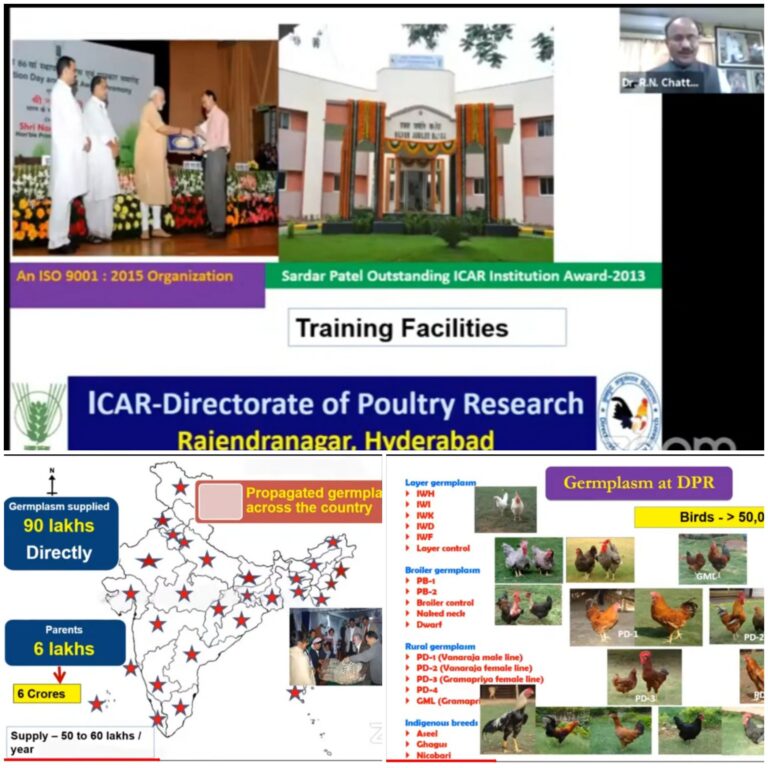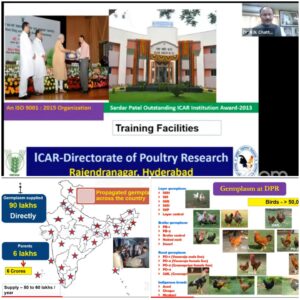 Dr. R.N. Chatterjee, Director, ICAR-DPR, Hyderabad presented a detail status of Directorate of Poultry Research which was established as a full-fledged unit during 1988 at Hyderabad. This Institute is mandated for research in molecular genetics, nutrition and physiology. DPR has a network of AICRP centers across the country and poultry seed projects in different states. The main mandate has been production and supply of parent stocks, day old chicks, hatching eggs across the nation and popularizing colored variety of birds for rural poultry. They have a huge setup at Hyderabad with latest facilities. The details of all the presentations can be heard in our youtube channel CPDO&TI TRAINING and facebook: cpdoti.bangalore. DPR conducts need based training programmes for farmers, researches and academicians. DPR can be reached through website: www.pdonpoultry.org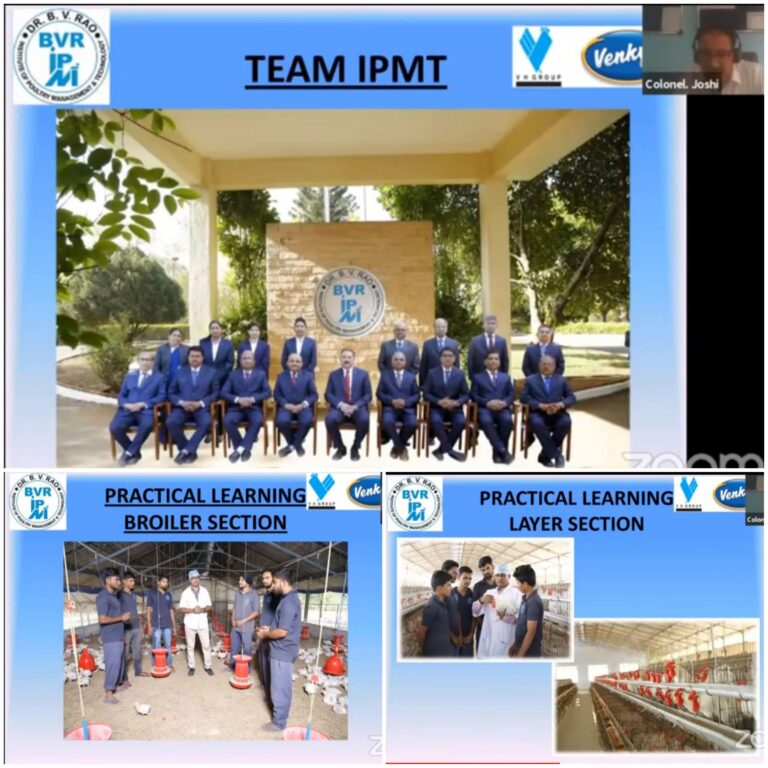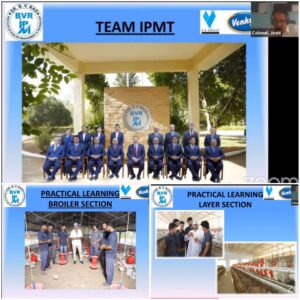 Colonel. Joshi, GM and Head, Dr. B.V. Rao Institute of Poultry Management & Technology, Pune which was established as a trust in 1987 at Uralikanchan near Pune under the group network of Venkateshwara Hatcheries Group. They offer different courses namely Basic Poultry Management Course for beginners (16 weeks), orientation course for poultry farmers (8 weeks) Advance Poultry Management Course for entrepreneurs or owners (48 weeks), specialized course (4 weeks) and second generation entrepreneur course (8 weeks). IPMT offers lot of facilities namely, broiler farms, layer farms, feed processing section, supporting the training. IPMT has field visits and handson experience in their breeding farms, processing units, Labs etc. They have a placement cell for trainees / entrepreneurs to be employed. IPMT can be reached at: www.venkys.com/ipmt .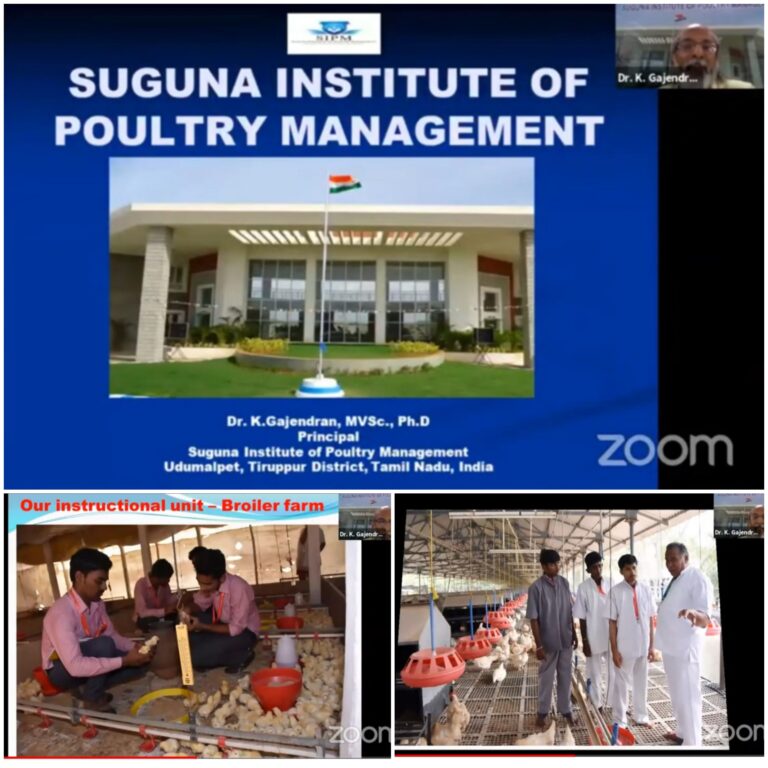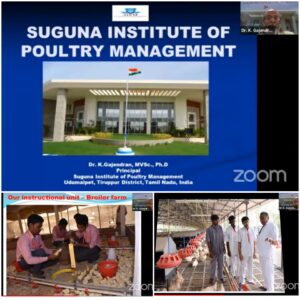 Dr. K. Gajendran, along with Dr. Kumaran briefed the activities of Suguna Institute of Poultry Management located at Udumalpet near Coimbatore which was established in 2012. This Institute offers B.Sc., Poultry Science, a three years degree programme (6 semesters), Diploma in Commercial Broiler Production, one year (2 semesters), Diploma in Poultry Health one year (2 semesters). They have tie-up with Alagappa University, Coimbatore. They instructional forms for broilers, layers, breeders and instructional units, feed mills, processing plants etc for the students. Their curriculum is designed to have 60% practicals and 40% theory with an objective to create expert manpower. They can be reached at www.sugunainstitute.com . They offer courses for the students across pan India.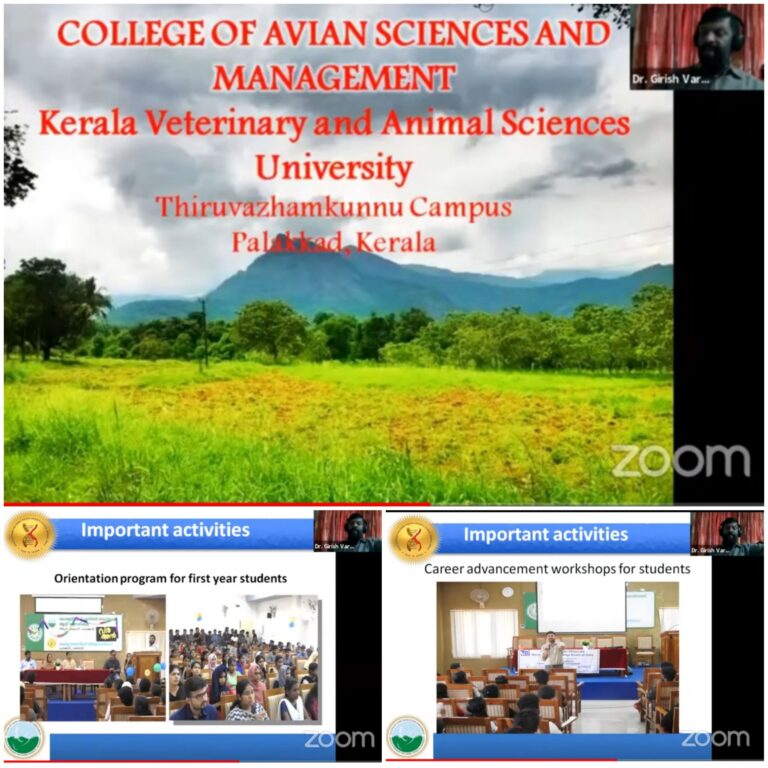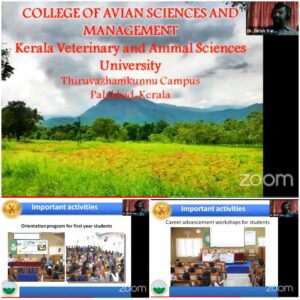 Dr. Girish Varma, Dean, CASM, Tiruvazamkunnu, near Palakkad, Kerala which was established in 2015, they offer B.Sc., Poultry Production and Management. They have 6 departments in the college. The campus is located at a backdrop of western ghats with lots of green atmosphere. The students can have practical exposure at various units of broiler, layer, duck unit, quail unit etc. The students are well groomed for communication skills, business skills, leadership qualities during the studies. The college also offers international programmes in collaboration with ICAR and ASCI. They can be reached at www.kvasu.ac.in/college .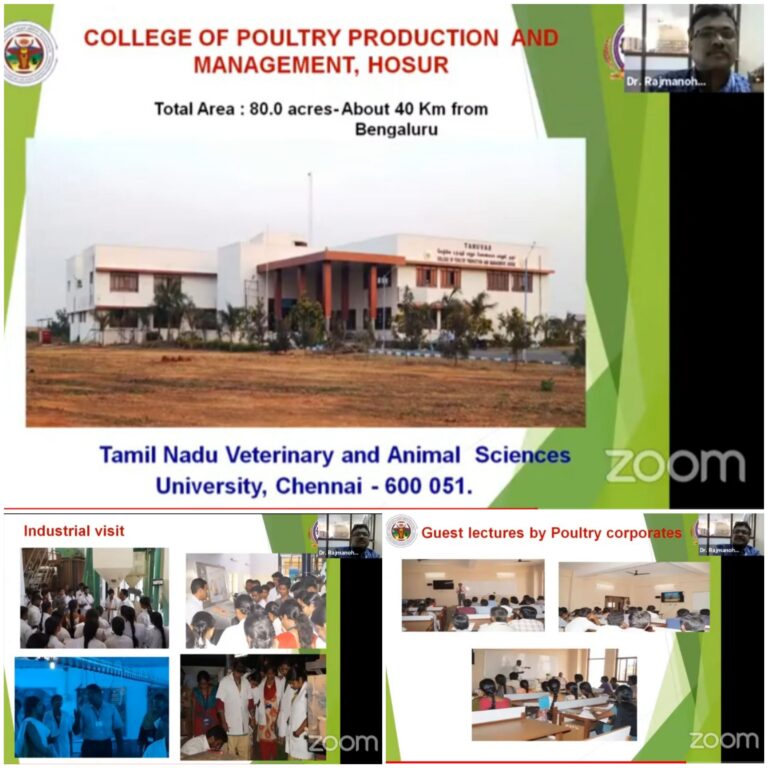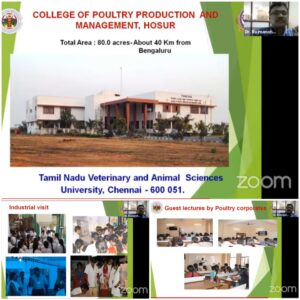 Dr. Shamsudeen along with Dr. Raj Manohar presented about the College of Poultry Production & Management located at Hosur, Tamilnadu, which was established during 2011 offering undergraduate programme (B. Tech) in poultry technology of 4 years duration and PG M.Tech (2 years) which was started in 2019-20. The mandate of the college is to produce technocrats with sound skills in poultry management, processing and technology. They can be reached at www.tanuvas.ac.in/cppmhosur .
Concludingly, Dr. Mahesh P.S., Joint Commissioner & Director, CPDO&TI presented about facilities of production and training at CPDO&TI. He elaborated that the campus is the largest in the country in government sector with 100 acres spreadout area established during 1972. Poultry unit with 12 sheds automated, Duck unit and Turkey unit are established with high standards of biosecutiry. The training institute offers various short term (one week), long term (6 weeks) programmes for the trainees across India and foreign nationals. Apart from this CPDO&TI conducts entrepreneurs programs in collaboration with Veterinary Colleges, KVKs in the southern states. CPDO&TI has taken a new initiative post COVID to organize online training programmes namely, Entrepreneurship in poulty Awareness Week (EPAW), Entrepreneurs Day (ED) and Online Discussion Forum (ODF) for the benefit of trainees across the country. The programme is conducted live in zoom and youtube channel of CPDO&TI along with recordings available in facebook and on youtube. CPDO&TI can be reached at www.cpdoti.org
Dr. Mahesh P.S. briefed about opportunities for the poultry startups at NAAVIC, the agri-incubation centre established at National Institute of Veterinary Epidemiology and Disease Investigation (NIVEDI), Bengaluru offering grant-in-aid upto 5 lakhs and 25 lakhs for the idea at preseed stage and seed stage funding respectively. They can be reached at www.nivedi.res.in
Sri. Anwar Basha, Senior faculty of CPDO&TI executed the job of admin of conducting Discussion Forum very effectively. The other team members of CPDO&TI worked hard in making this programme successful. The entire programme was live broadcasted on CPDO&TI Youtube:CPDO&TI TRAINING for the first time. All the recordings of panelist and speakers are uploaded on the same day as a ready reference in the facebook and Youtube channels.
All these recordings are uploaded on our Facebook page https://www.facebook.com/cpdoti.bangalore and official Youtube channel CPDO&TI TRAINING. All are requested to subscribe the channel.