News
EW Nutrition hosts major virtual event for One Health – Antimicrobial Resistance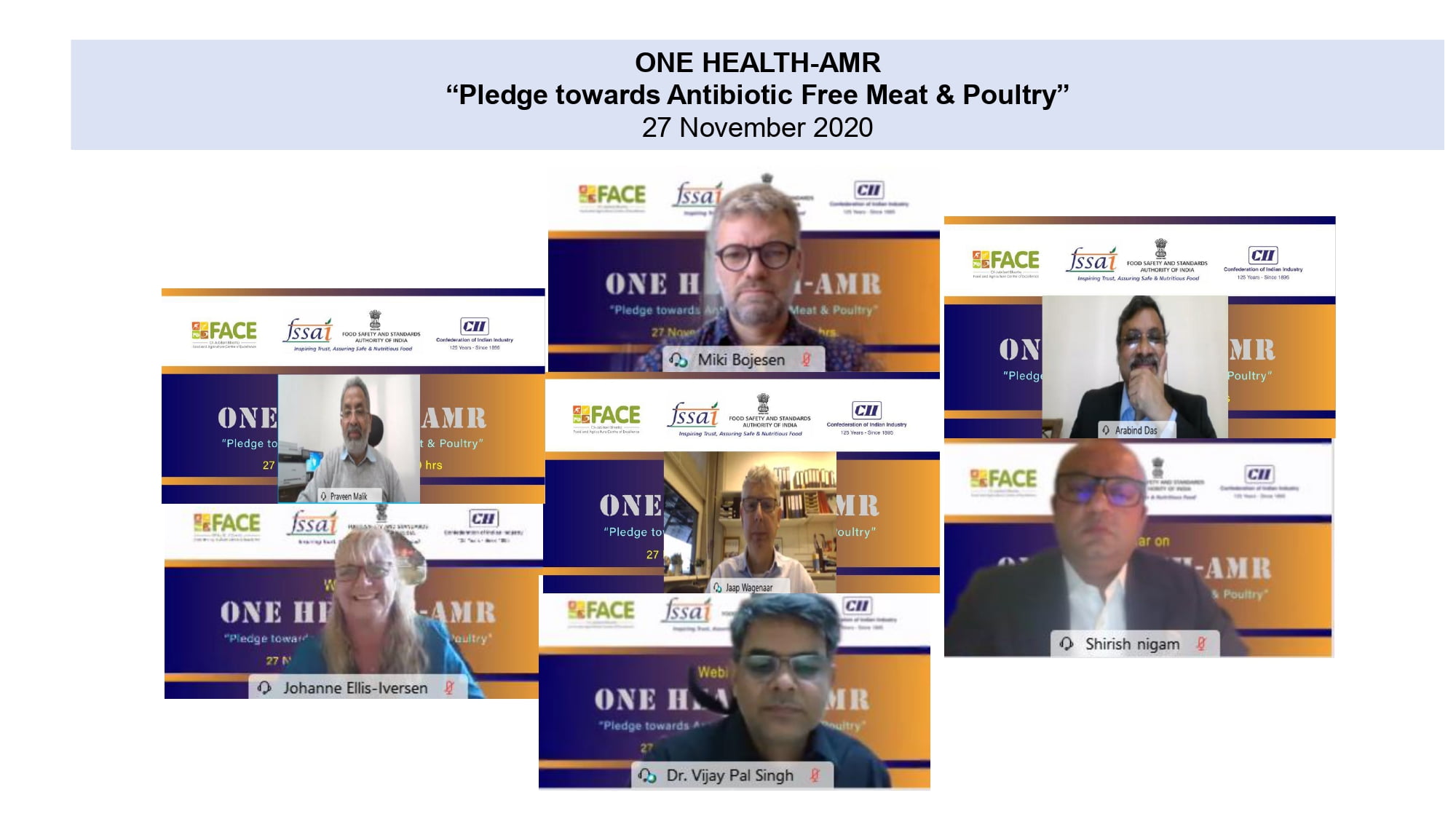 On Friday, 27th November 2020, EW Nutrition hosted the virtual event "Pledge towards Antibiotic Free Meat & Poultry", as part of the One Health AMR campaign.
The event was organized in collaboration with the Confederation of Indian Industry (CII) and Food Safety and Standards Authority of India (FSSAI). Several dignitaries from diverse backgrounds came together to share their experience on curbing the rising challenge of AMR and mitigating its harmful effects. The program was specifically designed for Indian audiences looking to understand the way forward in combating AMR.
 In its effort to reduce the use of antibiotics in animal production, EW Nutrition has long supported the Indian livestock industry with its holistic, science-backed solutions. The company is committed to mitigating the risk of antimicrobial resistance through its various program-based solutions. The November event was part of its long-term vision to combat the risks associated with AMR.
The opening speech was delivered by Dr. Praveen Malik, Animal Husbandry Commissioner, Ministry of Fisheries, Animal Husbandry and Dairy.  He spoke on various aspects of microbial resistance and presented India's roadmap, including the efforts which the government of India is making to address this enormous challenge.
Dr. Vijay Pal Singh, Joint Director, FSSAI, explained in detail the role of regulators such as FSSAI in focusing AMR-related efforts. He emphasized the practical impediments and roadblocks which need to be addressed to bring the situation under control.
Ms. Johanne Ellis-Iverson, Head of Group, Senior Advisor, National Food Institute Technical University of Denmark (DTU) and International Center for Antimicrobial Resistance Solution (ICARS), Denmark, was a keynote speaker. She shared novel insights on the spread of antimicrobial resistance, as evidenced by historical data collected through various reputed sources. 
Prof. Jaap Wagenaar, Professor of Clinical Infectiology, University of Utrecht, Netherlands, shared the reversible course of antimicrobial resistance when drastic anti-AMR measures were taken in European countries. He shared best practices in broiler operations in the Netherlands and highlighted various mitigation methods employed to lower antimicrobial resistance.
Dr. Anders Miki Bojeson, Prof. of Preventive Veterinary Microbiology, Dept. of Veterinary and Animal Sciences, Denmark, shared insights on the mechanism of spread of antimicrobial resistance and the steps which can be adopted to curb this silent epidemic.
Dr. Shirish Nigam, Regional Director, EW Nutrition South Asia, shared the EWN perspective on curbing AMR and highlighted the efforts of his organization, as well as EW Nutrition's customer-centerd solutions. He also shared an interesting case study on the economic impact of AMR on the country's economy, as well as its financial implications.
Mr. Arabind Das, Co-Chariman, CII National Committee on Agriculture and Allied Sector, moderated the program and shared the CII's perspectives and initiatives to generate awareness on AMR.
This thought-provoking event presented a great opportunity to reach a wider array of consultants, veterinarians, and policy makers.  Major key stakeholders – technical consultants, university professors, farm managers, integrators etc. – attended the program and took in the event's learnings to evolve in their personal and professional life.