News
Aviagen India Enhances Customer Support, Names Mani Karuppasamy as Key Accounts Manager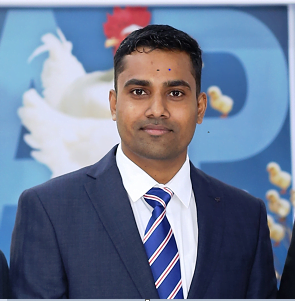 Jan 25th 2020 – Udumalpet, India.
Jan25th , 2020 – Udumalpet, India. – Mani Karuppasamy has been promoted to the position of Key Accounts Manager for Aviagen® India, which will take effect immediately. The company created the new role to strengthen customer support at a time when its 308 AP broiler breeder is experiencing considerable growth in popularity. Karuppasamy will be responsible for working with existing customers who have national distribution and developing new business.
Karuppasamy will benefit the new position with extensive management and customer service skills and experience. He joined Aviagen back in 2012 as Sales Manager for the southern region of the country, and for the past three years has broadened his management skills through his service as Operations Manager for Central India Poultry Breeders.
Marc Scott, India Business Manager added, "Our team works hard to add value to the business of our customers every day, and Mani will be a great asset in this pursuit. We're pleased to have him back in sales, developing customer-focused management techniques while pursuing new business for the increasingly successful 308 AP. We wish Mani much success in his new role".