News
VIP's conducts successful EggChi Walkathan at Pune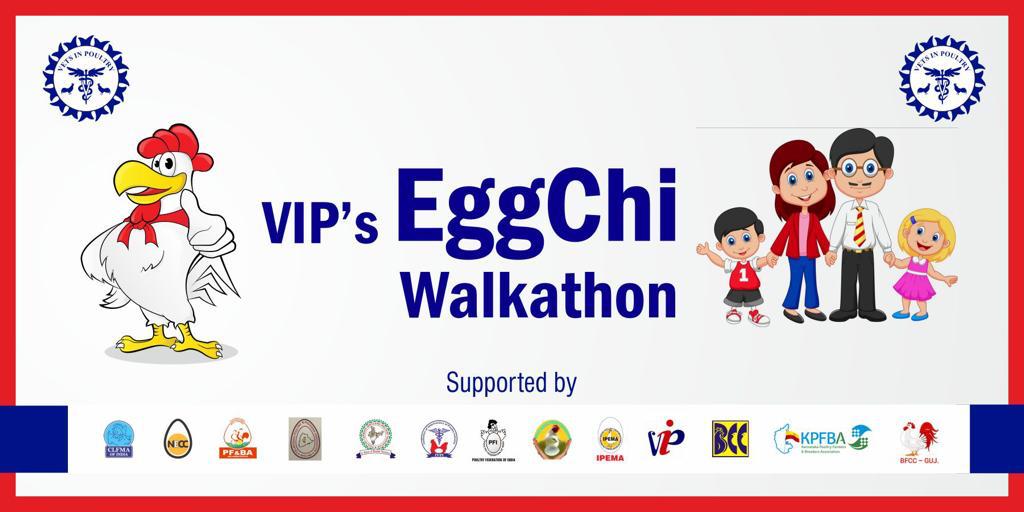 "VIP's EggChi Walkathon" 28th July 2019, Sunday is a fruitful day for Poultry Industry! Together Team VIP & Team Poultry completed the perfectly executed event organised by Vets In Poultry (VIP)! Reaching the common people for explaining science behind the egg and chicken products in a methodic way. A remarkable example of well-organized-executed industry-cum-public rally. We VIPian's are overwhelm by the kind of dedicated participation from each segment of industry and society.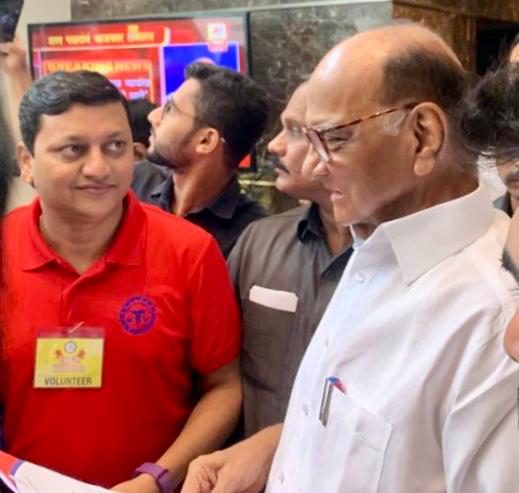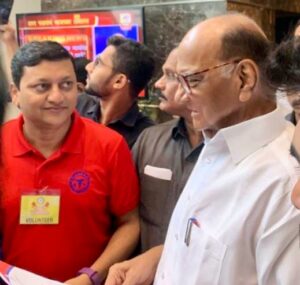 Just a year-old VIP has successfully complete the event of "EggChi Walkathon". The event with support from all bodies and members of industry cannot be better to have such blockbuster opening to our association. It's a success of mega-event was involvement of participants from Industry & Society actively participated including their family, young children in a shower drizzling road show. This event will be trigger point to Indian Poultry and we expect many such event to happen. VIP will stand alongside to any such promotional activities.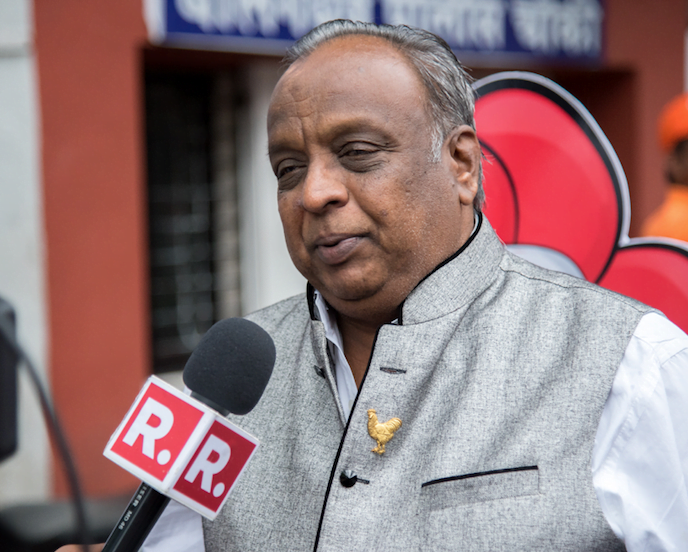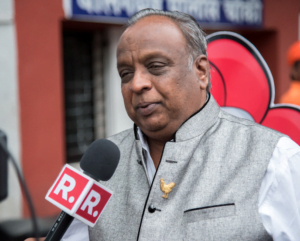 28th July is super Sunday and created many historic landmarks:
1- First of it's kind in the history of poultry industry
2- Active participation from families and children are our valuable participants
3- More than 500+ participants enjoyed EggChi walkathon
4- Walkathon started in spite of rainfall and continued as per decided agenda
5- The effective tool of public interview by our team to reach common public overcoming their routine doubts about the egg & chicken food product. More than 70 interviews within 2 and half hours what and interactive event it was!
6- Distribution of frozen chickens & scientific pamphlets (Egg & Chicken) to walking civilians
7- Voluntarily and actively participations, support and endorsement from each segment of industry across India
8- Distribution of boiled eggs and chicken nuggets
9- Displayed banners, placards and slogans to break myths for mass awareness
10- The event is appreciated & supported by almost all Associations of India in one go -PF&BA-MH, CLAFMA, NECC, TPFBA-TA, KPFBS-KA, IVPI-KA, BCC-TN, PVF-TN, BFCC-GJ, WBPF-WB, IPJA, IPEMA and all others associations and bodies.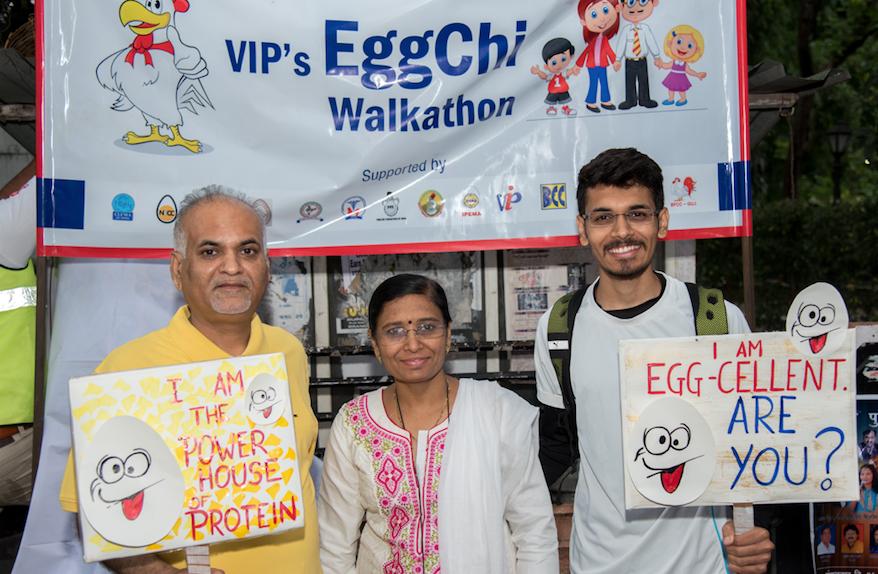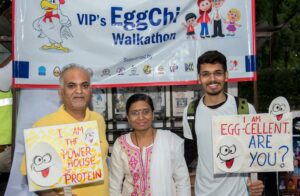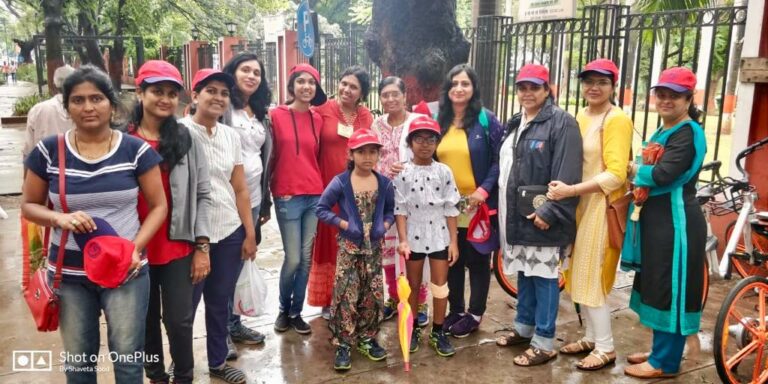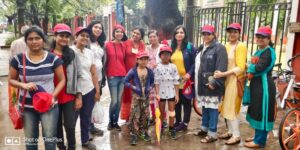 In spite of many minor and major challenges, all industry mates coming together with different schools of thoughts for a noble cause of overcoming malnutrition through the VIP's EggChi Walkathon has been a grand success.
The "EggChi Walkathon" started from Balgandharva Rangamandir travelling Jm Road – FC Road to end up at Sambhaji Udyan with the distribution of egg & chicken products. The group marched from start & keep discussing with bus drivers, shopkeepers, auto rickshaw drivers, on the way to local residents of JM road and FC road Toddlers, youngsters and female participants were enjoying the drizzling showers during the rally with all due arrangements of safety.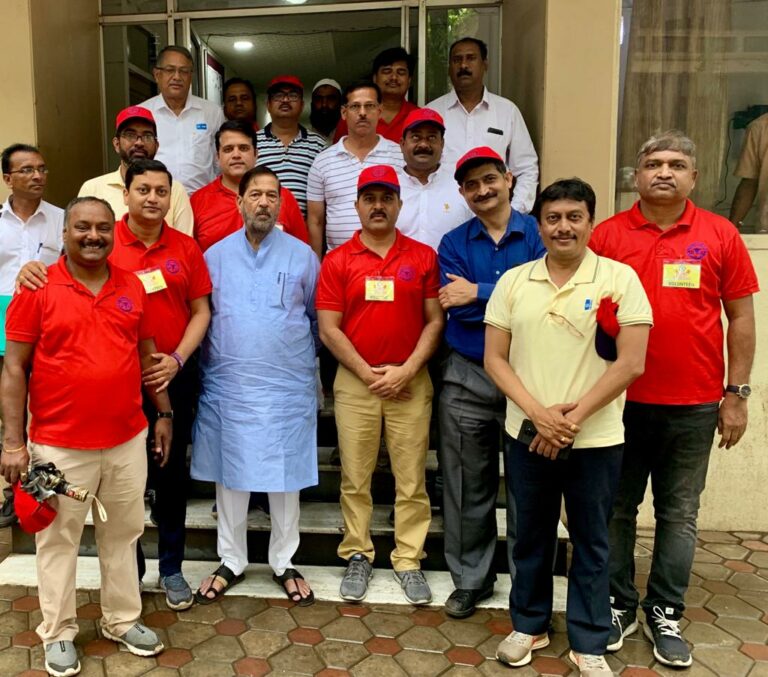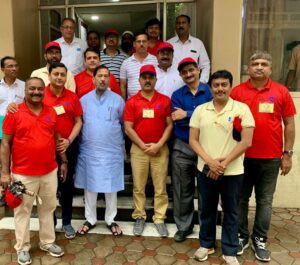 The request letter for Promotion, Eggs inclusion in mid day meal and Overcoming social Misconceptions was handed over to former agriculture minister Mr. Sharachandra Pawar and acting member of parliament Mr.Girish Bapat, BJP, Pune.
"The rally was impressive at public interaction conducting interviews of pedestrians who came for morning walk on JM & FC road and for breakfast as well" Said the president of VIP Dr Ajay Deshpande.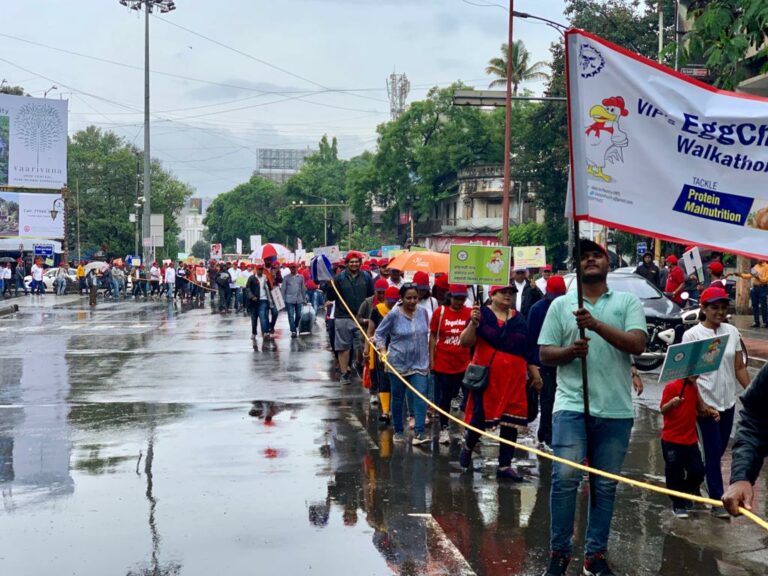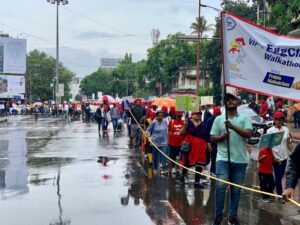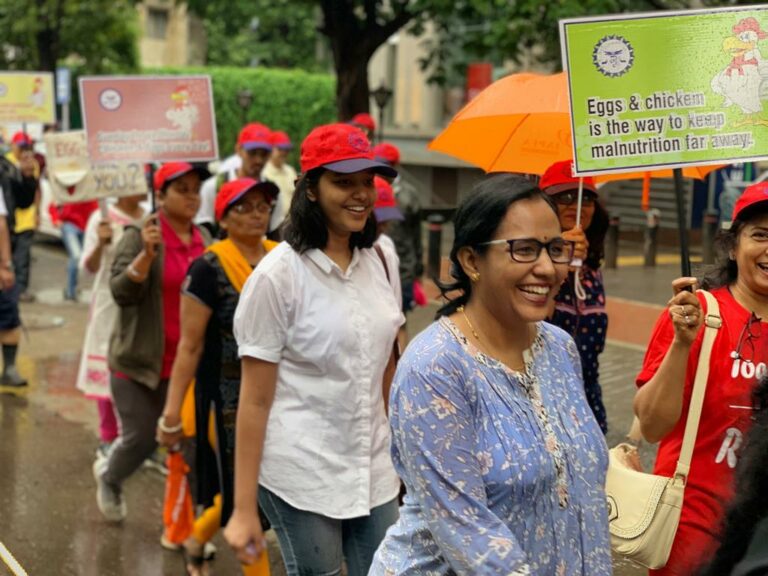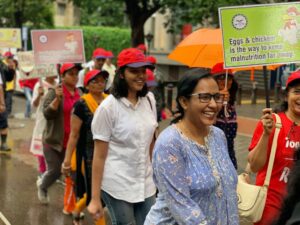 We a technocrat face of industry, conveyed the fare message about the production system, it's rigorous controls for addressing nutritional requirement of the society especially when we as a country are topmost in production of eggs and least consumer unfortunately. This was also a good platform to clarify the myths and misleading of media, society towards consuming egg & chicken added by the Dr Pedgoankar, GM Venkateshwara Hatcheries.
Dr.Ajit Ranade, Dean at Mumbai Veterinary College, addressed the requirement of protein in our diet and relative importance of eggs and Chicken. He has also appealed the general health conscious morning walkers to focus protein rich diet along with exercise.
Dr V R Kulkarni while talking to media also addressed the importance of current protein requirement of Indian population and way outs of meeting the same through poultry farming products. He has also converted the attributes of poultry products from health & beauty point of view.
The public interacting was addressing questions from public about the nutritional composition, its safety, table eggs been non fertile & high in nutritive value, importance of chicken & why Indian local produced chicken is safe to consume.
The managing committee of VIP, explained moto behind this initiative is to:
1- Address Protein Malnutrition and way-outs to overcome through Egg & Chicken (EggChi)
2- Spreading awareness of poultry products (Chicken, Egg & It's byproducts) in society
3- Explaining scientific background to break the false propaganda and fear against the egg and chicken consumption in the society along with improving connect of technocrats in the poultry industry.
We as Team VIP, are grateful to all the 8 teams to execute flawless show. Each team putting their efforts as an individual and as a team was above the expectations was the real reason behind the success.
1. Promotional Tool Management Team
Dr Prasad, Dr Rahul Sawarkar, Dr Pankaj, Dr Satbhai, Dr Nitesh Kadam, Dr Vijay Gadge, Dr Vinayak, Pramod Joshi
2. Statutory Authority Management
Dr Santosh Ire, Rulesh Kherde, Rahul Pedgoankar, Shailesh Rasinkar, Manish Pingale
3. Participation drive management with all communications
Dr Ajay Sir, Dr CB Pathak Sir, Dr VRK Sir
4. Public interaction team
Dr Jeevan, Dr CB Pathak Sir, Dr Ajay Sir, Dr VRK Sir, Dr Sujeet Kulkarni, Dr Ajit Ranade Sir, Dr Pankaj Tuptewar, Dr Vinayak Surve, Dr Satyjit Jagtap, Vinay Kulkarni, Rahil Somjee, Ganesh Bhosale, Girish Bodhe, Pradeep Gadekar, Charuhas, Varun, Jagdish Patil & Vasantkumar Sir.
5. Trafic & Rally management team
Dr Atul Rajput, Dr Sachin Patil, Dr Sachin Badane, Dr Vaibhav Akkewar, Dr Pradeep Doiphode, Pradeep Gadekar, Alok Upadhya, Yogesh Autade, Manish Pingale, Milind Padwal, Pardeshi & all volunteers
6. Untoward incidence handling team.
Dr Sunil Bhinge Sir, Dr Baswaraj Sir, Rahil Somjee, Alok Upadhya, Rahul Pedgaonkar, Dr Satbhai
7. Refreshment Team
Rahil Somjee, Rulesh Kherde, Anant Patil, Shailesh Rashinkar, Pramod Joshi, Parshuram
8. Media Team
Dr Ranade Sir, Dr Ajay Sir, Dr Pedgoankar Sir, Dr VRK Sir, Dr Sujit Sir
Hearty Thanks to each one who involve directly and indirectly. This event would not have been completed without proactive support of industry corporate houses to distribute chicken and eggs. Godrej and Baramati Agro distributed frozen chicken, Venky's express helped for Fried Chicken Nuggets, Yojana Poultry & Om Layer (Chicks) helped to distribute boiled eggs after the event as an refreshment. Great response from all Mumbikar industry mates to attend even despite of red alert due to rain was remarkable. Poultry fraternity peoples from Hyderabad, Kolhapur, Sangli, Nasik and adjoining states to add value to event. We are thankful to all media friends from regional newspaper, channels, FM and national media for giving desired coverage. Tons of thanks to all Indian Poultry associations and bodies for their unconditional support and value added inputs. Thanks to Major participants form big houses: Japfa, VH, Godrej, Baramati Agro, Premium, Siddhivinayak, KuKooChaKu, Khadkeshwara, Urja, Kiran Breeding, Om Chick India, Jumbo Rooster, Bhairavnath Breeder, Yojana, Bhairavnath Layer, PDRC, CP & Pharma Distributors & Companies and all farmers and groups. Thanks to the man who initiated the idea and he's Dr G Gopal Reddy.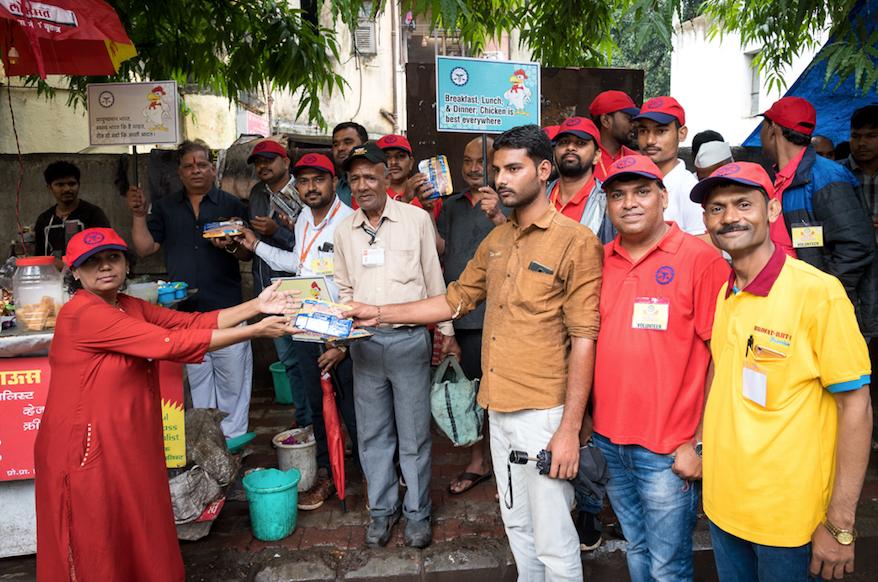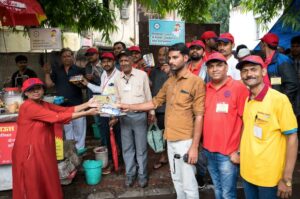 VIP Committee:
Prof Dr Ajit Ranade ( Tech Advisors )
Dr VR Kulkarni ( Vice President )
Dr Prasad Kulkarni ( Treasures )
Dr CB Pathak ( EC Member )
Dr Sujit Kulkarni ( EC Member )
Dr Jeevan Sonwane ( EC Member )
Dr Pankaj Tuptewar ( EC Member )
Dr Sachin Patil ( EC Member )
Dr G Gopal Reddy ( EC Member )
Dr Sahebrao Rathod ( EC Member- Nasik )
Dr Rais ( EC Member- Anand )
Dr Badal ( EC Member- Chandigarh )
Dr Maity ( EC Member- Kolkata )
Dr Jyoti ( EC Member- Hyderbad )
Dr HB Natraja ( EC Member- Bangalore )