Article
THE POULTRY GROWTH RATE IS EXPECTED TO SERVE THE COUNTRY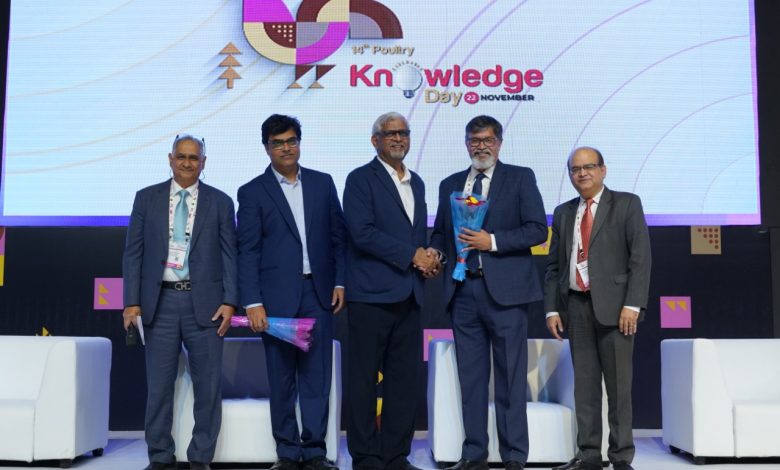 The poultry industry is one of the most dynamic and adaptable of all animal industries. It has expanded, solidified, and globalised during the last 15 years in nations of various economic levels, mostly due to extremely strong demand. Livestock is critical to the livelihoods of around one billion of the world's poorest people. Rural poultry, in particular, is critical to many resource-poor farmers' livelihoods and is sometimes their sole asset. November 22, 2022, Hyderabad: Despite problems on all fronts, India's broiler output for 2019 is expected to rise by 7% to roughly 6 million tonnes, processed chicken meat consumption is expected to rise by 10% to 20%, and layer production is expected to reach 125 billion eggs!
This success story, which is the envy of almost all developed countries, would not have been possible without the unwavering efforts of Indian poultry farmers, who have collectively raised poultry to become a phenomenal 120,000 crore industry and one of the nation's primary sectors focusing on
food and nutritional security.
India, the world's second-biggest egg producer, is now the world's thirdlargest chicken producer, after only China and the United States. Despite a number of obstacles, poultry farming  in India has advanced significantly over the previous decade. The current study was done to investigate several
elements of the country's poultry production growth and development. Until recently, poultry production in India was limited to backyards. Local  breeds of birds were raised for egg and meat production. The rising demand for chicken products needs expanding supply by importing better poultry breeds.
"There is no denying that the poultry industry is serving as India's champion in the fight to eradicate malnourishment and protein deficiency in the country," said Chakradhar Rao Potluri, President of the Indian Poultry Equipment Manufacturers' Association (IPEMA), which organised the 14th annual event in Hyderabad.
In 1961, the proportion of hybrid populations in the entire chicken population was around 2%. Within a few decades, exotic birds had dominated the market, displacing native species. Technological advancements have transformed the function and structure of India's poultry sector. It grew to become one of the most specialised businesses in many sections of the country.
For the past 13 years, Poultry India has collaborated with communities and the government to deliver inexpensive, easily available nutritious proteins to school-aged children, youth, and young mothers through several All-India rural and semi-urban initiatives. People have come to believe that the green revolution has ushered in an age of self-sufficiency in food grain production. The rapidly expanding population has cast doubt on the notion. In reality, crop output alone may not be enough to remedy
the country's food crisis. Of course, developments in cereal technology can fill an empty stomach, but they may not contribute to the balanced growth of the human body. A balanced diet also includes proteins, lipids, minerals, and vitamins, all of which are necessary for growth. The supply of these things may be easily boosted by increasing animal output.
Mr. Chakradhar Rao Potluri spoke at a press conference to announce the start of the 14th Knowledge Day Technical Seminar (November 22) at HICC and the 14th Poultry India Expo (November 23-25) at HITEC City. Several members of the Executive Advisory Committee, all industry veterans from throughout the country, joined him.
Poultry India Expo, South Asia's largest, has drawn a record 371 firms from India and 39 from International and is projected to draw over 33,000 business visitors across 27,500 sqm and 5 exhibition hall at the HITEC location, which is the pride of Hyderabad. The three-day show begins on November 23.
On November 22, the muchanticipated Knowledge Day will shine a light on a variety of issues plaguing the poultry business. More than 1300 participants from India, Africa, Europe, the United States, and SAARC countries will hear the world's best brains discuss the most recent scientific advances in breeding, cleanliness, nutrition, animal health, poultry equipment, and marketing.
"However, I am pleased that our government is committed to preserving our industry so that we may continue to produce world-class poultry meat and eggs." With its low-cost approach and higher production, India's poultry business is now a global success story. It is a significant contributor to India's agricultural and animal husbandry GDP. It greatly contributes to the eradication of protein deficit and malnutrition, employs millions of people, primarily women from rural India, and has generated hundreds of small and medium-sized businesses that provide downstream products and services for the sector," he noted.
Due to stringent housekeeping, exacting ventilation, feeding methods, automation, and disease control measures handled by responsible and skilled farmers, the chicken business has risen by leaps and bounds.
The major goal of the exhibition is to help farmers stay up to date on the newest innovations in management, animal health and nutrition, breeding, poultry farm equipment, and innovative techniques in feed making and poultry production at a low cost. Moreover, the growing demand for chicken products has turned poultry production from a simple family or backyard hobby to a full-fledged business. Technological advancements have transformed the function and structure of India's poultry sector. The poultry population appears to be concentrated in a few small regions, based on its distribution. The southern region has 42 percent of the overall poultry population, with 22% in the eastern region, 20% in the western region, and just approximately 16% in the northern region. Improved poultry breeds account for 59% of the total bird population, accounting for around 89% of the total egg output in the country.
Indian Poultry Industry: "the most cost-efficient poultry industry in the world" (IPEMA)
Poultry India 2022, Asia's largest poultry show, will be formally launched tomorrow at the second Knowledge Day session. The 14th edition of the expo will include 370 firms displaying their products throughout the event.
The press conference was held at the Hotel Mercure in Hyderabad.
Mr. Shirish Dhopeshwar, Secretary of IPEMA, he called on all the dignitaries on the dais and asked Mr. Anil Dhumal, the association's past president, for a few remarks.
Mr. Dhumal welcomed all press members and provided an introduction of the Indian poultry sector, EAC members and the Poultry India Expo.
Mr. K. G. Anand discussed the expansion of the poultry sector. He claimed that the organised poultry industry began in 1970, and Padma Shree Dr. BV Rao paved the way for all of us; he envisioned India as the number one producer of chicken and eggs, not just in quantity, but also in quality. Mr. Anand stated that every state is now producing domestically and that the moment is approaching when states like as Uttar Pradesh and Bihar would be self-sufficient.
Mr. Chakradhar Rao, President of IPEMA, stated that Telangana produces around 10% of the overall broiler population while ranking first in terms of chicken and egg consumption. He also praised the government for their unwavering support. He addressed the farmers' concerns about rising feed prices and grain scarcity. He advised that the pricing be set in relation to the local cost of producing chicken and eggs.
Mr. Pradeep Rao praised the IPEMA members and his dais partners for putting on the performance after a three-year hiatus. He stated that it is due to the united efforts of all of us that our
exhibition has now been designated as a worldwide trade fair for poultry. He also thanked the administration for their assistance. He also honoured Pasmashree Dr. B.V. Rao, the Indian poultry industry's father, for revolutionising the business.
Mr. Harshvardhan Reddy also discussed the poultry industry's history. He recalled Dr. B. V. Rao Garu for his vision and the state government for always being ready for their assistance, citing the most recent example of the Telangana government's grain subsidy.
Mr. Mohan Reddy spoke on the industry's progress, recognised Dr. B.V. Rao, and thanked Madam Anuradha Desai for her continued support.
Mr. Harish Garware, Director of IPEMA, India is the world's diabetes capital. He stated that we must all investigate to see why this is occurring. He added that it was caused by our reliance on carbs and our eating habits. The answers to this essential question are eggs and chicken.
Dr. M. Balaswamy also discussed the advantages of eggs and the NECPC's work to promote eggs and chicken.