News
Aviagen India Gives Back to Local Community Amid COVID-19 Lockdown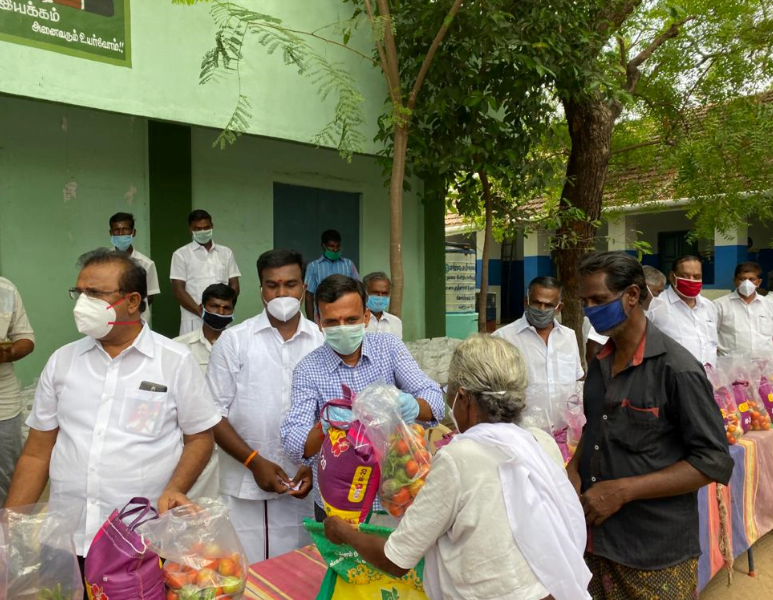 May 14, 2020 – Udumalpet, India.
The extended COVID-19 lockdown has caused many hardships for local communities. Aviagen® India cares about the people in the communities they serve, recently stepping up to provide much-needed food and grocery packages to elderly and under-privileged families in the local villages of Andiyagoudanoor, Kootathurai and Elayamuthur.
The company also recognized and appreciated the difficult work of the local police, donating protective overalls, masks, hand gel and disinfectants.
Leading the effort was the Aviagen Support Team which consisted of Mr. Sathish, Transport Manager, Mr. Ramdass, Property Services Manager, Mr. Ismail, Wood-shaving Store Manager, Mr. Dhanuskodi, Production Manager and Mr. Dhayanandhan, Production Management Trainee.
According to Marc Scott, Aviagen India Business Manager, Aviagen staff in Tamil Nadu, South India, all live in the local towns and villages. "COVID-19 has brought about trying times for us all, and certain sections of the community require more assistance — the elderly and under-privileged in particular have been severely affected. We hope our efforts will, in some small way, help the communities get through these difficult and challenging times."
About Aviagen
Aviagen® is a global poultry breeding company that develops pedigree lines for the production of commercial broiler chickens under the Arbor Acres®, Indian River®, and Ross® brand names. The Rowan Range® and Specialty Males® are specialty breeding stock from Aviagen that offer greater flexibility for customers to meet specific or niche market requirements. The company is based in Huntsville, Alabama, USA with a number of wholly-owned operations across the United Kingdom, Europe, Turkey, Latin America, India, Australia, New Zealand, and the U.S.A., and joint ventures in Asia. Aviagen employs more than 5,000 people and has a distribution network serving customers in more than 100 countries.
For further information, please visit www.aviagen.com