News
Interview with Peter Saey, Zone Director, Asia and Oceania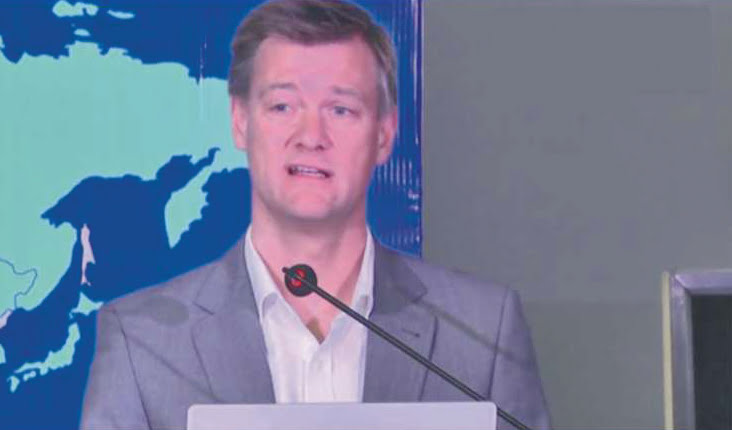 QUESTION – Could you please tell us about HIPRA's history, current status and company's vision?
ANSWER – Vocation of leadership. That is what has always marked the activity of HIPRA: a veterinary pharmaceutical company dedicated to the research, production and marketing of solutions for Animal Health. We develop vaccines with high added value, by applying the latest scientific developments.
Our history spans more than half a century. Currently, when you look at Biologicals, HIPRA occupies one of the top positions amongst pharmaceutical companies for the veterinary industry worldwide. It is the combination of experience, advanced technology and a team that is fully dedicated to developing innovative products that provides differential advantages to our customers. Besides vaccines, HIPRA has been building for over 15 years on a international network of high-end diagnostic services as well. In customer surveys, this is widely acknowledged as another differential factor of paramount importance. Also, we are the only Animal Health Laboratory which has its own line of diagnostic kits: CIVTEST™. These reagents for veterinary diagnostics have been developed by our R&D Department in collaboration with numerous leading laboratories.
Our future strategy is clearly outlined in our vision: To become the reference in prevention for animal health by offering innovative biological and pharmaceutical products, diagnostic kits and advanced diagnostic services.
We feel both convinced and proud about that vision. That's why we have been promoting it in such a clear way for many years now.
QUESTION – In the last decade, HIPRA has become more and more specialized in developing biological products. Please explain to us, why has such a strong commitment been made in this field?
ANSWER – At HIPRA, we are convinced that the key to ensuring animal health lies in prevention, the more so at a time like the present in which the industry is undergoing major changes. We see that the market still relies on treatment as the first option for disease control. However, HIPRA is fully committed to promoting the alternative of prevention as a more efficient way of dealing with the pathologies that affect our farms worldwide. We are convinced that the use of vaccines is both a more economic and effective option in the battle against animal diseases. Very important, this is essential for reducing the amount of antibiotics in the food chain, thus, decreasing potential problems related to resistance.
QUESTION – You mentioned that HIPRA products possess a differential high added value. What exactly does this differential value mean?
ANSWER –We know the criteria according to which veterinarians make their choice when deciding on the right vaccine. Our products provide the Animal Health professionals not only with the commitment that will protect against diseases but more importantly an efficacy that will eventually bring a return in profitability to the farmer.
We control all levels of the product creation process (from initial product research to its manufacture in our own production plant and to its final marketing). This gives us the flexibility and knowledge to be constantly innovating, designing and developing new products that contain the differential value we seek.
Talking about HIPRA INDIA, we managed to register five vaccines for the poultry industry in a first phase. There are two vaccines for Newcastle disease, another for Gumboro disease, one for Coryza and one against Salmonella in breeder and layer. However, this is no more than the beginning. Currently we have 12 more vaccines in the regulatory pipeline for India, for both poultry but also cattle. Some of those vaccines will be ready in less than a year from now. One of the expected to be ready early ones is a high-end coccidiosis vaccine for breeders and layers, which will be on offer along with its dedicated HIPRA spray device, also developed by HIPRA, offering the possibility to the farmer to control and store all relevant vaccination data in a very easy way.
QUESTION – In quantitative terms, what role does R&D play in the HIPRA business model?
ANSWER – Research and Development is the core of our knowledge. Currently, 16% of HIPRA staff and 10% of annual turnover are dedicated to R&D and Regulatory Affairs. If you compare these numbers to those of other players in this industry, you will find that HIPRA's focus on R&D is higher than the common standard.
QUESTION – Looking into the future, what new challenges are expected in the short and long term?
ANSWER – HIPRA is facing the future with confidence because we have the experience and knowledge needed to meet the future challenges of our industry.
In particular, we are carrying out a steady and solid process of international expansion. We currently have our own branches in 38 countries and, soon, there will be new ones directly providing our products and services to customers. We also have two strategically located production plants, one in Europe (Spain) and another in South America (Brazil). Together with a worldwide distribution network, we make our products available to customers in more than100 countries across five continents.
Our future strategy is clearly expressed in our vision: To be the reference in prevention for animal health. From my point of view, this is particularly well thought out in an environment like today's, in which the creation of large companies resulting from mergers and acquisitions among multinational pharmaceutical companies is increasingly common. In an industry where the business in based on mid-to-long term projects, HIPRA remains as a highly valued alternative for customers and distributors for now and the future.
HIPRA has a great potential for growth. The establishment of new subsidiaries and the launch of new and innovative vaccines have enhanced the rapid growth of the company. HIPRA will be the company with the largest number of new vaccines launched on the market and plans to continue investing in vaccines and diagnostic tools while expanding its activity in both devices and traceability. HIPRA has a clear desire for independence as a stand-alone company, exclusively dedicated to the world of animal health.
QUESTION – What is the current situation of HIPRAINDIA and what is it its future?
ANSWER– Our commitment with India is for the long-term. First, we will dedicate time and resources to register any novel vaccine that offers a potential solution for the Indian market. But it also goes the other way round: being India one of the biggest global players in livestock, we will take the specific needs of its industry in account when taking decisions on future product development.
On the other hand, likewise we do in other areas in the world, we won't just be offering products only. As explained before, our diagnostic service philosophy is a basic pillar in our strategy. That will have to be brought to India as well. So are the medical devices, our diagnostic kits and our HIPRA University education programmes, just to name some.
We want to learn from the Indian AH industry and contribute to make it better.
Last but not least, people are at the very centre in our company. A premium product taking care of by a not so excellent team will never reach its full potential. Therefore, we take care of people and only search for the best professionals in every market. In this sense, India is not any different than what HIPRA has been doing for many years. Excellence, Optimism and Credibility, these are the three basic values we look for in every individual, regardless her or his role in our organization.