Article
BASIC APPROACHES FOR FEEDING AND WATERING POULTRY IN RURAL AREAS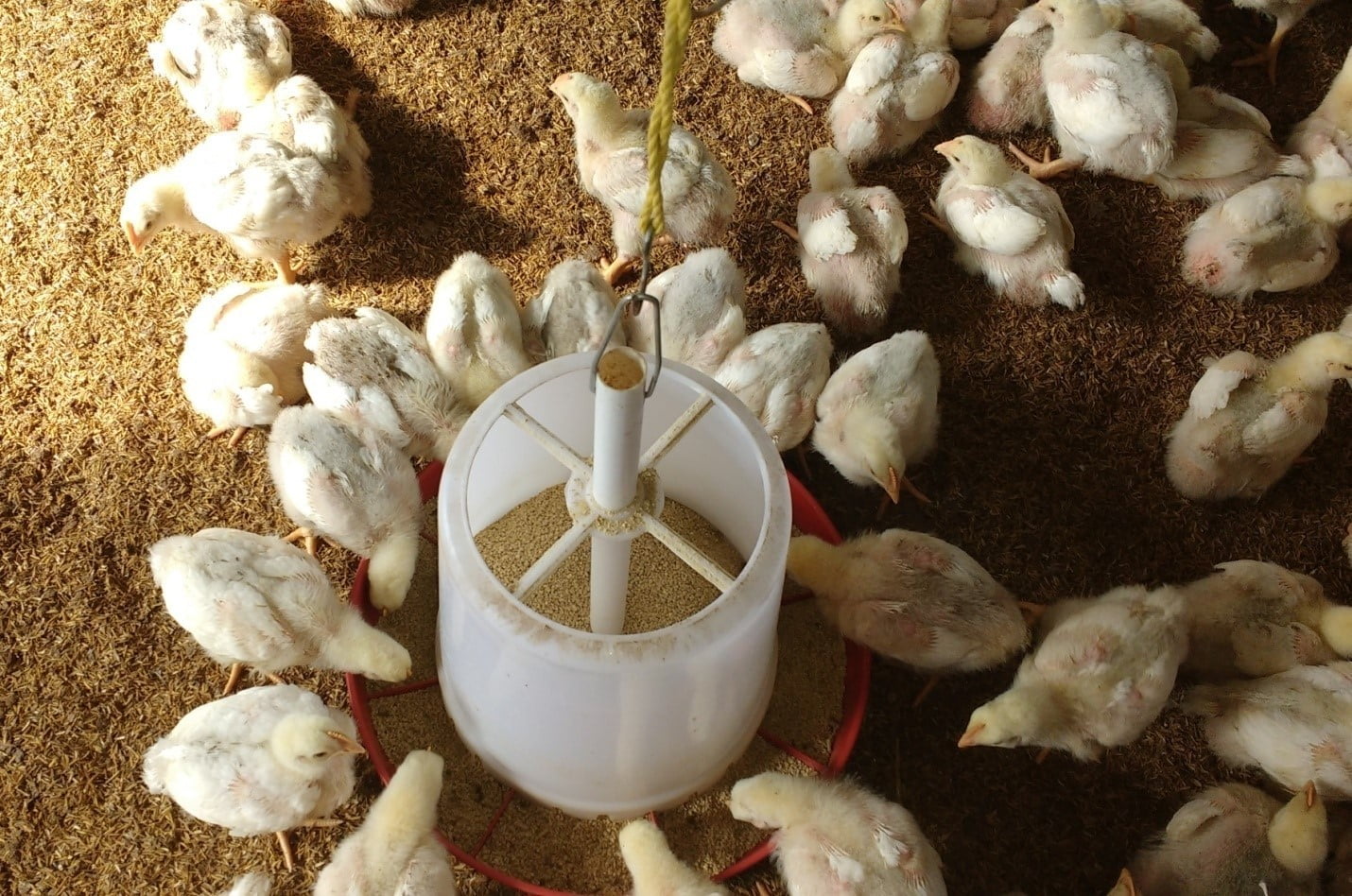 Amandeep Singh1, Pragya Joshi2, Amarjeet Bisla3 and Gurpreet Kour4
1. MVSc Scholar, Division of Extension Education, ICAR-Indian Veterinary Research Institute, Izatnagar, Bareilly, Uttar Pradesh, India (243122).
Email: amandeepsinghvet@gmail.com
2. PhD Scholar, Division of Extension Education, ICAR-Indian Veterinary Research Institute, Izatnagar, Bareilly, Uttar Pradesh, India (243122).
Email: joshi.pagga@gmail.com
3. MVSc Scholar, Animal Reproduction Division, ICAR-Indian Veterinary Research Institute, Izatnagar, Bareilly, Uttar Pradesh, India (243122).
Email: amarjeetbislav@gmail.com
4. MVSc Scholar, Department of Animal Genetics & Breeding, Guru Angad Dev Veterinary and Animal Sciences University, Ludhiana, Punjab, India (141012).
Email: gurpreetkour1469@gmail.com
Introduction
From the economic standpoint, feeding accounts for 60 to 70 percent of the cost of production. To maximize production at the least cost, producers should pay close attention to the nutritional requirements of the species. The word nutrient refers to a broad category of organic and inorganic compounds found in feed that are essential for maximum growth and feed efficiency. Feed efficiency refers to the amount of feed, in kilogram required to produce a kilogram of body weight. Nutrients essential for building and maintaining a successful poultry flock includes water, carbohydrates, fat, protein, vitamins, and minerals.
Feeding of birds: a basic approach
Feeding of broilers by using feeds which are found near the village are advocated. The ingredients so found nearby can be mixed to form proper concentrate mix for the birds. Some are listed as:
1. For the main bulk of feed, obtain waste grains. 1 kg of grains will be sufficient for 12 birds.
2. Try to obtain protein sources like meat from dead animals, or meat offals. 12 birds will need about 400 grams of meat, or small fishes, snails, frogs, to balance their feed. If meat sources are not available, white ants dug from the soil can be used as a protein source. Give about 100 grams of white ants to 12 birds for meeting their daily protein requirements.
3. Fly maggots can be used as protein source for birds. These can be grown by keeping manure in a pit and then sprinkling flour over it. Maggots can be collected after 7 days.
4. Green feed sources at the rate of 1.5 kg for 12 birds can be used. Doob grass, Radish leaves, cabbage, tender leaves of trees can be fed.
5. Also provide crushed bones and some fine gravel from the river. Bones along with lime acts as a good source of calcium. Rice bran should be given to meet the need of phosphorous.
Feeding of compounded feed
Generally this method is being adopted by almost all the farmers related to broiler farming. The compound feed is given at subsidized rates by the Government of India at its own sponsored centers. However bulk of compound feed is manufactured by the privately owned companies. It is advised to offer feed @ ½ the body weight of the bird. The practice is done so that the bird is free to eat and gain as soon as possible because broiler farming is associated with the rapid gain in the weight of the bird. The total duration upto which the bird is reared is 28 days after which it can be marketed. So it is advisable to offer adlibitum feed to the bird up to this age. To reduce the cost of feed and to maintain economics, the wastage of the feed should be reduced and also reduce the feed offered as early at 20 days. In most of the cases, broilers reach 1 kg weight at 28 days when it can be marketed.


Different classes of feed for broiler farming
(Note: the given feeds are to be fed according to the different stages of chick)
Non-conventional feeds can also be fed to poultry for economizing the enterprise. Feeds like guar meal, millets, potatoes and sweet potatoes, mango seed kernel and citrus pulp, sal seed, oilseed cakes, maize gluten feed, molasses, non-edible low grade fat, tapioca meal, rye, feeding of dry poultry waste, frog and tadpole meat, seaweed and algae meal, Lucerne and berseem meal, etc can be used as feed.
The feed should be offered in specially designed feeders shown below: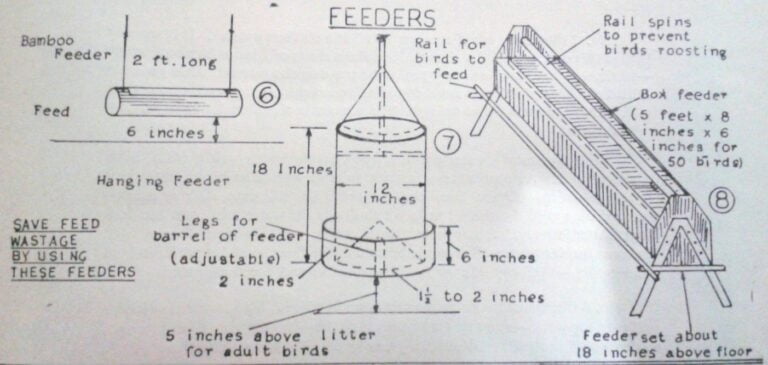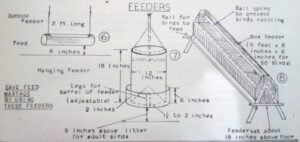 (Source: Handbook for Poultry Officers in India)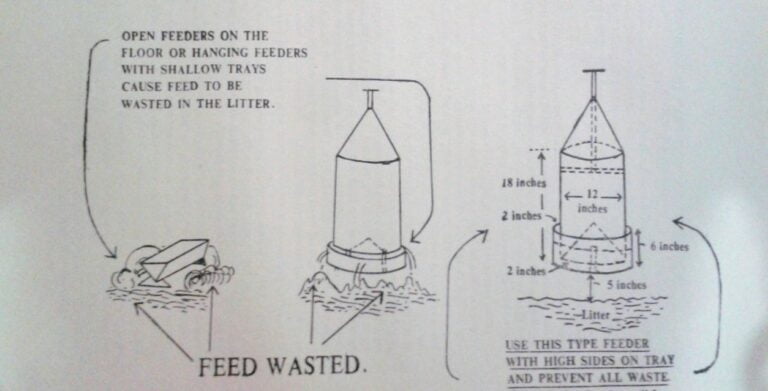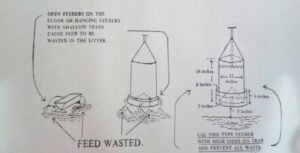 Prevention of wastage of feed by using the above shown type of feeders
(Source: Handbook for Poultry Officers in India)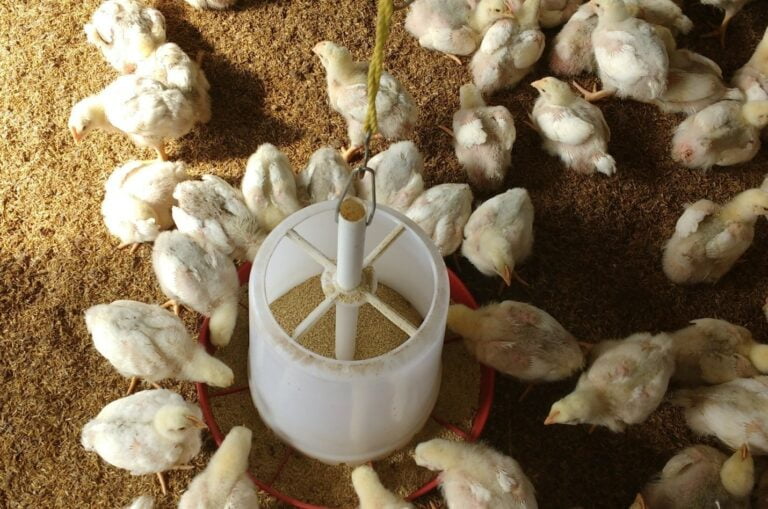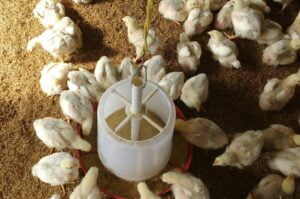 Circular feeder used for feeding of chicks
Watering
Without a doubt, water is the most important nutrient required by poultry. It is the least expensive, and usually the most neglected. Water represents about 70 percent of the total body weight of poultry and around 65 percent of the total weight of eggs. Decreased production or mortality will occur sooner with water deprivation than food deprivation. This is especially noticeable during the summer when outside temperatures are high. Water helps regulate body temperature, lubricate and transport feed through the digestive tract, and eliminate waste.
There is no precise water requirement for poultry because water intake is related to numerous factors including age, body condition, diet, temperature, humidity, and accessibility. As a rule of thumb, poultry will consume twice as much water as feed. This is subject to change depending on environmental conditions, as the birds tend to drink much water during summers as compared to winters. For the flock to achieve maximum production efficiency, water should be readily available and free of pathogenic microorganisms and toxic levels of minerals and chemicals. Zero unit total bacteria and total coliform bacteria per milliliter of water is desirable. The maximum acceptable level is 100 units of total bacteria and 50 units of coliform bacteria per milliliter of water. Excessive mineral levels may adversely affect performance. One of the main consequences of high mineral levels in drinking water is an increase in wet litter. Wet litter provides a good and suitable medium for moulds and bacteria to grow, thereby leading to many diseases.
The water should be given in specified waterers only and they should be cleansed on regular basis so as to prevent the outbreak of diseases. The waterers should be made from non-corrosive materials, suitably of plastic. The waterers should be placed @ 1 for every 10 birds according to the thumb rule, however in small scale farming, 1 waterer is enough for 15 birds. The water should be provided twice a day and a special check should be maintained on the adulteration of water by the chicks themselves.
The following are the various types of waterers which are used to keep the litter dry and are utilized in broiler rearing: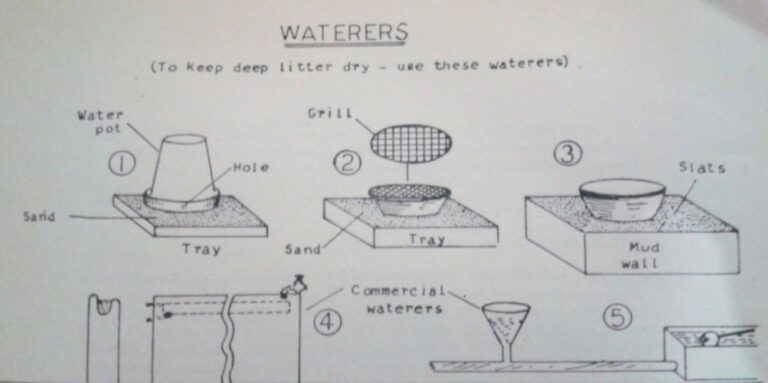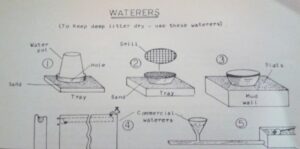 (Source: Handbook for Poultry Officers in India)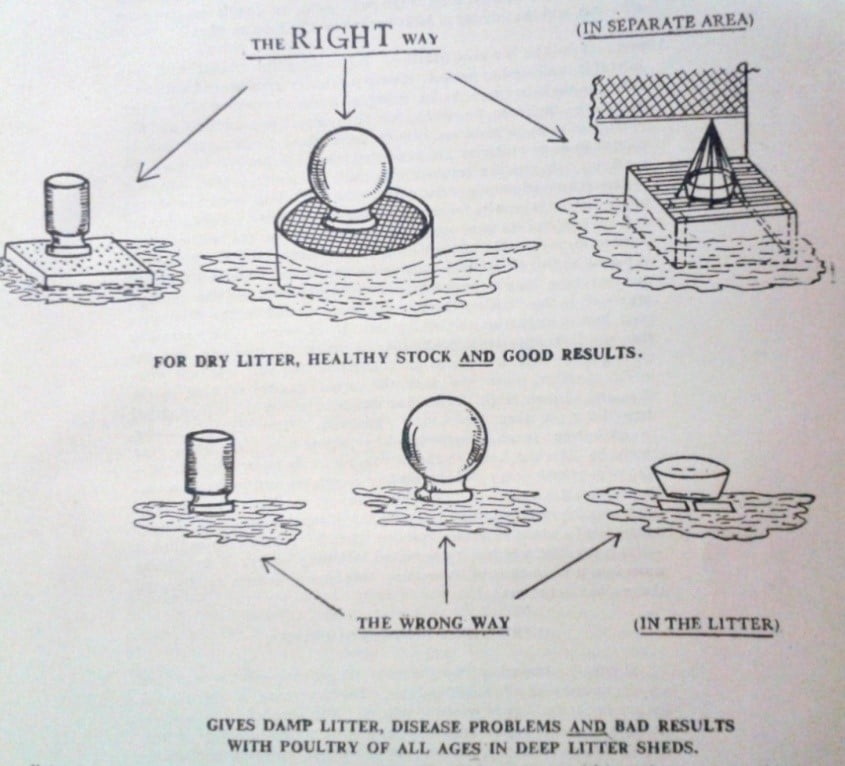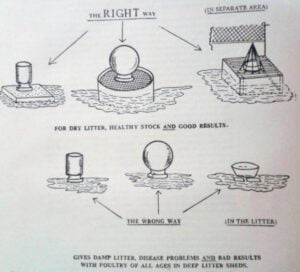 Proper placement of waterers for better results and avoidance of litter borne diseases
(Source: Handbook for Poultry Officers in India)
Conclusion
Feeding and watering of poultry birds make the major part of investment in the business and proves to be the most important segment of the farming. However, if properly carried out in the described manner, one can cut short the wastage of feed and water and can cut on expenses. The same way, it also promote good health of the birds and hygiene in the farm.